Themed Wedding Cakes
A themed wedding cake may be just what you're looking for to set your cake and reception apart. While a themed cake would be a natural fit for a wedding that also invokes a theme – say an "Alice in Wonderland" wedding, or a renaissance wedding – a bride and groom may also choose a theme for their cake based upon the a favorite amusement park ride or a preferred hobby, a favorite location, or a season or holiday. For the couple enjoys the daring fun of an amusement park ride, we've seen cakes that immortalize attractions like Disney's Splash Mountain – fun! Likewise, the bicycling-enthusiast couple might prefer a cake that shows a mountain bike ride. Less specific would be the couple who incorporate images and items from the ocean into a beach cake, which might include gum paste shells and star fish, sand-like or pearly finish, and maybe a sand castle topper. Finally, if your wedding takes place near a beloved holiday or season, like the Fourth of July, or autumn, or Christmas time, consider incorporating themes that echo those holidays or times of the year. A July wedding cake might be decorated with stars and sparklers, while autumn might show off colorful marzipan leaves and chocolate twigs and acorns. Christmas might inspire the use of traditional garnets and greens, or cool and snowy blues and silvers. If there is a theme that you love, consider celebrating it with your wedding cake. It will make your day even more memorable, for both you and your guests.
0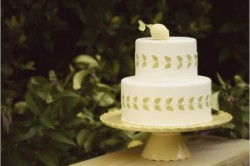 We're getting word from all over the country of April Showers…and a few April Flowers.  Friends in the Southeast are telling us of cold and rainy weather, while pals in the Midwest are crowing about the first irises of the season.  Here in the South, we continue to enjoy lots of sunshine and an early summer as usual.
As our thoughts turn to family traditions and springtime rituals of Easter egg hunts and beautiful bunnies, we are dreaming of Read More
0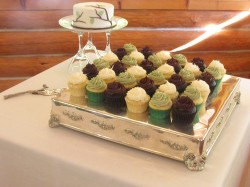 I think I have expressed once, or twice…or perhaps even three times my love for cupcakes.  Apparently, this cupcake combo comes with a back story.  The cupcake stand was lost en route to the wedding venue so the baker improvised and turned wine glasses upside down and placed a plate on top of them.  To tell you the truth..I kind of think it's classy.
The best part..please listen to the flavors of these bad boys: Read More
0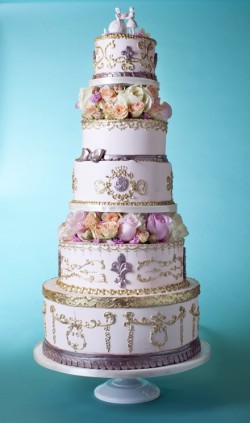 Zip, zoom, bang!  I don't know about y'all, but my early spring is off to a roaring start.  So many exciting things going on that it's hard to keep up.  A wedding here, a birthday party there, visits from friends to plan, a trip to a wonderful, well-known shelling beach to ponder – and a girls-only cruise that I can hardly wait to savor!
Wait?  Where was I?  Oh yes.
And if that weren't enough, there's a royal couple planning a royal wedding, and we are royally interested!  Too much?  Well, you'll forgive me, since we are within a month of Kate and Will's Big Day.  Perhaps we will return to non-Kate-and-Will posts following April 29.  But for now we Read More
1
I have to admit that having a full time job, a full time toddler, a husband, a dog, cat and an obsession to blog about cake doesn't give me much free time to sit down and watch television. Except today I found a spare twenty minutes and I was thrilled to sit down in my big chair and do nothing but watch television. My problem…no remote. Oh well, there was NO way I was moving. Luckily it was stuck on TLC and Read More
0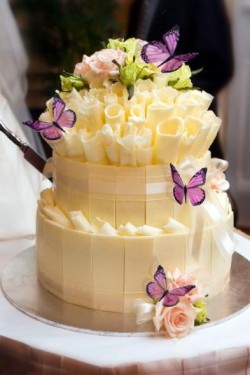 I've just returned from a week of traveling, of visiting with friends and enjoying special meals, good company, and lots of laughter.  But today, I'm happy to wake up in my own sunny home, and to bring you the best and brightest of what we've seen this week.  So without further ado, here's the round-up for March 27.  But first, the news:
Prince William and Kate Middleton have selected their cake design – Read More
0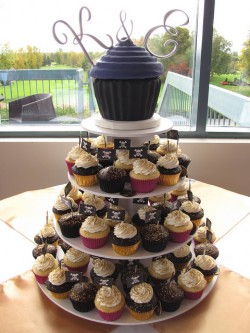 Argh! Shiver me timbers because these cupcakes rock my face off.
Oh yes. Let's see how many Pirate cliche's I can use here.
This wedding cupcake ensemble is a combination of lemon cupcakes with lime butter cream, espresso cupcakes with vanilla butter cream and gluten free & dairy free chocolate cupcakes topped with chocolate ganche. (If I am remembering correctly this is our first gluten free cake post..woot woot!) All of the cupcakes are topped with gold sprinkles and skull and cross-bone flags. However, the kicker for me is the Read More
0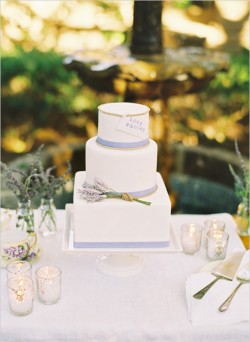 Hello, Fellow Wedding Cake Lovers!  This week, we have sprung forward, the moon appears a full 14% bigger than normal, and we're about to step into spring officially.  You could say that we're a little excited about what's going on around us.  And with pre-Spring Fever in the air (and maybe a touch of the Irish cheer leftover from earlier in the week) Read More
0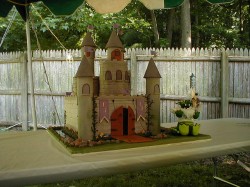 Hear ye! Hear ye! Cometh and viewth this spactacular cake that I am bringing you forth with! Or something like that.
This castle cake comes complete with five towers, draw bridge, moat and your very own dragon! If you take a closer look you can actually see that the dragon has captured himself a bride & is about to scoot off to start his new life Read More
0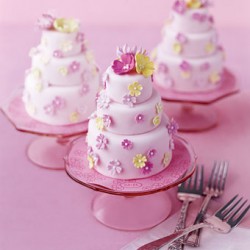 We're dancing an Irish jig, ready to make some soda bread, and we're looking around to find the brightest and best in weddingdom to bring to you everyday!  Here's hoping that your week brings you lots of four leaf clovers and a pot o' gold or two.  Speaking of gold, Read More