Blue Wedding Cakes

The color blue is so intrinsic to a wedding that there's even a rhyme about it for brides (who often resort to rhymes to remember the eight gajillion details they're juggling, since no one thinks getting married is a viable reason for a leave of absence from work.)
Where was I?
Oh yes.
"Something old, something new, something borrowed, something blue."
Now, what self-respecting bride takes a trip down that aisle without her something blue? But, for the bride who would like to kick up the color factor a little, without rocking the tradition boat too awfully hard, a blue cake may be just the thing.
Whether it's sky blue, the softest baby blue, or Tiffany Blue, or even electric blue, this cool color is becoming increasingly popular in wedding cake palettes, particularly as an accent hue. We're seeing satin ribbons around the base of cakes to incorporate that touch of blue, but gum paste flowers on willowy branches also make a startling statement. And paired as part of a hot color combination, with, say, black zebra stripes, or bold, graphic browns, the demure color can take a front row seat in the trendiest of receptions.
See Also:
1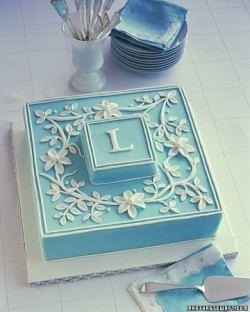 I am shopping for monogrammed stationery; ergo, I am naming this Monogrammed Wedding Cake Week. I know…it's already Wednesday. But there's time to catch up.
I absolutely adore this idea, especially for a small wedding. But even if your gathering is large-ish, what a beautiful cake! And so much prettier than a Read More
Other Posts You May Enjoy:
0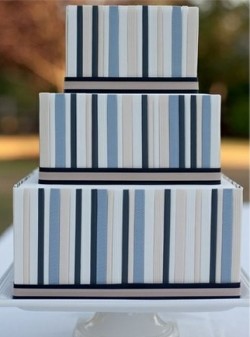 I went in search of preppy today. And preppy I found.
You may not believe this, but I'm not so much a froufrou girl.  My favorite colors?  Khaki and navy blue.  In fact, I'll give you a $100 if you can spy me one day out of my life without khaki on my person somewhere.
I really love tailored and unfussy stuff.  And today, I wanted to declutter a bit, cakewise.
I love this approach to cakery, don't you?  Sure, we've seen Read More
Other Posts You May Enjoy:
2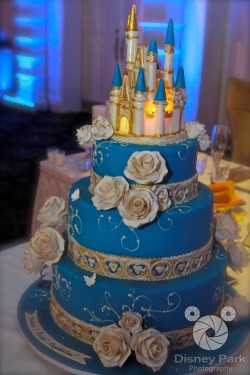 You know we love us some Disney here at A Wedding Cake Blog.  In fact, as I write this, I am entertaining a visit on Wednesday to Epcot and reliving a jaunt to Magic Kingdom last week!  Sigh.  I heart living in Florida.
But I didn't come here today to make you green with envy.  Oh no.  I came to show you a FABULOUS cake.
DisneyRob tapped me on the shoulder a while back and asked me if I'd like to feature his cake on our blog?  And I said, Read More
Other Posts You May Enjoy:
0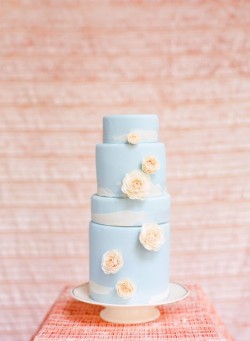 I love when I see a cake that I never, ever would have thought of, but when I see it, it's like….YESSSSS.
Isn't this just darling?  Barely different sized layers on the bottom – is there a difference in size? – and the slight diameter difference continues up the cake.  The on-purposeness of it is just enchanting.  It's like the baker said, Read More
Other Posts You May Enjoy:
0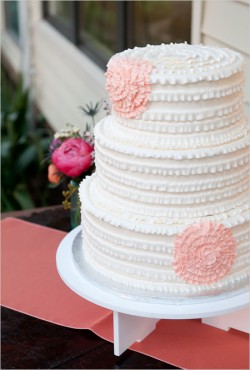 Greetings, one and all!  How does this lovely summer day find you?  Well, I hope!
It's been SUCH an awesome week here, y'all.  If you're a regular reader, then you know that I'm having a nice visit with my best friend, who flew in from half way across the country (and across what we normally call That Stupid Gulf) to spend a week.  A week of Nowhere to Go, Nowhere to Be.  Of sandcastles and ocean breezes.  Of the full moon over the lighthouse.  Of eating too much and laughing more.
Well, next week, it will be back to reality (after a quick trip to Key West to bid summertime, for all intents and purposes, adieu) but for now, we still have some playing to do!  So let's share a few minutes together, looking over the week's wedding Sweet and Pretty, and then it's back to the grind of the beach!

But what were we up to this week, first of all?  Glad you asked!
On Monday, we featured this darling Minnie Mouse-Inspired Birthday cake.  We think it would make an adorable wedding cake as well.
Tuesday brought these fantastic cube-shaped Deconstructed Wedding Cakes.  I love this look!
I featured this ethereal Yellow and Blush Rosepetal Cake on Wednesday.
Isn't this Ice Blue Rustic Wedding Cake that we featured on Thursday fantastic?
On Cake Topper Friday, we fell in love with this Picture Perfect Couple.
For the Guys featured a mountain of chocolate, quite literally, with this Megeve Chocolate Groom's Cake.
Are you a curvy girl?  Here's a cute story featuring Five Marilyn Monroe-inspired wedding dresses.
Ha! Thank you, Miss Manners.  A gentle reminder that guests should not be asked to pay for your wedding.
Do we believe Jessica Biel when she says she's done "almost nothing" for her wedding to Justin Timberlake? Hmmmm?
I adore this artsy backyard wedding, featured on Wedding Chicks, don't you?  And the ruffled cake is so lovely, I feature it above.
Isn't this Maggie Austin Cake, featured on Austin Wedding Blog, gorgeous?  I LOVE the green ruffles and blue flowers!
Here's a really great post for brides considering baking their own wedding cakes.  From Vancity Bride.
Have a Delicious Week!  And wear your sunscreen!
Other Posts You May Enjoy:
0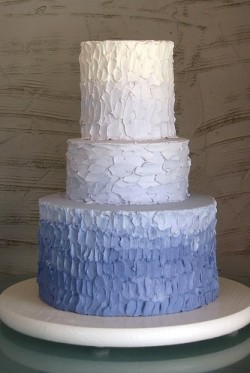 How do we feel about a rustic approach to icing, y'all?
Personally, I like it.  Don't get me wrong.  A perfectly coiffed cake is sigh-inducing for sure.  Still, there's something so charming about swishy swirls in icing – or should I say frosting? – don't you think?  Like, I could totally Read More
Other Posts You May Enjoy:
0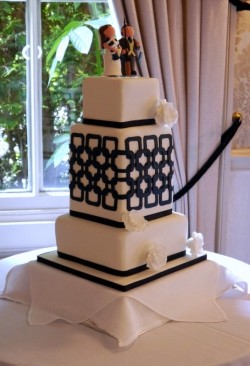 I leapt at the chance to feature this beautiful cake by Cakes By Beth in Manchester, UK.  Isn't it gorgeous?
When Beth originally met with the bride and groom, they had very few specific ideas about how they wanted their cake to look.  They knew they wanted four tiers and something simple in design that incorporated navy blue ribbon, but that was the extent of their input.  Enter Beth and her brilliance!  She suggested this geometric design of overlapping squares, reminiscent (to me, anyway) of a Chippendale motif.  And though she was prepared for the couple not to love the idea…they did!  Two of the original four layers became Read More
Other Posts You May Enjoy:
0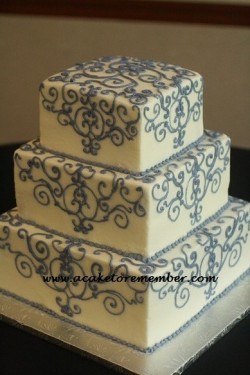 I love blue.  I don't know how I didn't end up with a blue wedding cake myself.  Probably because it Just Wasn't Done as much – you know, color – ten+ years ago.
I also think that scrollwork is lovely.  The lacy patterns made with scrolls really aren't so much feminine, so usually, guys don't object.  And they just seem to dress up the face of a cake without making it fussy.
This beautiful three-tiered square buttercream cake was created by Kara Buntin of A Cake to Remember in Richmond Virginia .  The design piped in buttercream mimics the detail on the couple's wedding invitation.  The shade of blue was used throughout the reception as well on linens and other touches.
Do you love this cake by Kara?  Check out some of her other creations that we've featured, like her lighthouse cake, her snowflake wedding cake, and one of my very favorite ever - seriously, I waxed poetic, y'all – Kara's tartan wedding cake.
Other Posts You May Enjoy:
0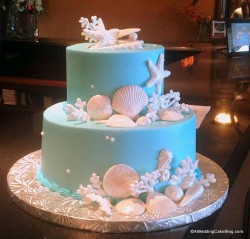 A few weeks back, my aunt, uncle, and their family headed to Key West for some fabulous R&R.  Have you been to Key West?  If not, put it on your list.  Right now.  No, I'm serious.  Go get a pen.
While they were there over Memorial Day weekend, the inn where they stayed happened to be the location of a Read More
Other Posts You May Enjoy: