chocolate wedding cake
2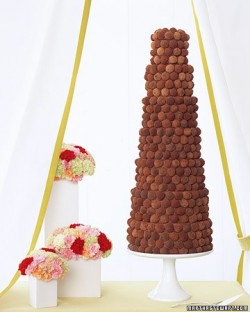 Care for some chocolate?  Because I am having a totally chocolate attack.  And now, so are you.
Martha strikes again, y'all.  Don't you simply love this?  Inspired by the French croquembouche, which is a tower of cream puffs covered with spun sugar, Martha Stewart and Co. came up with this chocolate truffle wedding cake.  This is seven layers of cake, coated with chocolate ganache.  The hand rolled truffles are then coated in different cocoa powders for slight variation in color, cut in half, then Read More
Other Posts You May Enjoy:
0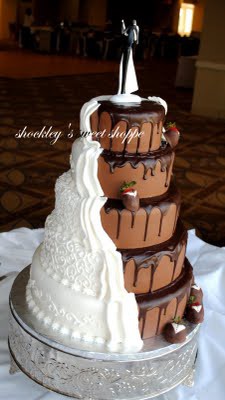 This cake caught my interest on Pinterest. Why? Because I feel like it summarizes my life. I am a teacher so I spend most of my days sticky sweet and annoyingly traditional. However, every once and awhile I can easily flip to the dark side and my kids think "Hey, she's a little nutty".
So. That's me. Half a traditional beautiful white cake and the other half a gorgeous chocolate groom's cake. I have never seen a cake like this and to tell you the truth, I love it. The couple decided Read More
Other Posts You May Enjoy:
0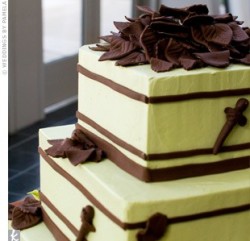 I picked this cake for one reason.
Thin. Mints.
That's what this cake reminds me of. The thin minty goodness that appears every March and then is unceremoniously ripped from the parking lots of grocery stores a few weeks later. I typically cry until June and then I forget about it again until February when my little friend comes around with her cookie selling sheet. Oh yes. I love Thin Mints.
I have no idea if this cake is actually mint flavored..but the light green and brown color combination remind me of them. Or perhaps it's the chocolate leaves as the topper that make me think mint. Either way it's a yummy looking cake!
Other Posts You May Enjoy: