Floral Wedding Cakes
What's not to love about a floral wedding cake? The trend to decorate cakes with flowers, whether real or gum paste, really became all the rage during the 1980s, when Martha Stewart showed us all how wrong we'd been doing weddings up to that point. Gone suddenly were the little bride and groom figurines made of porcelain or plastic that stood proudly atop cakes. Replacing them were mounds and cascades and accents of flowers of all shapes, sizes, and hues. The trend may have died down to some extent; today, we're as apt to see a bride and groom cake topper – or a pair of birds or bicycles, or anything else the couple might fancy – as flowers. But flowers have not lost favor completely. In fact, florists are still busy preparing floral toppers for cakes that match the bride's color palette and bouquet. Likewise, bakers are kept busy crafting handmade, sugar or gum paste flowers, or at the very least, custom coloring store bought gum paste creations to offset their beautiful cakes. There are a couple of points to remember when choosing to trim your cake with fresh flowers. First, make sure that the bloom you'd like to use is NOT poisonous. Wouldn't you hate to send people to the hospital because they ingested a piece of your cake that had ivy on it? And secondly, if at all possible, ask your florist for pesticide-free blooms. Bug killing chemicals = not tasty. And finally, if it's gum or sugar paste flowers that you're after, remind guests that, although they are technically edible, it's probably not very tasty or a good idea. If you want edible decorations, you should probably stick with real or marzipan fruit.
0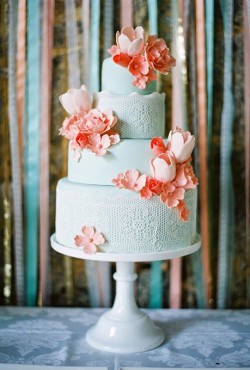 Lace-inspired wedding cakes are a trend I could definitely get behind, especially for summer weddings.
I love the idea of incorporating lace into the design of one's wedding cake.
You could even take a sample of the lace from your wedding dress and have the design appear on your cake. Read More
0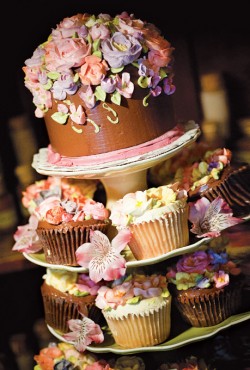 I love the idea of serving cupcakes at a wedding reception.
They're fun and functional. And everyone loves cupcakes!
But what if you want to serve cupcakes but still have a traditional wedding cake to cut too? Simple – serve both!
This is a fun concept – have a small, one tier wedding cake as the "main" cake – basically for the couple to cut – and then surround it by gorgeous cupcakes. Read More
0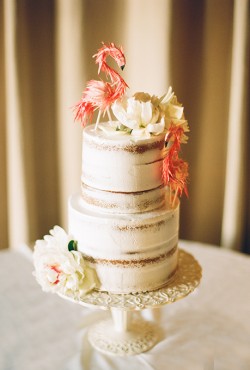 Strangely enough (or maybe not so strangely considering my love for all things warm and tropical) I adore flamingos.
Yes, they're odd looking – tall, pink birds – but they make me think of warm climates like Florida. Which makes me think about summer.
So it seems only fitting that I am in love with this summer-themed cake, made complete with the addition of adorable flamingos. Read More
0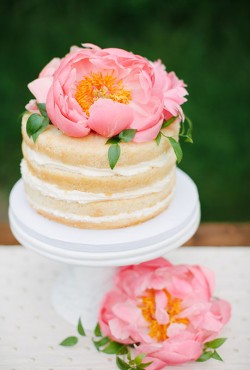 Sometimes, less is better.
For example – when it is 95 degrees outside with 1 million percent humidity, it's better to be in a bathing suit than a business suit. Less is better.
The same can be said of wedding cakes. When it's hot and humid outside sometimes the last thing you want is a wedding cake with a whole bunch of icing. Read More
0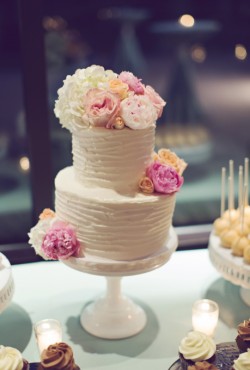 I love this time of early summer – a couple weeks after all the flowers have been planted, when they're still bright and blooming.
My backyard looks like a flower shop with pots and containers full of pink and purple blooms.
Which brings me to today's wedding cake – a lovely two-tier confection topped with fresh garden flowers. Read More
0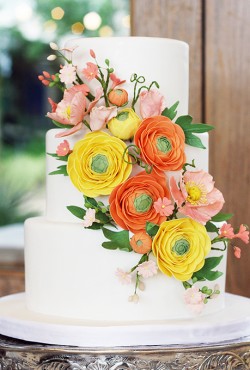 Summer has officially arrived! And that means all the flowers are in bloom around my yard and it's so pretty.
Of all the wedding cake trends I love (and there are many) I have a special spot for cakes with flowers. Whether we're talking fresh flowers or sugar flowers, show me a cake with blooms and I'm in love. Read More
0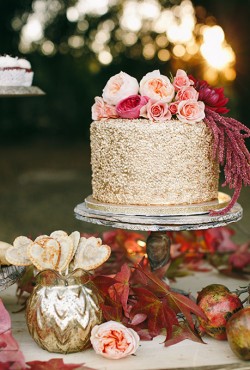 It's been established that I'm totally in love with the sprinkle wedding cake theme right now.
Which is really kind of weird because in reality I don't like sprinkles on cake or cookies (or ice cream). But I love how they look on a wedding cake.
I think it has to do with the "whimsical factor" that sprinkles add to a wedding cake. Because we all know how boring some wedding cake can be. Read More
0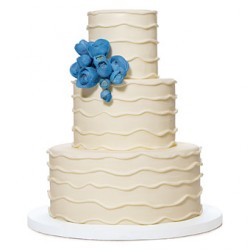 Lately I've been daydreaming about the beach. A lot.
This is likely due to the fact that very soon I'll be lounging on a beach in the Caribbean without a care in the world.
But it also got me thinking about beach-themed wedding cakes since it is the perfect time of year for a beach wedding.
And then I found this cake and fell in love. Read More
0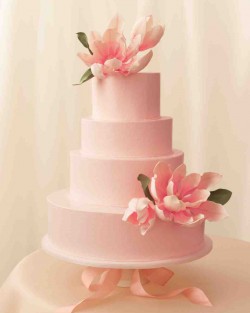 There's just something about the color pink and springtime – they go hand-in-hand perfectly.
And today's gorgeous pink creation is perfect for your spring or early summer wedding thanks to its elegance and the addition of some lovely handmade gum paste magnolias (colored pink with edible paint!). Read More
0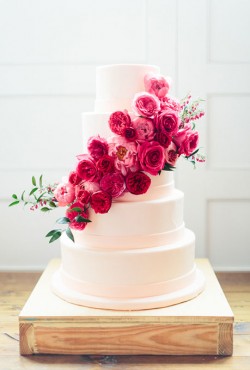 I love the idea of using fresh flowers to adorn a wedding cake – especially in the middle of spring when everything is in bloom and so pretty!
The best part about using fresh flowers is that you can pick and choose the perfect flowers to match your theme, colors, and personality.
Today's featured cake is a simple white cake with five tiers and a gorgeous cascade of pink flowers Read More