Modern Wedding Cakes
The term "modern wedding cake" may mean different things to different people. Here at A Wedding Cake Blog, we take the term to mean anything with a contemporary feel; a cake that eschews the traditional white on white, piped and buttercreamed and trimmed with swags or roses. Modern may refer to a bold use of color, or a contemporary decor or shape. It may also refer to choosing something other than the grand, traditional tiered cake – a cake of macarons, for instance, or an assortment of individual cakes. Modern means that you are updating the tradition: perhaps you aren't entirely throwing it out. You're just giving it a breath of fresh air.
0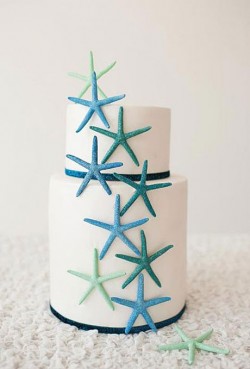 As the East Coast is snowed in today and I'm seeing more winter weather in my local forecast I'm finding myself daydreaming more every day about my summer beach vacation.
And these daydreams of sand and surf made me think about summer beach weddings. Which of course brings us to today's wedding cake.
I'm in love with this fun and whimsical cake. Read More
0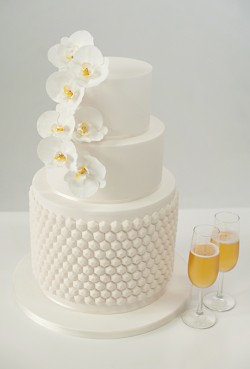 As I look outside the window today it's a sea of white. A fresh layer of snow covers the ground which (of course) made me start thinking about the traditional all white wedding cake.
I do love all the non-traditional wedding cakes I feature here – the bright colored cakes, the black fondant cakes, the whimsical cakes. But in the end, nothing beats that all-white wedding cake in all its elegance and charm. Read More
0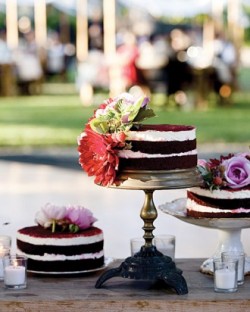 If I had to choose just one cake flavor to eat for the rest of my life – the horror! – it would be red velvet.
The first time I had red velvet cake I fell in love instantly. The combination of the not-too-sweet cake with the cream cheese icing is pure perfection.
But today we're talking about a naked red velvet wedding cake! Read More
0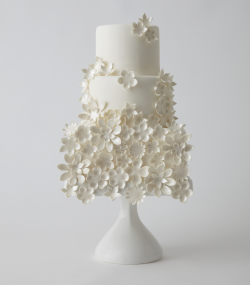 It might still be the middle of January, but that doesn't mean we can't start thinking about spring. Because believe it or not, the month of January will eventually end. Really.
So with that in mind – and thoughts of spring sneaking in to these cold winter days – let's talk about this all-white stunner of a wedding cake. Read More
0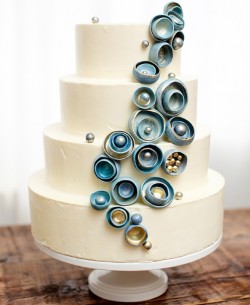 As winter continues its relentless grip on most of the country I have decided it's time to dream about summer and beach weddings.
Which brings me to today's nautical, beach-inspired wedding cake.
Don't you feel warmer just looking at this cake? I can almost imagine the beach wedding, right on the sand, with the sun shining down.
OK, enough daydreaming. Back to this cake. Read More
0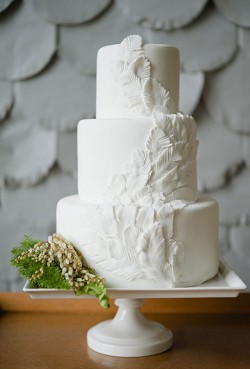 As I sit here watching the snow fall outside, the fresh white powder outside inspired me to find an all-white wedding cake to feature today.
This cake is so elegant in an understated way and it would be absolutely perfect any time of year.
The smooth white fondant gives the cake a modern vibe and it could have been embellished with just about anything. The addition of white fondant feathers takes the cake to a whole new level. Read More
0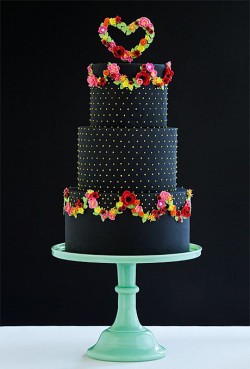 This cake is so non-traditional and it's not for everyone.
But I love it!
Now you'll probably need to be a rather modern, edgy bride to choose black fondant as the icing on your wedding cake. But if this is what you're looking for in a wedding cake I say go for it!
I love the modern vibe of this cake. I love the bright colors. It could be my new favorite cake. Read More
0
Baby it's cold outside!
So, let's dream about a destination wedding in a warm, tropical, and beach-y location. And at this wedding your theme is seashells.
Lots and lots of seashells.
And this gorgeous one-tier cake is your beach-inspired, seashell-topped wedding cake.
I love this cake. Maybe it's because I love the beach and collecting shells. Or maybe it's because it reminds me of summer. Either way, I think this would be a lovely cake at your beach wedding. Read More
0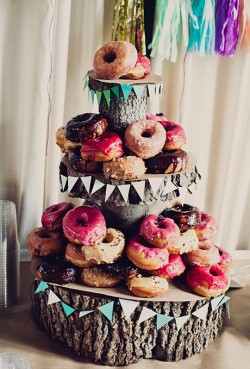 Let them eat … doughnuts!
Sometimes you just want to be a litte non-traditional, right? So why not consider skipping the wedding cake entirely and giving your guests a different sweet treat?
Like doughnuts!
While this type of "wedding cake" isn't what most people are expecting, it's always fun to do something different. Plus, just about everybody loves doughnuts. Read More