Modern Wedding Cakes
The term "modern wedding cake" may mean different things to different people. Here at A Wedding Cake Blog, we take the term to mean anything with a contemporary feel; a cake that eschews the traditional white on white, piped and buttercreamed and trimmed with swags or roses. Modern may refer to a bold use of color, or a contemporary decor or shape. It may also refer to choosing something other than the grand, traditional tiered cake – a cake of macarons, for instance, or an assortment of individual cakes. Modern means that you are updating the tradition: perhaps you aren't entirely throwing it out. You're just giving it a breath of fresh air.
0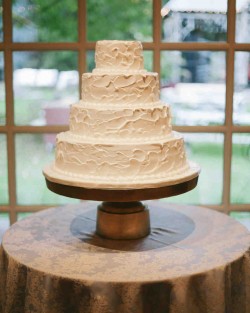 As much as I love flower-covered wedding cakes or cakes with colorful embellishments, sometimes it's really nice to see a simple yet elegant cake.
Take today's wedding cake – it's a lovely four-tier cake with gorgeous cream cheese icing and nothing else. Read More
0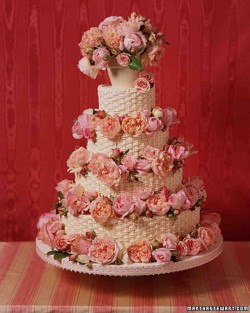 Ah, roses. These blooms are at the top of my favorite flowers list and I love finding wedding cakes that aren't shy about showcasing roses!
Today's cake is the perfect early summertime cake thanks to an abundance of roses and a gorgeous basket weave design in the icing. It really looks like a basket full of fresh flowers! Read More
0
I am loving the spring weather right now! It's sunny and warm and the flowers are blooming. It's perfection.
You know what else is perfection? Today's featured spring-themed wedding cake.
This "naked" cake might be lacking in the icing department but it makes up for it with its simple design and some gorgeous spring greens and flowers. Read More
0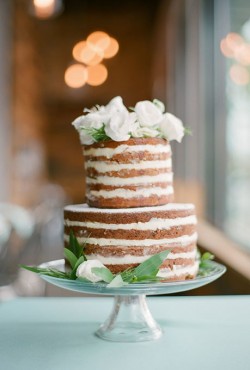 It's been a while since we talked about an unfrosted wedding cake.
The "naked" cake trend seems to still be going strong, and even though I prefer a cake with a lot more icing, today's naked cake is a perfect confection for your spring wedding. Read More
0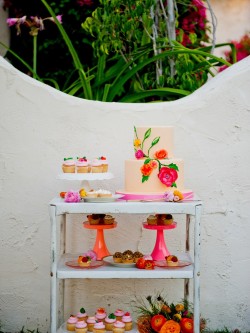 Spring has officially (finally) sprung!
The birds are chirping, the flowers are blooming, and to celebrate all things spring, it seemed appropriate to showcase a lovely floral cake today.
I love this idea of this featured cake, because it also includes gorgeous cupcakes with pretty pink frosting and flowers! Read More
0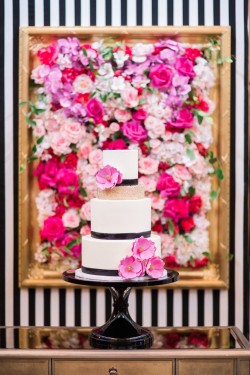 Ah, spring! It's that time of year when everything is blooming and the flowers are gorgeous. Which means it is a great time to showcase some lovely floral wedding cakes.
I'm a BIG fan of black and white cakes. There is something just so elegant about a black and white cake – even if it's a white cake with just a hint of black icing or ribbon.
And if you had bright blooms to that cake? Well, that's just the bees knees. Read More
0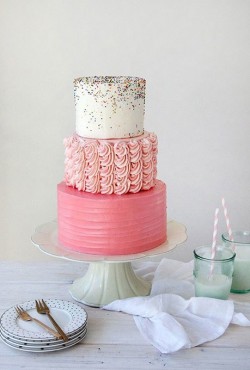 I love the idea of using sprinkles on a wedding cake, but not everyone is a fan of the tiny candies.
Which is why I love today's featured cake – it showcases one tier of sprinkles while keeping an elegant and fun vibe.
This three-tier cake might seem a bit "busy" at first glance, but it would be perfect for a spring or summer wedding. Read More
0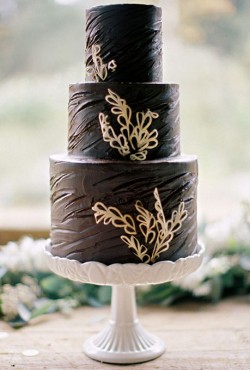 I loooove the idea of serving a chocolate cake at a wedding reception.
It's becoming THE thing to do – get away from the traditional white wedding cake and serve something a bit different.
Today's featured cake would be gorgeous any time of year, but I'd love to see it in the early spring when the temperatures are still a bit chilly. Read More
0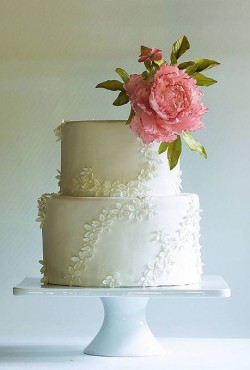 Spring is definitely in the air and that has me thinking about spring-inspired wedding cakes!
Take today's cake – it's delicate and elegant and even has a lovely fresh flower for some added beauty.
I love the delicate and romantic floral lace design on the cake. Read More
0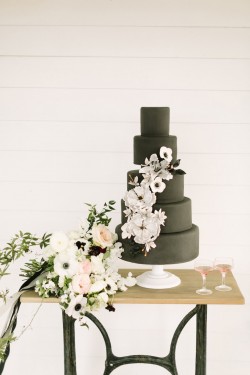 It's not secret that I'm a fan of dark and dramatic wedding cakes – especially those that use black icing.
That is such an unexpected choice for a wedding cake and it's also perfect when you want to make a statement with your cake.
Of course a dark cake needs something bright to make it pop, and we love the addition of a cascade of bright white blooms. Read More