Groom's Cake
Once a rarity at weddings, groom's cakes have gained such popularity that now, it's rare to go to a wedding that doesn't feature this alternative to the main wedding cake. The tradition of groom's cakes in the United States has its roots in the South. Normally, a groom's cake is a gift from bride to groom, and acts as a foil to the often feminine, traditional wedding cake. Normally, groom's cakes do not feature anything flowery or feminine, and often take the shape of something with significance to the groom – a mascot for a favorite sports team, a college logo, a favorite hobby or beverage. Likewise, the flavors of the groom's cake will typically contrast with the wedding cake, and will often be something "dark," such as chocolate or a liquor-soaked cake of some sort. Another popular option for a groom's cake is a cheesecake, which typically does not lend itself well to being stacked in multiple tiers (although it can – and is – done.) Groom's cakes are usually served on a separate table from the wedding cake, and may sometimes even be served at the rehearsal dinner the night before. Want to represent your groom in some meaningful and whimsical way to your wedding guests? A groom's cake may be just the thing.
0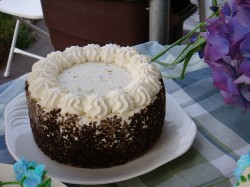 Two things that go together in my book..ice cream and cake. Oh yes.
While it may be next to impossible to have an ice cream wedding cake (frozen fondant..yuck) let's give the boys what they want and have an Ice Cream Groom's Cake. Check out this pretty Chocolate Ice Cream Groom's Cake. It's a simple cake, as most groom's cakes tend to be, but check out how it is garnished in whip cream and chocolate chips. Yummy. How could Read More
1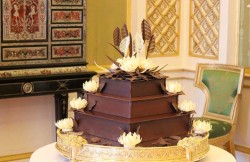 So…I know that we've talked about it.  But we haven't actually seen it.  Well, I hadn't, anyway.
Until now.
While everyone else was mooning over the giant, gorgeous, white behemoth of a cake created to mark the wedding of Read More
2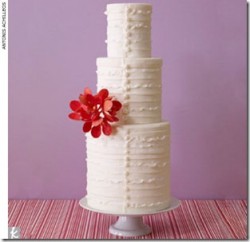 What a week for weddings it has been.  And to think – the season is just beginning!
The world watched Friday as Kate Middleton – now HRH The Duchess of Cambridge – married Prince William in a beautiful ceremony that was both modern and traditional all at once.  Christen and I tweeted and texted and Facebooked with our best girlfriends from all over, as we all enjoyed the elegant spectacle.
Now, we're sure to have Read More
0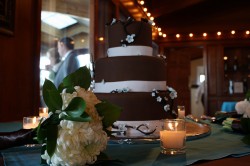 Recently, we showed you one of our favorite cakes, featuring a seriously hot color combination:  brown and blue.  Today, the color combo is back in a different, though no less stunning, iteration.
This cake features a rich robe of chocolate brown fondant, with each of the circular layers trimmed with a wide white ribbon.  Adorning the entire cake Read More
0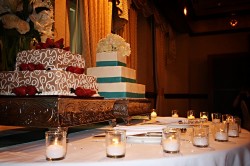 Are you a soon- to-be-bride?  Will your soon-to-be-groom have a groom's cake – and, if so, will it share the cake spotlight?
Let me explain.
We here at aWCB see lots and LOTS of groom's cakes, and they come in every shape and size – Read More