Groom's Cake
Once a rarity at weddings, groom's cakes have gained such popularity that now, it's rare to go to a wedding that doesn't feature this alternative to the main wedding cake. The tradition of groom's cakes in the United States has its roots in the South. Normally, a groom's cake is a gift from bride to groom, and acts as a foil to the often feminine, traditional wedding cake. Normally, groom's cakes do not feature anything flowery or feminine, and often take the shape of something with significance to the groom – a mascot for a favorite sports team, a college logo, a favorite hobby or beverage. Likewise, the flavors of the groom's cake will typically contrast with the wedding cake, and will often be something "dark," such as chocolate or a liquor-soaked cake of some sort. Another popular option for a groom's cake is a cheesecake, which typically does not lend itself well to being stacked in multiple tiers (although it can – and is – done.) Groom's cakes are usually served on a separate table from the wedding cake, and may sometimes even be served at the rehearsal dinner the night before. Want to represent your groom in some meaningful and whimsical way to your wedding guests? A groom's cake may be just the thing.
0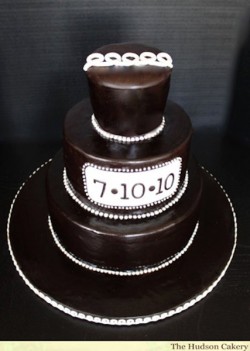 What is with me and chocolate lately? Wait. Could there BE a dumber question?  Eh.  It is what it is.  And…what it is…is another chocolate cake from Brooke. 😉
But look at it, will ya?  Like I could resist!  It's a giant Hostess cupcake, perched upon the top of what we suspect is the groom's cake for a lovely summer celebration.  And it's perfectly executed and instantly recognizable.
Okay, so…confession.  I was never really allowed to have these as a kid, and I wouldn't let my children touch Hostess products with a ten-foot pole, so they would have Read More
1
Exactly one year ago today I jumped on-board this bandwagon called A Wedding Cake Blog. It's been a great year and I have literally been up to my eyeballs in frosting ever since. I've talked about cupcakes, traditional cakes, very blue cakes and been introduced to Cake Pops and Mini-Cakes. I've over-shared..I mean really..who knew that a simple wedding cake could inspire so much random blubbering? So on the eve of the eve of the New Year I've decided to take a look back at my top ten favorite posts of Read More
0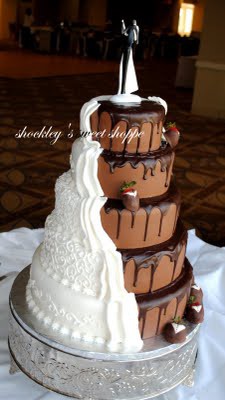 This cake caught my interest on Pinterest. Why? Because I feel like it summarizes my life. I am a teacher so I spend most of my days sticky sweet and annoyingly traditional. However, every once and awhile I can easily flip to the dark side and my kids think "Hey, she's a little nutty".
So. That's me. Half a traditional beautiful white cake and the other half a gorgeous chocolate groom's cake. I have never seen a cake like this and to tell you the truth, I love it. The couple decided Read More
0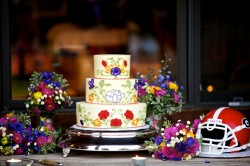 What a great time of the year!  We hope that you had a wonderful Thanksgiving, gathered together with family or friends – or both!  We did, and we're still enjoying those fantastic leftovers!  And while our attention is rapidly turning to Christmas and the winter holidays, we're excited to bring Read More
0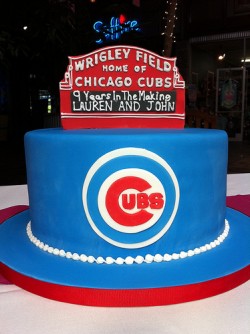 I've always had a thing for Wrigley Field.
This from the girl who just two short weeks ago asked her husband who won the Super Bowl.  (Answer:  The Cardinals…he has learned that I really just don't care enough to attribute the right names to the right sports.  Of course I KNOW the Super Bowl is football if I thought about it.  Most of the time I simply don't care to think).
Anyway.  My thing for Wrigley Field dates back to the first time I saw Sleepless in Seattle and they show a flashback of Sam (Tom Hanks) and Maggie (dead wife) Read More
2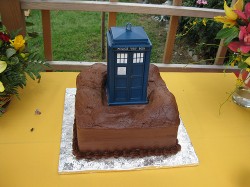 I hope that your Halloween candy induced sugar high did not end up here last night.  And by here I mean the slammer…because that's what is featured on this grooms cake.  Or, well I guess technically it's a Police Box?  I had no idea what that is.  So I had to get my research on.
I turned to my old friend Wikipedia to discover that Police Boxes are actually just that.  A Police Station in a box.  They are set up all over Great Britian and basically any member of the police force or the community can go in and get in touch Read More
0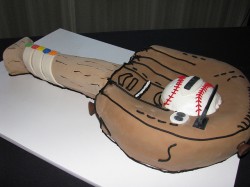 I will admit that I have no idea who is in the World Series.  I am aware that it is happening because it's on my television every night and has pushed my beloved Glee! and The New Girl back to November 1st..but I digress.  Not a sports girl.  I am so not a sports girl I actually had to ask my husband if the "baseball one was called the World Series or the Super Bowl".  That's how awesome I am.
However, if you put sports into edible cake..I'm all about it!  Just like this grooms cake which is a bat and ball combo.  I don't know the back story on this couple or this cake or anything–but doesn't it look like it's a guitar as well?  I am not a music girl.  In fact I am about 75 times more a sport girl than an instrument girl..so who knows really.  I could get all technical here and tell you how I think the bat looks like the "stringy thingys" and how that "little black thingy at the bottom looks like the thing on the Guitar Hero guitars that makes you get more points".  Jealous of my guitar knowledge?
What do you think?  Is this a baseball/guitar cake or am I just crazy?
0
And so it continues.  The hot hotness of summer, I mean.
Vacation is over and school's looming up before us here (we go back August 15 in these parts.  Ugh.)  It's extremely hard to school supply shop when you'd rather be at the beach, yes?  Maybe someone needs to make some cute little plaid bikinis with matching cardigan cover ups.  And we can have apple tartlets in lieu of, well, you know.  So who's gonna make the kiddoes go back to school if Mama doesn't want to?
But I digress.
I have an AWESOME visit with my best friend coming up, and more wedding pretty Read More
0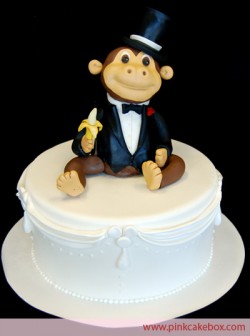 Brides generally fall into two categories when it comes to the groom's cake.
Category One: Of course I am getting a groom's cake, duh.
Or..
Category Two: What the heck is a groom's cake and why do I need one?
Well, I am here to dispel a myth–you do not need a groom's cake under any circumstance but there are a few reasons why you might want one. The main reason that brides seem to go with these days is to offer an alternative to the brides cake. However, with the cakes having the ability to be Read More
0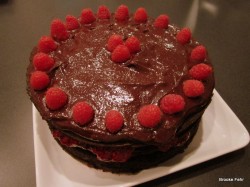 Is it fair to say that I have chocolate and raspberries on the brain? You can thank my husband and our loyal Facebook readers for this one!
You may have caught on to the fact that this half of the Cake Diva Duo is a reformed baker.  Gone are the days that I stress myself out, worrying about brides and contracts and gravity Read More