Groom's Cake
Once a rarity at weddings, groom's cakes have gained such popularity that now, it's rare to go to a wedding that doesn't feature this alternative to the main wedding cake. The tradition of groom's cakes in the United States has its roots in the South. Normally, a groom's cake is a gift from bride to groom, and acts as a foil to the often feminine, traditional wedding cake. Normally, groom's cakes do not feature anything flowery or feminine, and often take the shape of something with significance to the groom – a mascot for a favorite sports team, a college logo, a favorite hobby or beverage. Likewise, the flavors of the groom's cake will typically contrast with the wedding cake, and will often be something "dark," such as chocolate or a liquor-soaked cake of some sort. Another popular option for a groom's cake is a cheesecake, which typically does not lend itself well to being stacked in multiple tiers (although it can – and is – done.) Groom's cakes are usually served on a separate table from the wedding cake, and may sometimes even be served at the rehearsal dinner the night before. Want to represent your groom in some meaningful and whimsical way to your wedding guests? A groom's cake may be just the thing.
0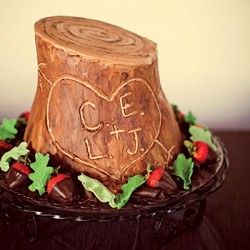 I recently attended a wedding where the bride and groom had an actual tree stump as the centerpiece on the gift table. The story was that they cut the tree down themselves and carved their initials in the trunk. It was quaint and rustic, and admittedly a little bit different. Read More
0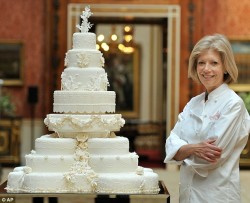 It's time for another wedding cake flashback, and this time it's all about the eight-tier "traditional English fruit cake" served at the wedding of Prince William to Kate Middleton. (I always feel like I should call her Princess Kate, not "Kate Middleton"…I mean, I'm sure she's changed her last name by now, right?)
Anyway, the first thing I want to know about this cake is Read More
0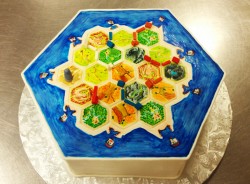 Recently, our friends at For Goodness Cakes, located in Atlanta, Georgia, shared with us one of their most unique groom's cakes to date: a cake depicting the game board from the uber popular board game The Settlers of Catan.
Christina from For Goodness Cakes told us the story behind the cake:
Nothing excites us more than a challenge and groom's cakes are almost always the ones that get our hearts (and minds) racing! This particular cake was a surprise from the bride to her game-loving groom. We had never heard of The Settlers of Catan game before, but the bride surely enlightened us! We soon found out just how many people are fanatical about this game and so we knew we had to do her and her groom justice.

In order for us to get the proper game set-up on the cake, the bride taught us exactly how to play the game – down to what pieces can move where and what tiles can be next to others! We were quite nervous in the beginning, but once she sent us pictures of game pieces in progress, this helped tremendously.

Of course, we could have printed out the board game graphics and merely laid them on top of a cake. But we knew that the whole point of the surprise was to truly recreate the game, by hand. And so we did just that! Each tile is a hand-painted hexagon made out of fondant, as is the board game layout itself. We did our absolute best to recreate the terrain illustrations in the actual game and so we felt a little bit like we were art students, re-creating a master work.

We couldn't have been happier with the results. And the groom, of course, was absolutely stunned and enthralled by it. As you can imagine, it was hard for them to cut into it and ruin a perfectly good game!
I love the story of how the team at For Goodness Cakes painstakingly recreated this board game with TLC for their clients, without taking any shortcuts.  And, as you can see from the photos, the finished product is completely awesome.
0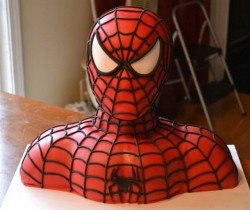 Hola!
We are still away for family Thanksgiving, but I didn't want to neglect the guys. So I'll just leave this right here.
How's your Christmas shopping going, by the way? I'll let you know about mine when I get back.

0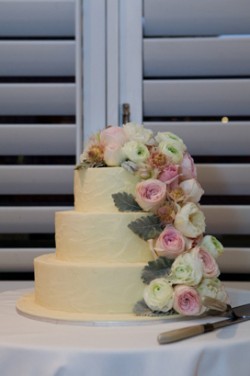 Hey Y'all!
We'll be heading out to Georgia in just a little bit to spend the holiday there.  Where will you be?  Why?  Are you happy about it?  Or just going 'cause you have to?
Well…where ever you find Read More
0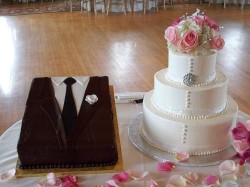 A couple weeks ago, I featured a tuxedo groom's cake, and got lots of great feedback on it.  Well, it was pretty cute.
Well, this one caught my eye, too.  Aren't they darling?
I know, they're a simple approach. But they're straightfoward and to-the-point, and I guarantee their precious adorableness brought a smile to the faces of the guests at this wedding.
The wedding, or "bride" cake, is just beautiful and classic.  The lovely nosegay on top, the brooch and ribbon trim and trailing rose petals speak to my romantic heart.  The tuxedo groom's cake is well-executed, and such a nice simple foil to the pretty wedding cake. And isn't the boutonniere darling?
We spied these cakes on Pinterest, but they are the lovely work of Beancounter Bakery in Massachusetts.
0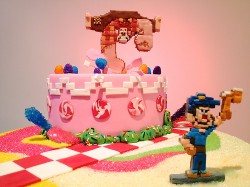 So, I realize that we who are children of the 80s are now firmly in the middle age category, which is a little hard to believe.  At the same time, I'd like to think that we're a little more relevant and hip than our predecessors were.   But I may be totally fooling myself.  Let me live in my fantasy?  Um K Thx.
However, I know that Read More
0
This. Is. FABULOUS (insert emoticon for trilly tenor voice here.)
Want a cake dressed up just like your traditionally-clad guy?  No problem!  The Cake Parlour has you covered.
From his crisp Read More
0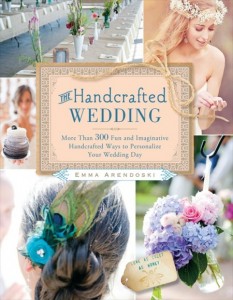 Hello Hello, my dear readers!  I hope you are having a fantastically fantastic day!  And I hope that threats of gargantuan storms aren't freaking you out too badly this weekend.
We bid adieu to Sandy here without too many worries…just a little wind and rain.  I sincerely hope and pray that all the weather folk out there are dead wrong, and that Sandy dissipates into the chilly Atlantic without so much as a whimper.  Hey – it could happen.
So, beyond weather, we have a Read More
0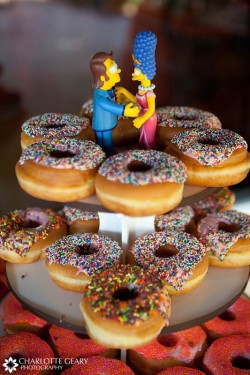 It's not that I think most guys are not interested in a serious groom's cake.  It's just…well…they aren't.
Ask the typical guy about any facet of a wedding ceremony or reception, and you probably will be greeted with a lukewarm response at best.  Sure…they might have their niche interests, like what music will be played or the like, but they probably aren't going to want to parse every detail to the nth degree.
So I think an  über Read More