Modern Wedding Cakes
The term "modern wedding cake" may mean different things to different people. Here at A Wedding Cake Blog, we take the term to mean anything with a contemporary feel; a cake that eschews the traditional white on white, piped and buttercreamed and trimmed with swags or roses. Modern may refer to a bold use of color, or a contemporary decor or shape. It may also refer to choosing something other than the grand, traditional tiered cake – a cake of macarons, for instance, or an assortment of individual cakes. Modern means that you are updating the tradition: perhaps you aren't entirely throwing it out. You're just giving it a breath of fresh air.
0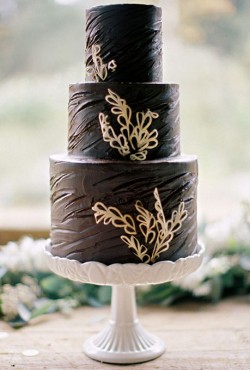 I loooove the idea of serving a chocolate cake at a wedding reception.
It's becoming THE thing to do – get away from the traditional white wedding cake and serve something a bit different.
Today's featured cake would be gorgeous any time of year, but I'd love to see it in the early spring when the temperatures are still a bit chilly. Read More
0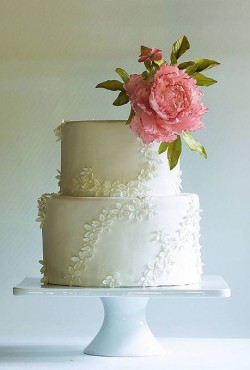 Spring is definitely in the air and that has me thinking about spring-inspired wedding cakes!
Take today's cake – it's delicate and elegant and even has a lovely fresh flower for some added beauty.
I love the delicate and romantic floral lace design on the cake. Read More
0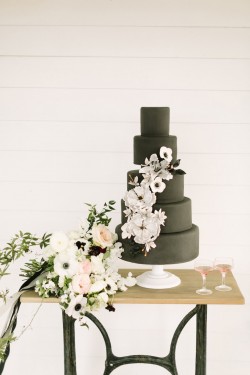 It's not secret that I'm a fan of dark and dramatic wedding cakes – especially those that use black icing.
That is such an unexpected choice for a wedding cake and it's also perfect when you want to make a statement with your cake.
Of course a dark cake needs something bright to make it pop, and we love the addition of a cascade of bright white blooms. Read More
0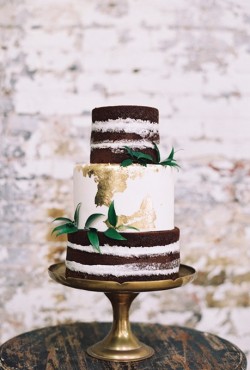 We're huge fans of chocolate cake here at A Wedding Cake Blog. We looove chocolate cake and we also love the idea of a chocolate wedding cake.
It's so fun and somewhat non-traditional to serve a chocolate wedding cake. (We're talking all chocolate, not just a tier or two).
And this nearly-naked chocolate cake with a rustic vibe is a perfect cake for your early spring wedding. Read More
0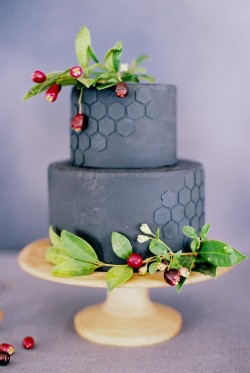 While we're huge fans of traditional wedding cake with flowers and cake toppers and all that jazz, we do love a dramatic, non-traditional cake.
Like today's dark and dramatic cake with black icing.
This cake, featuring honeycomb design on the dark icing would be perfect for a winter wedding – or even an early spring wedding. Read More
0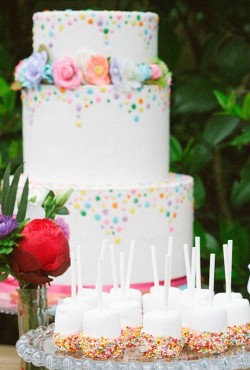 What's better than having your cake and eating it too? Having your cake AND cake pops and they're both super fun and covered in sprinkles.
Yep, today's wedding cake is a two-for-one deal. You get this lovely spring-inspired wedding cake decorated with confetti and pretty flowers and on the side, a whole bunch of cake pops covered in nonpareils (or sprinkles, as we like to call 'em). Read More
0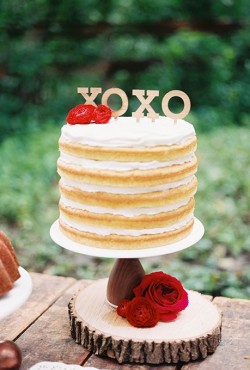 Happy day after Valentine's Day! Since we're all about celebrating all things loves, we're still celebrating today.
And today's featured cake is topped with hugs and kisses!
This simple yet elegant naked vanilla wedding cake is made even lovelier with the addition of the "xoxo" cake topper and a few bright blooms. Read More
0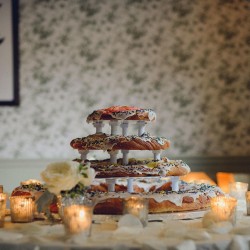 If you're looking for a non-traditional wedding cake – and you happen to enjoy celebrating Mardi Gras – this king cake is the perfect cake!
King cake is often associated with the Epiphany at the end of the Christmas season, but in New Orleans it's associated with Mardi Gras (which happens to be right around the corner!) Read More
0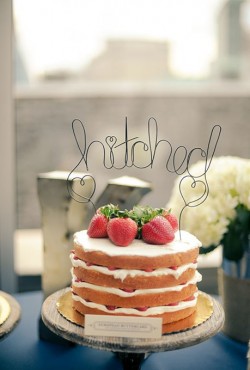 If there's one fruit that makes me think of all things summer it is the strawberry.
It could be the dead of winter (like right now) and if I buy strawberries at the store I feel a little more hopeful about warm weather that is coming down the pike.
Which brings me to today's wedding cake. This lovely, simple one-tier cake adorned with strawberries. Read More