Modern Wedding Cakes
The term "modern wedding cake" may mean different things to different people. Here at A Wedding Cake Blog, we take the term to mean anything with a contemporary feel; a cake that eschews the traditional white on white, piped and buttercreamed and trimmed with swags or roses. Modern may refer to a bold use of color, or a contemporary decor or shape. It may also refer to choosing something other than the grand, traditional tiered cake – a cake of macarons, for instance, or an assortment of individual cakes. Modern means that you are updating the tradition: perhaps you aren't entirely throwing it out. You're just giving it a breath of fresh air.
0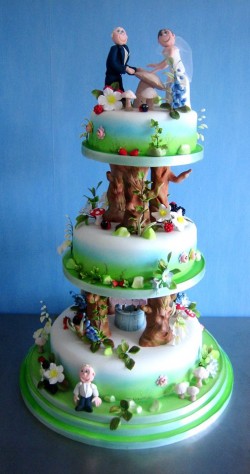 I am going to go out on a limb here and say that spring really is here to stay as we inch closer to April.
With that in mind, I wanted to find a wedding cake that was all about nature and spring-like things. I think this "woodland" wedding cake is that cake.
Our friends at Hockleys Cakes created this one-of-a-kind wedding cake for a bride and groom who "love everything woodland." I am in awe just looking at this cake and taking in all the incredible details.
The cake itself features three tiers – each a different flavor. I love wedding cakes that have a different flavor in each tier, so in my book this cake is already awesome. Read More
0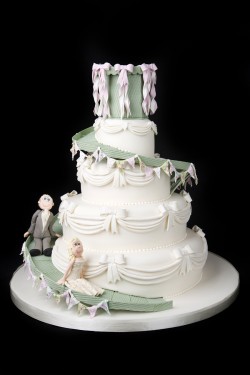 I always enjoying finding cakes that are whimsical and add an element of fun to the wedding reception.
This cake from our friends at Hockleys Cakes is just what I was looking for! It's whimsical, fun, and even has a spring-like look and feel to it.
The four-tier cake was created for a bride and groom who were celebrating their big day at an old stately home, according to Michael Hockley. The couple wanted a "vintage fairgroud" feel to the reception and wanted their cake to fit the bill.
And so, the Helter Skelter cake was created. Read More
0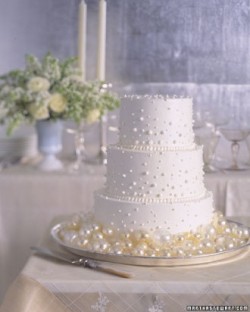 Bubbles are one of my favorite things.
They're fun and whimsical and oh so bubbly! And you can't help but smile when you think of bubbles. Even the word itself is funny. Say it with me – bubbles!
Which bring us to today's wedding cake that is surrounded by bubbles.
The wedding cake itself is simple enough – iced with a lovely buttercream icing. But what makes it really incredible is the sea of bubbles that surround the bottom of the cake. It's almost as though the cake is floating on the bubbles. Read More
0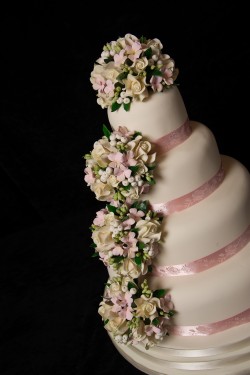 Spring is in the air!
Yes, it's true! The first day of spring is this tomorrow and therefore I'm focusing on all things pretty and floral and springy.
Just like this beautiful wedding cake adorned with balls of flowers.
This gorgeous contemporary wedding cake – called the 'Marlborough' –  is another incredible creation from our friends at Hockleys Cakes in the United Kingdom.
I am in love with this cake. It's so pretty and delicate and just downright gorgeous that I can't imagine wanting to cut into it, no matter how delicious it is! Read More
0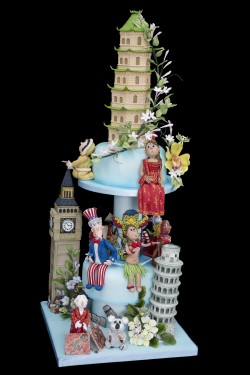 Sometimes you find a wedding cake that just knocks your socks off, and today I'm sharing one of those cakes with you.
This is the "Around the World" wedding cake from our friends Hockleys Cakes in the United Kingdom.
Take a few moments to really look at this creation and the amazing attention to detail. It really is one of the most incredible cakes I've seen. Can you imagine having it as the centerpiece at your reception? Read More
0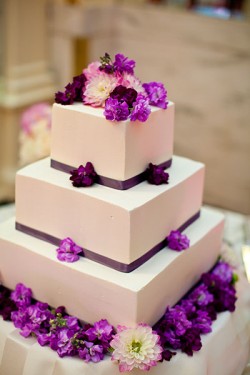 I am a huge fan of all things purple. I think the color is vibrant and cheerful and it's also the color of royalty according to some sources, so it has that going for it.
But as much as I love purple I had not found many cakes featuring the color until now.
And I have to tell you, I'm loving this cake and its understated elegance.
The cake itself is simple and pretty with the square tiers (such a fan of this shape!) and smooth white icing. But the ribbon around each tier takes the cake to another level of beauty, adding to the clean lines of the design. Read More
0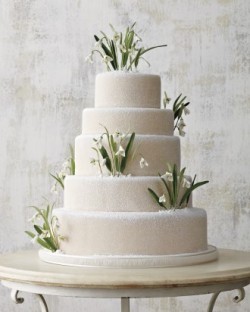 Since there are only a few weeks of winter left I decided we should feature one more winter themed dress before we go all spring-y.
And to that end, I present a white wedding cake with wintery snowdrop flowers that seem to be growing out of the tiers.
Whether you're a fan of winter or not, you have to admit this is a rather spectacular cake.
It's so pretty and elegant and it would be a stunning cake at any winter wedding. Read More
0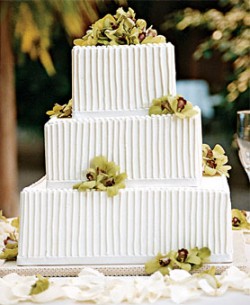 As much as I love the trend of colorful cakes that are anything but traditional, sometimes I like to go back to the basics and find a lovely white wedding cake with minimal embellishments.
Today, that is this white wedding cake adorned with fresh orchids.
What I love most about this cake is the simplicity of the design. Read More
0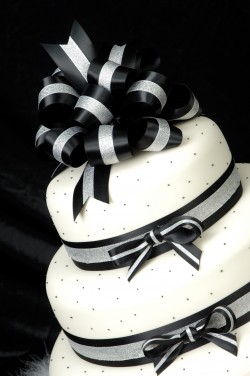 I have, over the past year or so, become a fan of non-traditional wedding cakes particularly those that go beyond a white wedding cake.
I love finding cakes that use different hues, whether they're bright and colorful or more muted black and white.
Which brings me to today's cake – this lovely black and white cake with ribbons.
It's another amazing creation from our friends across the pond, Hockleys Cakes and I absolutely love this cake. Read More
0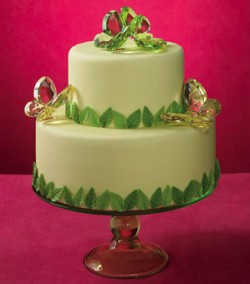 Despite the winter wonderland outside my window, I have decided it's time to embrace all things spring in the hope that there's a thaw on the way and we'll see green grass again sometime soon.
As part of this 'let's think spring' movement, I had to find a spring-y wedding cake to share today, and I think I found it!
This lovely light green cake is perfect for a spring wedding! Read More