Unconventional Wedding Cakes
In today's wedding world, it seems that most wedding cakes are unconventional. It's almost unconventional to have a white on white wedding cake! But in an unconventional wedding cake might refer to the design, the topper, or the flavors featured. Regarding design, one popular unconventional style today is the topsy turvy, asymmetrical design. Stacked cake layers give the illusion that the cake could spill over any minute, when in fact, the cake is balanced and level. Unconventional toppers are another way that a couple may make their cake unique. The couple who loves Angry Birds, for instance, can feature the adorable characters perched atop their cake. Can't last a minute without your cell phone? There's a wedding topper for that, too. Prefer Goth to Victorian? No problem. A talented baker can help you realize your dream cake. But you might opt for traditional design and toppers, and still find ways to be unconventional with flavors – even savory alternatives to wedding cakes, like "cakes" made of wheels of cheese, or layers of savory meet pies, might stand in for a conventional cake. So, express yourselves! In cake! And send us pictures.
2
Wow. Blue.
I've got to admit. I'm all over this color scheme. It might be a bit much for some..and I can only imagine what my teeth would look like after I chowed down on this bad boy..but it's kind of amazing. This is a five tier round cake covered in a deep teal fondant and covered in lillies. The twenty-four lilies are actually made from gum paste. That shocked Christen Read More
Other Posts You May Enjoy:
0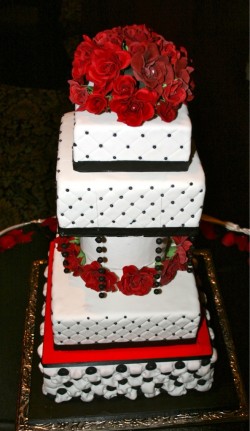 The cake I'm featuring today demands your attention.
This is no shy, shrinking violet of a wedding cake.  No demure, "Oh, look how sweet and innocent I am.  Really, just a place in the corner for me."  No sirree bobby.  This cake declares itself the grande dame of wedding cakes, and expects you to perk up and notice – and use your best posture – when you walk into the reception.
Or is it just me?  You know, attributing personalities to cakes?
At any rate, this cake by Shawna of Flourish Cakes  (follow her on Twitter here) in Courtice, Ontario, is the kind of cake that is truly a centerpiece Read More
Other Posts You May Enjoy:
0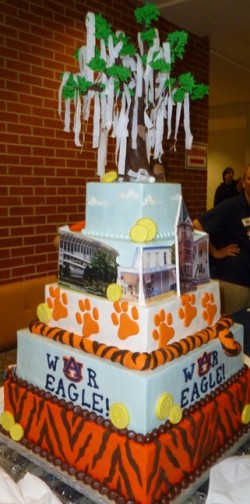 I am so torn about posting this because I have a shameful secret. I love Auburn.
I know, I know, this is SUCH a crisis because I also live and breath the South Carolina Gamecocks. Like a good South Carolina girl growing up I loved my Gamecocks. I even spent a year after college running the store inside the football stadium. Steve Spurrier knew who I was. Okay, let's Read More
Other Posts You May Enjoy:
0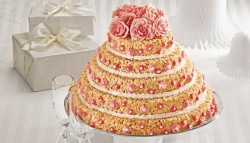 Here's a conundrum I am having. Perhaps you English majors out there could help me. I know the brand is "Rice Krispies" but if I use it describing a cake does it become Rice Krispy or Rice Krispie? OR, do I leave it as Rice Krispies Cake because technically there is more than one krispie involved in this bad boy. If only I knew how to insert a poll on the blog. Dilemma.
Anyway, on with what we are here for. Wedding Cake. More specifically a brand spanking new version of the amazing Rice Krispy/Krispie/Krispies cake that I featured last month. Only this cake is more official since it comes from the Rice Krispies recipe website! And bonus, it has a recipe so you can attempt to tackle the Rice Krispie wedding cake yourself. You can check out the recipe and picture here. I wonder how many boxes 57 cups of Rice Krispies would be?
Personally, these cakes are amazing and if I attended a wedding or shower where one of these was the cake I would probably ninja kick anyone who got in my way. How do you feel Read More
Other Posts You May Enjoy:
0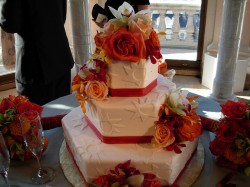 Happy Fall, Y'all!
Well…fall-ish. Reports are tricklin' into me from all over the country, from friends who are waking up to cooler breezes, nicer temperatures…my friend Matt in Texas even told me it cooled down to 90 in Austin yesterday.
But here in Florida, I'm manufacturing my fall Read More
Other Posts You May Enjoy:
0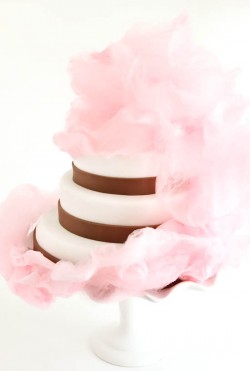 Really…do we ever outgrow our love of pink cotton candy?  I think not.
I have never seen a cake that made me want to trip right out in my mary janes, in my pink gingham dress, and play paper dolls.  This cake is fantastic!  And we have Heather at Sprinkle Bakes to thank for the brilliance of it.
Really…this cake would be absolutely perfect for a small wedding…or a bridesmaids' luncheon…or a Tuesday afternoon.
I think we need party dresses and Champagne to go with it, yes?
Check out Heather's Read More
Other Posts You May Enjoy:
0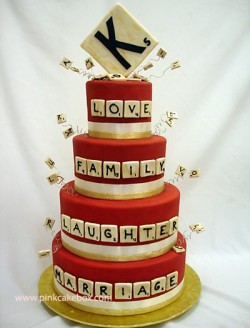 We've featured a Scrabble themed cake here before.  However, that cake was a literal representation of the game…representing the board and all.  This one is a little more subjective.  If you've been pinning away on Pinterest you have probably seen a high variety of Scrabble-themed stuff.  And stuff was literally the only word that could encompass the Scrabble-mania that has rocked the pinning world.  Scrabble art, Scrabble cookies, Scrabble blankets…it's amazing what you can do with those tiny letters.  I mean honestly…someone HAS to do something Read More
Other Posts You May Enjoy:
1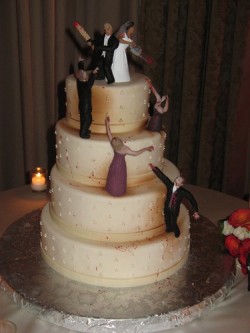 Yup.  What better way than to celebrate your day that have life-like replicas made of you and your groom armed with chainsaws and warding off zombies who happen to look exactly like your wedding party?
I can't think of any.  Truthfully when I found this cake on the interwebs I was a little, well, disturbed.  Then, after some research, I found out why exactly this sweet looking bride and groom would have such a cake.  The bride was proposed to while helping friends shoot this short movie for YouTube.  Be warned, it's not exactly the happiest video I've ever seen.  Well, the sweet proposal is happy, but the blood-sucking and tongue-ripping zombies aren't exactly my cup of tea.  If you do watch it please tell me that you agree that it is just pure luck that there is a guy dressed as a tree and he conveniently Read More
Other Posts You May Enjoy:
2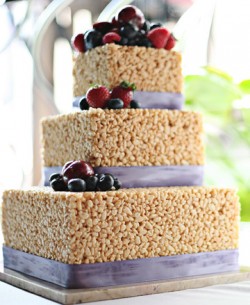 I think I'm just going to have to stop and let you process the picture of this bad boy for a minute.  Go ahead.  I'll wait.
Done?  Awesome sauce.
I'm not going to lie. I might have shouted an obscene word and did a high kick when I saw this cake. I stopped short at finger guns. You're welcome.
Since it's my 30th birthday and now that I am 30 I make apologies to no man and I do what I want when I want because I'm thirty and I Read More
Other Posts You May Enjoy:
1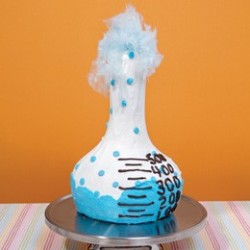 I have a little problem. It's called Pinterest. I have another problem. I'm a big old nerd.
I can actually hide it pretty well but once I get rolling about Harry Potter, Angry Birds, Twilight or anything else remotely nerd-tastic, I cannot be stopped. So today I have decided to embrace my inner-nerd and post a bunch of FUN Nerd-inspired cakes that I found via Pinterest. Why, you ask? Because today, August 15th, 2011, is the last day of my twenties. Tomorrow I Read More
Other Posts You May Enjoy: