Disney Wedding Cake
No one does weddings better than Disney. And when it comes to cake, the artists who craft each cake for weddings held at Disney are adept at creating magic that expresses the unique personality of each couple. Here at A Wedding Cake Blog, we've seen everything from castles and princesses to mouse ears and amusement park rides. But Disney Wedding Cakes can turn up any place, at any time. If you are a Disney fan, you don't have to have a big budget and get married at a theme park to enjoy a little pixie dust. Bakers and cake artists have access to lovely cake toppers that can transform the most plain wedding cake into a Disney dream come true, and any baker with a steady hand can pipe hidden (and not so hidden) Mickeys to your hearts' content.
1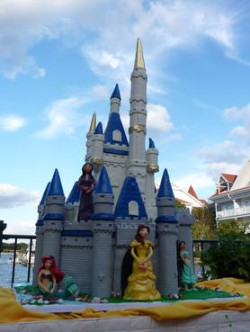 I have to admit that having a full time job, a full time toddler, a husband, a dog, cat and an obsession to blog about cake doesn't give me much free time to sit down and watch television. Except today I found a spare twenty minutes and I was thrilled to sit down in my big chair and do nothing but watch television. My problem…no remote. Oh well, there was NO way I was moving. Luckily it was stuck on TLC and Read More
0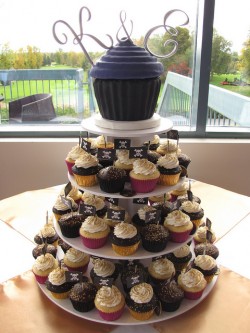 Argh! Shiver me timbers because these cupcakes rock my face off.
Oh yes. Let's see how many Pirate cliche's I can use here.
This wedding cupcake ensemble is a combination of lemon cupcakes with lime butter cream, espresso cupcakes with vanilla butter cream and gluten free & dairy free chocolate cupcakes topped with chocolate ganche. (If I am remembering correctly this is our first gluten free cake post..woot woot!) All of the cupcakes are topped with gold sprinkles and skull and cross-bone flags. However, the kicker for me is the Read More
1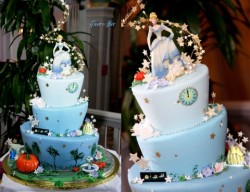 It's not secret. I love all things Disney. Sure this love has grown from countless trips to Disney World but it stems from one place.
Cinderella.
I remember the first time I saw the Disney version of Cinderella. It was the Christmas I was eight years old and it had just come out on VHS. I opened up the package and I was in love with the dark blue packaging and the princess in the sparkly dress on the cover. From that day on no other princess ever did it for me like Cinderella did.
When I went to prom..I wanted to look like Cinderella (only my dress was metallic purple..Oh the 90's!) and when I got married there was Read More
0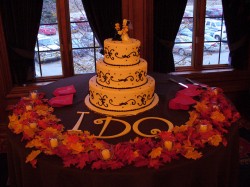 I do love autumn, contrasting colors, Mickey and Minnie, candlelight, and getting straight to the point!
Isn't this adorable? I fell in love with the fanciful message, writ large across the table. But then I noticed the details. Read More
0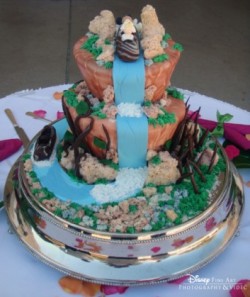 My oh my what a wonderful cake!
Last week Disney's Ever After Wedding Blog featured this Splash Mountain Cake on Wedding Cake Wednesday. This cake is a replica of the popular Disneyland and Walt Disney World attraction featuring two tiers, chocolate logs and a fondant waterfall. I could be wrong but it looks like Read More
0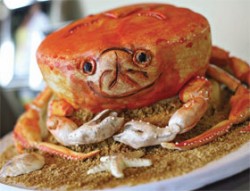 Dreary, dreary, dreary. As we cross over that period of winter when we think we're never going to have warm weather again, and into the hope that surely, spring is just around the corner, we at AWCB can't think of anything that cheers us up better or faster than a towering confection of sugary love and Read More
0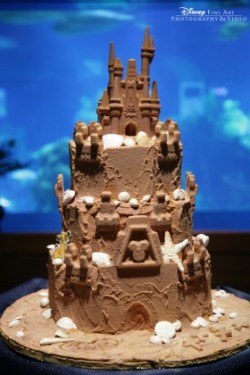 I'll be the first to admit that I am counting down the days to my Disney/Beach trip in May. I'm dreaming of fun warm Disney days followed by days relaxing on the beach. I want to wind in my hair, the sand between my toes and to lotion myself up with stuff that smells like tropical fruit. Too much information..maybe..
When I saw this cake feature on Disney's Fairytale Weddings and Honeymoon's Ever After Blog (say that three times fast) I almost Read More
2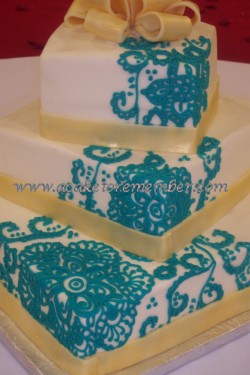 Welcome to A Wedding Cake Blog's first Sunday Round-Up ever!
Here, we plan to give you some interesting tidbits to snack on, as we review fun things that have happened in the world of wedding cakes this week.
If you know an awesome wedding blogger or bakery that you'd LOVE to see us feature on aWCB, please send us a comment!  We are ALL about making friends and learning what's new Read More
4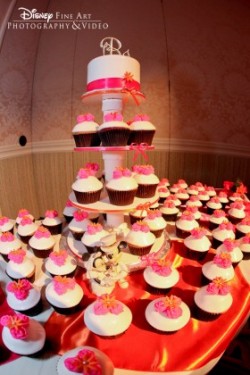 Do you ever see a picture and suddenly all is right with the world? This just happened to me.
There is something you should know about me interwebs…it only takes one of three things to make me happy: Cupcakes, Disney World & anything pink. Combine them all together? Well..let's just say after I found this picture my husband had to come and pick my jaw up off the floor and put it back together. In other words? Perfection!
Just look at this gorgeous presentation of Red Velvet Cupcakes at a recent Disney Wedding. The frosting looks almost Read More
2
We're huge Disney fans here at A Wedding Cake Blog, so you'll be seeing a bit of Disney from time to time! I thought we'd start with some of my favorite toppers…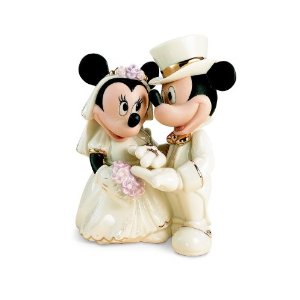 A stunning topper featuring everyone's favorite mice, the "Minnie's Dream Wedding" Cake Topper by Lenox is a fun way to bring a little Disney to the wedding! Colors won't be a problem in this one — straight white and gold will go with anything.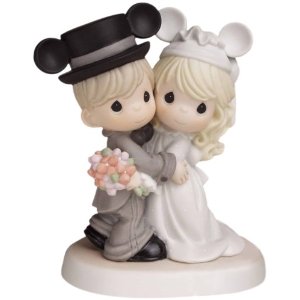 I love this Precious Moments Happily Ever After Figurine — while it appears at first glance to be simply a bride and groom figurine, the Mickey ear hats give away that whimsy of the Disney theme parks! So much fun for a couple who calls Disney their second home…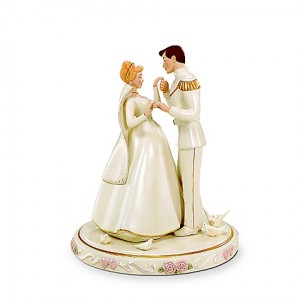 Perfect for any princess, the "Cinderella's Wedding Day" Cake Topper brings a sense of true romance to any celebration. Featuring Disney's quintessential princess, Cinderella, and her handsome Prince Charming — gazes locked together — it's the ideal harbinger of a life to be lived "happily ever after."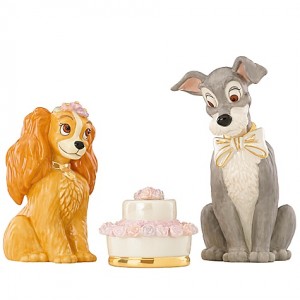 This has to be one of my favorite Disney cake toppers of all time. In the "Lady's Dream Wedding" Figurine by Lenox, beloved Disney characters Lady and the Tramp sit shyly eyeing each other — and their wedding cake between them! Don't forget to serve spaghetti at the reception! 😉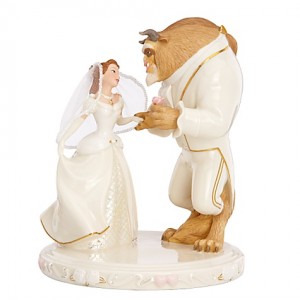 Love is in the air as Belle and the Beast discover their true feelings for one another in this "Wedding Dreams" Beauty and the Beast Cake Topper. The movement captured in this topper is what I think sets it apart — it looks like suspended animation, doesn't it? Perfect for any Belle fan.