Disney Wedding Cake
No one does weddings better than Disney. And when it comes to cake, the artists who craft each cake for weddings held at Disney are adept at creating magic that expresses the unique personality of each couple. Here at A Wedding Cake Blog, we've seen everything from castles and princesses to mouse ears and amusement park rides. But Disney Wedding Cakes can turn up any place, at any time. If you are a Disney fan, you don't have to have a big budget and get married at a theme park to enjoy a little pixie dust. Bakers and cake artists have access to lovely cake toppers that can transform the most plain wedding cake into a Disney dream come true, and any baker with a steady hand can pipe hidden (and not so hidden) Mickeys to your hearts' content.
1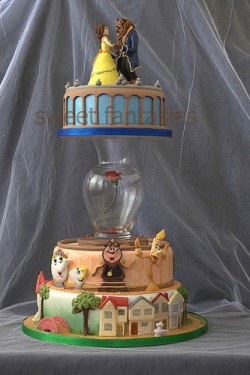 Did you hear the news?  Due to the success of the Lion King 3-D in theaters last month Disney will be re-releasing several Disney classics in 3-D including my favorites The Little Mermaid and Beauty and the Beast.
Oh yes.  In honor of that news I think we need a Beauty and the Beast inspired cake..don't you?  The answer is yes.  Yes you do.
Check out the awesomness that is this cake.  Let's start with the obvious..the incredible fondant work.  The first tier is set to look like Belle's village in France.  The second tier features realistic portrays of Beauty and the Beast characters such as Cogsworth, Lumiere, Mrs. Potts and Chip.  The top tier and the topper showcase and immaculate replica of Belle and her Beast.  Seriously, replicating Disney characters is NOT something that can be done easily.  In fact I've seen a lot of cakes..well..flop in this area.  The BEST part of the cake is probably what your eye was drawn to first.  The rose in the vase that separates the second and third tier.  One, how do people think of these things.  That is super creative.  Two, it amazing and gives the cake such great height.  I would really love to know how exactly that rose is floating in there.
I'm in love.
0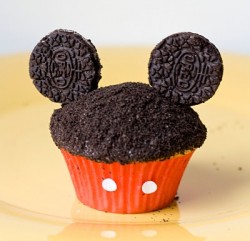 In case you didn't know Walt Disney World's Magic Kingdom Park celebrated its 40th birthday on Saturday, October 1st.  It's no secret that we kind of sort of LOVE Disney World around here.  While I couldn't be there to celebrate I sat at home and threw dirty looks in the direction of all the tweets I was reading from friends who were visiting the parks that day.  I decided to honor the most magical place on earth in my own little way… Read More
1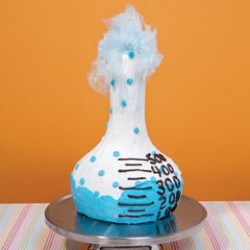 I have a little problem. It's called Pinterest. I have another problem. I'm a big old nerd.
I can actually hide it pretty well but once I get rolling about Harry Potter, Angry Birds, Twilight or anything else remotely nerd-tastic, I cannot be stopped. So today I have decided to embrace my inner-nerd and post a bunch of FUN Nerd-inspired cakes that I found via Pinterest. Why, you ask? Because today, August 15th, 2011, is the last day of my twenties. Tomorrow I Read More
0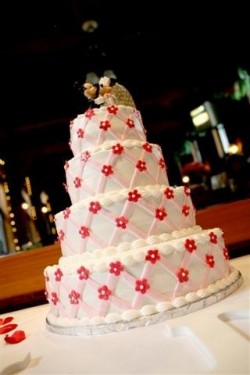 Today on the blog, we're getting an extra dose of adorable.  And moreover, we're seeing adorable done right, which is even better.
Check out this absolutely precious cake.  This four-tiered beauty was the star of the show at Melissa and Heath's wedding, which took place in 2006.  The couple had never been to Disney before going together while they were dating…and they were instantly hooked on the magic.  They even considered getting married at Walt Disney World, but opted for a hometown wedding, and a cake that served as an homage to their favorite vacay Read More
0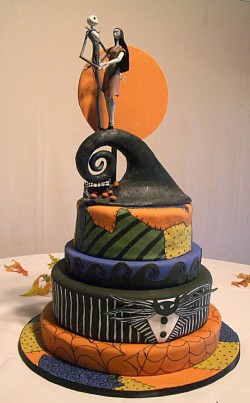 I love The Nightmare Before Christmas. In college my sorority had a Halloween Mixer. Most of my sisters went as nurses or some sort of cute animal like a kitten or a tiger. I think Cady Heron (a.k.a. Lindsay Lohan in Mean Girls… before she went all nutso) said it best, "Halloween is the one night a year when girls can dress like a total s— and no other girls can say anything about it."
Me? I went as Sally from The Nightmare Before Christmas. I didn't get the memo about the skimpy costumes.
When I found this cake on Pinterest I squealed Read More
0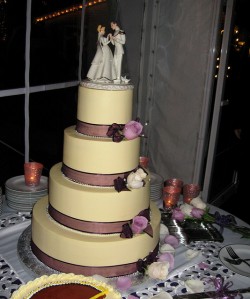 Let's take a break from the nontraditional cheese cakes of recent times and go back to an old school classic wedding cake. This is a round, four tiered cake with a cream colored butter cream icing. The deep purple ribbon around the base gives it a pop of color and the three purple and white roses add a splash of sophistication.
My favorite part of this cake is the adorable Read More
0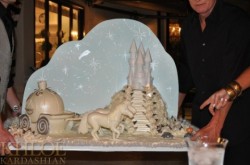 So this wasn't the post I intended for today but on my daily visit to all my Disney, Wedding Cake and Hollywood Gossip Blogs I saw one common theme.  Ms. Kim Kardashian's Cinderella inspired Engagement Party Cake that was reportedly made by Hansen's Cakes in Los Angeles.  The same bakery that Tori Spelling buys all her cakes from as well.  I guess if you are a reality television star you buy your cakes here.  The edible part of this cake is the hill with the castle topper. I have a love of all things Disney.  Especially Cinderella.  I would love to see a Cinderella wedding done Kim Kardashian style.  Wouldn't you?
According to her sister Khloe (who posted the picture of her gorgeous cake on her blog) the family gathered together for a "normal family dinner" and Kim walked in and announced her engagement.  I know all of my "normal family dinners" include live ponies.  Don't yours?
4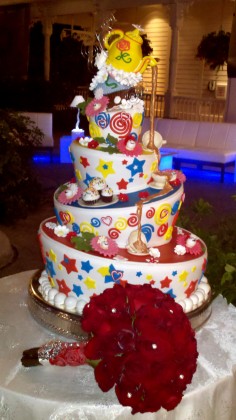 I'm late..I'm late..for a very important date!
You know what that means. I'm getting all Disney on you again. In the hub-bub of the Royal Wedding I forgot to showcase one of my favorite themed wedding cakes. This cake was made by the Grand Floridian Resort Bakery at Walt Disney World Resort in Florida. It was made for the All Night Royal Sleepover Celebration held at Disney's Wedding Pavilion the night before Read More
2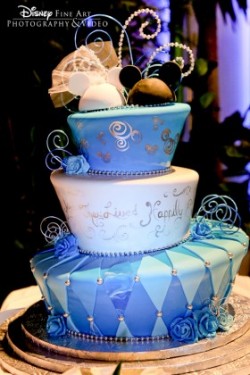 It's no secret.  I kind of live for Wedding Cake Wednesdays on Disney's Ever After blog.  Seriously, these cakes that the bakers at Disney come up with ALWAYS knock me on my…well…you know.
This particular cake was featured a few weeks ago and I've been keeping the page saved on my computer for a special day.  Lucky for you..today is that day!  Check out the adorable bride and groom wedding ears on top of this pretty hunk of cake!  Maybe this is a little more sentimental for me than others.  The hubbs and I honeymooned (and got engaged) Read More