Floral Wedding Cakes
What's not to love about a floral wedding cake? The trend to decorate cakes with flowers, whether real or gum paste, really became all the rage during the 1980s, when Martha Stewart showed us all how wrong we'd been doing weddings up to that point. Gone suddenly were the little bride and groom figurines made of porcelain or plastic that stood proudly atop cakes. Replacing them were mounds and cascades and accents of flowers of all shapes, sizes, and hues. The trend may have died down to some extent; today, we're as apt to see a bride and groom cake topper – or a pair of birds or bicycles, or anything else the couple might fancy – as flowers. But flowers have not lost favor completely. In fact, florists are still busy preparing floral toppers for cakes that match the bride's color palette and bouquet. Likewise, bakers are kept busy crafting handmade, sugar or gum paste flowers, or at the very least, custom coloring store bought gum paste creations to offset their beautiful cakes. There are a couple of points to remember when choosing to trim your cake with fresh flowers. First, make sure that the bloom you'd like to use is NOT poisonous. Wouldn't you hate to send people to the hospital because they ingested a piece of your cake that had ivy on it? And secondly, if at all possible, ask your florist for pesticide-free blooms. Bug killing chemicals = not tasty. And finally, if it's gum or sugar paste flowers that you're after, remind guests that, although they are technically edible, it's probably not very tasty or a good idea. If you want edible decorations, you should probably stick with real or marzipan fruit.
0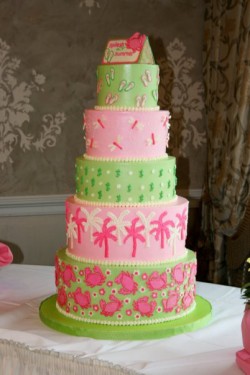 Hello pink and green! Calling all sorority girls and Lilly Pulitzer fans…today's featured cake is inspired by the designs of Lilly Pulitzer. For those of you who aren't familiar with Lilly Pulitzer think bright colors, fun beachy patterns, and all around girly-ness!
I love this cake for SO many reasons BUT we shall start with the bright colors! I love love LOVE! pink and green together (I know that trend is considered "out"…but bear with me) because the colors are so happy and vibrant…and they make me smile. And speaking of things I love…I love how the cake designer chose a different pattern for each tier. The design incorporates Read More
Other Posts You May Enjoy:
1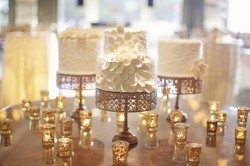 Today's feature has got to be one of my favorites so far! I mean, when I look at the picture it just takes my breath away.
One day down the road – when I take a walk down the aisle – I imagine something like this for my cake. The display is perfect in its Read More
Other Posts You May Enjoy:
0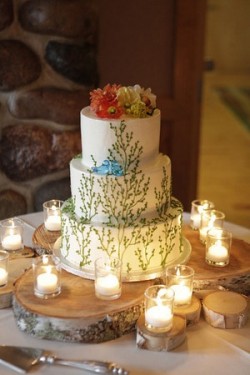 Today's featured cake is another Pinterest find. And wow am I in love with this one! It is so romantic and sweet and gorgeous and well just amazing!
This cake was designed by Jessica Cakes in Minneapolis. I love the way she incorporated the garden feel of the couple's wedding by creating green branches that look like they are growing up the cake. And the blue birds were also incorporated to match the programs. How sweet looking are Read More
Other Posts You May Enjoy:
1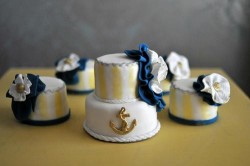 Adorable! That was the first thing that came to mind when I saw these Mini Wedding Cakes on Pinterest.
I have a slight obsession with miniature baked goods…I'm not sure if it makes me feel less guilty about eating something "unhealthy" or if I just like the idea of miniature things. Either way I love mini cakes, mini cupcakes, cake pops (they may not be miniature but they are small), and petit fours. And while most miniature goodies are not decorated elaborately today's featured minis are incredible! The attention to detail is amazing…I mean look at the rope border on the tiers of the cake, the bronze anchor, the flowers, and the stripes! Can you imagine the time it took to perfect the details and make these look so good?
In my opinion these mini wedding cakes would be perfect for a dessert table or even as a wedding favor…but we want to know what you think about the whole mini cake idea?
If you love the nautical look of these mini cakes, check out this nautical wedding cake and this nautical cake topper we have featured!
Thanks, too, to our good friend Beth from Cakes by Beth for letting us know that these are the splendid work of The Caketress of Toronto!
Source: Pinterest
Other Posts You May Enjoy:
0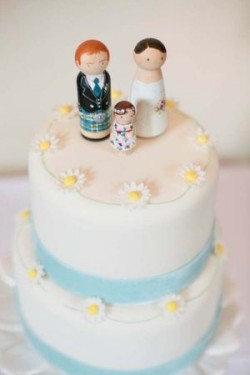 Happy Unofficial Start to the Summer Season, Y'all!
Do you wish people a Happy Memorial Day?  I mean, it kinda seems like a contradiction in terms.  When I was growing, up, Memorial Day was less about partying, and more about remembering.  I guess I'm happy with a hybrid of both:  do a spot of remembering, and then go honor those we love and miss, and others that gave all for our freedom, by enjoying some of that freedom and leisure.  What I don't get?  Those pesky home improvement commercials that seem to think Read More
Other Posts You May Enjoy:
0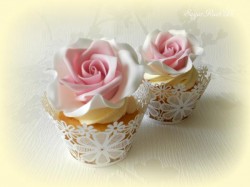 I have a slight obsession with cupcakes. Actually obsession might be underestimating it a bit. So when I saw these beautiful rose cupcakes from Syma at Sugar Rush I just had to feature them!
These cupcakes are a step above your ordinary wedding cupcakes. The beautifully crafted roses give a soft, romantic feel to the cupcakes. Can you imagine a tower of these gorgeous cupcakes at Read More
Other Posts You May Enjoy:
0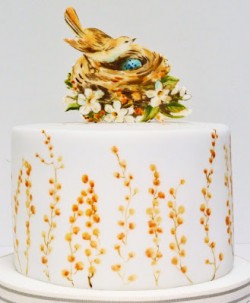 This cake is vintage and gorgeous and I am in love! Amelie's House is responsible for this wonderful concoction. They actually designed and made it for a baby shower but I think it would make a beautiful cake for a wedding (or a bridal shower).
Around the cake they painted a mimosa border (the flower not the delicious drink) because the featured refreshment at the shower were mimosa cocktails (yum!). But this cake isn't all about the decor. The actual cake itself was Read More
Other Posts You May Enjoy:
0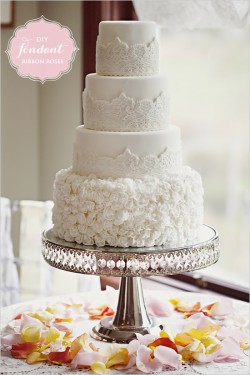 Hey y'all!
I featured a link to this beautiful cake a few weeks back in my Let Them Eat Cake Sunday Round-Up. But I loved it so much that I reached out to the Wedding Chicks girls and asked if we could show it off in its own post.
Roses are just so pretty, and never, ever go out of style. And there's not an ugly one out there, you know? Every color, every variety. They're so pretty, and ladylike, and classic. They're old-fashioned, and yet they never go out of style.
I also love that there are so many ways that you can interpret a rose for a cake. You can, of course, use Read More
Other Posts You May Enjoy:
0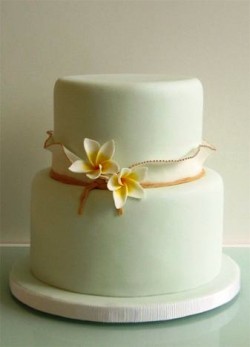 This one…is for my mom. Happy Belated Mothers' Day, Mom! Here's your wedding cake!
My mom took the trip of a life time a few years back with one of her best chums and my grandmother – to Hawaii, some place Mom and MaMa (remember, I'm from West Virginia, y'all) had always wanted to go. They came back absolutely in LOVE with Read More
Other Posts You May Enjoy: