Floral Wedding Cakes
What's not to love about a floral wedding cake? The trend to decorate cakes with flowers, whether real or gum paste, really became all the rage during the 1980s, when Martha Stewart showed us all how wrong we'd been doing weddings up to that point. Gone suddenly were the little bride and groom figurines made of porcelain or plastic that stood proudly atop cakes. Replacing them were mounds and cascades and accents of flowers of all shapes, sizes, and hues. The trend may have died down to some extent; today, we're as apt to see a bride and groom cake topper – or a pair of birds or bicycles, or anything else the couple might fancy – as flowers. But flowers have not lost favor completely. In fact, florists are still busy preparing floral toppers for cakes that match the bride's color palette and bouquet. Likewise, bakers are kept busy crafting handmade, sugar or gum paste flowers, or at the very least, custom coloring store bought gum paste creations to offset their beautiful cakes. There are a couple of points to remember when choosing to trim your cake with fresh flowers. First, make sure that the bloom you'd like to use is NOT poisonous. Wouldn't you hate to send people to the hospital because they ingested a piece of your cake that had ivy on it? And secondly, if at all possible, ask your florist for pesticide-free blooms. Bug killing chemicals = not tasty. And finally, if it's gum or sugar paste flowers that you're after, remind guests that, although they are technically edible, it's probably not very tasty or a good idea. If you want edible decorations, you should probably stick with real or marzipan fruit.
4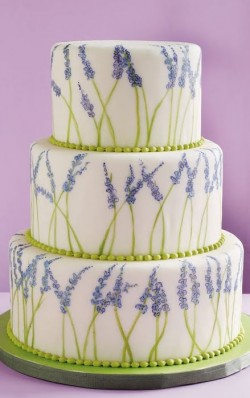 Anybody out there planning a summer wedding with a Provençal theme? You're welcome.
I saw this today on Pinterest and just had to show it to you.  Sadly, I have Read More
0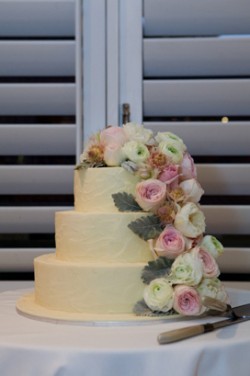 Hey Y'all!
We'll be heading out to Georgia in just a little bit to spend the holiday there.  Where will you be?  Why?  Are you happy about it?  Or just going 'cause you have to?
Well…where ever you find Read More
0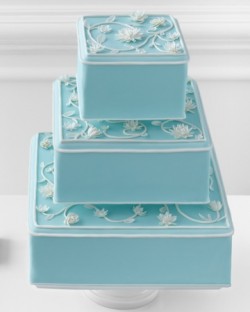 I love when old things are new again.
I remember when I was growing up that there was really no such thing as a stacked wedding cake.  It was the era of plastic columns and rigid structural work.  The first few times that I saw the rig that held cakes together, it was kind of like strolling "backstage" at Disney: the magic was gone.  The Mickey Head was off the guy, and he was Read More
0
So I'm reading my email this morning, and looking at various websites, and suddenly I discover that I totally missed THE wedding that had been on my radar lately (No…not Brangelina.  The other one.)
It seems that Jessica Biel and Justin Timberlake slipped off to Read More
0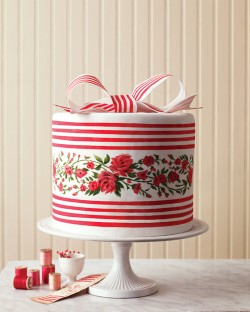 I went in search of something different today, and I found this lovely cake!
Don't dismiss it as just a Read More
0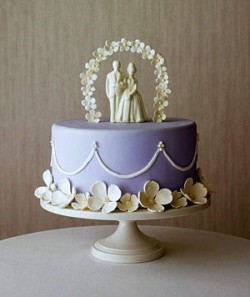 Love. This.
Maybe I'm speaking as a married woman of 11 years who doesn't need another single knick knack.  But girls, pay heed:  that cutesy cake topper will be gathering dust in a matter of years in the back of your china cabinet (or worse…in a box in the attic.)
My advice?  Go edible.
I think this is darling because it's both classic and practical.  Rather than have some chichi porcelain figures, why not Read More
2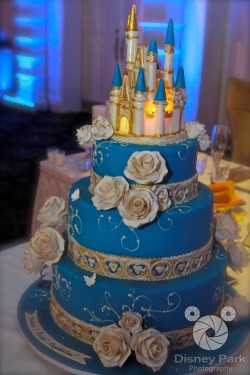 You know we love us some Disney here at A Wedding Cake Blog.  In fact, as I write this, I am entertaining a visit on Wednesday to Epcot and reliving a jaunt to Magic Kingdom last week!  Sigh.  I heart living in Florida.
But I didn't come here today to make you green with envy.  Oh no.  I came to show you a FABULOUS cake.
DisneyRob tapped me on the shoulder a while back and asked me if I'd like to feature his cake on our blog?  And I said, Read More
0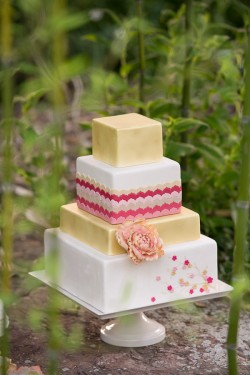 Erica of  Erica O'Brien Cake Design takes us in a decidedly unexpected direction with today's Thai-inspired cake.
I have seen some really beautiful cakes that pull from Asian inspiration, but most of the time, they featured deep, bright colors. But with this cake, which was featured in a stylized shoot, we see beautiful Thai design elements approached with the light, deft touch of pastel.  And it works beautifully.  I absolutely love the stacked fondant Thai arches, and the way that Erica alternates a couple of gold layers into the mix.  And the sweet flower blossoms, as well as the gold-tinged peony, are breathtaking.  She even plays with Read More
0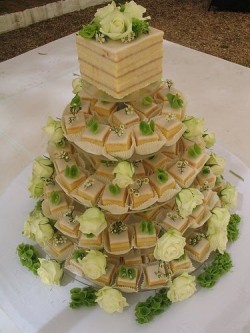 I heart petits fours in the biggest, old-fashioned way imaginable.
They're so darling and so delicious, and you can look at their meticulousness and just tell that they took oodles of time and care to put together.  I love them so much that they keep being featured at my big events, like my wedding shower (and later at my baby showers – both of them!)
Had it occurred to me all those years ago, Read More
0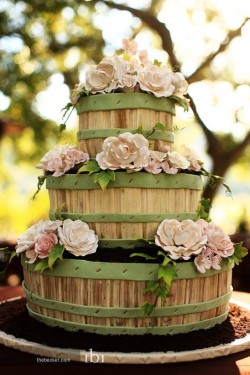 I wanted to feature a cake today that was sort of an homage to summer's last big hurrah.  After all, it's still summer. It's too hot to call it fall yet, and besides, we haven't hit the equinox.

So what signals the end of summer better than gathering an overgrown bounty?  This Flower Basket Wedding Cake was the perfect fit.
Look closely, because those baskets are, in fact, cakes.  The sugar paste flowers appear to be the star of the show when really, they're just garnish.
Isn't the detail Read More