Floral Wedding Cakes
What's not to love about a floral wedding cake? The trend to decorate cakes with flowers, whether real or gum paste, really became all the rage during the 1980s, when Martha Stewart showed us all how wrong we'd been doing weddings up to that point. Gone suddenly were the little bride and groom figurines made of porcelain or plastic that stood proudly atop cakes. Replacing them were mounds and cascades and accents of flowers of all shapes, sizes, and hues. The trend may have died down to some extent; today, we're as apt to see a bride and groom cake topper – or a pair of birds or bicycles, or anything else the couple might fancy – as flowers. But flowers have not lost favor completely. In fact, florists are still busy preparing floral toppers for cakes that match the bride's color palette and bouquet. Likewise, bakers are kept busy crafting handmade, sugar or gum paste flowers, or at the very least, custom coloring store bought gum paste creations to offset their beautiful cakes. There are a couple of points to remember when choosing to trim your cake with fresh flowers. First, make sure that the bloom you'd like to use is NOT poisonous. Wouldn't you hate to send people to the hospital because they ingested a piece of your cake that had ivy on it? And secondly, if at all possible, ask your florist for pesticide-free blooms. Bug killing chemicals = not tasty. And finally, if it's gum or sugar paste flowers that you're after, remind guests that, although they are technically edible, it's probably not very tasty or a good idea. If you want edible decorations, you should probably stick with real or marzipan fruit.
0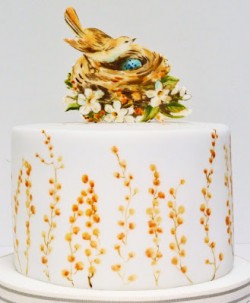 This cake is vintage and gorgeous and I am in love! Amelie's House is responsible for this wonderful concoction. They actually designed and made it for a baby shower but I think it would make a beautiful cake for a wedding (or a bridal shower).
Around the cake they painted a mimosa border (the flower not the delicious drink) because the featured refreshment at the shower were mimosa cocktails (yum!). But this cake isn't all about the decor. The actual cake itself was Read More
Other Posts You May Enjoy:
0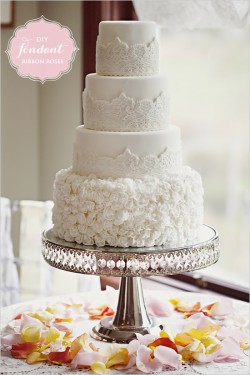 Hey y'all!
I featured a link to this beautiful cake a few weeks back in my Let Them Eat Cake Sunday Round-Up. But I loved it so much that I reached out to the Wedding Chicks girls and asked if we could show it off in its own post.
Roses are just so pretty, and never, ever go out of style. And there's not an ugly one out there, you know? Every color, every variety. They're so pretty, and ladylike, and classic. They're old-fashioned, and yet they never go out of style.
I also love that there are so many ways that you can interpret a rose for a cake. You can, of course, use Read More
Other Posts You May Enjoy:
0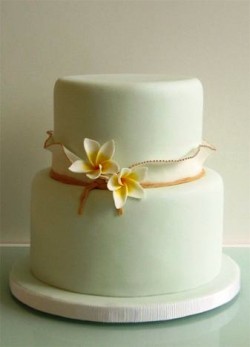 This one…is for my mom. Happy Belated Mothers' Day, Mom! Here's your wedding cake!
My mom took the trip of a life time a few years back with one of her best chums and my grandmother – to Hawaii, some place Mom and MaMa (remember, I'm from West Virginia, y'all) had always wanted to go. They came back absolutely in LOVE with Read More
Other Posts You May Enjoy:
0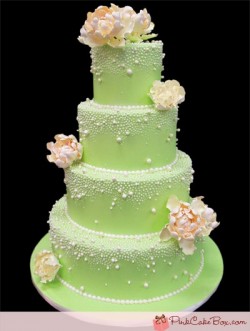 We are lovers to the max of Pink Cake Box around here. My partner, Christen introduced me to their work. You'll know when I'm scrolling through their blog, because you'll hear saying things like "Agh!" And "Gahhh!" And "Gorgeous!" My family probably thinks I'm having some kind of torrid love affair with my laptop.
…
I spied this cake on the blog just a few days ago, and Anne Heap and her talented staff graciously let me share the incredible pretty with all of you! The cake is Read More
Other Posts You May Enjoy:
1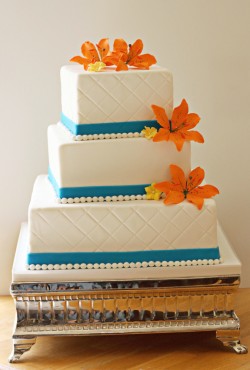 Once again, The Couture Cakery has captivated me with color.
Jasmine Clouser does everything fantastically – from sweets tables to cakes.  And she can create a demure cake with the best of them.  However, so many of her cakes that I have fallen in love with have used such breathtaking color that I simply could not pass them up.  This is a great example.
I love orange anyway, but to have it paired so beautifully here with bright blue is a real plus.  Really, this is just SUCH a beautiful color combination for spring and summer.  And Jasmine's meticulous Read More
Other Posts You May Enjoy:
0
I needed some serious pretty this morning, y'all.  It might be time for a vacation

Isn't this cake incredible?  I know…once again, I'm season-bending.  BUT – I still justify this by saying that if you are looking at A Wedding Cake Blog right now, and are planning a wedding, it's probably not for next week, right?  So it only makes sense to show you cakes now and then a couple of seasons hence.
I love the vibrant color here, and the Read More
Other Posts You May Enjoy:
0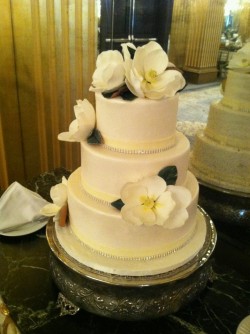 If I can't have pearls, then diamonds will do.  Agreed, girls?
This cake practically drawls at us from the computer screen, doesn't it?  Oh, how I adore Savannah!  Random?  Not really.  For this cake evokes long, slow, sultry walks on the squares, and delicious food, and beautiful architecture, and gracious people.  That's no coincidence, because this cake was created by Savannah's own Custom Cakes.
Sugar magnolias rest on a simple, classic white cake.  The base of each layer is trimmed with ivory ribbon and capped with a double strand of rhinestones, which Read More
Other Posts You May Enjoy:
0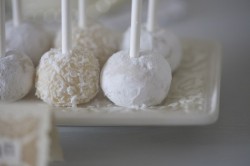 Greetings, Cake Lovers and Seekers of Pretty and *sigh* Moments!
What have you been up to this week?  I confess, I've had one foot in Fantasyworld (or rather, in the Happiest Place on Earth) and the other in the quagmire that is the last month of the school year.  Will it ever end?  I suppose that's counter Read More
Other Posts You May Enjoy:
0
So, I love an artfully arranged group of cupcakes, and for a wedding, a display that mimics a tiered cake is certainly adorable and appropriate.  Still, for that bride who would like to do things a little differently, or stand out from the crowd just a wee bit, I offer you…Cupcake Bouquets.
Dress your cupcakes up like your favorite flower, find some whimsically-colored flower pots, and make a bouquet out of your cuppies!  I think this is brilliant.  Guests can Read More
Other Posts You May Enjoy: