Floral Wedding Cakes
What's not to love about a floral wedding cake? The trend to decorate cakes with flowers, whether real or gum paste, really became all the rage during the 1980s, when Martha Stewart showed us all how wrong we'd been doing weddings up to that point. Gone suddenly were the little bride and groom figurines made of porcelain or plastic that stood proudly atop cakes. Replacing them were mounds and cascades and accents of flowers of all shapes, sizes, and hues. The trend may have died down to some extent; today, we're as apt to see a bride and groom cake topper – or a pair of birds or bicycles, or anything else the couple might fancy – as flowers. But flowers have not lost favor completely. In fact, florists are still busy preparing floral toppers for cakes that match the bride's color palette and bouquet. Likewise, bakers are kept busy crafting handmade, sugar or gum paste flowers, or at the very least, custom coloring store bought gum paste creations to offset their beautiful cakes. There are a couple of points to remember when choosing to trim your cake with fresh flowers. First, make sure that the bloom you'd like to use is NOT poisonous. Wouldn't you hate to send people to the hospital because they ingested a piece of your cake that had ivy on it? And secondly, if at all possible, ask your florist for pesticide-free blooms. Bug killing chemicals = not tasty. And finally, if it's gum or sugar paste flowers that you're after, remind guests that, although they are technically edible, it's probably not very tasty or a good idea. If you want edible decorations, you should probably stick with real or marzipan fruit.
0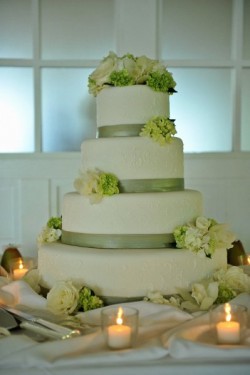 There are four reasons that I love LOVE this cake.
You had me at sage green. This is my favorite shade of the verdant color, hands down.  It's such a calm, cool shade of green, that I picked it as one of my primary paint colors in my home.  After living with it for seven years, I'm still not tired of it.
Oh monograms, how I adore thee. You can barely make it out from this photo, but there, centered in the front of the second tier from the top is a script, white on white monogram.  Oh, nothing says perfection and "completely complete" to me like a monogram does.  And that it's Read More
Other Posts You May Enjoy:
0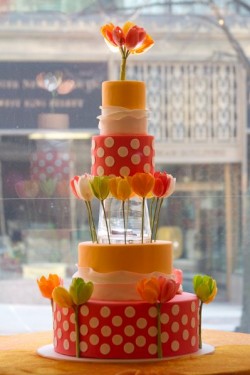 Who needs some spring…like, right this minute?  'Cause I totally have some for you today.
Ah, Pinterest strikes again.  But I love what usually happens to me.  I find something I just adore on Pinterest, which leads me to someone's website, where I find something I adore more.
That's what happened today.  And I just knew that you, my winter weary worn friends, could appreciate this pretty, vibrant cake.  Four whimsical, tall layers of cake in alternating bright yellow and pretty pink and polka dots.  The two top layers of Read More
Other Posts You May Enjoy:
0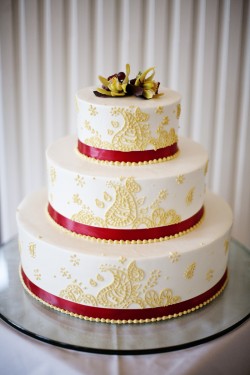 We love a little pop of color in a wedding, and this one was just incredible.
Jenny and Aashish sought to bring together her Midwestern background with his Indian heritage, and the result was one of the most stunning weddings I've ever seen.  Of course, I'm a sucker for cranberry red, so that might be part of it…I would TOTALLY wear that bridesmaid,s dress again.
But of course, the cake is the star of OUR show.  And the cranberry red shows up here, too.  Three simple layers, decorated with a mehndi-inspired paisley motif in gold, trimmed with cranberry red ribbon, and topped with a few Read More
Other Posts You May Enjoy:
0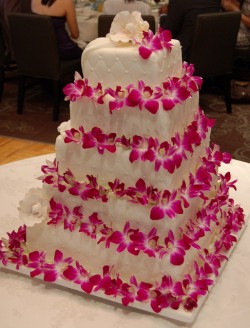 I have a friend from my childhood who married well. Like…her family went to Hawaii last month and are in Florida this week. Sure, they are both business trips for her husband's work…but color me jealous because I have to scrimp and save for end tables from Ikea. This is not to say she married for money because she didn't…she just got super lucky in the rich husband department.
Anyway, while looking through her family photos of their Hawaiian vacation I found myself longing for a glass of pineapple juice and a vase full of hibiscus flowers. Since that won't work we'll just post this lovely cake that Read More
Other Posts You May Enjoy:
0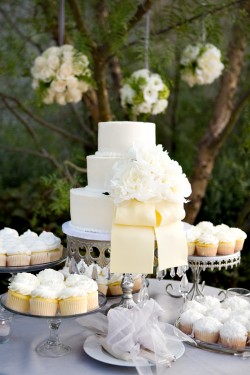 Happy…hmmm…well…let me think about it…Sunday!  Happy Sunday, Everyone!
Oh, but we have entered into that part of winter when winter is no longer enchanting.  (Well.  I assume.  I mean, I live in Florida, and I'm going to the beach today.  Hate me if you must.)  But really, I remember this time of year when I lived up north.  Christmas is over.  Spring seems far, far, far, far…  Thanks be to God for Valentine's Day, Mardi Gras, and St. Patty's, or we'd all go stark raving mad, I'm afraid.
Speaking of such things, I love all the little holidays.  Isn't it just so awesome that in life, there just always seems to be something to celebrate Read More
Other Posts You May Enjoy:
0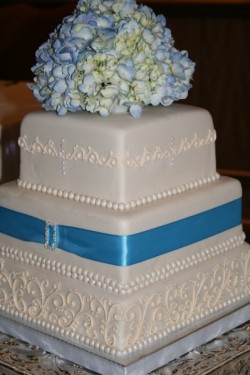 Sometimes all you need is a simple and classic wedding cake.  There is something about light blue and white that brings me inner peace.  That might be why every room in my house has a blue color scheme.
This cake makes me happy.  It's a square cake with three tiers.  It's covered in white fondant and adorned with a light blue ribbon around the middle.  The bottom and top tiers have beautiful white scroll work and the topper is a neat cluster Read More
Other Posts You May Enjoy:
0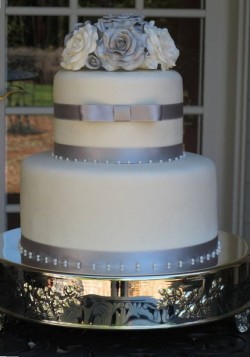 Last week I highlighted my favorite trend for 2012: gold cakes.  This week I've decided to go to the opposite end of the metallic colored spectrum…silver.  While gold is making a resurgence, it's trusty friend silver is still holding strong.  It's like chocolate and white chocolate.  White chocolate might be awesome when you first discover it slathered over pretzels or strawberries.  Then months go by and the white chocolate gets a little old and you need to go back to your old standby…chocolate.  Or in this case…silver.  That analogy was pretty bad.  So I scoured Read More
Other Posts You May Enjoy:
0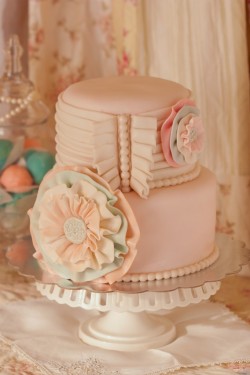 This cake makes me think of the Roaring 20′s.  I am not sure why…but to me it just seems like it should be saying, "Hello friends, welcome to my boudoir.  Do you see me?  I'm covered in pearls and pink".  Of course cakes don't talk…but…if they could I bet that's what this one would say.
This cake was made by Mary from the blog Apron of Grace.  We've featured her on here before with her Rose Cake a few months ago.  One of my favorite things about Mary is she tries to use all natural ingredients in her food as much as possible.  Let's face it, sometimes you just need something processed.  I love this cake not only because it speaks to me in a 1920s accent…but it is the flowers that set me Read More
Other Posts You May Enjoy:
0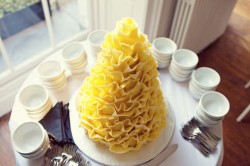 Happy New Year, Everyone!
Yes, I know that technically, I'm a full week behind.  And I know that technically, today is the Epiphany, and the end of Christmas, and not the New Year.  But is anyone else having a hard time cranking up the old machine again, getting on the horse?  I blame Read More
Other Posts You May Enjoy:
0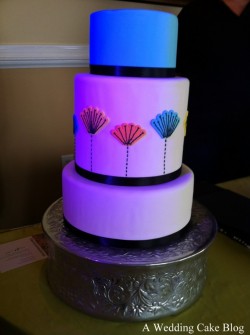 Happy Bridal Show Season!
Most of y'all who are reading us know this, but for those who don't…this isn't exactly the hottest time of the year for the wedding industry.  So, in a creative attempt to keep themselves busy, many vendors get together during the winter months and have bridal shows, so that prospective brides and grooms can meet vendors, learn about trends, and maybe even win a cool prize or two.
Last November (where does the time GOOOO?), I attended the Downtown Disney Resort Area Hotel's Bridal Stroll.  What a neat event!  We saw Read More
Other Posts You May Enjoy: