Floral Wedding Cakes
What's not to love about a floral wedding cake? The trend to decorate cakes with flowers, whether real or gum paste, really became all the rage during the 1980s, when Martha Stewart showed us all how wrong we'd been doing weddings up to that point. Gone suddenly were the little bride and groom figurines made of porcelain or plastic that stood proudly atop cakes. Replacing them were mounds and cascades and accents of flowers of all shapes, sizes, and hues. The trend may have died down to some extent; today, we're as apt to see a bride and groom cake topper – or a pair of birds or bicycles, or anything else the couple might fancy – as flowers. But flowers have not lost favor completely. In fact, florists are still busy preparing floral toppers for cakes that match the bride's color palette and bouquet. Likewise, bakers are kept busy crafting handmade, sugar or gum paste flowers, or at the very least, custom coloring store bought gum paste creations to offset their beautiful cakes. There are a couple of points to remember when choosing to trim your cake with fresh flowers. First, make sure that the bloom you'd like to use is NOT poisonous. Wouldn't you hate to send people to the hospital because they ingested a piece of your cake that had ivy on it? And secondly, if at all possible, ask your florist for pesticide-free blooms. Bug killing chemicals = not tasty. And finally, if it's gum or sugar paste flowers that you're after, remind guests that, although they are technically edible, it's probably not very tasty or a good idea. If you want edible decorations, you should probably stick with real or marzipan fruit.
0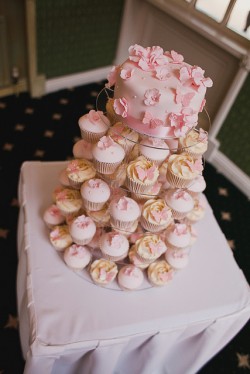 I feel like putting on my lacy gloves, Jessica McClintock hat, and heading to a tea party!
Isn't this precious?  Helen and David certainly had a lovely little cupcake tower and cutting cake to celebrate their Big Day.  I love the petal pink hue, and the fluttery Read More
Other Posts You May Enjoy:
0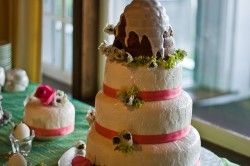 Did you know that beehives often symbolize industry, harmony, and order?  Well, if that be so, then we think using a beehive as a symbol for marriage is to get off on exactly the right foot.  After all, marriage takes work, and harmony makes it all the better, yes?
Paige and Justin, our bride and groom whose Read More
Other Posts You May Enjoy:
0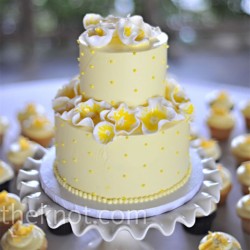 We hear that a lot of couples are going for smaller celebrations these days.  Maybe their circle of friends is smaller.  Maybe they're cutting down on the expense of a big wedding.  Or maybe they're just thinking that a wedding is kind of an intimate thing, and really doesn't need to be shared with everyone you ever met in your life.
Whatever the reason, we're seeing really lovely examples of smaller cakes, like Read More
Other Posts You May Enjoy:
0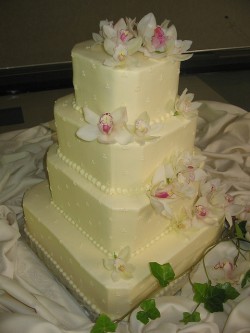 I wanted to show you this cake specifically because of the shape. The orchids are pretty, and the simple design is flawlessly executed, but what I really love is the shape.
So many brides and cake artists are looking to all kinds of embellishments to set their wedding cake apart, that sometimes we forget something as simple as the shape of the cake can make it unique.  One of my very favorite cakes ever was featured in the cookbook Baking with Julia, and was made by Martha Stewart.  It was such a simple cake really, ivory Read More
Other Posts You May Enjoy:
2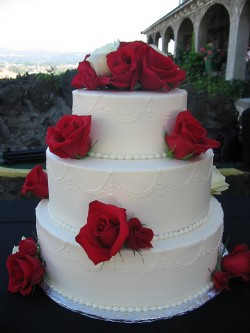 Happy Valentine's Day, Everyone!
Are you counting how many times I wish you that?  I hope not.
Well, I mean, I can't help it.  It's the month of looovveee.  And thank goodness for it, since this is kind of a slow wedding time

I had to show you this one.  I love the simplicity of it, with the breathtaking, full-blown, real roses trimming the cake.  Red roses are so sultry, don't you think?  Almost daring you to gasp at their brazenness.  But here, they are Read More
Other Posts You May Enjoy:
0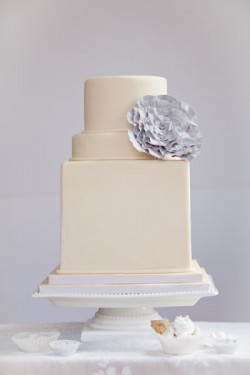 Isn't this pretty?
There is nothing that I like better than taking a little tradition, and twisting it on its head.  You still have the elegance that you started with, but you end up with something totally new and unique.
Here, we have a lovely white cake.  Sounds a little boring, yes?  But how could it be?  Our cake artists have played with shape, giving us both square and round.  They've changed up the Read More
Other Posts You May Enjoy:
0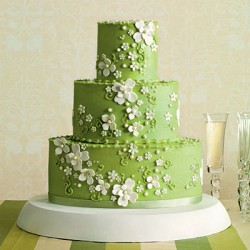 Spring strikes again!
One of my very favorite signs of spring (when I used to live in a place that had such things) were the dogwoods blooming out every season.  Ah.  Breathtaking, and as intoxicating as that first warm day when you are so super tempted to go barefoot through the damp, soft grass.  So this cake caught my eye in about a second.
The vibrant grass green color is the perfect choice Read More
Other Posts You May Enjoy:
0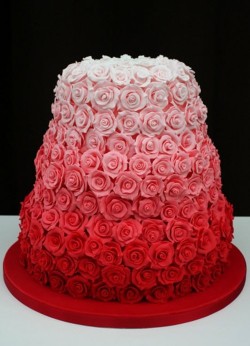 I am a sucker for the ombre technique of gently moving from lighter to darker shades of a color.  Whether it's a dress, a wall, a piece of stationary, or a cake – if it's a color that I love, and the artist has used ombre, I'm in.
This cake super had me at hello.  Isn't it just perfection?  Gradually moving from the palest pink to Valentine red, it's just breathtaking.  In fact, I think it's the perfect cake to feature as we head toward the month o' love.
This lovely cake is the work of Janet Mohapi-Banks, a wonderfully talented baker and cake artist located just outside Read More
Other Posts You May Enjoy:
0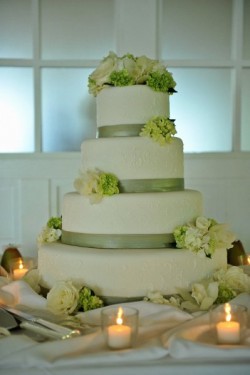 There are four reasons that I love LOVE this cake.
You had me at sage green. This is my favorite shade of the verdant color, hands down.  It's such a calm, cool shade of green, that I picked it as one of my primary paint colors in my home.  After living with it for seven years, I'm still not tired of it.
Oh monograms, how I adore thee. You can barely make it out from this photo, but there, centered in the front of the second tier from the top is a script, white on white monogram.  Oh, nothing says perfection and "completely complete" to me like a monogram does.  And that it's Read More
Other Posts You May Enjoy: