Floral Wedding Cakes
What's not to love about a floral wedding cake? The trend to decorate cakes with flowers, whether real or gum paste, really became all the rage during the 1980s, when Martha Stewart showed us all how wrong we'd been doing weddings up to that point. Gone suddenly were the little bride and groom figurines made of porcelain or plastic that stood proudly atop cakes. Replacing them were mounds and cascades and accents of flowers of all shapes, sizes, and hues. The trend may have died down to some extent; today, we're as apt to see a bride and groom cake topper – or a pair of birds or bicycles, or anything else the couple might fancy – as flowers. But flowers have not lost favor completely. In fact, florists are still busy preparing floral toppers for cakes that match the bride's color palette and bouquet. Likewise, bakers are kept busy crafting handmade, sugar or gum paste flowers, or at the very least, custom coloring store bought gum paste creations to offset their beautiful cakes. There are a couple of points to remember when choosing to trim your cake with fresh flowers. First, make sure that the bloom you'd like to use is NOT poisonous. Wouldn't you hate to send people to the hospital because they ingested a piece of your cake that had ivy on it? And secondly, if at all possible, ask your florist for pesticide-free blooms. Bug killing chemicals = not tasty. And finally, if it's gum or sugar paste flowers that you're after, remind guests that, although they are technically edible, it's probably not very tasty or a good idea. If you want edible decorations, you should probably stick with real or marzipan fruit.
0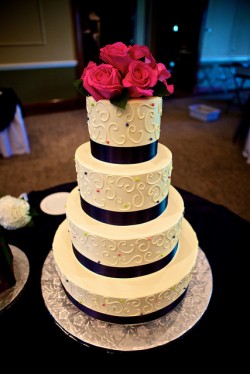 This cake could be any of a dozen…except for those adorable polka dots.
It caught my eye initially because of its perfection – this cake artist knows his (or her) stuff when it comes to smoothing buttercream and adding swirly cues.  Four stacked layers, decorated simply with buttercream, white on white, and a trim of wide, satin navy ribbon.  To top it, the flower nosegay that crowns the cake is just lovely.  But what really Read More
Other Posts You May Enjoy:
0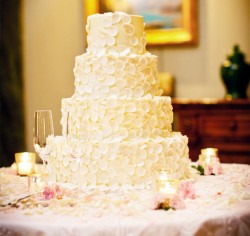 Happy Labor Day Weekend, Everyone!
Whether this post finds you at the beach…or at a parade…or at a barbecue…I truly hope that you're enjoying summer's last hurrah.  We are trying to do just that as well…so with all due respect, I'm NOT going to wax poetic like I usually do.  We're going to head straight Read More
Other Posts You May Enjoy:
0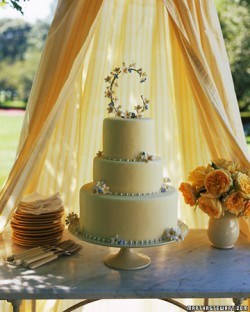 We're seeing lots and lots of monograms of late in connection with weddings…and I, for one, am not complaining.  I love, love monograms (which, if you knew me, would not surprise you in the least.)
Lately, though, most of the monograms have been in the form of a placard on the side of the cake – a classic detail that I fall in love with all over again everytime I see it.  Another option – the swooshy rhinestone jobby on the top of the cake.  Sparkles and pretty.  Perfection.
But – ever in search of something new and just a little different Read More
Other Posts You May Enjoy:
0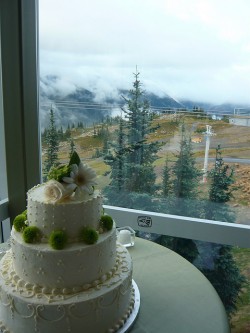 Ah, the elusive…green flower.
The what? Yes. The green flower. Rare, and a little strange, but always beautiful.
You can find green-hued flowers in varieties such as geraniums and orchids.  But wait, this isn't a botany blog, is it?
I love this cake.  My love of white on white cakes was discussed last month here and here.  And today, I find another example of a white on white cake, with just a little punch of unexpected color, via green flowers.  The simple mums encircle the base of the top tier Read More
Other Posts You May Enjoy:
0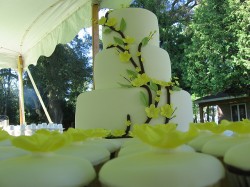 So, we've seen many cherry blossom wedding cakes of late.  But until now, I hadn't seen yellow blossoms…and I am in love.
This cake, covered in fondant (ohso appropriate for the casual elegant outdoor reception), is trimmed with a meandering branch that spans all three layers.  Daintily perched on the branch are pale yellow blossoms Read More
Other Posts You May Enjoy:
0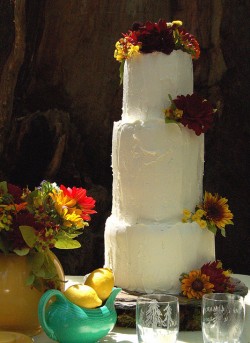 I love me some fall.
Sure, most of the time (read: last week), you'll find me prattling on about the beach and beachy fun.  But truth be told, autumn is my favorite time of the year.  And you don't get so much autumn in Florida, until, oh, around January.
So about this time of the year, I start manufacturing autumn in my head.  And I do that by baking with pumpkin and apple, and looking at fall-y things.  This cake is just such Read More
Other Posts You May Enjoy:
0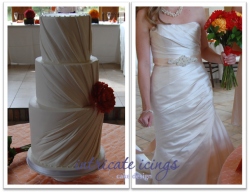 So, I'm clearly inspired to keep the white wedding cake love going for a day or two longer…
Check out this incredible cake by the Intricate Icings.  I was floored when I saw the artistry here…they have actually succeeded in making fondant behave like fabric!  In this case, the bride sent in a picture of her dress as inspiration, and Read More
Other Posts You May Enjoy:
0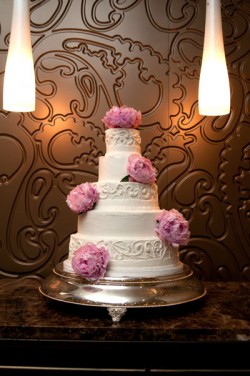 Blame it on the heat, or possibly overstimulation.  But lately, I've been craving posts about white wedding cakes.
Color is fun, color is fab, and color will probably be the star of my next post.  But the other day, as I was writing a guest post for another loverly blog (more about that later!), I began to search our catalog of cakes for a white cake.  And I couldn't find one.
Now, there's a lot of talk out there about "boring white wedding cakes."  I suppose that, if you're a baker and you're stuck making white cake after white cake, that would get a little, you know, mind-numbing.  But sometimes, Read More
Other Posts You May Enjoy:
0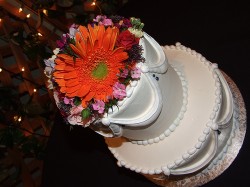 Sometimes you have to stick with a classic.  Like this gorgeous white cake with buttercream icing.  This cake features one of my favorite trends for 2011…the double height tier!  The tiers are decorated with beautiful piped icing in a swag motif.  What really takes this cake from nice to wonderful is that gorgeous flower topper!  On Cake Topper Friday Read More
Other Posts You May Enjoy: