Floral Wedding Cakes
What's not to love about a floral wedding cake? The trend to decorate cakes with flowers, whether real or gum paste, really became all the rage during the 1980s, when Martha Stewart showed us all how wrong we'd been doing weddings up to that point. Gone suddenly were the little bride and groom figurines made of porcelain or plastic that stood proudly atop cakes. Replacing them were mounds and cascades and accents of flowers of all shapes, sizes, and hues. The trend may have died down to some extent; today, we're as apt to see a bride and groom cake topper – or a pair of birds or bicycles, or anything else the couple might fancy – as flowers. But flowers have not lost favor completely. In fact, florists are still busy preparing floral toppers for cakes that match the bride's color palette and bouquet. Likewise, bakers are kept busy crafting handmade, sugar or gum paste flowers, or at the very least, custom coloring store bought gum paste creations to offset their beautiful cakes. There are a couple of points to remember when choosing to trim your cake with fresh flowers. First, make sure that the bloom you'd like to use is NOT poisonous. Wouldn't you hate to send people to the hospital because they ingested a piece of your cake that had ivy on it? And secondly, if at all possible, ask your florist for pesticide-free blooms. Bug killing chemicals = not tasty. And finally, if it's gum or sugar paste flowers that you're after, remind guests that, although they are technically edible, it's probably not very tasty or a good idea. If you want edible decorations, you should probably stick with real or marzipan fruit.
0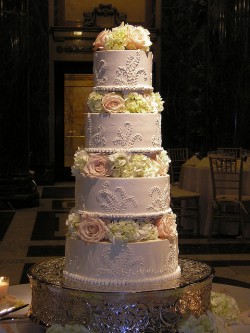 Pretty spectacular, eh?
I'm sure there is a prince or princess floating around this reception somewhere.  Or at least a socialite.
I love when white on white is done right.  The detail of the piping, which features a fern motif, is heavy enough to capture the lights and shadows, which really makes it stand out.  The flower garnish, made up of pale hydrangeas and pink roses, fills in the spaces perfectly, giving the cake a cohesive look.  This cake is kind of old fashioned, in that it's not stacked (and we predict a swing back Read More
Other Posts You May Enjoy:
0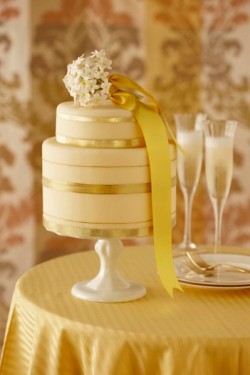 My senior year in high school, the sweetest boy took me to prom.  I wasn't big on corsages, especially those wrist-y kind that were so popular at the time.  So I asked for a nosegay, a little bouquet that I could carry.  He obliged with the most adorable little cluster of pink tea roses, surrounded by baby's breath and variegated leaves and pink ribbon.  Sigh.  And wow.  I can super still remember that

So nosegays have always had a little place in my heart.  My girls carried nosegays instead of full bouquets for my wedding, in fact (Nikko blue hydrangeas in that instance.)  There's just something so classic about their Read More
Other Posts You May Enjoy:
0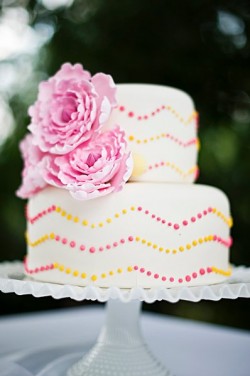 I remember that we flirted a little with chevrons last year, and I'm happy to see them representin' again in 2012.
Isn't this a darlin' little cake?  I love the sassy little polka dots that bring just the right pop of color, and the ruffly peonies say summer pretty in such a lovely way.  Really, are there any prettier flowers for a wedding than flouncy peonies?
The demure size just lends to the charm.  We could see this design translated to any number of hot color combinations (teal and chocolate?  grey and yellow?  blue and green?), and the design would be darling on a cutting cake and matching baby cakes or cupcakes or cake pops – oh my!  And Read More
Other Posts You May Enjoy:
0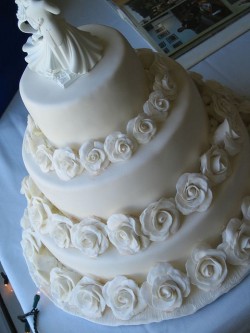 I know.  Not the most cutting edge cake I've ever featured.  But really.  Look at it.  It's beautiful.
There is something so wonderful about simplicity.  A single color.  A motif repeated over and over.  Color carried through various design elements.
I guarantee you that many people overlooked just how pretty this cake was.  "Seen one white cake, seen 'em all."  But the artist really paid attention here.  See how the size of the sugarpaste roses gets slightly larger with each layer?  And notice that Read More
Other Posts You May Enjoy:
0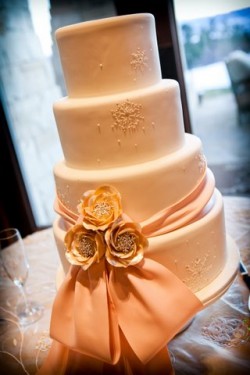 I know that my friends and family in other parts of the country are rrrreeeealllyy super hoping that winter spread its last hurrah recently, when the Facebook posts about falling snow were coming thick and furious.  So to bid adieu (hopefully) to the white stuff, here's a reminder of all that is enchanting and sparkly about it.
There's just something about a snowflake cake!
When I saw this gorgeousness from Rachael Teufel and Company at Intricate Icings, I knew I had to feature it.  The cake was the perfect centerpiece for a breathtaking New Year's Eve wedding in Colorado.  And those aren't Read More
Other Posts You May Enjoy:
0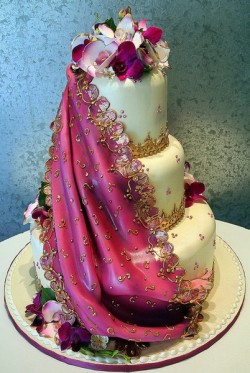 This beautiful sari-inspired wedding cake is the incredible work of Cory Pohlman, head decorator at Rosebud Cakes in Beverly Hills, California.  Elin from Rosebud tells me that the entire family came into the bakery to sample the cake, and wanted something less sweet than a typical American bakery wedding cake.  They wanted unusual flavors that would stand out in the memories of their guests.  The bride also wanted to pull in design elements from her wedding ensemble and her colors, and provided Cory with pictures of these things, as well as photos of other things she liked.  The result was Read More
Other Posts You May Enjoy:
6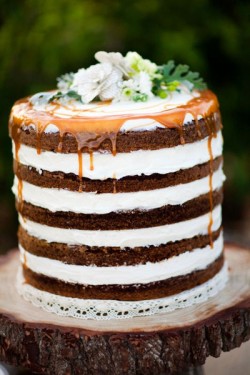 I wanted to entitle this one "Naked Cake."  But I didn't know how Google might handle that.
I look at a LOT of wedding cakes, Dear Readers.  So I see a lot of trends.  Some trends are, well, trends.  Some "trends" are things that start out adorable, but after you've seen them twenty times, well…not so much.
The use slices of tree trunk to signal "I am rustic" is starting to kinda fall into that category for me.  However, I had to show you this one, because Read More
Other Posts You May Enjoy:
0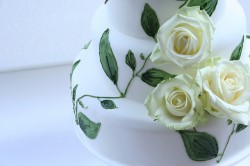 We've seen hand painted wedding cakes.  And we've seen roses wedding cakes.  But we've never seen someone put the two together.  The beautifully talented and oh-so original Victoria Made has once again set our hearts aflutter.
We love the simplicity Read More
Other Posts You May Enjoy:
2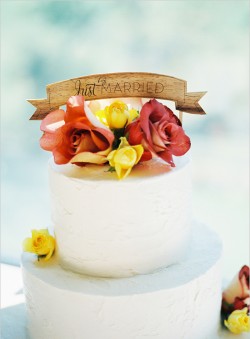 Greetings, friends and fans of the lovely!
Something truly tragic happened this week. Yes. The silk string on my pearls frayed and now I am pearl-less until I get them fixed.
No, I'm serious.
So, in determining what to do about this predicament, I mean, what DOES a girl do?  Have a strand for everyday of the week so that they don't wear out?  Where costume pearls or freshwater jobbies for everyday-around-the-house wear?  Because I am totally serious when I say I wear them Read More
Other Posts You May Enjoy:
0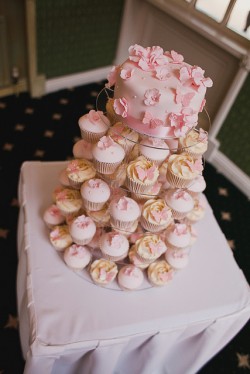 I feel like putting on my lacy gloves, Jessica McClintock hat, and heading to a tea party!
Isn't this precious?  Helen and David certainly had a lovely little cupcake tower and cutting cake to celebrate their Big Day.  I love the petal pink hue, and the fluttery Read More
Other Posts You May Enjoy: