Floral Wedding Cakes
What's not to love about a floral wedding cake? The trend to decorate cakes with flowers, whether real or gum paste, really became all the rage during the 1980s, when Martha Stewart showed us all how wrong we'd been doing weddings up to that point. Gone suddenly were the little bride and groom figurines made of porcelain or plastic that stood proudly atop cakes. Replacing them were mounds and cascades and accents of flowers of all shapes, sizes, and hues. The trend may have died down to some extent; today, we're as apt to see a bride and groom cake topper – or a pair of birds or bicycles, or anything else the couple might fancy – as flowers. But flowers have not lost favor completely. In fact, florists are still busy preparing floral toppers for cakes that match the bride's color palette and bouquet. Likewise, bakers are kept busy crafting handmade, sugar or gum paste flowers, or at the very least, custom coloring store bought gum paste creations to offset their beautiful cakes. There are a couple of points to remember when choosing to trim your cake with fresh flowers. First, make sure that the bloom you'd like to use is NOT poisonous. Wouldn't you hate to send people to the hospital because they ingested a piece of your cake that had ivy on it? And secondly, if at all possible, ask your florist for pesticide-free blooms. Bug killing chemicals = not tasty. And finally, if it's gum or sugar paste flowers that you're after, remind guests that, although they are technically edible, it's probably not very tasty or a good idea. If you want edible decorations, you should probably stick with real or marzipan fruit.
0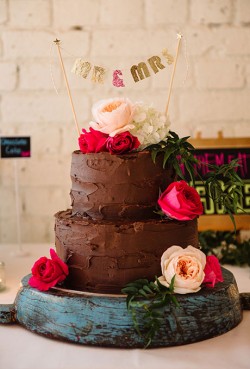 If there's one non-traditional wedding cake that I'll always be a fan of it's the chocolate wedding cake.
Everyone is expecting a cake with white icing, even if the cake inside is a variety of flavors. So why not wow your guests and surprise them with a chocolate frosted cake?
The cake flavors could vary – chocolate, marble, yellow – but to see a wedding cake frosted with gloriously delicious chocolate icing? That would be incredible! Read More
0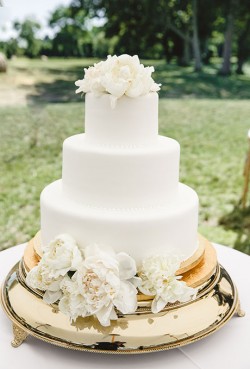 Since a good portion of the country is buried in white fluffy snow, it seemed appropriate to focus on an all-white wedding cake today.
Granted this cake is way prettier than any pile of snow – and it won't make your toes cold either!
You know I'm a sucker for traditional all-white wedding cakes – call my old fashioned but I like traditional cakes. Sure a pop of color or a whimsical cake is good every now and then, but I like white cakes. Read More
0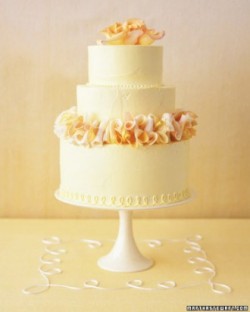 We're inching closer and closer to Valentine's Day and if there's one time of year when roses take center stage it's now.
Which is why we're featuring a lovely wedding cake with fresh rose petals today. This cake is pretty and elegant and is a fun and unique way to showcase fresh flowers on your cake.
At first glance it looks like the cake is decorated with icing ribbons between the tiers, but look closely. Those are rose petals arranged as a ribbon. It's pure floral genius! Read More
0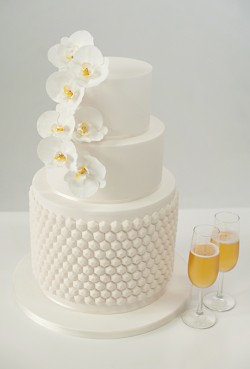 As I look outside the window today it's a sea of white. A fresh layer of snow covers the ground which (of course) made me start thinking about the traditional all white wedding cake.
I do love all the non-traditional wedding cakes I feature here – the bright colored cakes, the black fondant cakes, the whimsical cakes. But in the end, nothing beats that all-white wedding cake in all its elegance and charm. Read More
0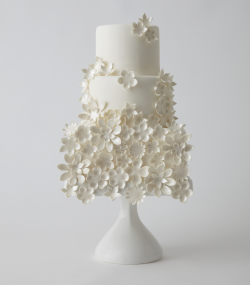 It might still be the middle of January, but that doesn't mean we can't start thinking about spring. Because believe it or not, the month of January will eventually end. Really.
So with that in mind – and thoughts of spring sneaking in to these cold winter days – let's talk about this all-white stunner of a wedding cake. Read More
0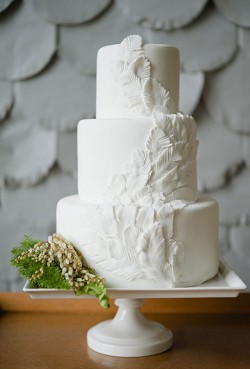 As I sit here watching the snow fall outside, the fresh white powder outside inspired me to find an all-white wedding cake to feature today.
This cake is so elegant in an understated way and it would be absolutely perfect any time of year.
The smooth white fondant gives the cake a modern vibe and it could have been embellished with just about anything. The addition of white fondant feathers takes the cake to a whole new level. Read More
0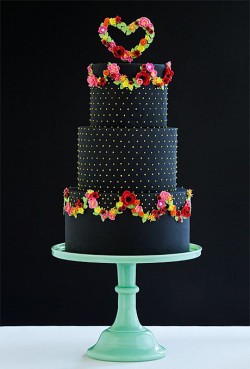 This cake is so non-traditional and it's not for everyone.
But I love it!
Now you'll probably need to be a rather modern, edgy bride to choose black fondant as the icing on your wedding cake. But if this is what you're looking for in a wedding cake I say go for it!
I love the modern vibe of this cake. I love the bright colors. It could be my new favorite cake. Read More
0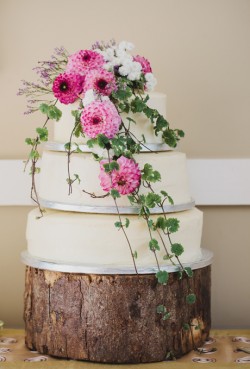 As we trudge headlong into the cold, brutal months of winter it only seemed fitting that I would showcase a cake that made me think of warmer temperatures and bright sunny days.
This lovely white cake with fresh blooms is that cake!
I love the rustic charm of the cake, sitting atop a small tree stump. Of course, if tree stumps as decor aren't your cup of tea the cake would also look lovely on a more traditional cake stand. Read More
0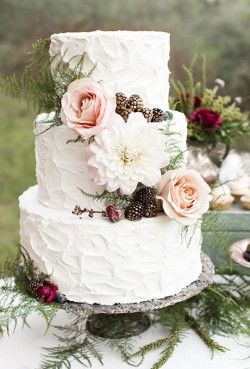 Happy December!
As we tread lightly into the winter season, I want to hold on tightly to any remnant of fall even when it comes to fall-inspired wedding cakes.
Today's cake evokes thoughts of late fall and early winter so it seemed perfect for the first day of December.
This three-tier cake features fluffy white icing and some gorgeous fresh flowers including a white dahlia and blush roses. Read More