Floral Wedding Cakes
What's not to love about a floral wedding cake? The trend to decorate cakes with flowers, whether real or gum paste, really became all the rage during the 1980s, when Martha Stewart showed us all how wrong we'd been doing weddings up to that point. Gone suddenly were the little bride and groom figurines made of porcelain or plastic that stood proudly atop cakes. Replacing them were mounds and cascades and accents of flowers of all shapes, sizes, and hues. The trend may have died down to some extent; today, we're as apt to see a bride and groom cake topper – or a pair of birds or bicycles, or anything else the couple might fancy – as flowers. But flowers have not lost favor completely. In fact, florists are still busy preparing floral toppers for cakes that match the bride's color palette and bouquet. Likewise, bakers are kept busy crafting handmade, sugar or gum paste flowers, or at the very least, custom coloring store bought gum paste creations to offset their beautiful cakes. There are a couple of points to remember when choosing to trim your cake with fresh flowers. First, make sure that the bloom you'd like to use is NOT poisonous. Wouldn't you hate to send people to the hospital because they ingested a piece of your cake that had ivy on it? And secondly, if at all possible, ask your florist for pesticide-free blooms. Bug killing chemicals = not tasty. And finally, if it's gum or sugar paste flowers that you're after, remind guests that, although they are technically edible, it's probably not very tasty or a good idea. If you want edible decorations, you should probably stick with real or marzipan fruit.
0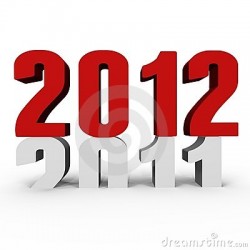 Take my opinion for what it's worth.  I am not a cake artist or a fashion forecaster (a real job…did you know that?)  However, I have been knee deep in cake batter for the last year AND I consider myself a fairly trendy girl.  Although it seems that trendy people never actually call themselves trendy…because that is so untrendy.  So maybe I'm not. Whatever, I have thoughts anyway.
While I can't see things like the ruffle and chevron patterns on cakes going away just yet, there are a few new looks we should keep our eyes on in 2012.  I assume a lot of them will end up on this blog!
The Mini-Cake.  It's not a cupcake or a cake pop, it's a full fledged cake shrunk down to size.  Very Alice in Wonderland if I do say so myself.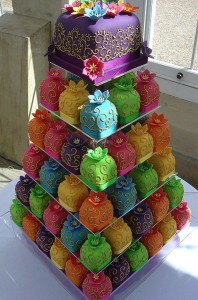 (Note, I never consider Pinterest a source..however this image was actually uploaded by the user).
Many Cakes. You read that right.  Not mini-cakes.  Many cakes.  On blogs and websites I am seeing more and more gorgeous pictures of a plethora of cakes.  I've seen three to as many as ten all in various colors or sizes but they all have a common theme among them that makes them match.  It's a trend I hope we see more of.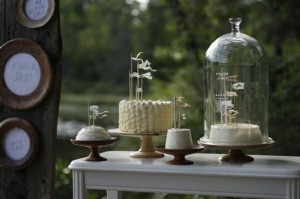 Minimalist Wedding Cakes. I am noticing an "M" theme here.  Wedding cakes are usually over the top and gorgeous.  Occasionally we'll find one with simple fondant and design but they can be pretty scarce (or eerily similiar to another cake we've featured).  Let's face it: there are only so many ways you can say, "This cake is white.  It is also round".  Now cake artists are coming up with alternate ways to stay minimal but always pack a little punch of creativity.  Like this cake that is stacked slightly off center with dark pearls (that may actually be blueberries) and an oyster shell.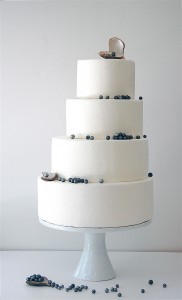 I know it will be another amazing year when it comes to Wedding Cakes.  Which trends are your favorite?  Which trends are you ready to see go?  Personally I love 'em all and can't wait to see what other goodies are in store for us in 2012!
Other Posts You May Enjoy:
0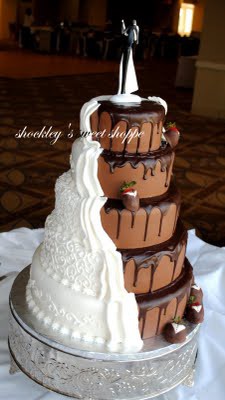 This cake caught my interest on Pinterest. Why? Because I feel like it summarizes my life. I am a teacher so I spend most of my days sticky sweet and annoyingly traditional. However, every once and awhile I can easily flip to the dark side and my kids think "Hey, she's a little nutty".
So. That's me. Half a traditional beautiful white cake and the other half a gorgeous chocolate groom's cake. I have never seen a cake like this and to tell you the truth, I love it. The couple decided Read More
Other Posts You May Enjoy:
0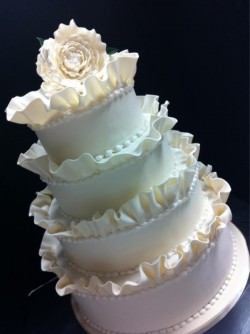 We're apparently in good company when it comes to ruffle love!
You saw our terrific Ruffle Week 2011 last month, yes?  With cascading ruffles, ombre ruffles, and even white chocolate ruffles.  Sigh. We're still kind of pretty-drunk from it all.
But lo and behold, MORE ruffles poured in!  Tasha Nagy from Kick Ass Cakes in Fraser Valley, British Columbia sent me this sweet and pretty cake because she knows we are OBSESSED!  Seriously!  Ruffles!  Pearls! Flowers!  All White!  It's like Tasha made Read More
Other Posts You May Enjoy:
0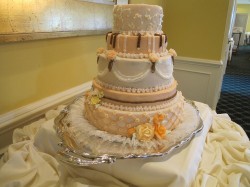 I don't know what it is but lately I have been finding some unique themed wedding cakes. It seems like it has been a LONG time since I've featured a traditional sweet and pretty wedding cake. For most of us, weddings are all about the sweet and the pretty.
This cake is simply gorgeous. It takes Read More
Other Posts You May Enjoy:
0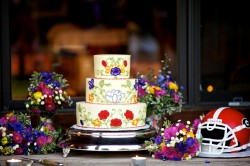 What a great time of the year!  We hope that you had a wonderful Thanksgiving, gathered together with family or friends – or both!  We did, and we're still enjoying those fantastic leftovers!  And while our attention is rapidly turning to Christmas and the winter holidays, we're excited to bring Read More
Other Posts You May Enjoy:
0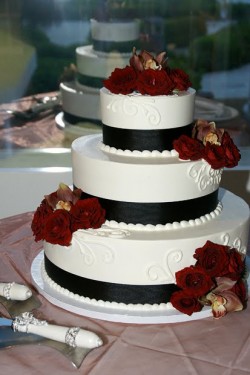 Well, by now you know that we are all about the seasons around here.  But sometimes it's nice to see an expression of seasons in a way that isn't so typical.  Take autumn, for instance.  You think autumn wedding cake, your mind automatically goes to colored leaves.  But here's another take on the colors of fall:  rich red roses.
It was love at first sight when I saw this cake.  The simple buttercream finish is trimmed with a wide, black ribbon, elegant scrollwork, and the most beautiful deep red roses.  For an interesting contrast, the roses are paired with orchids.  You would never think, "I know, I'll put orchids and roses Read More
Other Posts You May Enjoy:
0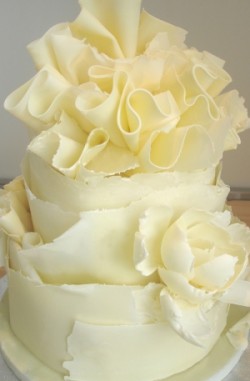 Today, we wrap up Ruffle Week 2011 here on A Wedding Cake Blog with a cake that has a little different take on the frilly furbelows of ruffles.
Ruffles. Meet Chocolate. Helloooo, perfection.
Don't you simply LOVE this cake? Two tiers of cake, enrobed in real chocolate, People. This isn't candy coating, or modeling chocolate. This chocolate has been tempered and made to resemble rustic ruffles, so that each slice of the cake yields a lovely snap. And check out the gorgeous flower pinned to the side, and the topping of – what else? – more Read More
Other Posts You May Enjoy:
1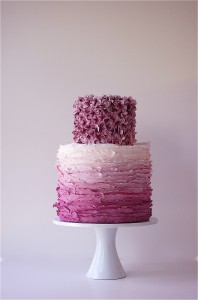 We have to end Ruffle Week 2011 with a bang…I believe that is cake is the cake to do just that.
I'm not sure there is anything more "Fall 2011″ than Ombre & Ruffles.  When you combine them, wonderful, wonderful things happen.  Like this cake from Maggie Austin Cakes. (If you'd like to know about Maggie Austin Cakes – and trust me, you do – check out this week's Round-Up for a terrific article about the artist.)
In case you have no idea what I am talking about, ombre is basically taking the same shades of one color and having the colors scale from light to dark.  We've talked about it a time or two here.  I have Read More
Other Posts You May Enjoy:
0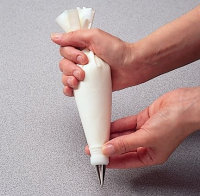 I am never surprised when I see a cake on Pinterest that I think it is just amazing and then I click the link and it takes me to My Sweet & Saucy.
Melody's cakes are just so fresh and modern while being classic all at the same time.  Seriously, the girl has some skills.  I've featured several of her cakes here Read More
Other Posts You May Enjoy:
0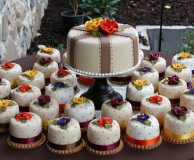 I'm going to answer Brooke's question from yesterday.
I celebrate Thanksgiving and Christmas to the max. From the time November 1st until January 1st I embrace as much of the holidays as possible. I know sometimes Thanksgiving can get brushed over because of the hustle and bustle of Christmas. But not in my house. My mums are blooming and pumpkins and warty gourds Read More
Other Posts You May Enjoy: