Floral Wedding Cakes
What's not to love about a floral wedding cake? The trend to decorate cakes with flowers, whether real or gum paste, really became all the rage during the 1980s, when Martha Stewart showed us all how wrong we'd been doing weddings up to that point. Gone suddenly were the little bride and groom figurines made of porcelain or plastic that stood proudly atop cakes. Replacing them were mounds and cascades and accents of flowers of all shapes, sizes, and hues. The trend may have died down to some extent; today, we're as apt to see a bride and groom cake topper – or a pair of birds or bicycles, or anything else the couple might fancy – as flowers. But flowers have not lost favor completely. In fact, florists are still busy preparing floral toppers for cakes that match the bride's color palette and bouquet. Likewise, bakers are kept busy crafting handmade, sugar or gum paste flowers, or at the very least, custom coloring store bought gum paste creations to offset their beautiful cakes. There are a couple of points to remember when choosing to trim your cake with fresh flowers. First, make sure that the bloom you'd like to use is NOT poisonous. Wouldn't you hate to send people to the hospital because they ingested a piece of your cake that had ivy on it? And secondly, if at all possible, ask your florist for pesticide-free blooms. Bug killing chemicals = not tasty. And finally, if it's gum or sugar paste flowers that you're after, remind guests that, although they are technically edible, it's probably not very tasty or a good idea. If you want edible decorations, you should probably stick with real or marzipan fruit.
0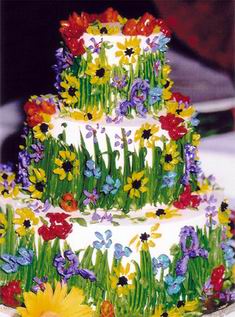 Today, it was time.
It was time for a vibrant, lazy, hazy, crazy days of summer wedding cake.
Doesn't this lovely creation just capture the mood of summer perfectly? Whiling away the days, bees buzzing, everything blooming to the hilt, green everywhere. I picture an outdoor ceremony with lots of floppy hats and sundresses. The bride might even have left her shades on.
And isn't that the neat thing about cakes? Sometimes, you can look at them, and just know the feel of the wedding. I love when Read More
Other Posts You May Enjoy:
0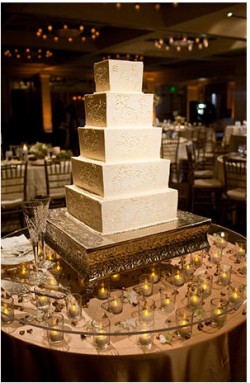 Hey There, Ho There, and Happy Solstice!  What did you do during the longest day of the year this week?  Anything special?  Nah, me neither.  But it's nice to know that, after I've been talking about it seemingly for weeks, summer is finally underway!
This week, I make my way up the East Coast, stopping in to a couple of beaches along the way, as I head to a wedding in Maryland next Saturday.  My, but we are hoping there's a crab cake at the reception somewhere.
But between packing and other prep, I've been looking at what's going on this week in the World of Read More
Other Posts You May Enjoy:
0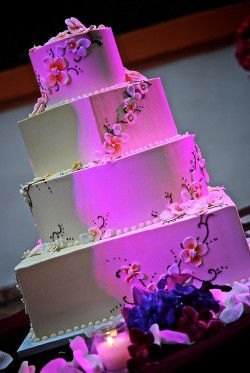 I know, I know.  The angle and lighting are a little funky on this one.  But it's sooooo still worth posting.
I love dogwood blossoms.  We awaited with such joy the blooming of the dogwoods back home, when we knew spring was finally on its way.  And this cake features beautiful versions of the lovely flower, used sparingly and asymmetrically on the various layers.
And speaking of the layers, I love a cake that has alternating shapes.  This one features both squares and rounds, and the second layer from the top is both square AND Read More
Other Posts You May Enjoy:
0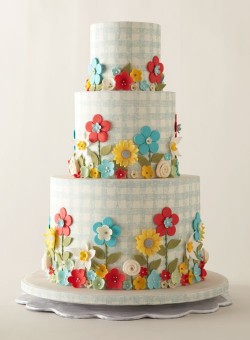 Gingham is darling anyway, but gingham on a cake? Yes, please!
The brainchild of Bijoux Doux in New York City, this cake is whimsical, joie de vivre-y, and makes me want to wear a party dress and drink lemonade.  In other words, it's summer perfection.
The double-height layers – an effect that we just love around here – are covered with what appear to be made with a silkscreen transfer on sheets of chocolate, but it could be fondant with an amazingly sharp edge.  The muted Read More
Other Posts You May Enjoy:
0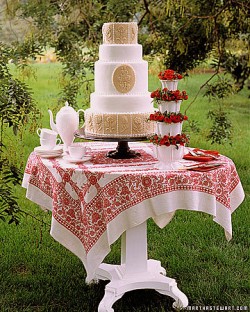 I. LOVE. THIS. CAKE.
I know, I know. I start WAY too many posts this way. I guess it's an ÜBER good thing that I write a wedding cake blog, eh?

And speaking of über things, how about this gorgeous Springerle Wedding Cake, courtesy of über-fabulous Martha Stewart?
Do you know about springerle? Well (she says in her mom tone), you should. Springerle is normally a shortbread-type cookie, which is made by pressing the dough into a mold, and then baking it. It's a Read More
Other Posts You May Enjoy:
0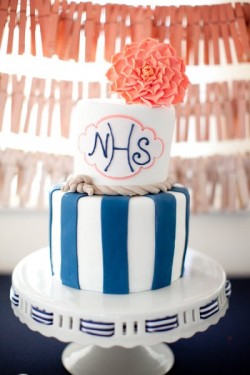 I love sweet and simple. And today's cake is just that!
Cake Goodness in California is the bakery behind this sweet nautical-themed cake, which was featured on Style Me Pretty, and was captured by Shannon Lee Images.  And I have to say that I love how they incorporated so much into such a little cake! This cake was for a beach wedding in Malibu – hello dream wedding location! – and as the wedding incorporated nautical elements, it was important to carry the theme through to the cake. The blue and white stripes on the lower tier evoke that beach club, nautical feel, and the fondant rope around the base of the top tier really completes the look. But they took it one step further and "iced" it with a cake stand that incorporated a blue and white striped ribbon. I also love how they stepped out of the traditional yellow and blue nautical color scheme and went with blue and coral. The coral dahlia on top is fun and unique and sweet! And I love that they incorporated their monogram on the top tier.
To sum it up pretty much everything about this cake is perfect!
Other Posts You May Enjoy:
0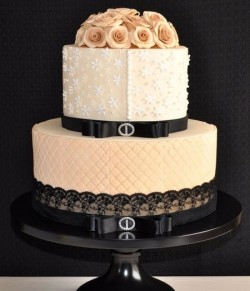 G'day mate! Today's cake comes to you all the way from Australia! No, I'm not there on vacation (although I really wish I were!) but Melania's Exquisite Cakes is located in Sydney and they are responsible for this gorgeous cake!
Vintage, Elegance, Gorgeous, Sexy, Romantic…these are all of the words that come to my mind when I think about this cake. I love how a cake can Read More
Other Posts You May Enjoy:
0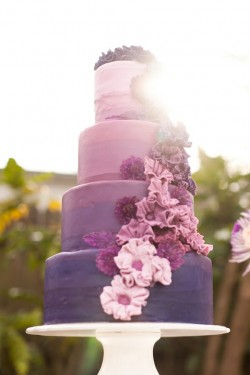 Hello, Beautiful! Today's featured cake is a purple ombre wedding cake. And I L-O-V-E it!
This incredible cake was designed for a fun Pinterest-inspired wedding shoot in Virginia, and was featured on Ruffled Blog.  AND – one of our favoritest bakers, Kara from A Cake to Remember in Richmond, Virginia, created the gorgeousness!
I love how Kara moved from a deep purple on the bottom tier up to a pale lavender on the top. And I absolutely love Read More
Other Posts You May Enjoy:
0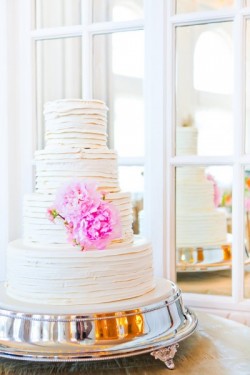 So confession time…I love pink! (Actually, I think I already confessed that. And is that confession-worthy? Whatevs.) The love affair started sometime during high school (I was way too much of a tomboy before that to be on board the pink train) and it has continued to this day. I may have a different staple color in my wardrobe this season and my room may no longer be the pink and brown it was in college, but I still adore all things pink.
When I spotted this cake, I fell in love. I love its dimensions and the layered look of the tiers. The burst of Read More
Other Posts You May Enjoy:
0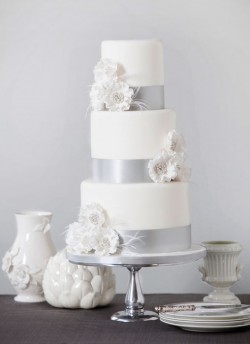 Feathers are not usually my cup of tea. I don't really know why other than I'm just not too fond of them but I kind of love the way Bobbette and Belle incorporated them into the design of today's cake!
People tend to fear having a simple all white cake because it may not be memorable or it may look boring to the guest (I vehemently disagree!)…but with a touch of floral and other accessories you can kick up your wedding cake to the level of unforgettable! Bobbette and Belle, based out of Toronto, have Read More
Other Posts You May Enjoy: