Floral Wedding Cakes
What's not to love about a floral wedding cake? The trend to decorate cakes with flowers, whether real or gum paste, really became all the rage during the 1980s, when Martha Stewart showed us all how wrong we'd been doing weddings up to that point. Gone suddenly were the little bride and groom figurines made of porcelain or plastic that stood proudly atop cakes. Replacing them were mounds and cascades and accents of flowers of all shapes, sizes, and hues. The trend may have died down to some extent; today, we're as apt to see a bride and groom cake topper – or a pair of birds or bicycles, or anything else the couple might fancy – as flowers. But flowers have not lost favor completely. In fact, florists are still busy preparing floral toppers for cakes that match the bride's color palette and bouquet. Likewise, bakers are kept busy crafting handmade, sugar or gum paste flowers, or at the very least, custom coloring store bought gum paste creations to offset their beautiful cakes. There are a couple of points to remember when choosing to trim your cake with fresh flowers. First, make sure that the bloom you'd like to use is NOT poisonous. Wouldn't you hate to send people to the hospital because they ingested a piece of your cake that had ivy on it? And secondly, if at all possible, ask your florist for pesticide-free blooms. Bug killing chemicals = not tasty. And finally, if it's gum or sugar paste flowers that you're after, remind guests that, although they are technically edible, it's probably not very tasty or a good idea. If you want edible decorations, you should probably stick with real or marzipan fruit.
0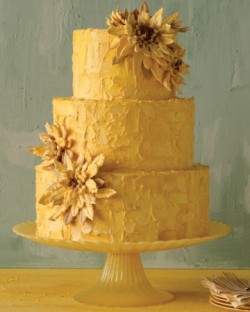 My favorite thing about fall – other than all things pumpkin flavored – are the stunning colors of the leaves in the trees.
I love the contrast of reds and oranges against a blue fall sky, but my favorite fall color is bright yellow.
Those yellow leaves seem like the last connection we have to the warmth of summer. They're also the color of my favorite flower – the always cheerful sunflower.
Which bring us to today's cake. It's a gorgeous three-tier cake and it's all yellow! Read More
0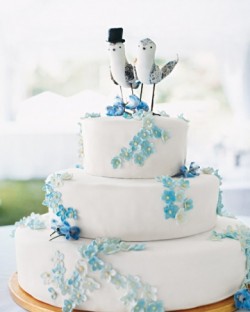 The weather in my neck of the woods is reminiscent of winter today, so I figured it was a good day to share a wedding cake that reminded me of ice and snow.
I absolutely love this cute little three-tier cake. I love the smooth icing and the fact that it's only three tiers. Keeping it simple is a great idea when it comes to wedding cakes.
But more than the size and simplicity of the icing, I adore the dainty blue flowers. I'm not usually a fan of blue – it isn't on my list of favorite colors. But these tiny blue daisies really made me perk up and smile. Read More
0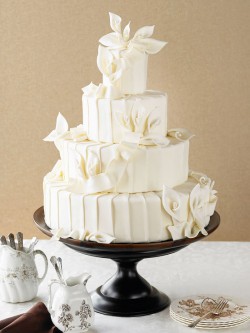 We've been featuring a lot of very colorful cakes lately, so I thought it would be nice to showcase a cake that was simple and beautiful.
Which brings us to today's all-white wedding cake.
This ivory tower is a four-tier cake decorated with white chocolate fondant. Yes, that's right. Even though it's an all-white wedding cake there's still chocolate involved!
The white chocolate fondant is elegantly pleated, giving the cake the look of a wedding dress. Read More
0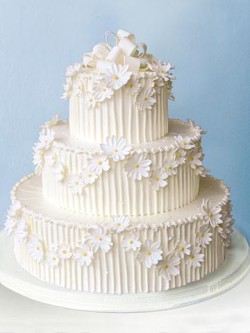 I have mentioned my love of daisies before, and since we're in the middle of the week I thought I'd share a cheery and happy daisy wedding cake again.
You can't look at daisies and not feel happy inside, so they're really a perfect flower to feature on a wedding cake. Everyone at a wedding is already smiling from ear to ear, so why not keep the happy theme going with your cake? Read More
0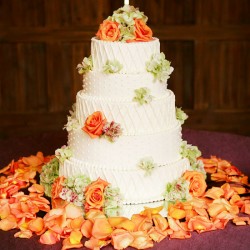 Fresh flowers are one of my favorite embellishments on a wedding cake.
I love the simplicity of using flowers or greens on a cake because there's no need to anything else to the cake. And, there are so many ways you (or your baker) can incorporate the flowers into the cake's design. Read More
0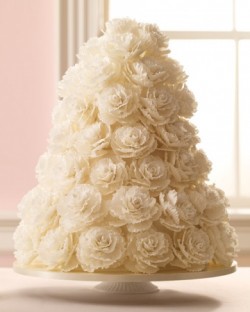 Earlier this week I featured a non-traditional chocolate cake that was stunning but certainly less-than-formal.
Today we're going in a different direction with this very beautiful and very formal white rose wedding cake.
The rose is the ultimate romance flower and the white rose signifies purity and and love. Which makes it the perfect flower to use on your wedding cake. Read More
0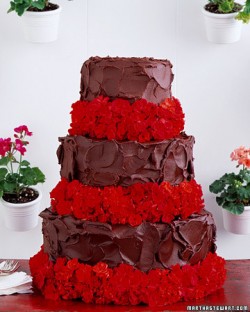 Do you ever get in one of those moods when all you can think is "Chocolate! I need chocolate!"?
Well, that's the frame of mind I'm in today which is why I searched high and low for a decadent chocolate wedding cake to share with you.
Will you look at this gorgeous cake?
What I wouldn't give for a slice of that right about now.
This cake is the classic devil's food cake – which is really what you want when you're eating chocolate cake. Read More
1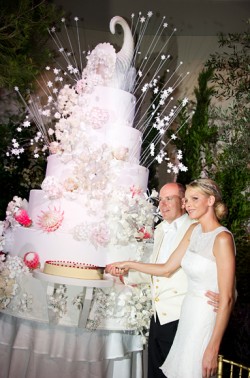 This week's installment of Flashback Friday has a royal twist to it, simply because when I saw this cake I was shocked at its sheer size and just had to share it with all of you.
Apparently when you're part of the royal family of Monaco – the second smallest country in the world at only 1.95 square kilometers in size (that's 0.75 square miles for us non-metric folk) – your wedding cake has to be enormous.
And when Prince Albert of Monaco wed his bride, the lovely Princess Charlene in July 2011 their cake was definitely the centerpiece of the reception. Read More
0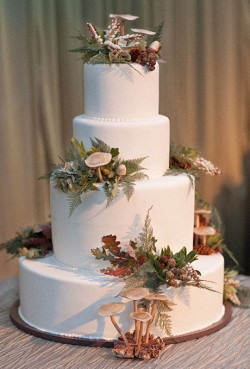 There's a distinct chill in the air and the leaves are finally changing, so in my mind it is officially fall.
Which means I'm going to start sharing some great fall-inspired wedding cakes and other goodies. I absolutely love fall weddings – maybe because I had one many moons ago – and there is so much you can do to spruce up your fall wedding day.
For example, you could have a beautiful cake like this woodland themed cake.
Look closely, those ARE mushrooms on a wedding cake. Read More
0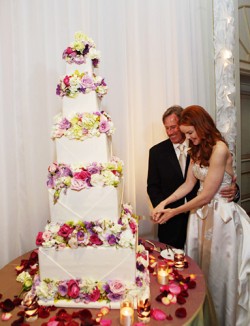 It's Friday again and that means we're heading back in time to check out another fabulous celebrity wedding cake.
This week's cake is a towering creation, but it's also very beautiful and floral.
When actress Marcia Cross (Desperate Housewives) married Tom Mahoney in 2006, she reportedly invited some friends to a cake tasting to help her choose the cake flavors. This is a genius idea, although my husband was more than happy to be part of our cake tasting. Read More