Floral Wedding Cakes
What's not to love about a floral wedding cake? The trend to decorate cakes with flowers, whether real or gum paste, really became all the rage during the 1980s, when Martha Stewart showed us all how wrong we'd been doing weddings up to that point. Gone suddenly were the little bride and groom figurines made of porcelain or plastic that stood proudly atop cakes. Replacing them were mounds and cascades and accents of flowers of all shapes, sizes, and hues. The trend may have died down to some extent; today, we're as apt to see a bride and groom cake topper – or a pair of birds or bicycles, or anything else the couple might fancy – as flowers. But flowers have not lost favor completely. In fact, florists are still busy preparing floral toppers for cakes that match the bride's color palette and bouquet. Likewise, bakers are kept busy crafting handmade, sugar or gum paste flowers, or at the very least, custom coloring store bought gum paste creations to offset their beautiful cakes. There are a couple of points to remember when choosing to trim your cake with fresh flowers. First, make sure that the bloom you'd like to use is NOT poisonous. Wouldn't you hate to send people to the hospital because they ingested a piece of your cake that had ivy on it? And secondly, if at all possible, ask your florist for pesticide-free blooms. Bug killing chemicals = not tasty. And finally, if it's gum or sugar paste flowers that you're after, remind guests that, although they are technically edible, it's probably not very tasty or a good idea. If you want edible decorations, you should probably stick with real or marzipan fruit.
0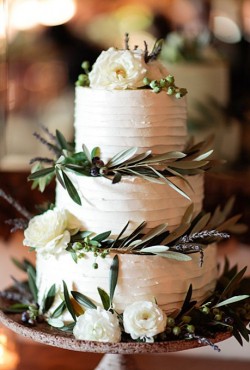 OK, yes. We're still in January. This month goes on forever, right? But that doesn't mean we can't think about spring.
So today we're featuring a lovely spring-inspired cake that will make you want spring to hurry up!
This three-tiered cake features gorgeous ruffled white buttercream icing. giving it a playful vibe.
The cake is adorned with springlike ranunculus, garden roses, and assorted greenery. Read More
0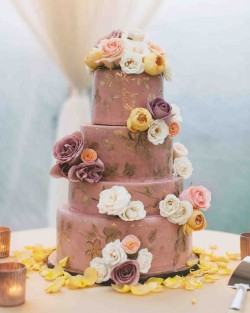 Purple is my absolute favorite color. It's the color of royalty and it's my birthstone.
And had I given it much thought, I would have added purple to my wedding color scheme all those years ago. Like, maybe by having a purple wedding cake.
Just like today's featured cake.
This lovely, muted purple cake is stunning. Read More
0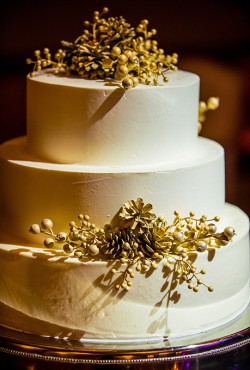 I love this time of year with all the Christmas trees and winter holiday decorations.
Everything is so pretty and festive, so your winter wedding cake should fit into the holiday theme!
Today's featured cake is the perfect winter wedding cake. It features pinecones and berries with a stark white icing as the background. Read More
0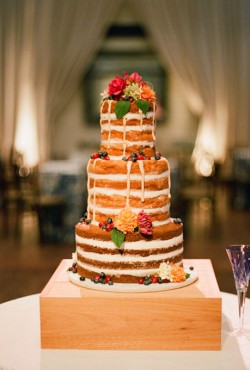 I love looking for rustic, fall-inspired wedding cakes!
And today's naked wedding cake is the ideal modern cake for a late-fall wedding.
The three-tiered cake fits the "naked wedding cake" mold as it is  sans icing on the outside. But look at all that icing in between the layers! Read More
0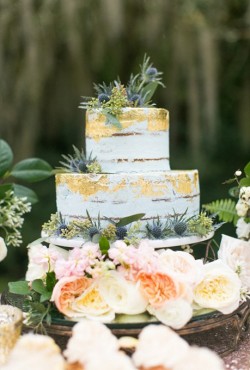 Two of my favorite colors on a wedding cake are white and gold.
There's just something about the color combination that is elegant and traditional.
Plus you can't go wrong using gold at the holidays.
Today's cake is rustic with a touch of elegance thanks to the addition of gold flakes on each tier.
The cake looks like a million bucks, but we're sure it doesn't cost that much. Read More
0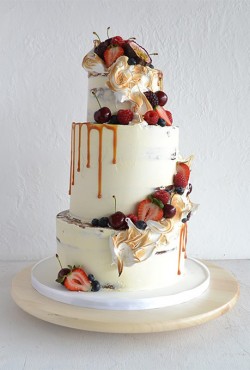 One of my absolute favorite flavors regardless of the season is caramel.
Whether we're talking about candy or coffee or just pure caramel sauce, I can't live without out.
So imagine my excitement when I found this rustic fall wedding cake with caramel sauce! Look at this cake – it is a work of art! Read More
0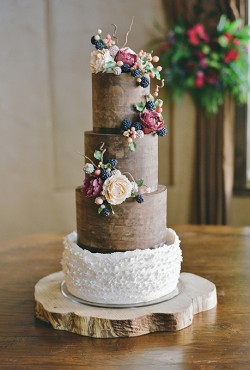 The Halloween decorations are down and now it's time to think about all things rustic and fall-like!
To celebrate the beauty that is fall, it only seems appropriate to highlight a gorgeous and rustic fall wedding cake that incorporates a lot of fall into its look.
I love the bark-like look of the top tiers of this cake – it gives the cake a nice rustic vibe without being too harsh. Read More
0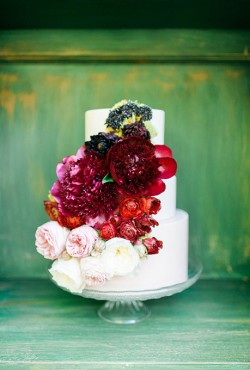 I love everything about fall – even the fact that, where I live fall means you pull out all the summer flowers. This is OK with me because I just replace them with colorful mums!
I love the dark hues of some of the mums and other fall-ish blooms that are perfect for this time of year.
And I also love seeing floral wedding cakes deep in the falls season. Just because the temps are cooler and the leaves are turning doesn't mean you can't add some colorful blooms to your wedding cake! Read More
0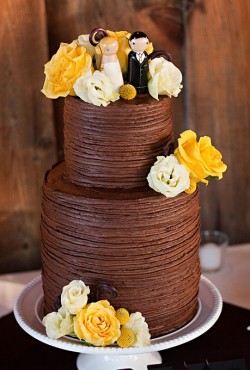 If I had the chance to do my wedding cake over, I'm pretty sure there would be chocolate involved. As in, I'd have an all chocolate wedding cake.
Because, chocolate.
I love the idea of bucking a trend – white wedding cakes – and serving something you really love. Like chocolate cake. Or at least cake with chocolate icing. Read More
0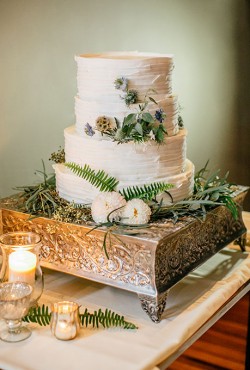 I love this time of year – the leaves are changing colors, the nights are cooler, and everything is about fall!
So if you're getting married during this season, why not choose a wedding cake the plays on the themes of the season without being too over-the-top?
Today's featured cake is one of those perfectly fall cakes. Read More