Floral Wedding Cakes
What's not to love about a floral wedding cake? The trend to decorate cakes with flowers, whether real or gum paste, really became all the rage during the 1980s, when Martha Stewart showed us all how wrong we'd been doing weddings up to that point. Gone suddenly were the little bride and groom figurines made of porcelain or plastic that stood proudly atop cakes. Replacing them were mounds and cascades and accents of flowers of all shapes, sizes, and hues. The trend may have died down to some extent; today, we're as apt to see a bride and groom cake topper – or a pair of birds or bicycles, or anything else the couple might fancy – as flowers. But flowers have not lost favor completely. In fact, florists are still busy preparing floral toppers for cakes that match the bride's color palette and bouquet. Likewise, bakers are kept busy crafting handmade, sugar or gum paste flowers, or at the very least, custom coloring store bought gum paste creations to offset their beautiful cakes. There are a couple of points to remember when choosing to trim your cake with fresh flowers. First, make sure that the bloom you'd like to use is NOT poisonous. Wouldn't you hate to send people to the hospital because they ingested a piece of your cake that had ivy on it? And secondly, if at all possible, ask your florist for pesticide-free blooms. Bug killing chemicals = not tasty. And finally, if it's gum or sugar paste flowers that you're after, remind guests that, although they are technically edible, it's probably not very tasty or a good idea. If you want edible decorations, you should probably stick with real or marzipan fruit.
0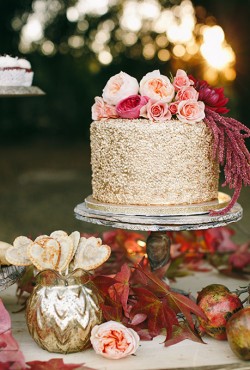 It's been established that I'm totally in love with the sprinkle wedding cake theme right now.
Which is really kind of weird because in reality I don't like sprinkles on cake or cookies (or ice cream). But I love how they look on a wedding cake.
I think it has to do with the "whimsical factor" that sprinkles add to a wedding cake. Because we all know how boring some wedding cake can be. Read More
0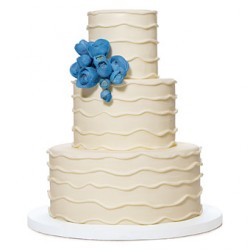 Lately I've been daydreaming about the beach. A lot.
This is likely due to the fact that very soon I'll be lounging on a beach in the Caribbean without a care in the world.
But it also got me thinking about beach-themed wedding cakes since it is the perfect time of year for a beach wedding.
And then I found this cake and fell in love. Read More
0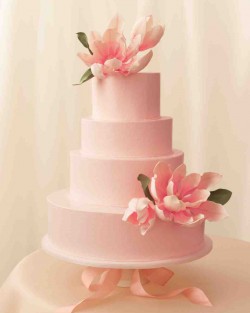 There's just something about the color pink and springtime – they go hand-in-hand perfectly.
And today's gorgeous pink creation is perfect for your spring or early summer wedding thanks to its elegance and the addition of some lovely handmade gum paste magnolias (colored pink with edible paint!). Read More
0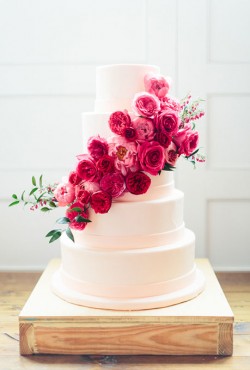 I love the idea of using fresh flowers to adorn a wedding cake – especially in the middle of spring when everything is in bloom and so pretty!
The best part about using fresh flowers is that you can pick and choose the perfect flowers to match your theme, colors, and personality.
Today's featured cake is a simple white cake with five tiers and a gorgeous cascade of pink flowers Read More
0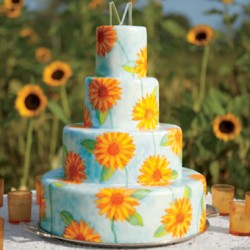 Sunflowers are my absolute favorite flower.
Sure, I love roses as much as the next person but sunflowers are just so darn happy. It makes them really hard to resist.
So imagine my surprise when I saw today's wedding cake – it's all sunflowers! Read More
0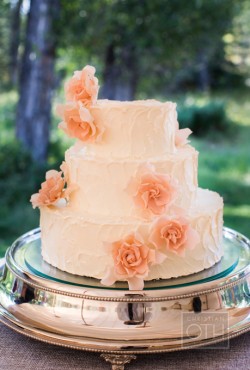 I wasn't always a fan of the color pink. It took becoming a mom to two girls to really bring me around to the many shades of pink.
I love seeing different pinks used in wedding cakes – and it always reminds me of the line from 'Steel Magnolias'  when Shelby says "My colors are blush and bashful" and her mother responds with "Your colors are pink and pink." Cracks me up every time.
Today's cake is a light peachy-pink hue and it's absolutely perfect for a spring or summer wedding. Read More
0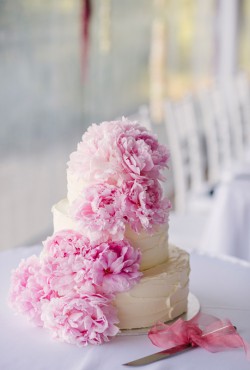 The more wedding cakes I look at the more I love seeing fresh pink flowers on cakes!
I never used to enjoy the color pink but I have to admit it really is starting to grow on me.
And today's cake is such a pretty-in-pink cake! It really is a perfect cake for a spring or summer reception. Read More
0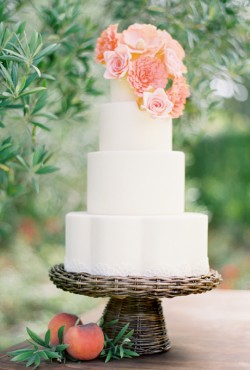 Despite the temperatures outside it really IS spring and that means everything is blooming!
This is the perfect time of year to include fresh flowers on your wedding cake. It's one of my favorite trends when it comes to adding pops of color to cakes.
Today's cake features peach roses and zinnias – which gives the cake a lovely pastel look, perfect for spring or early summer. If you aren't a fan of peach roses you could always pick another hue. Read More
0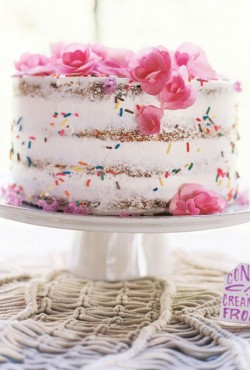 I prefer my wedding cakes to have a lot of icing. After all, is a cake really a cake without icing?
But sometimes I find a "naked" wedding cake (sans icing) that really intrigues me.
Take for example today's nearly naked caked that is adorned with some colorful and whimsical sprinkles. Read More
0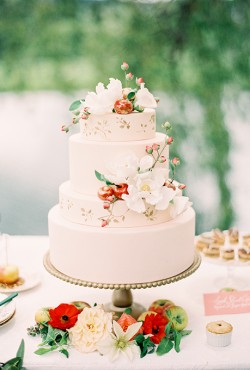 Ah, spring is in the air! The flowers are blooming the grass is getting greener. And it's lovely!
If you're looking for a spring-worthy cake that feature fresh flowers (and even a little bit of fruit), today's cake is that cake.
I'm loving the subtle blush color of this cake – it's just slightly pink and it's perfect. Read More