Modern Wedding Cakes
The term "modern wedding cake" may mean different things to different people. Here at A Wedding Cake Blog, we take the term to mean anything with a contemporary feel; a cake that eschews the traditional white on white, piped and buttercreamed and trimmed with swags or roses. Modern may refer to a bold use of color, or a contemporary decor or shape. It may also refer to choosing something other than the grand, traditional tiered cake – a cake of macarons, for instance, or an assortment of individual cakes. Modern means that you are updating the tradition: perhaps you aren't entirely throwing it out. You're just giving it a breath of fresh air.
0
I'm not sure how I feel about today's featured wedding cake.
There's almost too much going on for one cake. I love the light blue icing and the sprinkle layers. I also love the deep red ribbons between tiers.
But the red flowers with peppermint candy centers? Those are pretty too. But put together – it just seems so busy at first glance. Read More
0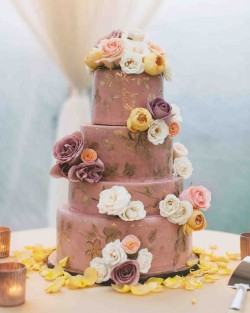 Purple is my absolute favorite color. It's the color of royalty and it's my birthstone.
And had I given it much thought, I would have added purple to my wedding color scheme all those years ago. Like, maybe by having a purple wedding cake.
Just like today's featured cake.
This lovely, muted purple cake is stunning. Read More
0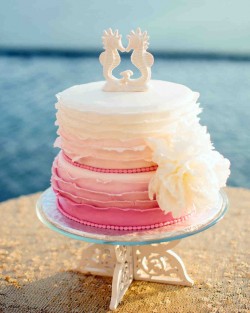 As we slog through this cold winter month of January it's always good to think about warmer climates.
Like, a tropical beach.
And today's beach-themed cake is the perfect wedding cake to get us in a tropical beach kind of mood!
The bright colors of the pink ombre cake give the cake the perfect spring or summer vibe. Read More
0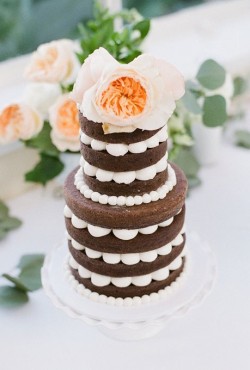 Happy New Year! As we head right into 2017, now is a perfect time to make a resolution to have a spectacular and unique wedding cake on your big day.
Take today's cake.
It's chocolate. And it's a naked cake. But look at the scalloped icing between the tiers. Good gravy that's gorgeous! Read More
0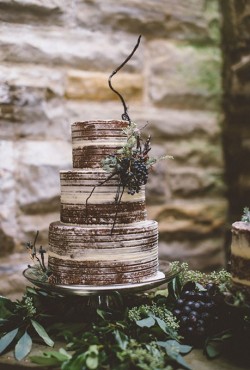 The temperature outside might be chilly, but that doesn't mean your cake needs to be covered in icing!
Today's featured cake is the perfect winter wedding cake in all its dark and dramatic glory!
I love the idea of chocolate wedding cakes – and even though I love chocolate icing, this rustic cake with minimal icing is lovely. Read More
0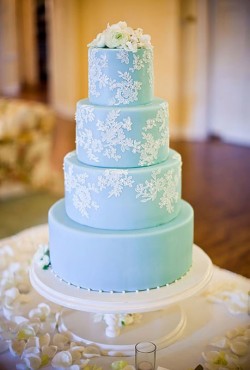 If there's one color I love to see on a wedding cake it is blue – specifically a light blue that was made famous by a particular jewelry company.
Today's featured cake is that lovely shade of blue and the addition of a lace overlay piped onto the cake takes it to the next level for sure.
This cake is elegant and classic and it could also fill the role of "something blue" at the wedding. Read More
0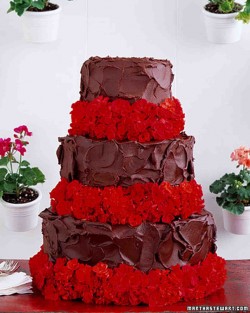 I love the idea of a chocolate wedding cake.
Sure it might seem like a crazy idea – serving a chocolate cake with chocolate icing – but that's why I love it!
You can't go wrong with chocolate cake! Read More
0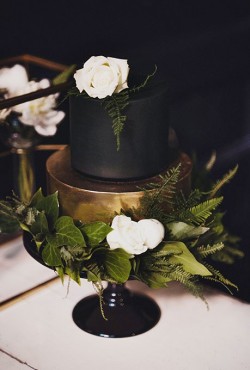 As much as I love the traditional white wedding cake, every now and then it's nice to mix things up and think about non-traditional cakes.
The idea of a black frosted cake might seem odd to some but I think it's a great idea for an elegant winter wedding.
A black and gold cake would be a bit too dramatic in the middle of summer. Read More
0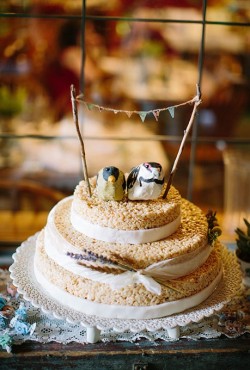 One of my favorite treats to whip up has to be Rice Krispie Treats – all ooey and gooey with extra marshmallows.
It's an easy dessert to make and it's guaranteed to please even the pickiest of dessert eaters.
So, how fun would it be to serve a Rice Krispie wedding cake? This has to be one of the best non-traditional wedding cake ideas I've seen. Read More