Modern Wedding Cakes
The term "modern wedding cake" may mean different things to different people. Here at A Wedding Cake Blog, we take the term to mean anything with a contemporary feel; a cake that eschews the traditional white on white, piped and buttercreamed and trimmed with swags or roses. Modern may refer to a bold use of color, or a contemporary decor or shape. It may also refer to choosing something other than the grand, traditional tiered cake – a cake of macarons, for instance, or an assortment of individual cakes. Modern means that you are updating the tradition: perhaps you aren't entirely throwing it out. You're just giving it a breath of fresh air.
0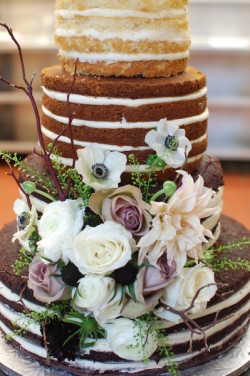 Let's face it – it's hot outside. And while I'm normally a fan of LOTS of icing on wedding cakes, in the summer I think the "naked" wedding cake trend is perfect.
And today's featured cake is soooo pretty it doesn't need much icing at all.
This four-tier cake features cakes of different flavors – looks like chocolate and vanilla – with gorgeous white icing between the layers. Read More
0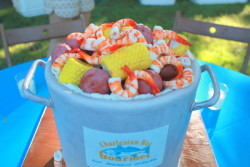 I love the idea of a groom's cake – a fun and delicious dessert that reflects your groom's personality or is inspired by his hobbies.
And yes, every time I think about a groom's cake I'm reminded of the red velvet armadillo cake with gray icing from the 80s hit movie Steel Magnolias.

However, today we're talking about a visually pleasing, fun groom's cake! Read More
0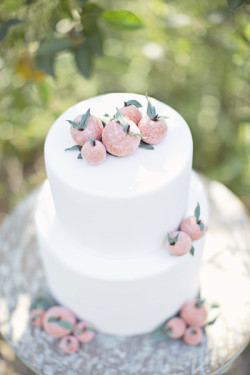 If there's one wedding cake trend I can really get behind it's the use of fresh fruit on your wedding cake.
I especially love this idea when we're in the middle of summer and all the fruit is so fresh and pretty and colorful.
A wedding cake adorned with deep red strawberries or raspberries or pretty blueberries is the ultimate summertime cake. Read More
0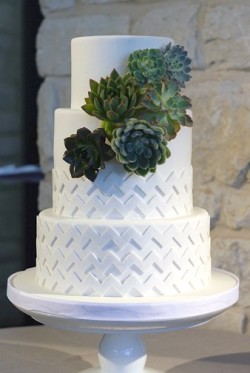 While brightly hued wedding cakes seem to be all the rage right now, there's something to be said for an elegant all-white cake.
Think of an all-white wedding cake as a blank canvas. You can add any kind of embellishment from fresh flowers to greenery, and even a peek of modern art in the icing.
Take today's featured cake fore example. Read More
0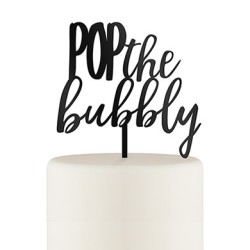 It's been a while since we featured a fun cake topper so today's the day!
Even though I really love the idea of a "traditional" (read: old fashioned) cake topper with little figures of the happy couple on top of the cake, I'm also open to a more modern and fun cake topper. Read More
0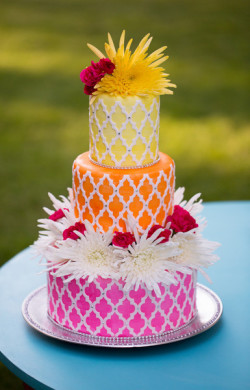 We're at that point in the summer where everything has bloomed and the flowers are bursting out of their pots and a wedding cake that is bursting with color seems just about perfect.
Take today's featured cake as an example.
This cake is all about color! You can't help but be happy and smiling when you look at this cake. Read More
0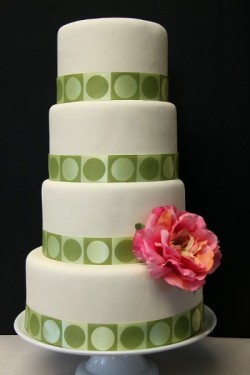 Green wedding cakes aren't something we normally feature around here, except maybe around the holidays.
But if you think about it – and look at today's featured cake – green cakes are quite amazing.
It's not a color you'd think about when considering a wedding cake, unless of course your favorite color is green.
However, it's a lovely shade when paired with a modern white cake. Read More
0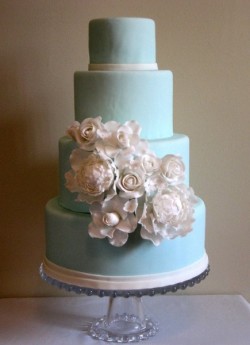 In these warm summer months I love looking for colorful wedding cakes that add a lovely pop of color to your dessert table.
Today's cake is a perfect shade of blue for summer – it looks like the sea or the sky.
And, it's also the color of a particular very popular jeweler. We all love getting boxes in this color, right! ;-D Read More
0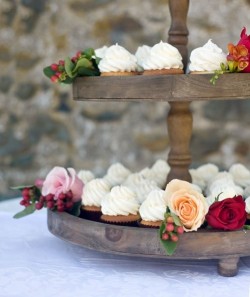 In these warm summer months sometimes a lighter dessert is necessary at a wedding.
While we all love big wedding cakes, there's something to be said for small cupcakes.
First, everyone loves cupcakes. And, they can be fun and whimsical. Read More