Modern Wedding Cakes
The term "modern wedding cake" may mean different things to different people. Here at A Wedding Cake Blog, we take the term to mean anything with a contemporary feel; a cake that eschews the traditional white on white, piped and buttercreamed and trimmed with swags or roses. Modern may refer to a bold use of color, or a contemporary decor or shape. It may also refer to choosing something other than the grand, traditional tiered cake – a cake of macarons, for instance, or an assortment of individual cakes. Modern means that you are updating the tradition: perhaps you aren't entirely throwing it out. You're just giving it a breath of fresh air.
0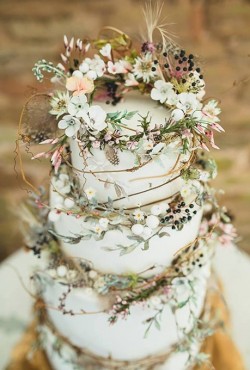 I've always loved the idea of a fairy tale, woodland-themed wedding.
And today's featured wedding cake would be ideal for just that type of reception. The cake is romantic and elegant and just what you'd want for a rustic wedding.
This rustic cake features three tiers of lovely white frosted cake surrounded by woodland vines straight out of a fairy tale. Read More
1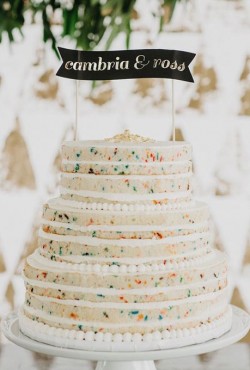 Wedding cakes with sprinkles seem to be all the rage lately and it's easy to see why.
These cakes are so fun and whimsical – perfect for the happiest day ever!
But what if your wedding cake didn't just have sprinkles on the outside? What if you also had them on the inside?
Now that's genius. Read More
0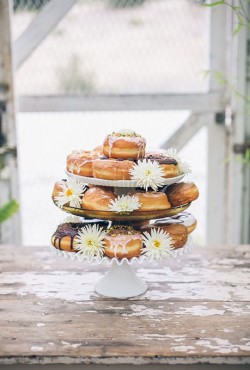 Sometimes I crave doughnuts.
I'm talking about those fresh-from-the-bakery, crispy on the outside doughnuts that make you all warm and fuzzy inside.
And if you love doughnuts as much as I do, it would be so much fun to serve doughnuts as your wedding cake!
Talk about an unexpected cake! Read More
0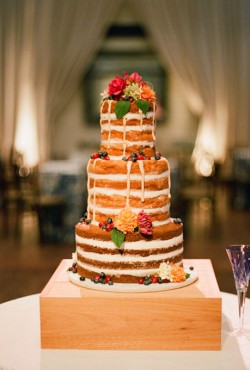 I love looking for rustic, fall-inspired wedding cakes!
And today's naked wedding cake is the ideal modern cake for a late-fall wedding.
The three-tiered cake fits the "naked wedding cake" mold as it is  sans icing on the outside. But look at all that icing in between the layers! Read More
0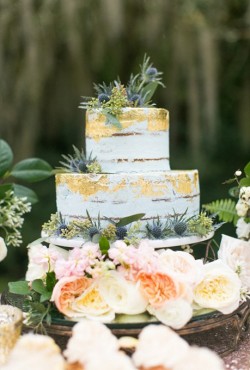 Two of my favorite colors on a wedding cake are white and gold.
There's just something about the color combination that is elegant and traditional.
Plus you can't go wrong using gold at the holidays.
Today's cake is rustic with a touch of elegance thanks to the addition of gold flakes on each tier.
The cake looks like a million bucks, but we're sure it doesn't cost that much. Read More
0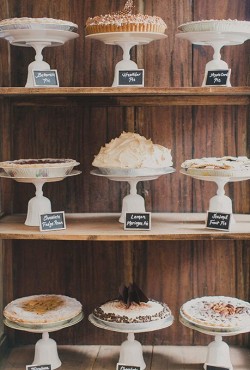 Next week is Thanksgiving, my favorite holiday.
Why do I love Thanksgiving so much? I could say "food" but in truth I love the pies for dessert.
I wait all year for a slice of pecan pie and a slice of pumpkin pie – both topped with crazy amounts of whipped cream.
As much as I love cake, I might love pie more.
Which is why we're talking about wedding pie today instead of wedding cake. Read More
0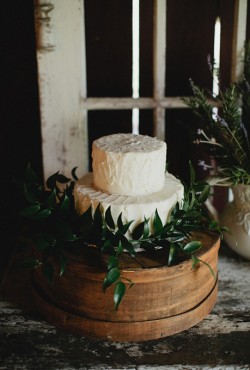 As much as I love an over-the-top wedding cake every now and then, I really like the simple and elegant wedding cake too.
Sometimes you don't need a lot of stuff on the cake to make it gorgeous.
Take today's cake for example. Read More
0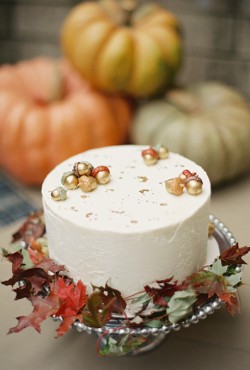 We raked a lot of leaves over the weekend around here. The trees are just past peak color and the leaves are raining down in our yards.
Another thing raining down – acorns!
Which brings us to today's fall-inspired wedding cake featuring colorful fall leaves and acorns.
This one-tier cake practically screams fall … in an elegant and refined manner of course. Read More
0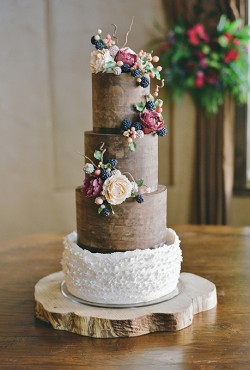 The Halloween decorations are down and now it's time to think about all things rustic and fall-like!
To celebrate the beauty that is fall, it only seems appropriate to highlight a gorgeous and rustic fall wedding cake that incorporates a lot of fall into its look.
I love the bark-like look of the top tiers of this cake – it gives the cake a nice rustic vibe without being too harsh. Read More
0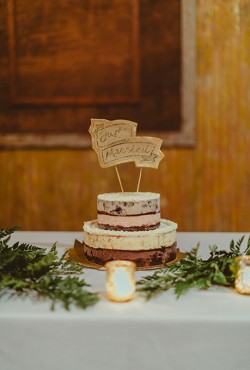 If there's one thing I love more than wedding cake, it has to be ice cream.
So, when I saw this ice cream wedding cake it was as if all my dessert dreams came true!
I love the idea of non-traditional wedding cakes – whether we're talking naked wedding cakes or cakes made out of rounds of cheese. The crazier the better I say. Read More