Modern Wedding Cakes
The term "modern wedding cake" may mean different things to different people. Here at A Wedding Cake Blog, we take the term to mean anything with a contemporary feel; a cake that eschews the traditional white on white, piped and buttercreamed and trimmed with swags or roses. Modern may refer to a bold use of color, or a contemporary decor or shape. It may also refer to choosing something other than the grand, traditional tiered cake – a cake of macarons, for instance, or an assortment of individual cakes. Modern means that you are updating the tradition: perhaps you aren't entirely throwing it out. You're just giving it a breath of fresh air.
0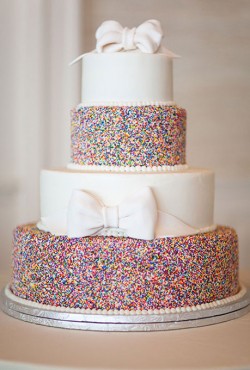 There's something about a wedding cake decorated with sprinkles that I'm loving this spring!
I don't know if it is the whimsical nature of the sprinkles or the fact that it's a fun way to add some rainbows to your big day but I really love this trend.
If you're going to use sprinkles on your wedding cake you can either go big – and decorate the entire cake with sprinkles – or go more subtle, like today's cake. Read More
0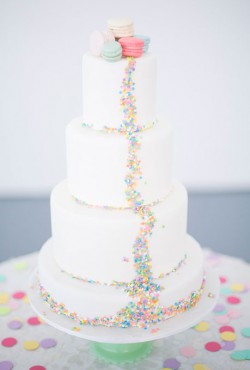 Happy spring!
The birds are chirping, the flowers are blooming, and this gorgeous cake is perfect for a spring wedding.
I'm a big fan of whimsical wedding cakes – you know, the cakes that don't take life too seriously. After all, your wedding should be full of fun and whimsy.
And nothing says fun like a cake covered in sprinkles! Read More
0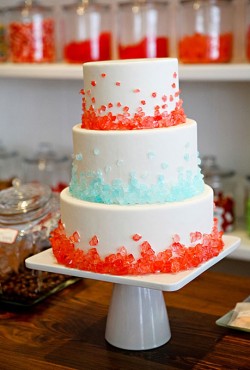 I'm always looking for something different and unique when it comes to wedding cakes.
Today's cake fits that bill … and then some!
We all remember eating rock candy as kids, right? Those sticks covered in crystallized sugar that almost broke our teeth? Now as grownups maybe we'll get a stick of rock candy with a fancy espresso – a stick of sugar to sweeten the coffee.
But what if you could have rock candy on your wedding cake? That would be amazing! And delicious. Read More
0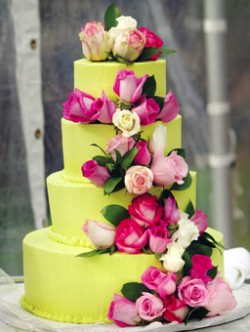 This week we're thinking about all things green in honor of St. Patrick's Day!
And while it isn't easy being green when you're talking about wedding cakes, it is quite pretty.
Also, you can't get more "spring-y" than green. That's one of the things we love most about spring – everything is turning green!
Today's cake takes a unique turn with the color green as it's more of a lime green than a "grassy green." Read More
0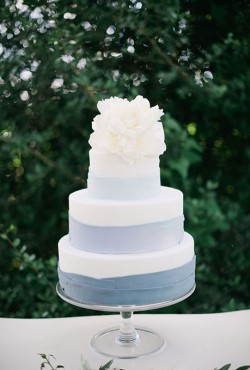 Today is the second day of March, which means we are daydreaming about springtime and flowers and warmer weather.
However, it is also currently snowing outside so we are also thinking about snow and ice and cold – all the wintry things that look like the colors of this cake.
We love this gorgeous cake. The three tiers each feature a different shade of blue and it gives it an elegant ombre look. Read More
0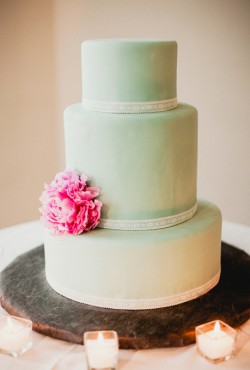 I'm all about thinking spring right now!
Sure it's been a mild winter here in the Midwest but with a potential snowstorm in tonight's forecast I've decided that I'm done with winter and just want to focus on spring.
And spring means all things green! It's the one time of year that I really, really like the color green.
Green grass. Green leaves. Shamrock Shakes. You know, all things spring. Read More
0
Red and white is one of my favorite color combinations. There is such a stark contrast between the two colors, I just can't get enough of red and white.
Take today's featured cake – featuring bright white icing and bright red fondant ribbons – it's elegant and simple and quite perfect. Read More
0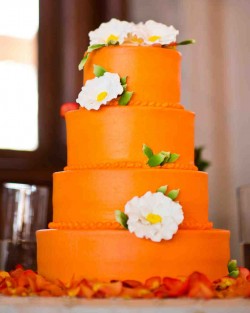 It might be the middle of winter but that won't matter when you check out this bright orange wedding cake!
This brightly hued cake will boost your spirits immediately and bring a smile to your guests' faces. And really, who expects to see an orange wedding cake at a reception? No one, that's who. Read More
0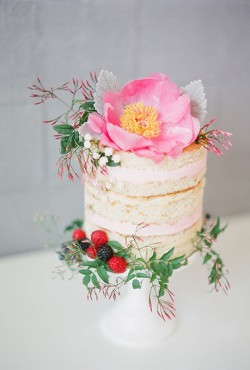 We're still daydreaming about spring even if winter is still hanging on and sending more cold temperatures our way.
And one of the things we love most about spring is the arrival of gorgeous flowers.
Of course we also love fresh flowers on wedding cakes, like the blooms on today's naked wedding cake. Who needs icing when you have flowers, right? Read More
0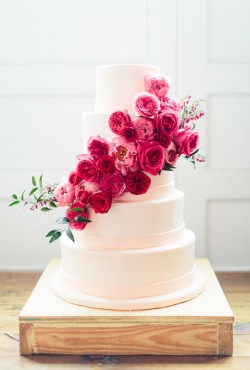 The groundhog has spoken and we're in for an early spring this year!
So it only seems appropriate to start dreaming about springtime wedding cakes covered in lovely, bright colored blooms.
I love fresh flowers on wedding cakes – it is the perfect way to make a statement with your cake without being too over-the-top. Read More