Unconventional Wedding Cakes
In today's wedding world, it seems that most wedding cakes are unconventional. It's almost unconventional to have a white on white wedding cake! But in an unconventional wedding cake might refer to the design, the topper, or the flavors featured. Regarding design, one popular unconventional style today is the topsy turvy, asymmetrical design. Stacked cake layers give the illusion that the cake could spill over any minute, when in fact, the cake is balanced and level. Unconventional toppers are another way that a couple may make their cake unique. The couple who loves Angry Birds, for instance, can feature the adorable characters perched atop their cake. Can't last a minute without your cell phone? There's a wedding topper for that, too. Prefer Goth to Victorian? No problem. A talented baker can help you realize your dream cake. But you might opt for traditional design and toppers, and still find ways to be unconventional with flavors – even savory alternatives to wedding cakes, like "cakes" made of wheels of cheese, or layers of savory meet pies, might stand in for a conventional cake. So, express yourselves! In cake! And send us pictures.
0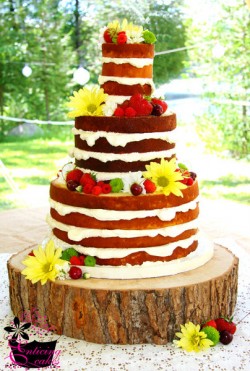 We're getting close to the dog days of summer and it's the perfect time to think about a wedding cake without icing.
And if you can showcase some lovely summertime blooms and fruit on that cake it'll be a perfect summer wedding cake.
Today's featured cake does just that.
This multi-tiered cake features gorgeous white icing between each layer, set off by brightly hued flowers and berries. Read More
0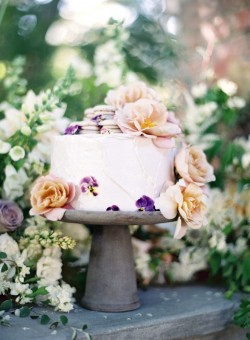 There is something to be said for an elegant one-tier wedding cake, especially if that one tier is elegant and whimsical and practically perfect in every way.
Take today's featured cake.
It might be small but it packs an elegant punch!
This one-tier cake features light lavender icing and is embellished with fresh flowers – including violets – and topped with macarons and more fresh blooms. Read More
0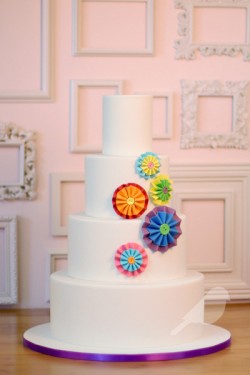 I love the idea of a bright and colorful wedding cake!
Whether we're talking about a rainbow hued cake layered under white icing or a cake that is frosted in a bright, cheery color I just love colorful cake!
Take today's featured cake as an example.
The gorgeous white icing is accented with several very colorful pinwheels and it's a perfect combination for a summer wedding. Read More
0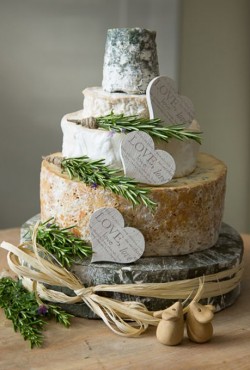 Confession time – I love cheese. If given the chance I'd probably eat cheese at every meal of the day and twice on Sunday.
Cheese is awesome.
And if you love cheese just as much I think you're gonna love today's featured wedding cake because it is four tiers of CHEESE. Read More
0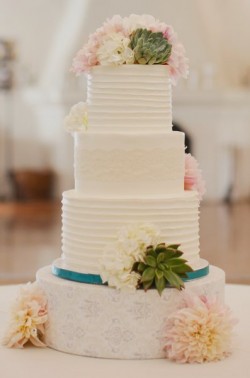 Some of the most beautiful wedding cakes are also the cakes with the simplest design.
There's no need to be over-the-top when it comes to your wedding cake, sometimes you just need a few strategically placed blooms and greenery to wow your guests. Read More
0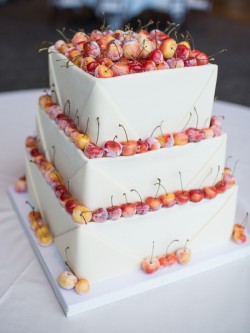 Summer is unofficially here! This means it's time for fresh fruit and gorgeous wedding cakes – sometimes mixed together.
Today's featured cake is the ideal summer wedding cake – a gorgeous white cake topped with sugar dipped cherries!
This cake is both elegant and whimsical. Take a look at the icing – it looks like envelopes on the side, folded over. Read More
0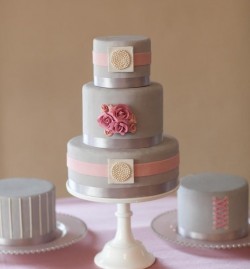 When you think about the perfect color scheme for a wedding cake, does gray often pop into your mind? No?
Well, it probably should.
I'm not talking about boring, dreary gray like the skies during a springtime rainstorm.
Nope. I'm talking about light gray accented with other colors including white and pink. Read More
0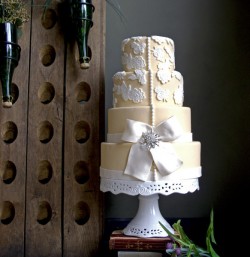 There's just something about bows. I love 'em, especially when they're used to adorn cakes.
A wedding cake with a bow has the perfect mix of elegance and whimsy that takes it to another level. A cake can never be "too formal" when it has a bow.
And if your baker can create a bow that has similarities to your wedding dress? Well, that's just about perfect. Read More
0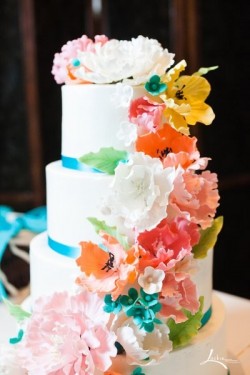 Spring is in the air and it's the perfect time to showcase another vivid and colorful springtime cake!
While a traditional white wedding cake is always nice, I love to find wedding cakes that aren't afraid to show off a lot of bright colors.
Brightly colored cakes are so happy and festive and perfect for the happiest day ever.
Today's cake features three tiers with white icing, separated by gorgeous teal blue ribbons. Read More
0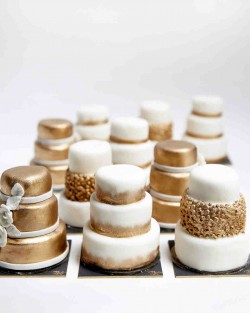 While I'm all for having a big (or small-ish) wedding cake on your big day there's something to be said for serving everyone their own mini wedding cake.
These gold and white miniature wedding cakes are more than just a glorified cupcake.
They're actually tiered cakes – three tiers in total and they're downright gorgeous! Read More