Unconventional Wedding Cakes
In today's wedding world, it seems that most wedding cakes are unconventional. It's almost unconventional to have a white on white wedding cake! But in an unconventional wedding cake might refer to the design, the topper, or the flavors featured. Regarding design, one popular unconventional style today is the topsy turvy, asymmetrical design. Stacked cake layers give the illusion that the cake could spill over any minute, when in fact, the cake is balanced and level. Unconventional toppers are another way that a couple may make their cake unique. The couple who loves Angry Birds, for instance, can feature the adorable characters perched atop their cake. Can't last a minute without your cell phone? There's a wedding topper for that, too. Prefer Goth to Victorian? No problem. A talented baker can help you realize your dream cake. But you might opt for traditional design and toppers, and still find ways to be unconventional with flavors – even savory alternatives to wedding cakes, like "cakes" made of wheels of cheese, or layers of savory meet pies, might stand in for a conventional cake. So, express yourselves! In cake! And send us pictures.
0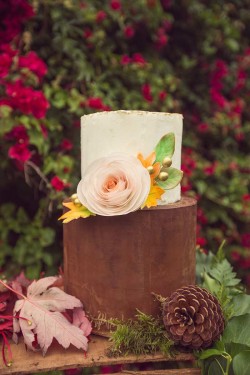 Even though it is December that doesn't mean you have to forgo the fresh flowers on your wedding cake!
There are so many lovely ways to embellish your winter wedding cake and today's cake might be a new favorite.
I love the simplicity of this cake. The two tiers feature simple but seasonal icing in both white and chocolate (an added bonus for chocolate fans). Read More
0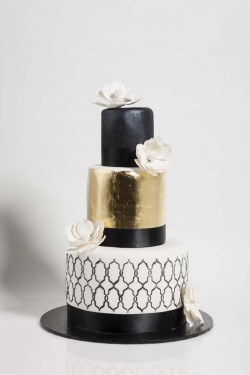 Sometimes it's fun to break from tradition and think outside the cake box, especially if you're looking for a fun and modern twist for your wedding cake.
Take today's cake for example.
It has several modern details that make it the perfect cake for your ultra chic and modern wedding reception.
The three-tier cake uses black ribbon to accentuate the tiers, while some fancy detail work makes the bottom tier stand out. Read More
0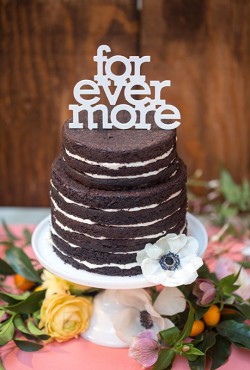 I have a confession to make – I love Oreo cookies.
Which is probably why I had to choose today's wedding cake to showcase. It looks like a stack of Oreos. OK, well it looks like a stack of Oreos to me.
I'll also confess that I'm not a huge fan of naked wedding cakes. I'm too much of a frosting fan to purposely eat a cake that lacks frosting.
However, this naked dark chocolate cake is really stunning because of its lack of frosting. The white icing peeking out between the tiers adds just the right amount of drama to this cake. Read More
0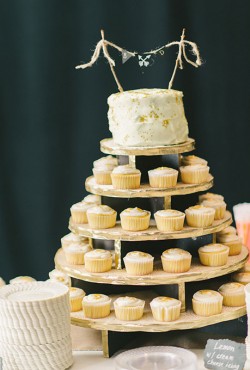 While wedding cupcakes are still a trend some brides really want to stick with tradition and have that wedding cake. But what if you could do both?
That's right – let them eat cake AND cupcakes!
I love the idea of keeping the traditional wedding cake as part of the reception – it is easier to cut a slice of cake than it is to share a cupcake with your new spouse. Read More
0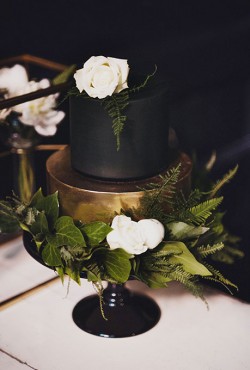 Sometimes when looking for wedding cakes to showcase I run across a cake that makes me go "hmmm" and "wow!" at the same time.
Today's cake is that cake.
I'll admit I never thought about having a black wedding cake when I was planning my wedding all those years ago. But I can see how it would work when looking at today's cake. Read More
0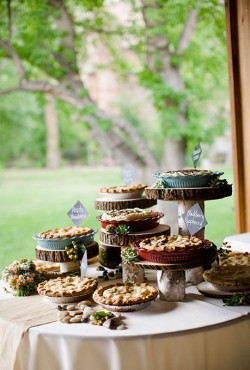 It's that time of year again – time for pie!
One of my favorite things about Thanksgiving are the pies – pecan, pumpkin, apple, or whatever flavor happens to be served.
I'll admit it – I love pie.
So that got me thinking about serving pie at a wedding reception. It seems like a great idea – instead of serving the traditional cake why not give your guests something different like pie! Read More
0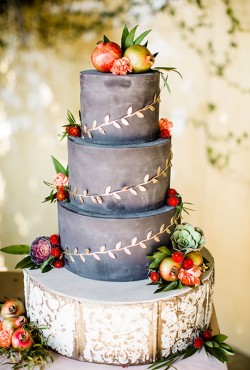 Fall and winter are the perfect time of year to think about a non-traditional wedding cake.
I'm talking about a cake that isn't topped with white icing – a dark wedding cake.
Today's cake would be the perfect late-fall or winter cake with its dark icing and fall fruit embellishments.
It's not often that you think about a dark color of icing for your wedding cake color but this cake would absolutely work if you have bright fall colors as part of your wedding color scheme. Read More
0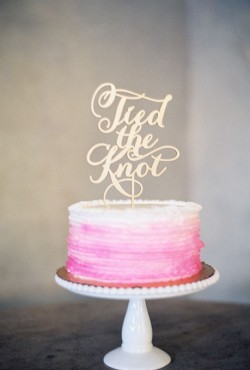 I really like the idea of having a separate centerpiece cake just for the bride and groom to cut and enjoy.
And then you can have other small cakes for the guests or a dessert bar. Something different and a bit out of the ordinary.
Today's cake would be ideal for that concept.
This single tier cake is perfect for the new couple – you could even have it at the "head" table and then set up other cakes and desserts elsewhere. Read More
0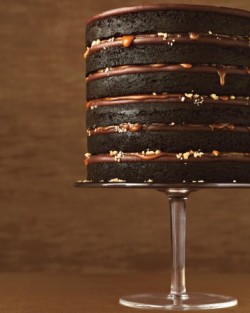 So here we are a few days post-Halloween.
Have you had your fill of chocolate and sweets yet? No? Good because today's wedding cake is ah-mazing!
Check out this ooey and gooey chocolate caramel wedding cake.
While I'm not normally a fan of "naked" wedding cakes this chocolate creation has delicious caramel, salted peanuts, and chocolate ganache between each layer.
There's no need for icing!
This cake is gorgeous and decadent and it's perfect for a fall wedding!
This cake was created by pastry chef Jason Schreiber. You can find it here.
0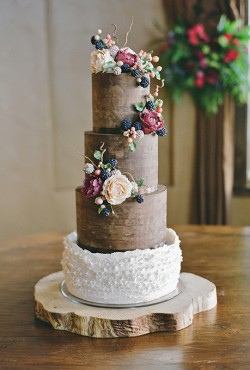 It's November! There is no denying it now – we are celebrating all things fall!
For me, a fall-inspired wedding cake features dark hues with some pops of dark colors.
Take today's cake for example.
I love the rustic vibe of this cake from the chocolate ganache icing that gives the cake a "woodsy" feel to the dark fruit and flowers used as accents. Read More