Unconventional Wedding Cakes
In today's wedding world, it seems that most wedding cakes are unconventional. It's almost unconventional to have a white on white wedding cake! But in an unconventional wedding cake might refer to the design, the topper, or the flavors featured. Regarding design, one popular unconventional style today is the topsy turvy, asymmetrical design. Stacked cake layers give the illusion that the cake could spill over any minute, when in fact, the cake is balanced and level. Unconventional toppers are another way that a couple may make their cake unique. The couple who loves Angry Birds, for instance, can feature the adorable characters perched atop their cake. Can't last a minute without your cell phone? There's a wedding topper for that, too. Prefer Goth to Victorian? No problem. A talented baker can help you realize your dream cake. But you might opt for traditional design and toppers, and still find ways to be unconventional with flavors – even savory alternatives to wedding cakes, like "cakes" made of wheels of cheese, or layers of savory meet pies, might stand in for a conventional cake. So, express yourselves! In cake! And send us pictures.
0
Spring is the season of rainbows. All you need is a good rain shower and some sunshine and viola! You've got rainbows!
Of course spring is also the perfect season to incorporate rainbows into your wedding cake too.
I love the fun themeing of this rainbow wedding cake. Read More
0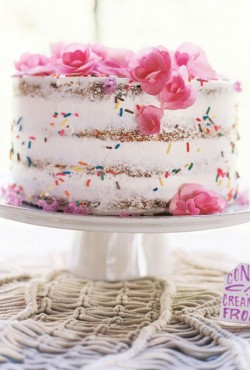 I prefer my wedding cakes to have a lot of icing. After all, is a cake really a cake without icing?
But sometimes I find a "naked" wedding cake (sans icing) that really intrigues me.
Take for example today's nearly naked caked that is adorned with some colorful and whimsical sprinkles. Read More
0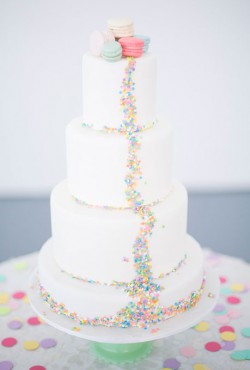 Happy spring!
The birds are chirping, the flowers are blooming, and this gorgeous cake is perfect for a spring wedding.
I'm a big fan of whimsical wedding cakes – you know, the cakes that don't take life too seriously. After all, your wedding should be full of fun and whimsy.
And nothing says fun like a cake covered in sprinkles! Read More
0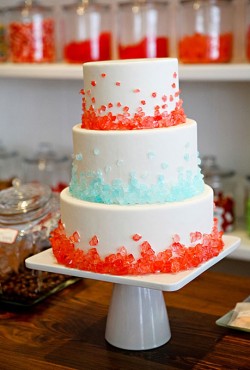 I'm always looking for something different and unique when it comes to wedding cakes.
Today's cake fits that bill … and then some!
We all remember eating rock candy as kids, right? Those sticks covered in crystallized sugar that almost broke our teeth? Now as grownups maybe we'll get a stick of rock candy with a fancy espresso – a stick of sugar to sweeten the coffee.
But what if you could have rock candy on your wedding cake? That would be amazing! And delicious. Read More
0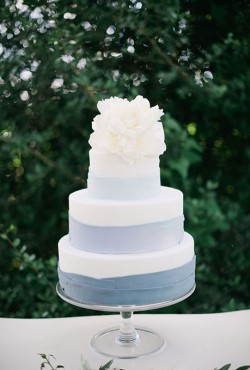 Today is the second day of March, which means we are daydreaming about springtime and flowers and warmer weather.
However, it is also currently snowing outside so we are also thinking about snow and ice and cold – all the wintry things that look like the colors of this cake.
We love this gorgeous cake. The three tiers each feature a different shade of blue and it gives it an elegant ombre look. Read More
0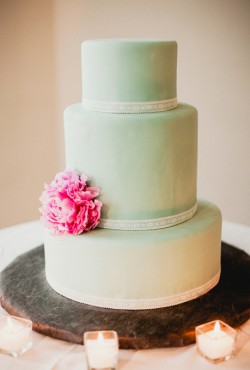 I'm all about thinking spring right now!
Sure it's been a mild winter here in the Midwest but with a potential snowstorm in tonight's forecast I've decided that I'm done with winter and just want to focus on spring.
And spring means all things green! It's the one time of year that I really, really like the color green.
Green grass. Green leaves. Shamrock Shakes. You know, all things spring. Read More
0
Sometimes it's nice to find a simple yet elegant wedding cake that would be perfect in any season.
Today's cake is just that kind of cake.
I love the simplicity of the three-tiered cake adorned with Rainier cherries.
It isn't fussy or over-the-top. It's just pretty. And sometimes that's all you need for a perfect wedding cake. Read More
0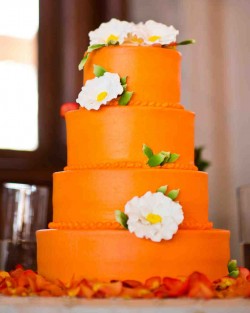 It might be the middle of winter but that won't matter when you check out this bright orange wedding cake!
This brightly hued cake will boost your spirits immediately and bring a smile to your guests' faces. And really, who expects to see an orange wedding cake at a reception? No one, that's who. Read More
0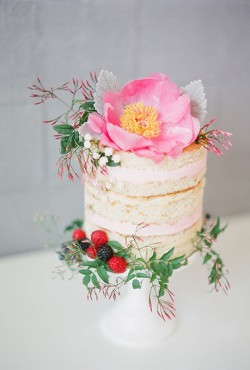 We're still daydreaming about spring even if winter is still hanging on and sending more cold temperatures our way.
And one of the things we love most about spring is the arrival of gorgeous flowers.
Of course we also love fresh flowers on wedding cakes, like the blooms on today's naked wedding cake. Who needs icing when you have flowers, right? Read More
0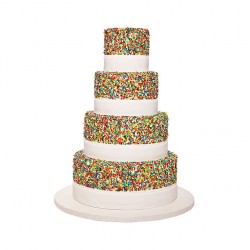 Happy February! We're thismuch closer to spring now!
And we're thinking warm and cheery thoughts today with this fun rainbow wedding cake.
Who needs a plain ol' white wedding cake when you can add sprinkles for some fun and whimsy? Read More