Unconventional Wedding Cakes
In today's wedding world, it seems that most wedding cakes are unconventional. It's almost unconventional to have a white on white wedding cake! But in an unconventional wedding cake might refer to the design, the topper, or the flavors featured. Regarding design, one popular unconventional style today is the topsy turvy, asymmetrical design. Stacked cake layers give the illusion that the cake could spill over any minute, when in fact, the cake is balanced and level. Unconventional toppers are another way that a couple may make their cake unique. The couple who loves Angry Birds, for instance, can feature the adorable characters perched atop their cake. Can't last a minute without your cell phone? There's a wedding topper for that, too. Prefer Goth to Victorian? No problem. A talented baker can help you realize your dream cake. But you might opt for traditional design and toppers, and still find ways to be unconventional with flavors – even savory alternatives to wedding cakes, like "cakes" made of wheels of cheese, or layers of savory meet pies, might stand in for a conventional cake. So, express yourselves! In cake! And send us pictures.
0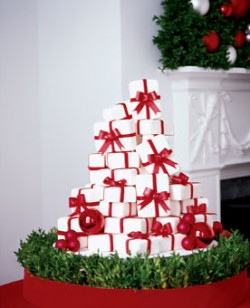 It's beginning to look a lot like Christmas, and if you're lucky enough to be planning a holiday wedding this year (or next) we have a fun idea for a cake!
What if your wedding cake looked like a stack of gorgeous wrapped presents?
That might be the perfect way to tie the holidays into your celebration! Read More
0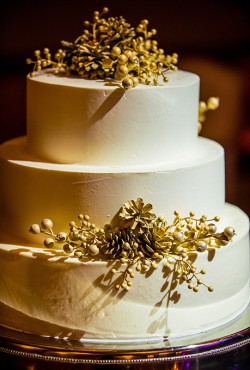 I love this time of year with all the Christmas trees and winter holiday decorations.
Everything is so pretty and festive, so your winter wedding cake should fit into the holiday theme!
Today's featured cake is the perfect winter wedding cake. It features pinecones and berries with a stark white icing as the background. Read More
0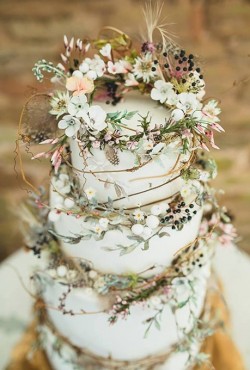 I've always loved the idea of a fairy tale, woodland-themed wedding.
And today's featured wedding cake would be ideal for just that type of reception. The cake is romantic and elegant and just what you'd want for a rustic wedding.
This rustic cake features three tiers of lovely white frosted cake surrounded by woodland vines straight out of a fairy tale. Read More
1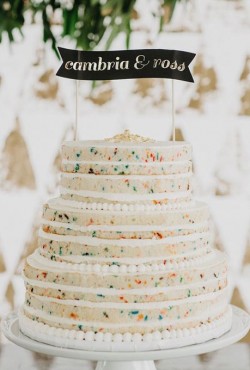 Wedding cakes with sprinkles seem to be all the rage lately and it's easy to see why.
These cakes are so fun and whimsical – perfect for the happiest day ever!
But what if your wedding cake didn't just have sprinkles on the outside? What if you also had them on the inside?
Now that's genius. Read More
0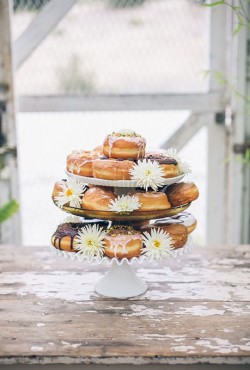 Sometimes I crave doughnuts.
I'm talking about those fresh-from-the-bakery, crispy on the outside doughnuts that make you all warm and fuzzy inside.
And if you love doughnuts as much as I do, it would be so much fun to serve doughnuts as your wedding cake!
Talk about an unexpected cake! Read More
0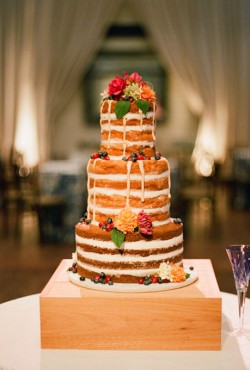 I love looking for rustic, fall-inspired wedding cakes!
And today's naked wedding cake is the ideal modern cake for a late-fall wedding.
The three-tiered cake fits the "naked wedding cake" mold as it is  sans icing on the outside. But look at all that icing in between the layers! Read More
0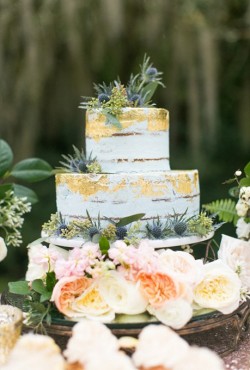 Two of my favorite colors on a wedding cake are white and gold.
There's just something about the color combination that is elegant and traditional.
Plus you can't go wrong using gold at the holidays.
Today's cake is rustic with a touch of elegance thanks to the addition of gold flakes on each tier.
The cake looks like a million bucks, but we're sure it doesn't cost that much. Read More
0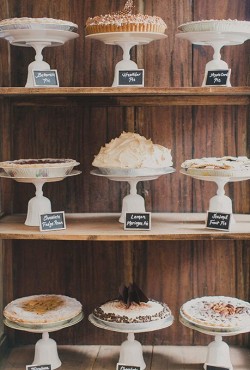 Next week is Thanksgiving, my favorite holiday.
Why do I love Thanksgiving so much? I could say "food" but in truth I love the pies for dessert.
I wait all year for a slice of pecan pie and a slice of pumpkin pie – both topped with crazy amounts of whipped cream.
As much as I love cake, I might love pie more.
Which is why we're talking about wedding pie today instead of wedding cake. Read More
0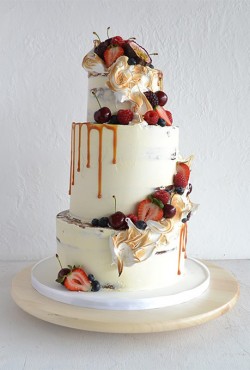 One of my absolute favorite flavors regardless of the season is caramel.
Whether we're talking about candy or coffee or just pure caramel sauce, I can't live without out.
So imagine my excitement when I found this rustic fall wedding cake with caramel sauce! Look at this cake – it is a work of art! Read More
0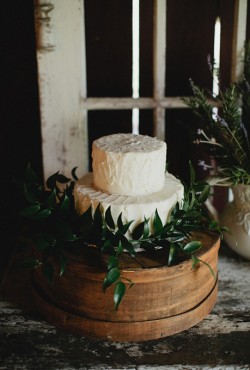 As much as I love an over-the-top wedding cake every now and then, I really like the simple and elegant wedding cake too.
Sometimes you don't need a lot of stuff on the cake to make it gorgeous.
Take today's cake for example. Read More