Chocolate Wedding Cakes
Chocolate. Say it with me. CHOCOLATE. Who doesn't love chocolate? In the U.S., most wedding cakes, until recent years, were drab, white, and practically flavorless. Just sweet and more sweet. But more and more, we're seeing different flavors, and different combinations. And not to be left out, chocolate is a flavor in the forefront. A couple may choose plain chocolate, but more often than not, we see variations on the theme – mocha, chocolate espresso, red velvet. But should a couple cling steadfast to tradition, they can always relegate the chocolate to the groom's cake. Often a foil to the white, statuesque, center-stage wedding cake, a groom's cake is often whimsical, and frequently expresses some quirky aspect of the groom's or couple's personality. Sometimes the flavors vary, but quite often, the groom's cake is – you guessed it – chocolate. Dark to the wedding cake's light. Rich to the wedding cake's austere. The perfect yin and yang, the perfect foil, the perfect complement. If your couple-heart lies in the direction of chocolate – go for it! It's your wedding, after all.
0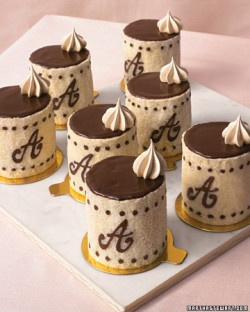 I've been a little stuck on coffee and chocolate over the past week or so. My hubster made a truly fabulous mocha-kissed Buche de Noël for our gathering with Canadian friends the other night. The beautiful dessert – shaped like a Yule log, in case you aren't familiar – capped off a lovely evening of French-Canadian/British fusion celebration, and we had a grand time.
So Read More
Other Posts You May Enjoy:
0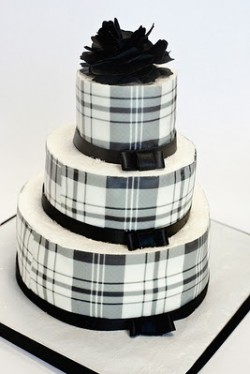 I heart plaid. You know that, right?
Last night, I posted one of my favorite holiday pics of the kids and me in our little tartan Christmas aprons — gifts from my mom last year.  I just love it, and it inspired me to look for a plaid cake to share with you today.
Turns out there are a surprising number of plaid cakes out there! Some frightful, and some lovely.  Today, I went with this simple black and ivory three-tiered plaid cake.  It's actually a birthday cake, but it would certainly make a lovely wedding or groom's cake.  And while it's Read More
Other Posts You May Enjoy:
0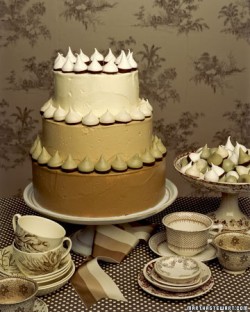 Today, I'm all about the coffee.
I may have overslept a bit.  The culprit?  Cold medicine.  Ugh.  No hangover ever made me forget to put the milk back in the fridge.
So coffee aplenty is in order this morning, and this cake is the perfect accompaniament.
Do you love coffee?  Is your fiance a Read More
Other Posts You May Enjoy:
0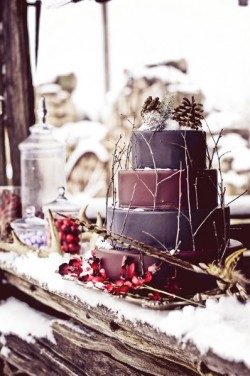 I thought I'd feature something a little different today.
You should know that I love the idea of a winter wedding. Actually, I think that for me, I prefer fall and winter over spring and summer anyday for a wedding. I think I love the minimalistic design elements of these seasons, and the rich, warm colors. And there's something about finding the beauty in a sparse landscape that really appeals to me.
This cake is like Read More
Other Posts You May Enjoy:
0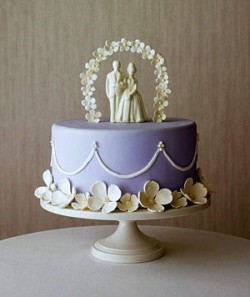 Love. This.
Maybe I'm speaking as a married woman of 11 years who doesn't need another single knick knack.  But girls, pay heed:  that cutesy cake topper will be gathering dust in a matter of years in the back of your china cabinet (or worse…in a box in the attic.)
My advice?  Go edible.
I think this is darling because it's both classic and practical.  Rather than have some chichi porcelain figures, why not Read More
Other Posts You May Enjoy:
0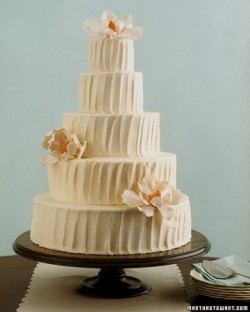 I was in the mood for simple today. Maybe it's because life seems so fast and so complicated. So I went in search of simplicity, and this is what I found. If life can't be simple today, my choice of cake sure can be!
Remember all those times that you helped to frost those cakes, and Mom or Grandma took extra care to make the frosting all loopy and swoopy before calling it a done deal for the Read More
Other Posts You May Enjoy:
0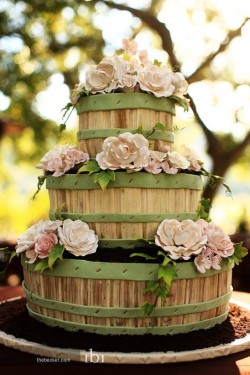 I wanted to feature a cake today that was sort of an homage to summer's last big hurrah.  After all, it's still summer. It's too hot to call it fall yet, and besides, we haven't hit the equinox.

So what signals the end of summer better than gathering an overgrown bounty?  This Flower Basket Wedding Cake was the perfect fit.
Look closely, because those baskets are, in fact, cakes.  The sugar paste flowers appear to be the star of the show when really, they're just garnish.
Isn't the detail Read More
Other Posts You May Enjoy:
0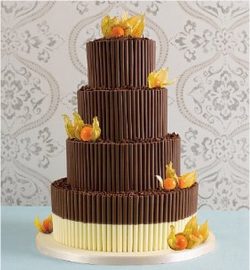 Hey Y'all!  Happy Labor Day Weekend!
I hope you're taking a break from your labor, actually, and having a good time on this, the unofficial last weekend of summer.  And if you, like me, live in a place where school has been back for a few weeks, it probably feels like this milestone came awhile back.
But we can still get out and enjoy each other, yes?
We are off to Read More
Other Posts You May Enjoy:
0
How about some late love on this lovely Thursday?
Sure, the day has kicked my fanny, and I'm just posting.  So I thought I'd extend myself a little chocolate grace.  So here is a cupcake. For you.  And for me.
Isn't this lovely?  And get a load of the ab fab flav – it's a chocolate chili cupcake with Mexican hot chocolate buttercream.  ¡Ay, caramba!
And as if that weren't enough, the fondant placket on top shows Read More
Other Posts You May Enjoy: