Chocolate Wedding Cakes
Chocolate. Say it with me. CHOCOLATE. Who doesn't love chocolate? In the U.S., most wedding cakes, until recent years, were drab, white, and practically flavorless. Just sweet and more sweet. But more and more, we're seeing different flavors, and different combinations. And not to be left out, chocolate is a flavor in the forefront. A couple may choose plain chocolate, but more often than not, we see variations on the theme – mocha, chocolate espresso, red velvet. But should a couple cling steadfast to tradition, they can always relegate the chocolate to the groom's cake. Often a foil to the white, statuesque, center-stage wedding cake, a groom's cake is often whimsical, and frequently expresses some quirky aspect of the groom's or couple's personality. Sometimes the flavors vary, but quite often, the groom's cake is – you guessed it – chocolate. Dark to the wedding cake's light. Rich to the wedding cake's austere. The perfect yin and yang, the perfect foil, the perfect complement. If your couple-heart lies in the direction of chocolate – go for it! It's your wedding, after all.
0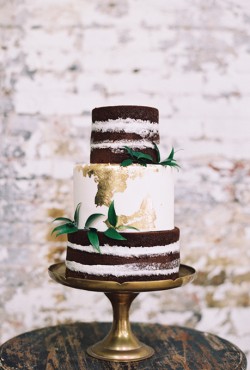 We're still celebrating the start of fall over here, so it seems like a good day to showcase another stunning fall-inspired wedding cake.
While the jury is still out on the whole "naked wedding cake" trend (since we do love frosting), this naked chocolate cake with the golden center tier is stunning. Read More
0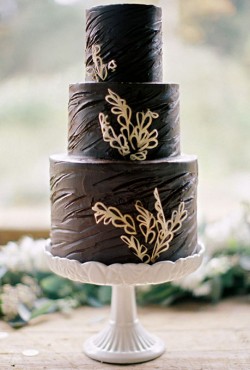 Can you feel it? Fall is almost here!
And that means it is time to start talking about dark and dramatic – and in today's case – chocolate wedding cakes!
I love the dramatic look of today's cake – a tower of dark chocolate icing adorned with a few white flower details.
It's the perfect cake for a fall wedding. Read More
0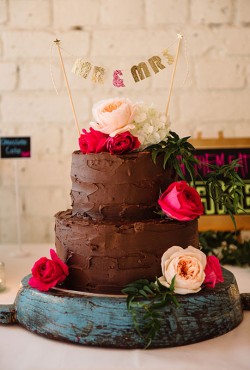 It's that time of year again – when I am finally over summer and just want it to be fall.
I need cooler temperatures, warm sweaters, and pumpkin spice everything. A chocolate cake would be nice too!
I love the idea of having a chocolate cake as your wedding cake. It's so non-traditional – even if I keep seeing it mentioned on wedding websites. Read More
0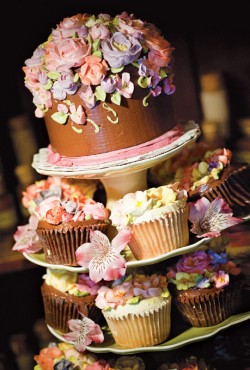 I love the idea of serving cupcakes at a wedding reception.
They're fun and functional. And everyone loves cupcakes!
But what if you want to serve cupcakes but still have a traditional wedding cake to cut too? Simple – serve both!
This is a fun concept – have a small, one tier wedding cake as the "main" cake – basically for the couple to cut – and then surround it by gorgeous cupcakes. Read More
0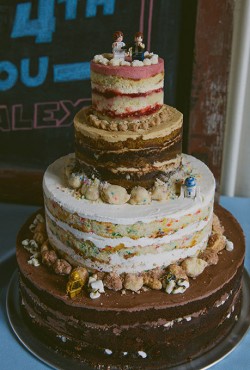 Today I'm showcasing another naked, unfrosted wedding cake simply because it's like nothing I've seen before.
Not only is it part of the whole "naked wedding cake" trend that just keeps hanging on (what do you have against frosting??) but look very closely at the cake.
Do you see what I see?
Yep! That's right! Star Wars Lego figurines.
That. Is. Awesome. Read More
0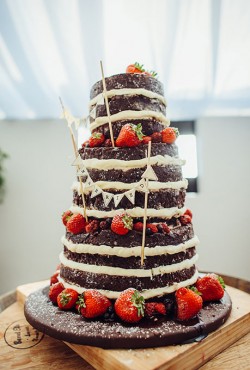 Right now it is full-on strawberry season here in the Midwest. It's actually a rather short season as "fruit seasons" go, but we take full advantage of it, enjoying all things strawberry for a few wonderful weeks.
And one of my favorite things has to be chocolate-covered strawberries. There's just something so decadent about that combination.
Which is probably why I'm loving today's cake. Read More
0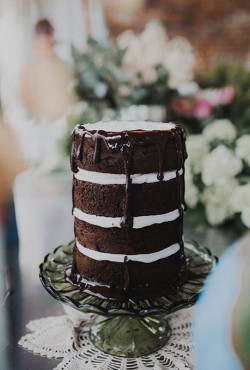 OK, I've been featuring a lot of naked wedding cakes lately – which is odd since I'm a frosting lover.
But today's cake is THE naked cake of the season so far.
First, it's chocolate! And second, there's a cascade of chocolate glaze on top of the cake that takes it to another level entirely.
Oh. My. Chocolate. Read More
0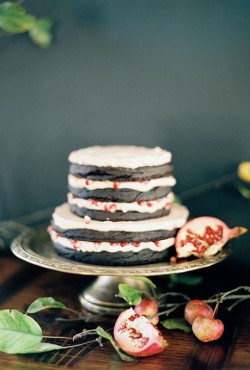 As we inch closer and closer to Valentine's Day we can't stop thinking about all things chocolate.
So it only seems natural to think about chocolate wedding cakes too!
This naked chocolate and pomegranate cake would be perfect for a Valentine's Day wedding – or for anyone who loves chocolate.
And since it also has pomegranate on the cake it just has to be healthy, right? Read More
0
I love simple wedding cakes.
And if that simple wedding cake happens to be a chocolate wedding cake that's even better!
This one-tier chocolate cake would be ideal for a small, intimate reception.
Or it would be great if the bride and groom want to have their own cake while letting the guests enjoy a dessert bar filled with sweet treats like candy, cupcakes, or even mini cakes. Read More
0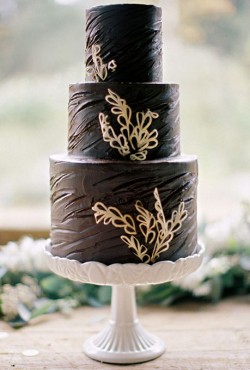 Chocolate cakes as wedding cakes is a trend I can completely support.
I love the idea of serving up something nontraditional – like this dark chocolate wedding cake.
It's so dramatic and unexpected which makes it perfect!
Of course a cake like this would be great at a winter wedding when it's cold outside. Read More