Chocolate Wedding Cakes
Chocolate. Say it with me. CHOCOLATE. Who doesn't love chocolate? In the U.S., most wedding cakes, until recent years, were drab, white, and practically flavorless. Just sweet and more sweet. But more and more, we're seeing different flavors, and different combinations. And not to be left out, chocolate is a flavor in the forefront. A couple may choose plain chocolate, but more often than not, we see variations on the theme – mocha, chocolate espresso, red velvet. But should a couple cling steadfast to tradition, they can always relegate the chocolate to the groom's cake. Often a foil to the white, statuesque, center-stage wedding cake, a groom's cake is often whimsical, and frequently expresses some quirky aspect of the groom's or couple's personality. Sometimes the flavors vary, but quite often, the groom's cake is – you guessed it – chocolate. Dark to the wedding cake's light. Rich to the wedding cake's austere. The perfect yin and yang, the perfect foil, the perfect complement. If your couple-heart lies in the direction of chocolate – go for it! It's your wedding, after all.
0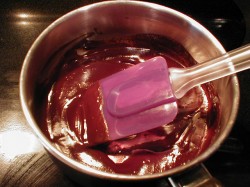 I had so many giggle-inducing puns that I wanted to use as a title that I just couldn't decide.  Here are just a few:
Get Your Ganache On
Oh Ganache…it's Chocolate!
Getcha, Getcha Ga-ga–naache (to be sung in your head to the tune of Lady Read More
0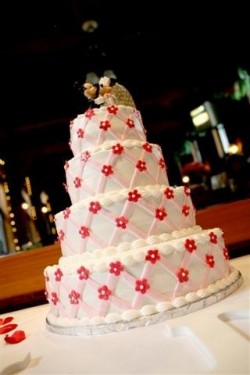 Today on the blog, we're getting an extra dose of adorable.  And moreover, we're seeing adorable done right, which is even better.
Check out this absolutely precious cake.  This four-tiered beauty was the star of the show at Melissa and Heath's wedding, which took place in 2006.  The couple had never been to Disney before going together while they were dating…and they were instantly hooked on the magic.  They even considered getting married at Walt Disney World, but opted for a hometown wedding, and a cake that served as an homage to their favorite vacay Read More
0
And so it continues.  The hot hotness of summer, I mean.
Vacation is over and school's looming up before us here (we go back August 15 in these parts.  Ugh.)  It's extremely hard to school supply shop when you'd rather be at the beach, yes?  Maybe someone needs to make some cute little plaid bikinis with matching cardigan cover ups.  And we can have apple tartlets in lieu of, well, you know.  So who's gonna make the kiddoes go back to school if Mama doesn't want to?
But I digress.
I have an AWESOME visit with my best friend coming up, and more wedding pretty Read More
2
I have a secret to admit.  As much as I honor tradition in a wedding I did not save the top tier of my wedding cake.  If you had a camera in my honeymoon suite you would have seen my brand new husband and I chowing down on our top tier in full wedding gear about ten seconds after we finished jumping up and down on the bed.
Most brides can handle their sweet tooth and post-reception hunger pangs better than I can and they Read More
0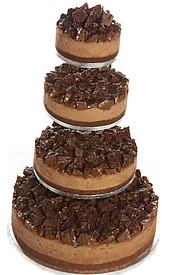 I know I have mentioned this before..but there are people out there who just don't like cake.  If you aren't really a cake person why bother spending a ton of money on a wedding cake or wedding cupcakes?  Your guests might enjoy them but it is your day so you should be able to have a dessert that you enjoy.  Because let's face it:  there really aren't any rules when it comes to weddings.  Also, some brides or grooms have gluten or flour allergies…so why have a cake?  I promise…the wedding police will not come out and place you under arrest if you choose not to have a cake at your reception.
I realize this all sounds pretty weird coming from a girl who spends most of her time writing about or eating wedding cakes.  Luckily, there are a lot of really great alternatives to the traditional cake or cupcake.
Something that kind of blows my mind and that I would be thrilled to find at any wedding is the Cheesecake Wedding Cake.  A wedding cake made entirely of cheesecake.  I've mentioned before that my inner-Golden Girl would SO have a field day with this option.  However, I felt like it was sort of a long shot.  I know cheesecake is a little pricey and I could not even begin to imagine how much a Cheesecake Wedding Cake must cost.  I was pretty pleased to find out that a.) they do exist and b.) you will Read More
0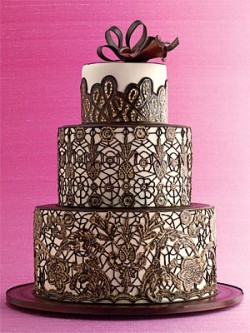 Greetings from Captiva, Florida!  I am here, just off the southwest coast of Florida, taking a much-needed (and deserved

) break with my little family.  And what a beautiful place this is!  We love Captiva and neighboring Sanibel.  If you're looking for a great getaway spot, and you favor family-friendly, gracious, and low key, I can't say enough good things about Sanibel and Captiva!  But I digress!
As usual, beautiful things are afoot in the world of wedding.  Pretty trends and Read More
1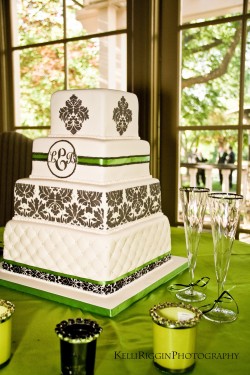 Damask. Is. So. Hot. Right. Now.
But not, Gentle Reader, for your couch. Rather, it is hot for your cake.
Renay Zamora of Sweetface Cakes beautifully serves Middle Tennessee – including Nashville, Mount Juliet, Lebanon, Clarksville, Kingston Springs, Franklin and Murfreesboro.  And Renay, it turns out, is a goddess of damask…as well as gluten-free baking.
You see, that beautiful cake that has captivated you, right next to my words?  Yep.  Gluten free.  Renay tells the story of this special cake, and the bride that goes along with it, so well, Read More
0

Oh yes. We are going there. I was recently having a conversation with a friend of mine about this blog. He was asking me what the point of blogging about cake was. He didn't get it.
I had to explain that a wedding cake isn't just something you see, it's something you taste. If you go to a wedding and their cake is disgusting, you remember. If you go to a wedding and their cake is awesome, you remember. There have been more times than I'd like to count that I take a look at a gorgeous wedding cake and I cannot wait to dive in. Then after about six hours of dancing we FINALLY get to the cake cutting hoopla and I finally get my piece. (Because, of course, their wedding is ALL about me right?) Then after much anticipation…the cake sucks.
Have no fear though, because times they are a changing. Cake bakers are becoming more and Read More
0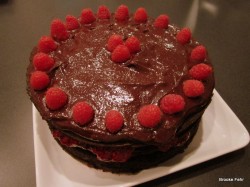 Is it fair to say that I have chocolate and raspberries on the brain? You can thank my husband and our loyal Facebook readers for this one!
You may have caught on to the fact that this half of the Cake Diva Duo is a reformed baker.  Gone are the days that I stress myself out, worrying about brides and contracts and gravity Read More
0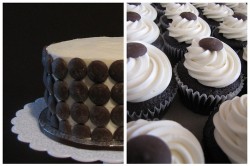 Check out these adorable Chocolate Button Cupcakes with matching six inch cutting cake.
Ah-dor-ah-bull.
These chocolate cupcakes are frosted with Vanilla Buttercream and topped with a sweet chocolate button. The cutting cake Read More