Chocolate Wedding Cakes
Chocolate. Say it with me. CHOCOLATE. Who doesn't love chocolate? In the U.S., most wedding cakes, until recent years, were drab, white, and practically flavorless. Just sweet and more sweet. But more and more, we're seeing different flavors, and different combinations. And not to be left out, chocolate is a flavor in the forefront. A couple may choose plain chocolate, but more often than not, we see variations on the theme – mocha, chocolate espresso, red velvet. But should a couple cling steadfast to tradition, they can always relegate the chocolate to the groom's cake. Often a foil to the white, statuesque, center-stage wedding cake, a groom's cake is often whimsical, and frequently expresses some quirky aspect of the groom's or couple's personality. Sometimes the flavors vary, but quite often, the groom's cake is – you guessed it – chocolate. Dark to the wedding cake's light. Rich to the wedding cake's austere. The perfect yin and yang, the perfect foil, the perfect complement. If your couple-heart lies in the direction of chocolate – go for it! It's your wedding, after all.
0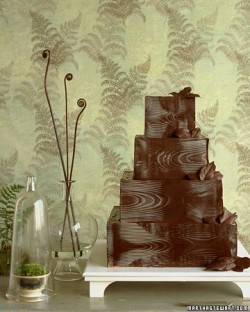 It's time for another installment in "Brooke Fancies Up Your Groom's Cake."
French for "fake wood" (so really, the French sounds ever so much better and we should probably stick with it), the term faux bois refers to a decorating motif.  Here it's made by pressing a wood graining tool into the shiny ganache glaze that coats the cake layers.  Since the tool is applied directly Read More
0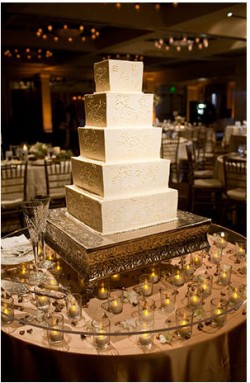 Hey There, Ho There, and Happy Solstice!  What did you do during the longest day of the year this week?  Anything special?  Nah, me neither.  But it's nice to know that, after I've been talking about it seemingly for weeks, summer is finally underway!
This week, I make my way up the East Coast, stopping in to a couple of beaches along the way, as I head to a wedding in Maryland next Saturday.  My, but we are hoping there's a crab cake at the reception somewhere.
But between packing and other prep, I've been looking at what's going on this week in the World of Read More
0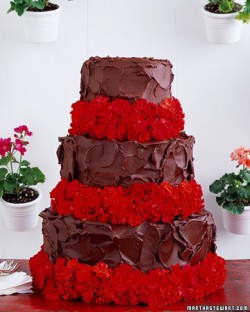 Ya know, when I started cleverly calling my groom's cake posts – normally on Saturdays –  "For the Guys," I was only half serious.  Sure, sometimes you have a groom that really wants a groom's cake that represents, and that's when you'll find a Star Wars or X Box, or sports team-themed cake.  Sometimes, you'll have a groom's cake that just represents a shared interest of the bride and groom.  And sometimes, the groom gets no say, or actually likes elegance (it happens!) – and that's when you end up with a cake like this.
Rustic Read More
0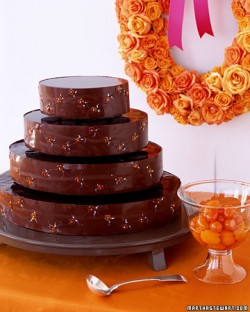 Boys, I'm goin' all fancy on ya today.
Oh, sure, I love themed groom's cakes just as much as the rest of you do. But sometimes, the inner pâtissier in me calls out for something with just a little more refinement, like this incredible Chocolate Kumquat Cake.
Featured on the pages of Martha Stewart Weddings, I don't figure this would be the grandest wish of your run-o'-the-mill groom.  But if you're looking for a winter-time showstopper with some panache, THIS is your cake.  Kumquats, which look like adorably Read More
0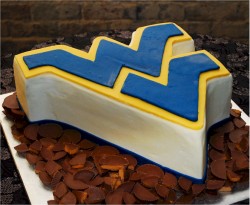 So…this one is a wee bit…self-serving.
Well, less self-serving than "Hey, y'all, I may live in fab-o Florida now, but I am a proud Mountaineer by birth, and once a West Virginian, always a West Virginian."
Ahem…too much info?
You see, we're kind of a little state, often Read More
4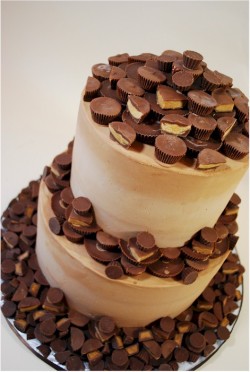 Peanut butter and chocolate…is there a more heavenly combination? But seriously I am full-fledged Reese's addict, and this cake is a dream come true!
I came across this blessed jewel on Pinterest but it originated from the lovely Cup A Dee Cakes. They classified it as a groom's cake but I happen to think that it would be a great non-traditional (and yet still traditional) wedding cake.
And if you didn't swoon over the copious amounts of Reese's cups on the cake get ready for the deliciousness inside! It is a dark chocolate cake covered in peanut butter buttercream frosting. I'm in heaven ya'll!
Now if you will excuse me I am off to satisfy my Reese's craving while you all contemplate the amazingness of this cake!
Source: Pinterest
0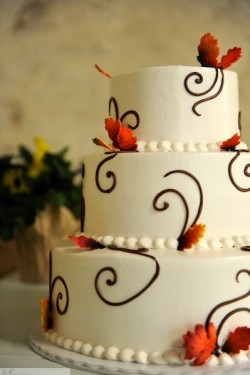 Yes, I'm aware that we both have Spring Fever, and the mention of autumn (and the thought of approaching chilly weather) might make your moan.  Still, I figure that a couple of you reading this blog may actually be planning – or at the very least, dreaming – of an autumn wedding.  And so, it seems fitting, yes?
The gumpaste leaves on this three-tiered, ever-so-slightly off white cake, are the perfect touch of warmth, and the freehand chocolate swirls give a wonderful sense of motion to the whole thing.  Can't you just picture Read More
0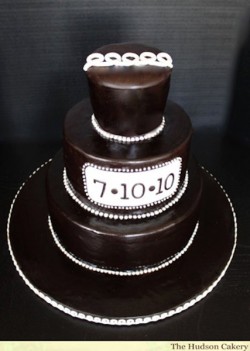 What is with me and chocolate lately? Wait. Could there BE a dumber question?  Eh.  It is what it is.  And…what it is…is another chocolate cake from Brooke. 😉
But look at it, will ya?  Like I could resist!  It's a giant Hostess cupcake, perched upon the top of what we suspect is the groom's cake for a lovely summer celebration.  And it's perfectly executed and instantly recognizable.
Okay, so…confession.  I was never really allowed to have these as a kid, and I wouldn't let my children touch Hostess products with a ten-foot pole, so they would have Read More
2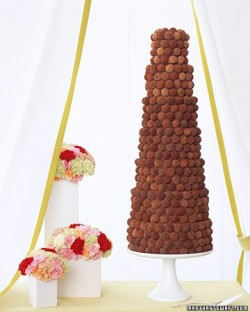 Care for some chocolate?  Because I am having a totally chocolate attack.  And now, so are you.
Martha strikes again, y'all.  Don't you simply love this?  Inspired by the French croquembouche, which is a tower of cream puffs covered with spun sugar, Martha Stewart and Co. came up with this chocolate truffle wedding cake.  This is seven layers of cake, coated with chocolate ganache.  The hand rolled truffles are then coated in different cocoa powders for slight variation in color, cut in half, then Read More
0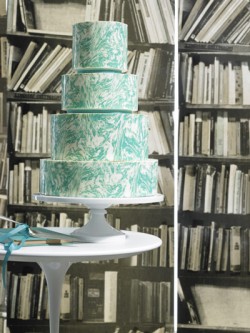 I love showing you something a little funky and off the beaten, trendy wedding path from time to time.  This beautiful cake is neither buttercream nor fondant (although we suspect that buttercream is the glue beneath the surface.)  The decoration here is chocolate, believe it or not!  The stunning marbleized effect is achieved by using transfer sheets with edible dye.  The chocolatier spreads tempered chocolate over the acetate sheets, and as it cools to a hardened (though still malleable) state, the cake is wrapped with the sheets Read More