Chocolate Wedding Cakes
Chocolate. Say it with me. CHOCOLATE. Who doesn't love chocolate? In the U.S., most wedding cakes, until recent years, were drab, white, and practically flavorless. Just sweet and more sweet. But more and more, we're seeing different flavors, and different combinations. And not to be left out, chocolate is a flavor in the forefront. A couple may choose plain chocolate, but more often than not, we see variations on the theme – mocha, chocolate espresso, red velvet. But should a couple cling steadfast to tradition, they can always relegate the chocolate to the groom's cake. Often a foil to the white, statuesque, center-stage wedding cake, a groom's cake is often whimsical, and frequently expresses some quirky aspect of the groom's or couple's personality. Sometimes the flavors vary, but quite often, the groom's cake is – you guessed it – chocolate. Dark to the wedding cake's light. Rich to the wedding cake's austere. The perfect yin and yang, the perfect foil, the perfect complement. If your couple-heart lies in the direction of chocolate – go for it! It's your wedding, after all.
0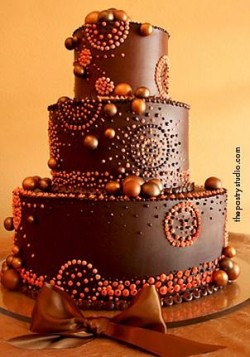 Omistars in heaven above.
Really – why do we think that chocolate should be relegated to the groom's cake?  Let's be honest.  The brides do all the work.  The brides starve and sweat their brains out in exercise classes to fit into that dress, and it's the brides who avoid all those "illegal" foods leading up to the wedding so that they are their blushing, rosy perfect selves.
So seriously…WHO deserves chocolate at that wedding reception MORE THAN THE BRIDE?
And if our fair bride will be indulging in this Read More
0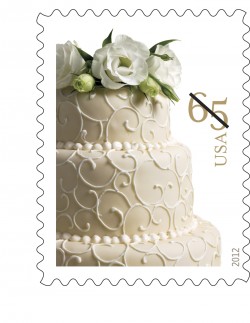 Ah, it is almost the season of love and fluttery hearts and the time of year that mixing red and pink is not only permitted – it's required.
Valentine's Day is definitely one for the DIYer, yes?  And as such, you and I should probably get crackin' on some uber sweet gifts for the ones we love.  While you work on brainstorming your list, I'm going to get down to business here, showing you the Sweet and Pretty that I've found this week.  But here's a little News to start us off:
In news that surprised us Read More
0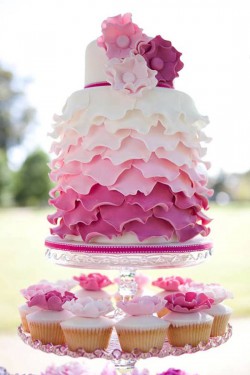 Hola, Friends!
What finds you this January day?  I'm in a cold, albeit sunny, locale, wondering if I'm ever going to get around to making New Year's Resolutions, while the rest of the world is busy breaking them.  What about you?  How are yours going?
Well, if fitness is any part of your 2012 goals, hopefully I can inspire you to a little bit of moderation in that eating plan, for we are SURE to find some deliciousness as we look around for what's happening this week.  But let's look at a little News first:
Last week, Read More
0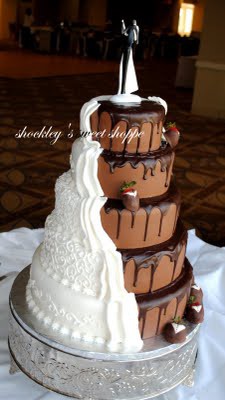 This cake caught my interest on Pinterest. Why? Because I feel like it summarizes my life. I am a teacher so I spend most of my days sticky sweet and annoyingly traditional. However, every once and awhile I can easily flip to the dark side and my kids think "Hey, she's a little nutty".
So. That's me. Half a traditional beautiful white cake and the other half a gorgeous chocolate groom's cake. I have never seen a cake like this and to tell you the truth, I love it. The couple decided Read More
0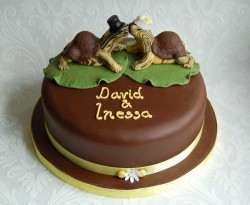 My best friend Robin and her husband dated for 10 years before they got married.
The Best Man, the Maid of Honor, and the Father of the Bride speeches all had the same theme.
FINALLY.
What's that saying? Slow and steady wins the race? True…and Robin and her Read More
0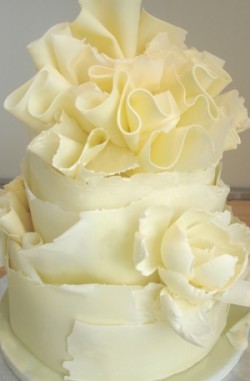 Today, we wrap up Ruffle Week 2011 here on A Wedding Cake Blog with a cake that has a little different take on the frilly furbelows of ruffles.
Ruffles. Meet Chocolate. Helloooo, perfection.
Don't you simply LOVE this cake? Two tiers of cake, enrobed in real chocolate, People. This isn't candy coating, or modeling chocolate. This chocolate has been tempered and made to resemble rustic ruffles, so that each slice of the cake yields a lovely snap. And check out the gorgeous flower pinned to the side, and the topping of – what else? – more Read More
2
Isn't this pretty? So nice and…autumn-y.  I think Christen will be really impressed with me for posting this one.  What do y'all think?
This beautiful cake, made by Slice Cake Studio in Longmont, CO, was inspired by the couple's wedding invitation!  I would really like to see that stationary personally, because this is stunning and I think it just looks, well…yummy.
Three layers, perfectly uniform in height…the bottom and top covered with a rich, chocolate-brown fondant.  And sandwiched Read More
2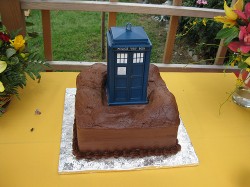 I hope that your Halloween candy induced sugar high did not end up here last night.  And by here I mean the slammer…because that's what is featured on this grooms cake.  Or, well I guess technically it's a Police Box?  I had no idea what that is.  So I had to get my research on.
I turned to my old friend Wikipedia to discover that Police Boxes are actually just that.  A Police Station in a box.  They are set up all over Great Britian and basically any member of the police force or the community can go in and get in touch Read More
6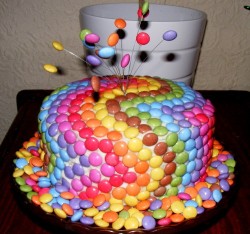 True story.  When I took my first trip to Europe I was 15 and my friend Brett begged me to bring him back some Smarties.  At first I scoffed at his request.  He could go down to the store and buy his own Smarties.  It wasn't until later that he explained that Smarties and Smarties were different.  American Smarties are those round little things made from nothing but pure sugar.  European Smarties are actually flat round chocolates in a candy coated shell.  Think M&M's but double the size.  I ate nothing but Smarties the entire two weeks I was in Europe..and maybe some pasta in Italy.  I think all I remember is the Smarties.  I was 15 I knew nothing of the joys of pasta covered in cheese and butter.  I could also spend two weeks eating nothing but Smarties and it wouldn't show up on my thighs a week later.
Imagine my happiness when I found this cake covered entirely in Smarties.  It's almost channeling the Sixlet covered cake that I featured a few weeks ago.  Perhaps it's my love of candy covered cake or nostalgia for my youth that has my heart thumping when I first laid eyes on this beauty.
What do you think?  Do you love cake covered in candy?  Have you ever had Smarties?  Did it change your life?  Do you still wish you had the metabolism of a 15 year old?