Modern Wedding Cakes
The term "modern wedding cake" may mean different things to different people. Here at A Wedding Cake Blog, we take the term to mean anything with a contemporary feel; a cake that eschews the traditional white on white, piped and buttercreamed and trimmed with swags or roses. Modern may refer to a bold use of color, or a contemporary decor or shape. It may also refer to choosing something other than the grand, traditional tiered cake – a cake of macarons, for instance, or an assortment of individual cakes. Modern means that you are updating the tradition: perhaps you aren't entirely throwing it out. You're just giving it a breath of fresh air.
2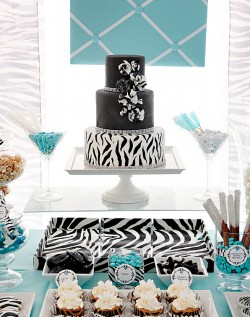 You know, "bold" is very difficult to pull off, because if you aren't careful…if you're too heavy-handed…"bold" can easily become…well… gauche.
Not so with this stunning zebra-striped cake, courtesy of The Couture Cakery in Camp Hill, Pennsylvania.  Jasmine, Couture's owner and cake artist, created the confection as a centerpiece for a sweets table, and brought in the Tiffany Blue as an accent color.
The cake is covered in fondant, and is trimmed Read More
Other Posts You May Enjoy:
0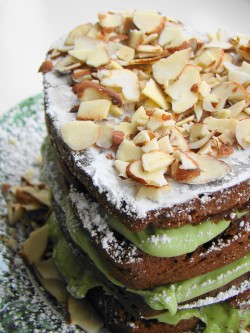 If you visit many trendy bakery sites and blogs (as I do), sooner or later, you are going to come across a whole list of "free" things – gluten-free, sugar-free, casein-free – and you might be tempted to say, "Hmmm, go ahead and add taste-free to that list, too."
Well, I will have to say, respectfully, that -free doesn't have to be devoid of culinary character.
Are you a bride – or a groom – looking to feature a vegan choice Read More
Other Posts You May Enjoy:
0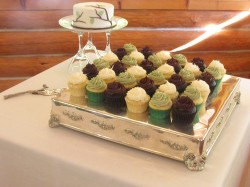 I think I have expressed once, or twice…or perhaps even three times my love for cupcakes.  Apparently, this cupcake combo comes with a back story.  The cupcake stand was lost en route to the wedding venue so the baker improvised and turned wine glasses upside down and placed a plate on top of them.  To tell you the truth..I kind of think it's classy.
The best part..please listen to the flavors of these bad boys: Read More
Other Posts You May Enjoy:
1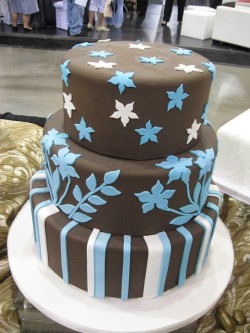 I remember the first time I saw the brown and blue color combination thrown together on the same palette. It was 2005…a Wednesday. It was raining. I worked in a small retail store, and Vera Bradley had just put out her new patterns for fall.  Right then and there I fell in love with the illustrious Java Blue. (Which by the way, went on to be one of Vera Bradley's all time best sellers. Apparently I wasn't the only sorority girl who fell in love with the combo.)
The pattern has long since been retired but the colors have been paired together on everything imaginable,   Read More
Other Posts You May Enjoy:
0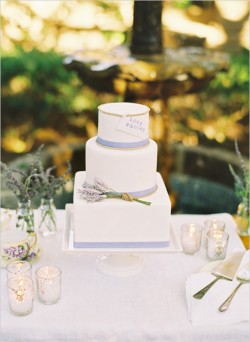 Hello, Fellow Wedding Cake Lovers!  This week, we have sprung forward, the moon appears a full 14% bigger than normal, and we're about to step into spring officially.  You could say that we're a little excited about what's going on around us.  And with pre-Spring Fever in the air (and maybe a touch of the Irish cheer leftover from earlier in the week) Read More
Other Posts You May Enjoy:
0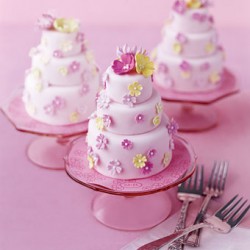 We're dancing an Irish jig, ready to make some soda bread, and we're looking around to find the brightest and best in weddingdom to bring to you everyday!  Here's hoping that your week brings you lots of four leaf clovers and a pot o' gold or two.  Speaking of gold, Read More
Other Posts You May Enjoy:
0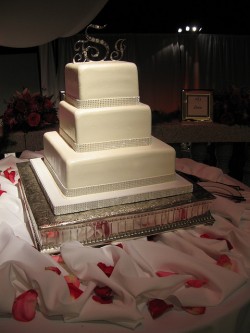 Nine days out of ten, you'll find me reaching for my pearls.  And on day ten, you ask?  Well, diamonds are a girl's best friend, after all.
Isn't this divine?  A cake…that sparkles.  Well, of course!
The combination of bling Read More
Other Posts You May Enjoy:
0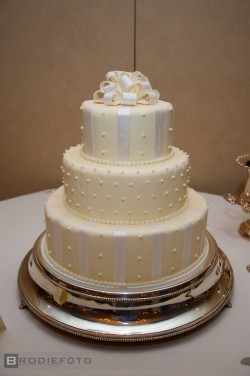 I love presents. I think most women do, yes?
What do I love more than presents? Edible presents! Maybe that was not then intended inspiration for this cake..but I think it suits it perfectly! This is a traditional three tiered round cake. The layers alternate between gorgeous fondant stripes and polka dots. On top is a gorgeous bow that would make Martha and all her pretty bow making glory envious. Seriously..I am the girl who has to buy pre-made bows at Christmas..because a). Who has time to make their own bows? and b). Even if I tried they'd never look that good. So the fact that this bow is made out of fondant..well that knocks my socks right off my feet! Polka dots are always such a tricky decoration to master as well. The spacing between this dots is perfect..this calls for a baker to have a very steady hand!
This cake was made by Dianna Tornow of Your Kind of Cakes in Aiken, SC. I have actually been to a wedding with a Dianna Tornow cake before..they taste just as good as they look!
Photo provided by Matt Brodie from Brodiefoto.
Other Posts You May Enjoy:
0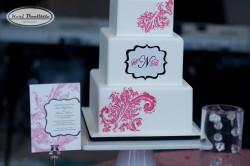 Can you feel it?  That crackle of excitement in the air.  Any minute, that first crocus is going to burst forth through the snow.  Any day now, that first jonquil will peep its sunny little head skyward.
Maybe it's the anticipation of a Royal Wedding.  Maybe it's a touch of premature spring fever.  Read More
Other Posts You May Enjoy: