Modern Wedding Cakes
The term "modern wedding cake" may mean different things to different people. Here at A Wedding Cake Blog, we take the term to mean anything with a contemporary feel; a cake that eschews the traditional white on white, piped and buttercreamed and trimmed with swags or roses. Modern may refer to a bold use of color, or a contemporary decor or shape. It may also refer to choosing something other than the grand, traditional tiered cake – a cake of macarons, for instance, or an assortment of individual cakes. Modern means that you are updating the tradition: perhaps you aren't entirely throwing it out. You're just giving it a breath of fresh air.
0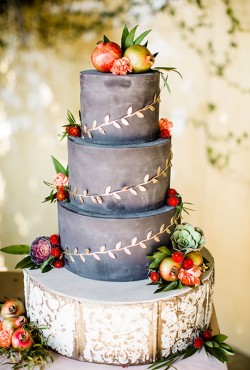 Fall and winter are the perfect time of year to think about a non-traditional wedding cake.
I'm talking about a cake that isn't topped with white icing – a dark wedding cake.
Today's cake would be the perfect late-fall or winter cake with its dark icing and fall fruit embellishments.
It's not often that you think about a dark color of icing for your wedding cake color but this cake would absolutely work if you have bright fall colors as part of your wedding color scheme. Read More
0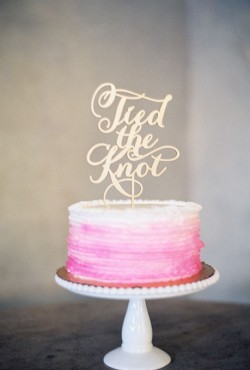 I really like the idea of having a separate centerpiece cake just for the bride and groom to cut and enjoy.
And then you can have other small cakes for the guests or a dessert bar. Something different and a bit out of the ordinary.
Today's cake would be ideal for that concept.
This single tier cake is perfect for the new couple – you could even have it at the "head" table and then set up other cakes and desserts elsewhere. Read More
0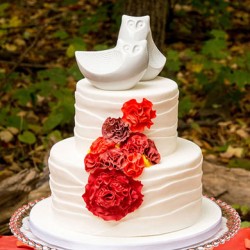 It seems that wedding cake toppers are not always the "in" thing when one is looking at wedding cakes on a daily basis.
Most of the time you'll see cakes with fresh flowers as the topper or nothing at all perched on top of the cake.
But I'm a traditionalist when it comes to wedding cakes (also known as "old fashioned") and I love a good wedding cake topper. Read More
0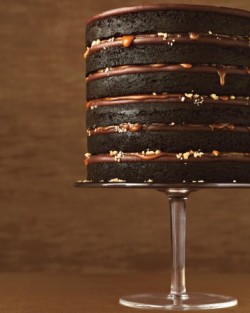 So here we are a few days post-Halloween.
Have you had your fill of chocolate and sweets yet? No? Good because today's wedding cake is ah-mazing!
Check out this ooey and gooey chocolate caramel wedding cake.
While I'm not normally a fan of "naked" wedding cakes this chocolate creation has delicious caramel, salted peanuts, and chocolate ganache between each layer.
There's no need for icing!
This cake is gorgeous and decadent and it's perfect for a fall wedding!
This cake was created by pastry chef Jason Schreiber. You can find it here.
0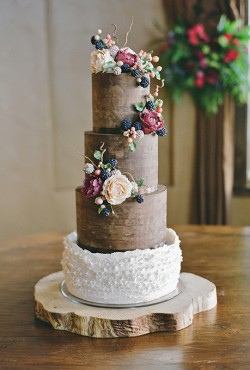 It's November! There is no denying it now – we are celebrating all things fall!
For me, a fall-inspired wedding cake features dark hues with some pops of dark colors.
Take today's cake for example.
I love the rustic vibe of this cake from the chocolate ganache icing that gives the cake a "woodsy" feel to the dark fruit and flowers used as accents. Read More
0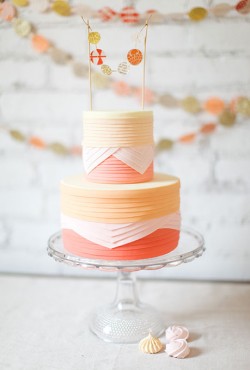 If there's a week when orange is the color to love, this week might be it.
With Halloween just a few days away the stores are awash in various shades of orange and while it might not be the first color you think of for a wedding cake it might be perfect!
There are so many shades of orange that could be used to accentuate the fall theme of your wedding, and today's cake does it in a subtle not-over-the-top way. Read More
0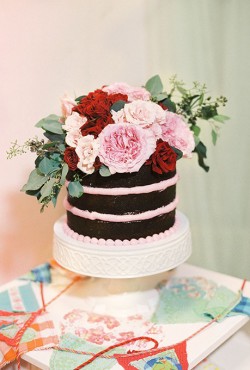 As we inch closer and closer to Halloween I love finding cakes that fit in the season!
Today's naked chocolate cake is perfect for fall (and even a Halloween-themed reception).
I'm normally not a huge fan of "naked" cakes – I love icing too much to serve a cake that is seriously lacking in that department.
But this cake is too pretty to dislike! I love the dark chocolate cake and the hint of light pink icing peeking out from between the tiers. Read More
0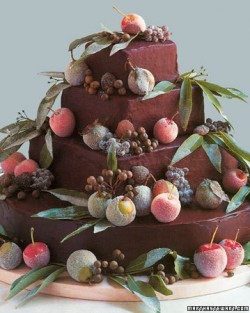 Once again we're talking about chocolate! I can't help myself – with all the Halloween candy at the stores my brain immediately thinks "chocolate."
I think chocolate cakes are perfect for fall and winter weddings – they're dark and decadent and seem to fit in with the colors and themes at this time of the year.
A chocolate cake in the summer would just be too much. But in the fall, when it's cold and blustery outside, it's perfect. Read More
0
Ah, fall.
The temperatures are turning cooler. Everyone is busting out sweaters. The leaves are falling.
It's pretty much the most wonderful time of year.
And if you're planning a fall wedding there are so many amazing ways to incorporate fall into your reception.
Take today's wedding cake as an example. This tree-inspired cake would be perfect at your fall wedding, especially if you're hosting a rustic party. Read More
0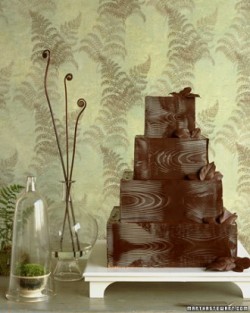 We're getting closer to Halloween which means the store shelves are stocked with all kinds of chocolate. And that's not a bad thing in my opinion!
Fall seems like the perfect time to have a chocolate wedding cake – especially one that is frosted with deep, rich chocolate icing.
I'm particularly fond of today's chocolate cake thanks to the rustic vibe the icing gives off. Read More