Modern Wedding Cakes
The term "modern wedding cake" may mean different things to different people. Here at A Wedding Cake Blog, we take the term to mean anything with a contemporary feel; a cake that eschews the traditional white on white, piped and buttercreamed and trimmed with swags or roses. Modern may refer to a bold use of color, or a contemporary decor or shape. It may also refer to choosing something other than the grand, traditional tiered cake – a cake of macarons, for instance, or an assortment of individual cakes. Modern means that you are updating the tradition: perhaps you aren't entirely throwing it out. You're just giving it a breath of fresh air.
0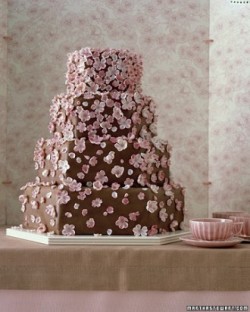 In just a few days we'll all be celebrating true love by gifting boxes of chocolate, so this seems like the perfect time to think about a chocolate wedding cake!
And since pink is one of those "traditional" Valentine's Day colors, I just had to look for a wedding cake that had something pink featured on it.
This chocolate wedding cake with tiny pink cherry blossoms fits the bill perfectly I think. Read More
0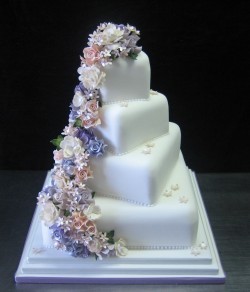 As we're heading into the week of celebrating all things love and Valentine's Day, I wanted to share a cake with you that was so romantic it would make you swoon on the spot.
I'm pretty sure this is the cake.
This gorgeous four-tier creation is from Hockleys Cakes in the United Kingdom and they call it the "Blenheim Cake."
This cake is all about romance and flowers and love, and I adore everything about it.
I love the square tiers on this cake – I'm a big fan of non-traditional shapes when it comes to wedding cakes. (This should come as no surprise, since my wedding cake featured eight heart-shaped tiers!) I think the square tiers give it a nice, modern contemporary feel.
The gorgeous and simple white icing  with the pearls around each tier give this cake a dramatic and modern look.
But what I love most is the cascade of flowers down the side of the cake. The bride wanted the flowers to replicate her bouquet – which is a genius idea in my book! Hockleys created these flowers with hand crafted white, pink, and violet sugar roses and other dainty buds.
It's incredibly romantic, don't you think?
A big thanks to Hockleys Cakes for sharing this creation with us!
Photo courtesy of Hockleys Cakes.
0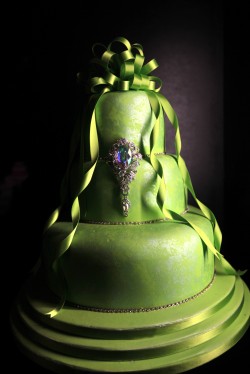 Before I saw today's wedding cake I will admit that I never once thought about green as a wedding cake color.
But this cake – courtesy of Hockleys Cakes – has me singing a different tune!
I absolutely love this emerald green cake. It is so stunning and so unique and will leave other cakes "green" with envy!
And it isn't just the green color of the cake that has me saying WOW – it's that brooch. Seriously that is just downright incredible. And stunning. And it adds to the rich look and feel of the cake. Read More
0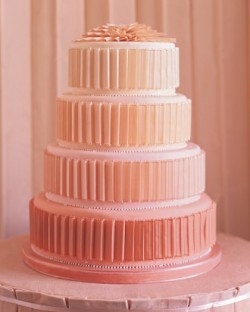 Every February I flirt with the idea of picking pink as a favorite color.
Maybe I'm inspired by all of the hearts and flowers that abound at this time of year. Or maybe it's because I secretly really like pink just a little bit more than I'm willing to admit.
Either way, I am loving this pink and peachy confection that I found!
As soon as I saw this cake, the line from Steel Magnolias ran through my head.
"Your colors are pink and pink."
"My colors are blush and bashful." Read More
0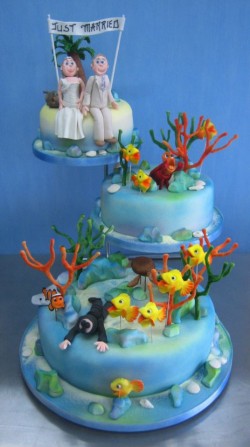 We found Nemo and he's on a wedding cake!
This amazing three-tier novelty wedding cake is a creation from Hockleys Cakes located in the United Kingdom.
They are specialists in the wedding cake biz across the pond and I am loving their designs and can't wait to feature more in the weeks to come.
But right now let's talk about this Nemo wedding cake because it's just amazing!
This novelty wedding cake features an undersea scene complete with Nemo, Crush the totally cool sea turtle, and of course the bride and groom are sitting atop the cake under a palm tree. I think I even spy Sebastian hanging out by the coral in the middle tier! Read More
0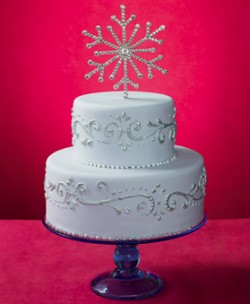 Since it appears that Ol' Man Winter isn't going to let go any time soon, we've decided to just accept the fact that it's winter and move on.
And today we're moving on to this lovely wintery wedding cake.
It's so pretty that you almost want to love snow again. Almost.
The small wedding cake it lovely on its own with the simple white fondant icing. But when they add the silver filigree piped on to create the scroll work, it takes it to a whole new level of gorgeous. Read More
0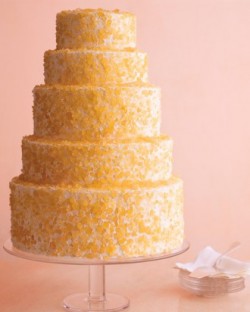 In my quest to find a wedding cake that was both beautiful and brightly colored, I stumbled upon this lovely confection and just had to share it with you!
It reminds me of this rock candy wedding cake we featured a few years back but I think I like this yellow, sunny cake a little bit more, if only because the color reminds me of sunshine and spring and warm weather.
Admit it – you thought of sunshine as soon as you saw this cake, right? Read More
0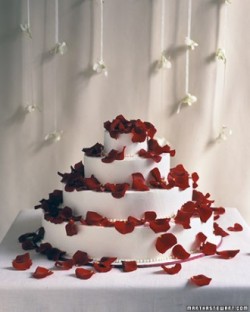 Nothing says "love" like a red, red rose.
We see proof of that each week on a certain very popular television show where seemingly reasonable adults go a little crazy at the prospect of getting THE rose.
Obviously the rose is a powerful flower.
So what better flower to use to accent your wedding cake than a dark red rose?
I absolutely love this cake and how the stark white icing is accented by the rose petals. Read More
0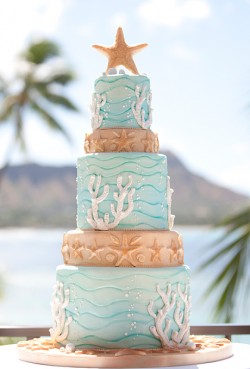 With much of the country coming out of a very deep freeze, I think today is the perfect day to dream about a beach wedding.
And if you're planning a beach-themed wedding, you're going to need a cake that has a tropical vibe – just like this beautiful creation!
I love how this cake plays on the ocean theme with alternating layers of blue icing for the sea and sand colored icing. It really makes me want to head to a beach right this minute.
As pretty as this cake is, it's also beautifully simple and doesn't go too far in the decor department. Read More
0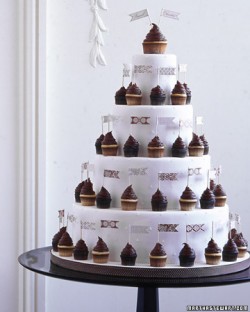 Sure, cupcakes were all the rage for weddings in 2013 and that trend is likely to continue this year.
But if you're looking for something that goes beyond "just cupcakes" why not consider serving a wedding cake and cupcakes! That's right – it's the best of both worlds.
I saw this whimsical idea here and just had to share it with you because it's really brilliant. Read More