Themed Wedding Cakes
A themed wedding cake may be just what you're looking for to set your cake and reception apart. While a themed cake would be a natural fit for a wedding that also invokes a theme – say an "Alice in Wonderland" wedding, or a renaissance wedding – a bride and groom may also choose a theme for their cake based upon the a favorite amusement park ride or a preferred hobby, a favorite location, or a season or holiday. For the couple enjoys the daring fun of an amusement park ride, we've seen cakes that immortalize attractions like Disney's Splash Mountain – fun! Likewise, the bicycling-enthusiast couple might prefer a cake that shows a mountain bike ride. Less specific would be the couple who incorporate images and items from the ocean into a beach cake, which might include gum paste shells and star fish, sand-like or pearly finish, and maybe a sand castle topper. Finally, if your wedding takes place near a beloved holiday or season, like the Fourth of July, or autumn, or Christmas time, consider incorporating themes that echo those holidays or times of the year. A July wedding cake might be decorated with stars and sparklers, while autumn might show off colorful marzipan leaves and chocolate twigs and acorns. Christmas might inspire the use of traditional garnets and greens, or cool and snowy blues and silvers. If there is a theme that you love, consider celebrating it with your wedding cake. It will make your day even more memorable, for both you and your guests.
0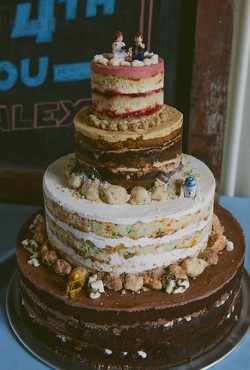 Today I'm showcasing another naked, unfrosted wedding cake simply because it's like nothing I've seen before.
Not only is it part of the whole "naked wedding cake" trend that just keeps hanging on (what do you have against frosting??) but look very closely at the cake.
Do you see what I see?
Yep! That's right! Star Wars Lego figurines.
That. Is. Awesome. Read More
0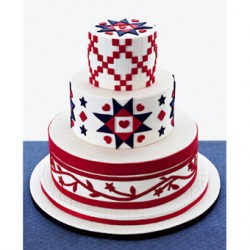 Happy Fourth of July!
While I hope you're enjoying a family cookout and lots of fireworks, it seemed only appropriate to showcase a patriotic red, white, and blue wedding cake today!
I love the abstract look of this cake. It's modern and fun with that all-American vibe thrown in for the holiday. Read More
0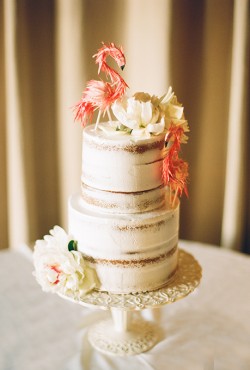 Strangely enough (or maybe not so strangely considering my love for all things warm and tropical) I adore flamingos.
Yes, they're odd looking – tall, pink birds – but they make me think of warm climates like Florida. Which makes me think about summer.
So it seems only fitting that I am in love with this summer-themed cake, made complete with the addition of adorable flamingos. Read More
1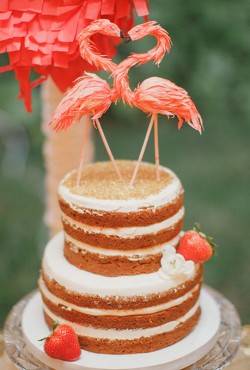 I made a trip to a local greenhouse over the weekend to purchase my summer flowers.
And while picking out my blooms, I spied the strawberry fields next door which got me thinking about that sweet summer fruit.
Around here, strawberries hit their peak in mid-June or so, which means I'll have a chance to enjoy some very, very soon!
But for now I'll have to be happy with today's wedding cake – which is adorned with bright red strawberries! Read More
0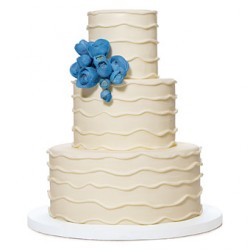 Lately I've been daydreaming about the beach. A lot.
This is likely due to the fact that very soon I'll be lounging on a beach in the Caribbean without a care in the world.
But it also got me thinking about beach-themed wedding cakes since it is the perfect time of year for a beach wedding.
And then I found this cake and fell in love. Read More
0
Spring is the season of rainbows. All you need is a good rain shower and some sunshine and viola! You've got rainbows!
Of course spring is also the perfect season to incorporate rainbows into your wedding cake too.
I love the fun themeing of this rainbow wedding cake. Read More
0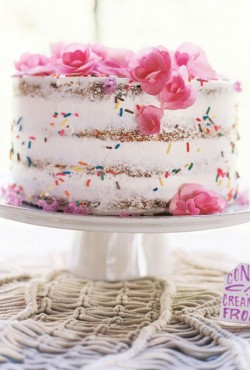 I prefer my wedding cakes to have a lot of icing. After all, is a cake really a cake without icing?
But sometimes I find a "naked" wedding cake (sans icing) that really intrigues me.
Take for example today's nearly naked caked that is adorned with some colorful and whimsical sprinkles. Read More
0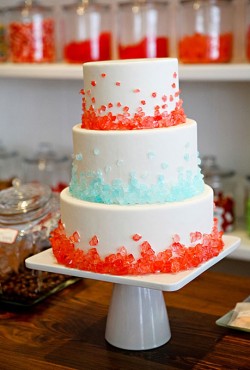 I'm always looking for something different and unique when it comes to wedding cakes.
Today's cake fits that bill … and then some!
We all remember eating rock candy as kids, right? Those sticks covered in crystallized sugar that almost broke our teeth? Now as grownups maybe we'll get a stick of rock candy with a fancy espresso – a stick of sugar to sweeten the coffee.
But what if you could have rock candy on your wedding cake? That would be amazing! And delicious. Read More
0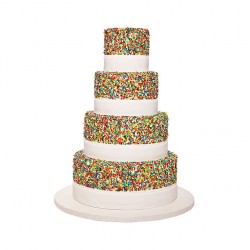 Happy February! We're thismuch closer to spring now!
And we're thinking warm and cheery thoughts today with this fun rainbow wedding cake.
Who needs a plain ol' white wedding cake when you can add sprinkles for some fun and whimsy? Read More
0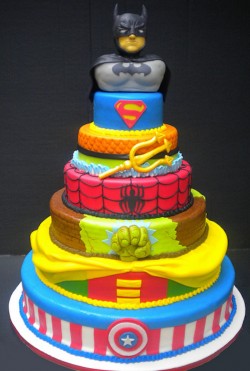 Happy New Year!
Since we're just a few days into 2016 it seemed like a good time to ease into the week … especially for those of you who might have been enjoying time off for the last week (or two).
So today's cake is all about fun – check out the superhero wedding cake!
Now granted, they're mixing Marvel and DC Comics which might be a big superhero no-no, but we don't care. This cake is COOL! Read More