0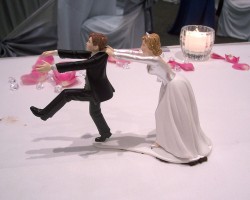 I have a secret.  For months I have avoided photos of perfectly good cakes for one reason.  Because they have a Runaway Groom Cake Topper.
I really am not a fan of these.  I've been keeping it in for months and decided to finally talk about this today.  Because after all it just is a cake topper.  It is actually meant to be a joke.  I assume that if a bride felt that she really needed to drag her man down the aisle she probably wouldn't be marrying him.  Right?  Or, do I put too much faith in society?
To me this isn't funny.  I guess I just don't get it.  Why would people want this on their cake?  I had a friend who dated her boyfriend for ten years.  Yes, ten.  Sure by the time they finally walked down the aisle we made many jokes about how long it took and at the rehearsal dinner we all said the word finally about six hundred times.  However, if she had put this on her cake I would probably think it was a little bit sad.
Maybe my view is tainted because the only woman I've ever seen put this on her wedding cake (in real life) was actually a girl who literally had to convince her husband to marry her.  He's miserable today.
Maybe now that I've gotten this off my chest I'll be able to post those gorgeous cakes that I see with this topper on it instead of groaning.  Loudly.
I'm not trying to be Negative Nancy or the end all be all of Wedding Cake Toppers.  It's a personal choice and I say if you love this topper and you think it's hilarious by all means get your Runaway Groom on girlfriend!  But please tell me why.
Are you with me?  Do you think this topper is kind of obnoxious?  Or do you love it and think it's the funniest thing you've ever seen.