Wedding Cake Toppers
For many wedding cakes it is the topper that makes the cake. Since the topper generally represents the bride and groom themselves in some way they can be the most important part of the cake. These cakes have unusual, beautiful or simply novel toppers that are worth checking out.
0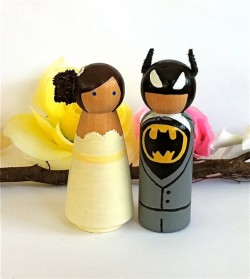 Nah, nah, nah, nah, nah, nah, nah, nah, BATMAN…on a wedding cake. And I do not think the bride is Robin. Just sayin'.
Every once and awhile I come across a cake topper that literally makes me squeal with delight. That happened when I saw this Custom Batman Wedding Cake Topper made by Charlene of Creative ButterflyXOX. You can visit her Etsy store by clicking on her shop name. She has a few other non-Batman cake toppers, but let's get real here, after seeing this one Read More
0

It's the truth.  I wish I was like every other person in South Carolina and celebrating this gorgeous long weekend at the beach.  However, we bought a new house this year so the beach vacation got sliced from the budget.
This makes me happy most of the time but now that it's hot and people are out shooting Read More
0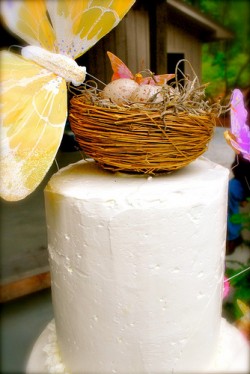 Oh yes..another bird related cake topper.
This one though..is a birds nest. A real live on. Well..I guess technically birds nest aren't "living" so to speak, but it's a real one. Made by birds. The bride got this one from her work and filled in with Spanish Moss and decorated the nest with cream speckled eggs..which I don't think are real..and colorful butterflies. Those are fake.
We've actually featured this cake before in this post however, I figured it was so unique and special it deserved a post all its own.
What homemade cake toppers have you seen? What kind of topper do you like better: handmade like the bicycle riders I featured a few weeks ago, store bought like this Lenox figurine we featured last week or homemade by the bride like is featured here?
0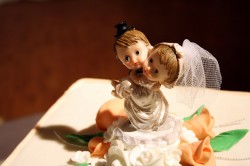 When in doubt…go vintage.  That's my motto anyway.  Vintage is very in right now and a perfect way to add a little kitschy charm to your wedding is to top off your cake with a vintage cake topper.  You can search online for options on eBay, Big Cartel or Etsy…but you could also Read More
0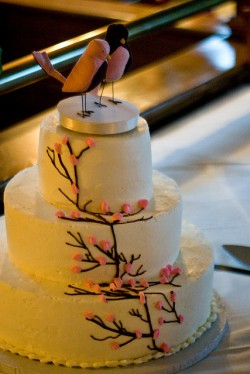 If one thing is "hot' this wedding season it is birds.
In real life I am terrified of birds. However, you put those bad boys on a wedding cake (or anything really) and I am suddenly in love. Much like I was when I saw this adorable wedding cake.
This is a three tiered round wedding cake frosted with delicious buttercream. I have the overwhelming urge to stick my finger in it and take a big lick. The front of the cake Read More
0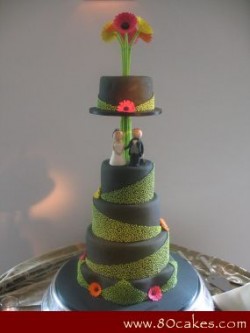 To me a black wedding cake is chic and classy.  I just adore them..and they are typically few and far between.  Especially the good ones.  We've featured a few here like this one.
Today I am so excited because now I get to show you a classic black wedding cake covered in what else..GERBERA DAISIES!  Hi, my name is Christen and I have a tiny obsession with all things gerbera.  Anyway, on with the cake business.  This cake was made by the talented Around the World in 80 Cakes.(Don't you just adore that name?  I wish I was a baker so I could Read More
0

I love a sale.  Especially an online sale.  For some reason I can just whip out my PayPal account information and I feel like I am back in 1989 playing my favorite game of Mall Madness…buying up stuff virtually and only now a week later it shows up on my door.  My favorite part of the game was when the little electronic man would randomly alert that "There is a sale at the LINENS store".  A sale?!  Just for me?!  On linens?!  Keep in mind that at 8 years old I had NO idea what linens were.
Well guess what ladies (and dudes) today..just for you.."There is a sale at THE KNOT WEDDING Shop".  Read More
0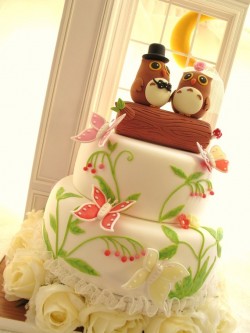 I have noticed a trend. I seem to feature cake toppers on Friday. I am not sure why but perhaps it will become my new thing!
Once again Pinterest sucked me into the world of gorgeous handmade wedding cake toppers this week and I could not escape. This week I landed at an Esty shop called Kikuike run out of Japan and the United Kingdom. This particular topper features the ever so popular owls all dressed up in their wedding best, Read More
0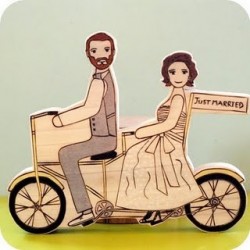 My recent fascination with all things homemade and vintage has lead me into a wonderful word of handmade Wedding Cake Toppers & that includes this beauty.
This topper makes me want to ride my bicycle barefoot with my groom singing songs about my beautiful balloon. Is that just me? Not only would it make an adorable cake topper but it would also look great on a bookshelf as a wedding day memento for years to come. I originally found this beauty on Pinterest but after some digging I discovered the Etsy store Read More
0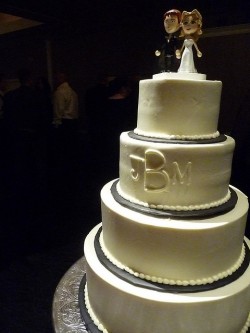 I love a good old original while round cake. It's classic and gorgeous. Twenty years from now the bride and groom will look back on their pictures and be happy with their choice because it's not completely insane. That's what I like about this cake. The Read More