Floral Wedding Cakes
What's not to love about a floral wedding cake? The trend to decorate cakes with flowers, whether real or gum paste, really became all the rage during the 1980s, when Martha Stewart showed us all how wrong we'd been doing weddings up to that point. Gone suddenly were the little bride and groom figurines made of porcelain or plastic that stood proudly atop cakes. Replacing them were mounds and cascades and accents of flowers of all shapes, sizes, and hues. The trend may have died down to some extent; today, we're as apt to see a bride and groom cake topper – or a pair of birds or bicycles, or anything else the couple might fancy – as flowers. But flowers have not lost favor completely. In fact, florists are still busy preparing floral toppers for cakes that match the bride's color palette and bouquet. Likewise, bakers are kept busy crafting handmade, sugar or gum paste flowers, or at the very least, custom coloring store bought gum paste creations to offset their beautiful cakes. There are a couple of points to remember when choosing to trim your cake with fresh flowers. First, make sure that the bloom you'd like to use is NOT poisonous. Wouldn't you hate to send people to the hospital because they ingested a piece of your cake that had ivy on it? And secondly, if at all possible, ask your florist for pesticide-free blooms. Bug killing chemicals = not tasty. And finally, if it's gum or sugar paste flowers that you're after, remind guests that, although they are technically edible, it's probably not very tasty or a good idea. If you want edible decorations, you should probably stick with real or marzipan fruit.
0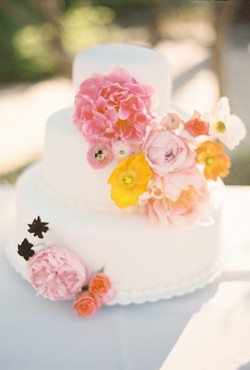 One of the things I love most about summer is watching all the flowers bloom and grow and sometimes even outgrown their planting pots.
And if you're having a summer wedding it's a great idea to showcase some of those gorgeous summer blooms on your wedding cake!
Aside from looking great, when you decorate your cake with flowers you don't need anything else on the cake – not even a cake topper. Read More
0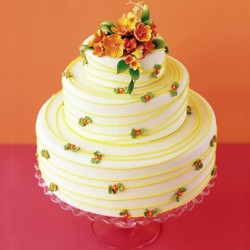 So we all know that April showers bring May flowers, but around here it's also true for June and July showers. All the summer blooms look so pretty right now!
Which brings me to today's cake. I'm loving the tiny orange flowers on this cake.
But I think what really makes the cake POP are the bright yellow sugar swirls. Read More
0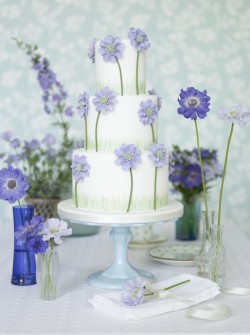 My favorite color is purple but oddly enough I didn't use the color in my wedding.
Which might be why I love to see purple showcased in weddings whether we're talking flowers, dresses, or even the wedding cake.
I love this cake not only because it's purple but also because it is fun and whimsical and would be perfect for a late spring, early summer wedding. Read More
0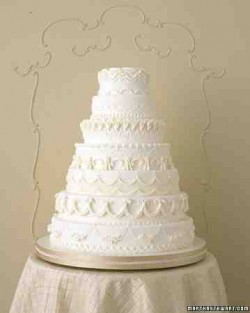 As much as I love showcasing fancy, out-of-the-ordinary wedding cakes every week, sometimes it's good to get back to basics and show off a classic wedding cake.
This mulit-tier wedding cake is classic in its design but basic it's not.
The cake features elaborate piping and icing designs of swirls and swags and pearls and more. Read More
0
I have a confession to make. I don't like the color peach. Or the color orange. Or any color that might be close to peach or orange.
But, I love this wedding cake – peach flowers and all.
Look at this cake! It's so elegant and unique and gorgeous. And if I was getting married (again) I'd want this cake at my reception.
The three-tier cake would be gorgeous without the flowers too thanks to the smooth white icing and the black ribbons with diamond-like brooches. That combination is something I've never seen on a cake before and I love it. Read More
0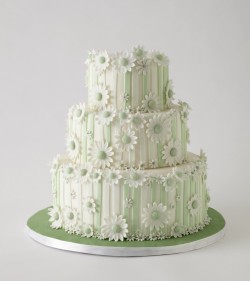 Everything is coming up daisies!
This cake practically screams "spring!" in a refined yet fun manner. I love the unique color scheme of pale mint green and white.
It's unexpected for a wedding cake but that's what makes it so perfect. This is a truly unique cake and not something that every bride will want at her reception.
The three-tier cake features happy daisies and some love fondant stripes that give it a spring festival vibe. Read More
0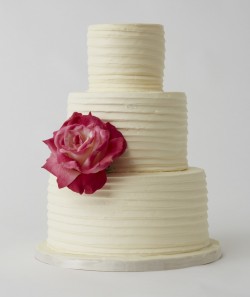 Sometimes the simplest wedding cakes are the ones that stop you in your tracks.
That just about sums up today's wedding cake. It's pretty. And simple. And elegant.
And it is adorned by one very lovely rose but it doesn't need anything else.
I love wedding cakes with fresh flowers – and usually that means a lot of fresh flowers. Read More
0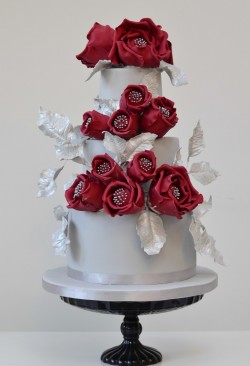 Everything is coming up roses!
OK, there aren't any real roses blooming around here yet, but I'm a total pushover when it comes to roses. They're easily my favorite flower – for weddings, for Valentine's Day, just because.
Hand me a rose and I'm a pile of mush.
Give me a wedding cake topped with roses – real or not – and I'm an instant fan.
And this cake is gorgeous. It's almost beyond gorgeous – if there was a word for that. Read More
0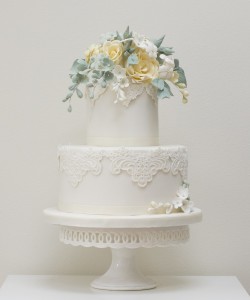 As I walked a very long trail at the park today I was surrounded by thousands of blooming trees, plants, flowers, and probably some weeds too.
It's been sunny and a little warm and combined with the rain earlier in the week everything is blooming!
Sure this means a lot of pollen but it also means I'm dreaming about wedding cakes with gorgeous flowers. Yes, I do dream about wedding cakes. Don't you? Read More
0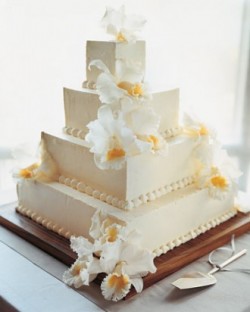 Things are still all a bloom around here thanks to a nice combination of April showers and warm, sunny days.
Which means I'm still looking for wedding cakes adorned with fresh flowers because they're absolutely perfect for spring weddings.
This four-tier square wedding cake is elegant and simple and has a fresh feel about it.
The square tiers give the cake a modern feel, while the pearl icing embellishments add just the right amount of elegance.
And you can't go wrong with fresh cattleyas for a floral addition.
Of course if you aren't a fan of that flower you can always adorn your cake with a flower that matches your bouquet – giving your wedding cake an extra personal touch.
You can find this spring floral wedding cake here.