Floral Wedding Cakes
What's not to love about a floral wedding cake? The trend to decorate cakes with flowers, whether real or gum paste, really became all the rage during the 1980s, when Martha Stewart showed us all how wrong we'd been doing weddings up to that point. Gone suddenly were the little bride and groom figurines made of porcelain or plastic that stood proudly atop cakes. Replacing them were mounds and cascades and accents of flowers of all shapes, sizes, and hues. The trend may have died down to some extent; today, we're as apt to see a bride and groom cake topper – or a pair of birds or bicycles, or anything else the couple might fancy – as flowers. But flowers have not lost favor completely. In fact, florists are still busy preparing floral toppers for cakes that match the bride's color palette and bouquet. Likewise, bakers are kept busy crafting handmade, sugar or gum paste flowers, or at the very least, custom coloring store bought gum paste creations to offset their beautiful cakes. There are a couple of points to remember when choosing to trim your cake with fresh flowers. First, make sure that the bloom you'd like to use is NOT poisonous. Wouldn't you hate to send people to the hospital because they ingested a piece of your cake that had ivy on it? And secondly, if at all possible, ask your florist for pesticide-free blooms. Bug killing chemicals = not tasty. And finally, if it's gum or sugar paste flowers that you're after, remind guests that, although they are technically edible, it's probably not very tasty or a good idea. If you want edible decorations, you should probably stick with real or marzipan fruit.
0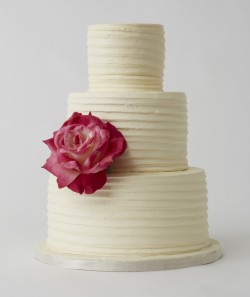 Sometimes all you need to make a statement is a simple yet elegant wedding cake.
This is that cake.
The three tier cake features elegant buttercream icing that almost resembles pleats in a wedding dress. And the only embellishment the cake needs is a brightly colored fresh flower.
This version of the cake features a lovely red rose, but if roses aren't your favorite it would look stunning with other big and bright flowers. Read More
0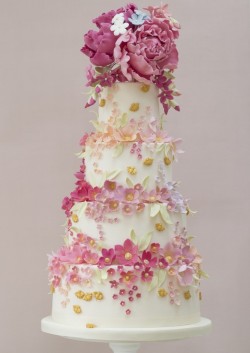 As we inch ever closer to the last month of summer, I'm doing my best to keep a firm grip on the warm weather and flowers, because we all know fall is just around the corner.
That being said, I had to share this cake today because as soon as I saw it I was in love. With a cake.
At first glance you might think "wow, this is a busy cake"…and while you'd be right, I would argue that it's busy in a good way. A really good way.
I love the stark white icing on the four-tiered cake. But what I love more are the brightly colored flowers that adorn the cake from top to bottom. Read More
0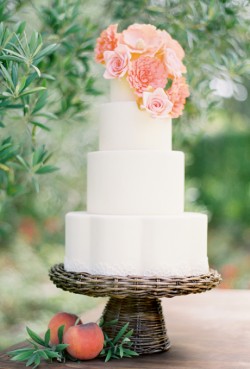 Sometimes all you need for a gorgeous wedding cake is a simple white cake topped with pretty flowers.
Like this cake.
It's so simple and so pretty and I would love to see this at a summer wedding.
I love wedding cakes with fresh flowers – it's such an easy and elegant way to add something special to your cake.
And you can personalize it by incorporating the flowers from your bouquet or what your bridesmaids are carrying. Read More
0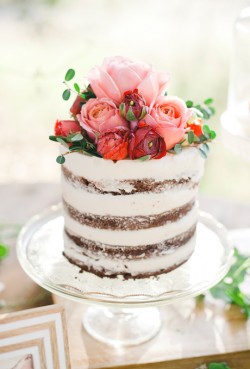 I have to admit, I find the unfrosted – or "naked" – wedding cakes a bit jarring.
I think that's because I want my cake to be overloaded with frosting. I'm the "corner of the cake" kind of girl because that's where the highest concentration of frosting hides.
So when I see a wedding cake sans frosting, it makes me wonder "why?"
However, I am always one to give cakes the benefit of the doubt (unless there's carrot cake involved) so let's go forth and explore the wonder that is the naked wedding cake. Read More
0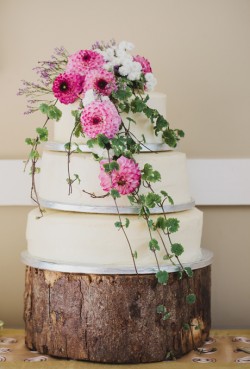 Sometimes a simple wedding cake is exactly what a bride wants for her summer wedding.
Maybe you don't want all the frills and tiers. Maybe you just want something simple and pretty.
And maybe you even want a DIY cake.
If that description sounds like you, then we have found your cake!
This homemade (as in, made at your home!) white wedding cake is a lovely three-tier cake with zinnias and ivy. Read More
0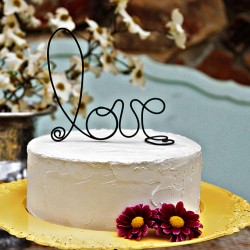 We don't often think about a simple one-tier wedding cake, but it's a trend that some brides are going with.
After all, if you're having a small reception there's no need for a huge multi-tier cake.
And if you're going to keep things simple, it's always a good idea to make it simply beautiful. Read More
0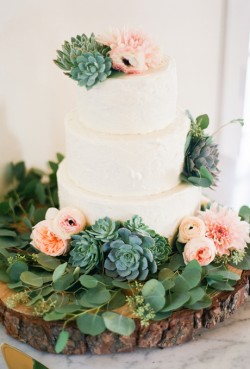 As much as I love wedding cakes with sugar flowers, I also love wedding cakes that feature real flowers and plants.
Just like this cake with succulents.
I love the understated elegance of the cake and the use of succulents just adds to that elegance.
I have to admit as much as I love bright flowers on cake I also love when brides forgo that bright pop of color for something a bit more understated. Read More
0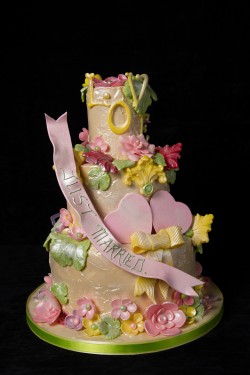 I'm always on the lookout for totally unique and somewhat out-of-this-world wedding cakes.
Why? Because sometimes that "traditional" wedding cake just won't do it.
Which is why I'm head over heels for today's cake. I present to you the "West End" cake from our friends at Hockleys Cakes over in the United Kingdom.
This stunning creation has so much going on, but it's not overwhelming in any way. In fact, it all just works. Read More
0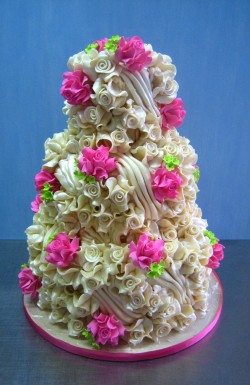 I love roses, which means this cake is quite possibly my favorite cake in a very long time.
This cake is another incredible creation by our friends at Hockleys Cakes in the United Kingdom and it's gorgeous!
Called the 'Aphrodite,' the cake is a vision of pink and white roses.
The three-tier cake is covered in 180 chocolate roses in addition to pink sugar roses. And it's all hand-crafted.
Not only is this cake a stunner, but…180 chocolate roses! That is a lot of chocolate. If you're a chocolate fan this is definitely the cake for you.
I love the subtly of the white chocolate roses and the bright color pop from the pink sugar roses. It  would be such a lovely cake at a spring or summer wedding, especially if you were incorporating roses into your floral theme.
Many thanks to our friends at Hockleys for sharing this creation with us.
Photo credit: Hockleys Cakes
0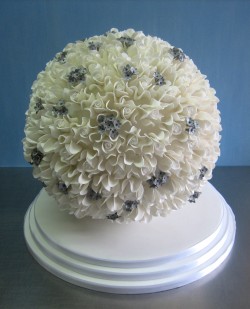 As non-traditional wedding cakes go, this one … well, it takes the cake.
How much love do you have for this posey wedding cake? It's rather amazing, don't you think?
And for those of you wondering, a "posey" is a small flower bouquet. (Of course, right now I'm singing "a pocket full of posies" over and over in my head).
Our incredibly talented friends at Hockleys Cakes created this posey wedding cake, Read More