Floral Wedding Cakes
What's not to love about a floral wedding cake? The trend to decorate cakes with flowers, whether real or gum paste, really became all the rage during the 1980s, when Martha Stewart showed us all how wrong we'd been doing weddings up to that point. Gone suddenly were the little bride and groom figurines made of porcelain or plastic that stood proudly atop cakes. Replacing them were mounds and cascades and accents of flowers of all shapes, sizes, and hues. The trend may have died down to some extent; today, we're as apt to see a bride and groom cake topper – or a pair of birds or bicycles, or anything else the couple might fancy – as flowers. But flowers have not lost favor completely. In fact, florists are still busy preparing floral toppers for cakes that match the bride's color palette and bouquet. Likewise, bakers are kept busy crafting handmade, sugar or gum paste flowers, or at the very least, custom coloring store bought gum paste creations to offset their beautiful cakes. There are a couple of points to remember when choosing to trim your cake with fresh flowers. First, make sure that the bloom you'd like to use is NOT poisonous. Wouldn't you hate to send people to the hospital because they ingested a piece of your cake that had ivy on it? And secondly, if at all possible, ask your florist for pesticide-free blooms. Bug killing chemicals = not tasty. And finally, if it's gum or sugar paste flowers that you're after, remind guests that, although they are technically edible, it's probably not very tasty or a good idea. If you want edible decorations, you should probably stick with real or marzipan fruit.
1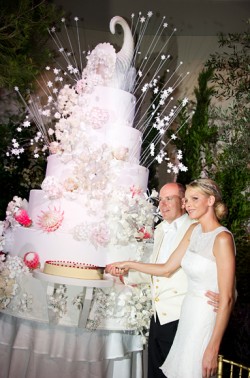 This week's installment of Flashback Friday has a royal twist to it, simply because when I saw this cake I was shocked at its sheer size and just had to share it with all of you.
Apparently when you're part of the royal family of Monaco – the second smallest country in the world at only 1.95 square kilometers in size (that's 0.75 square miles for us non-metric folk) – your wedding cake has to be enormous.
And when Prince Albert of Monaco wed his bride, the lovely Princess Charlene in July 2011 their cake was definitely the centerpiece of the reception. Read More
0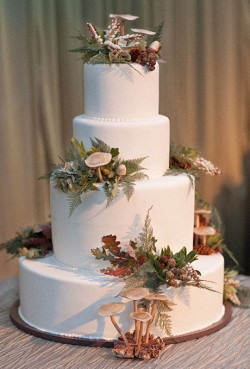 There's a distinct chill in the air and the leaves are finally changing, so in my mind it is officially fall.
Which means I'm going to start sharing some great fall-inspired wedding cakes and other goodies. I absolutely love fall weddings – maybe because I had one many moons ago – and there is so much you can do to spruce up your fall wedding day.
For example, you could have a beautiful cake like this woodland themed cake.
Look closely, those ARE mushrooms on a wedding cake. Read More
0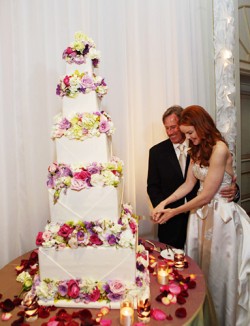 It's Friday again and that means we're heading back in time to check out another fabulous celebrity wedding cake.
This week's cake is a towering creation, but it's also very beautiful and floral.
When actress Marcia Cross (Desperate Housewives) married Tom Mahoney in 2006, she reportedly invited some friends to a cake tasting to help her choose the cake flavors. This is a genius idea, although my husband was more than happy to be part of our cake tasting. Read More
0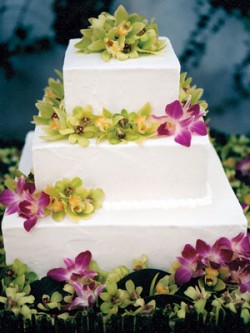 This week we're flashing back an entire decade to check out this lovely little cake from 2003.
When actress Elizabeth Banks married her beau Max Handleman at the Greystone Mansion in Beverly Hills they reportedly read love letters from their first year of dating rather than reciting vows.
Now if that isn't romantic enough, one look at their simple yet beautiful wedding cake and you know this was a spectacular affair. Read More
0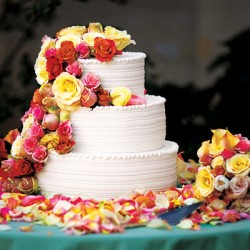 I was looking at celebrity wedding cakes this week and found so many over-the-top, 10-foot-tall creations that I just wanted something simply and pretty.
So when I saw this lovely and simple cake I knew I had to feature it.
This three-tiered cake was created for the wedding of actress Jaime King anddirector Kyle Newman in November 2007. The cake was a berry and coconut creation, with simple yet lovely white frosting. Read More
0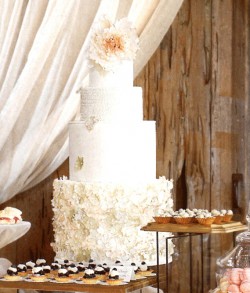 We all know that celebrity wedding cakes can sometimes be a bit over-the-top and audacious. But not this one. I love the shabby chic simpleness of Blake Lively's wedding cake, which was part of her Martha Stewart-styled wedding to Hollywood heartthrob Ryan Reynolds last year.
The cake was the centerpiece of a dessert table that was full of the couple's favorite sweet treats including mini strawberry shortcakes, lemon meringue tartlets, and s'mores bars. Read More
0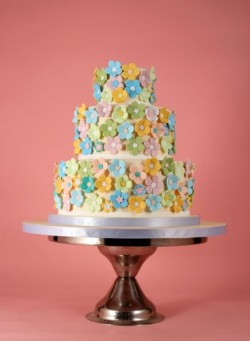 I absolutely love daisies – they're such a cheerful flower! And as soon as I saw this cake, I fell in love with it because it's so cute and whimsical.
This cake would be perfect for a spring or summer wedding, especially if your color palette included pastels. I love that the flowers aren't just light pinks and purples, but also include the bright yellow, green, and blue. Those really makes the cake pop with color.
Imagine how amazing this cake would look at an outdoor wedding! And since daisies are the world's happiest flowers, you can't help but smile when you see it.
This cake was created by Charm City Cakes West. Check them out here.
0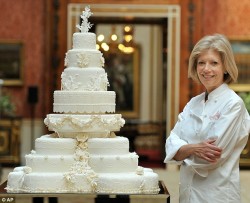 It's time for another wedding cake flashback, and this time it's all about the eight-tier "traditional English fruit cake" served at the wedding of Prince William to Kate Middleton. (I always feel like I should call her Princess Kate, not "Kate Middleton"…I mean, I'm sure she's changed her last name by now, right?)
Anyway, the first thing I want to know about this cake is Read More
0
The minute I saw this cake it took my breath away! It's so stunning and visual and there's so much going on with it, but in a good way.
If I were planning a shabby chic wedding or even a wedding with a vintage, early 1900s vibe, I would do anything to get this beauty.
Take a few minutes to digest it. The cake itself is Read More
0

As we head full-steam into summer, this week's wedding cake flashback is the super colorful and fun seven-foot-tall cake served at the 2004 wedding of Mariska Hargitay and Peter Hermann.
I love this cake because it has a Read More