Modern Wedding Cakes
The term "modern wedding cake" may mean different things to different people. Here at A Wedding Cake Blog, we take the term to mean anything with a contemporary feel; a cake that eschews the traditional white on white, piped and buttercreamed and trimmed with swags or roses. Modern may refer to a bold use of color, or a contemporary decor or shape. It may also refer to choosing something other than the grand, traditional tiered cake – a cake of macarons, for instance, or an assortment of individual cakes. Modern means that you are updating the tradition: perhaps you aren't entirely throwing it out. You're just giving it a breath of fresh air.
0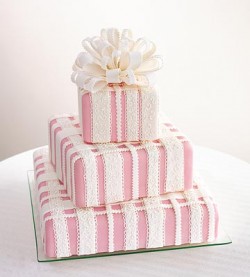 Everybody loves getting presents wrapped in pretty paper and topped with a perfectly tied bow, right?
Sure they do! And that's why I love this pretty in pink wedding cake so much. It's just so darn cute I couldn't resist sharing it with you today.
This gorgeous three-tiered confection would be perfect for a smaller wedding, a winter wedding, a spring wedding, or even your bridal shower. Read More
0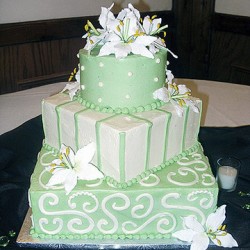 I might have mentioned recently that green isn't a color I often go to, except when it's the holiday season.
However, I am loving this mint green confection and would adore it at any time of the year, holiday season or not.
The color of this cake is so cool and really creates a beautiful cake when paired with the white embellishment and lillies as decoration. Read More
0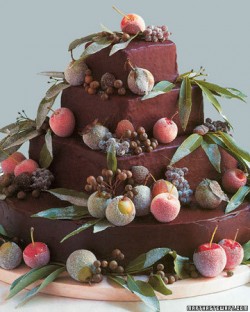 It's around this time of year when I really start to feel the "Christmas spirit" and so I wanted to find a wedding cake that felt like the holidays.
I think this one comes pretty close.
When I saw this cake with the sugared fruit and candied chestnuts I immediately thought of 'sugar plum fairies' and 'chestnuts roasting by the open fire.'
Another reason I love this cake – it's' chocolate. And we all know you can never have too much chocolate cake, even at a wedding. Read More
1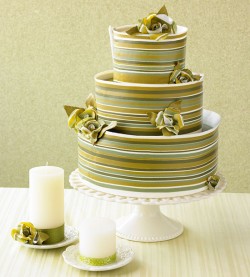 The holidays are the one time of year when I really enjoy the color green.
It's just such a festive color when it's paired with the other holiday hues like silver, gold, and red. And this cake really caught my eye because it features more than just one shade of green.
While it might look like the cake is wrapped with fabric, each tier of the cake is actually wrapped with bands of chocolate (yes, that's chocolate!) with stripes in varying green hues accented with white to make the greens really pop. Read More
0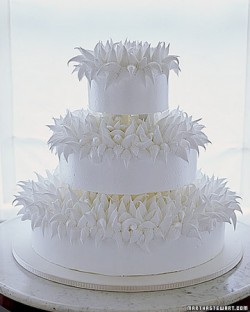 This cake might be called the "chrysanthemum wedding cake" but in my humble opinion it looks more like something the Snow Queen created.
I love the dramatic spikes on this cake – it's just so stunning.
The three tiers of this cake are accented by spiky petals created by stark white meringue and the effect is incredible. No other embellishment is needed on this cake – it's just so breathtaking on its own. Read More
0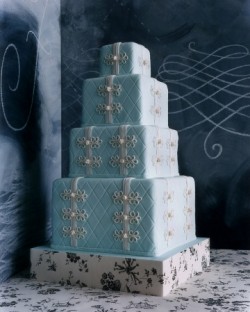 Imagine for a second if your "something blue" was actually your wedding cake!
That would be pretty incredible, especially if you chose something as stunning as this gorgeous blue and white cake.
There's just something about blue wedding cakes that I find intriguing. Every bride should have something blue for good luck on her wedding day so why not make the cake blue? It's certainly not what people are expecting as a wedding cake color. Read More
0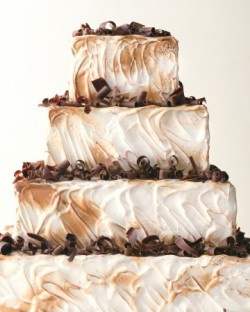 When it comes to ooey, gooey treats nothing beats s'mores.
The marriage of melted marshmallows, chocolate, and graham crackers is one of the best flavor combinations ever.
Now imagine those flavors in a wedding cake. Tell me that doesn't sound amazing.
And so, I give you the s'mores wedding cake.
This very modern twist on our favorite childhood treat is a four-tiered graham cake, with chocolate ganache and marshmallows. The Swiss meringue frosting is even "toasted" with the chef's torch. Read More
0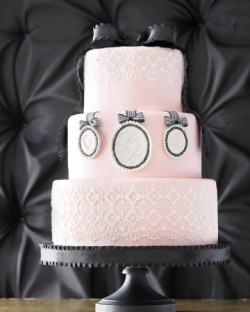 I guess I'm feeling fancy this week because I have found yet another incredibly elegant cake for you.
I used to think that I was all about tradition when it came to wedding cakes – white cakes were it. But I have to say I'm really becoming a fan of wedding cakes with color, and this pink cake with cameos is one of my new favorites. Read More