Modern Wedding Cakes
The term "modern wedding cake" may mean different things to different people. Here at A Wedding Cake Blog, we take the term to mean anything with a contemporary feel; a cake that eschews the traditional white on white, piped and buttercreamed and trimmed with swags or roses. Modern may refer to a bold use of color, or a contemporary decor or shape. It may also refer to choosing something other than the grand, traditional tiered cake – a cake of macarons, for instance, or an assortment of individual cakes. Modern means that you are updating the tradition: perhaps you aren't entirely throwing it out. You're just giving it a breath of fresh air.
0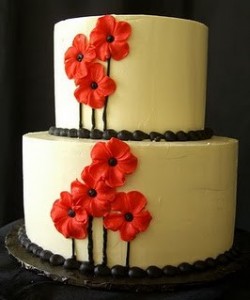 Poppies make me happy…real or fake. So this cake, made by the talented Anne Heap at Pink Cake Box, undoubtedly makes me happy. (Side note, I also have a friend who recently named her daughter Poppy…which has thus inspired this Poppy-themed post).
Sweet and simple, this two-tiered round cake keeps it minimalistic with a smooth, white buttercream frosting and dark chocolate piping at the base. The red poppies give this cake a little pinch of modern. It's a nice alternative to fondant Read More
0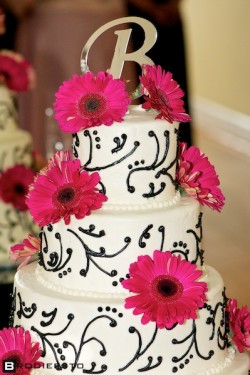 You're not dreaming. I believe it was just last week when I said that I had never seen a light cake with chocolate designs before. Well, if I had a hat I'd eat it.
It was also last week that I declared my love for hot pink gerbera daisies (again).
This week all my dreams have come true. Because here is a white
0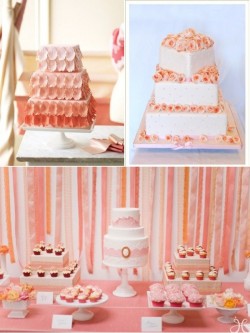 Spring Showers are bringing May flowers, and I don't know about where you are, but we're already hitting the hazy, lazy, crazy days of summer here in the Southeast.  Oof, I would like spring back, please.
But no complaints.  Hot weather means a slowdown to work, and taking some time off – unless you're in the wedding industry, that is.
In looking around this week, we're just astounded at the beauty and talent that surrounds us.  There has never, ever been a better time to plan Read More
0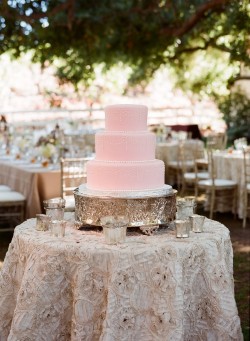 Did you ever see a wedding cake, and think, "Stop.  This is the one.  The rest of the cakes can just go home."
This is such a cake.
I spied this cake in a beautiful photojournal of a Southern California wedding, held at Saddlerock Ranch in Malibu, California.  The wedding and reception were both held Read More
0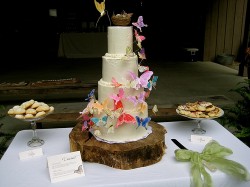 I'll admit I am totally into DIY house projects. I am always painting, sanding, or replacing something. It's something I totally enjoy and my husband tolerates. But nothing makes me want to throw things at him more than when we are working on tough project together.
Never…would I ever…be able to bake and construct Read More
1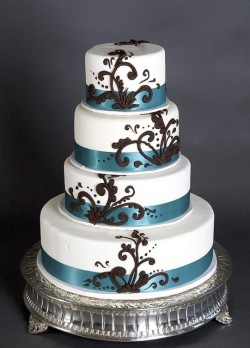 Here is something I love. Taking a classic cake and giving it a little bit of pizazz! I love how this cake is a simple four tiered round cake with a gorgeous slate blue sash around the base of each tier. Beautiful and classic yes?
Oh wait:  let's throw on a gorgeous dark brown (I'm assuming chocolate which… Read More
0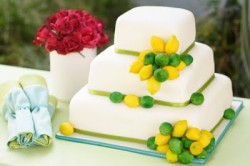 Happy Mother's Day, Everyone!  If you're a mom, I say, take this day off!  Put your feet up!  Insist on chocolate and refuse to do housework!  It will be waiting for you tomorrow, patiently, anyway.
And if you are blessed enough to have your mom still with you, give her a big hug and tell her Read More
0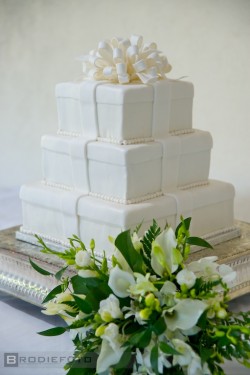 It occurred to me that it has been awhile since I featured a straight up classic wedding cake that wasn't consumed by dignitaries and former Spice Girls.  So today will be that day.
This lovely cake is a replica of a gift box.  This is the sort of gift that I like the receive..three tiers and completely edible.  In lieu of a topper, Read More
0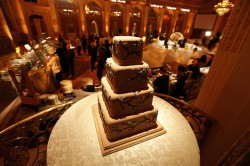 I have honestly been waiting to do two things on this blog since we started in December.
Say 'egads," and
Feature a cake by the goddess of weddings, Martha Stewart.
Today my dreams come true..because LOOK!  Read More
2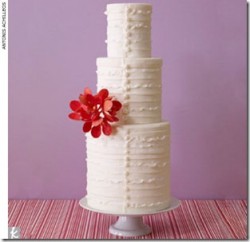 What a week for weddings it has been.  And to think – the season is just beginning!
The world watched Friday as Kate Middleton – now HRH The Duchess of Cambridge – married Prince William in a beautiful ceremony that was both modern and traditional all at once.  Christen and I tweeted and texted and Facebooked with our best girlfriends from all over, as we all enjoyed the elegant spectacle.
Now, we're sure to have Read More