Themed Wedding Cakes
A themed wedding cake may be just what you're looking for to set your cake and reception apart. While a themed cake would be a natural fit for a wedding that also invokes a theme – say an "Alice in Wonderland" wedding, or a renaissance wedding – a bride and groom may also choose a theme for their cake based upon the a favorite amusement park ride or a preferred hobby, a favorite location, or a season or holiday. For the couple enjoys the daring fun of an amusement park ride, we've seen cakes that immortalize attractions like Disney's Splash Mountain – fun! Likewise, the bicycling-enthusiast couple might prefer a cake that shows a mountain bike ride. Less specific would be the couple who incorporate images and items from the ocean into a beach cake, which might include gum paste shells and star fish, sand-like or pearly finish, and maybe a sand castle topper. Finally, if your wedding takes place near a beloved holiday or season, like the Fourth of July, or autumn, or Christmas time, consider incorporating themes that echo those holidays or times of the year. A July wedding cake might be decorated with stars and sparklers, while autumn might show off colorful marzipan leaves and chocolate twigs and acorns. Christmas might inspire the use of traditional garnets and greens, or cool and snowy blues and silvers. If there is a theme that you love, consider celebrating it with your wedding cake. It will make your day even more memorable, for both you and your guests.
1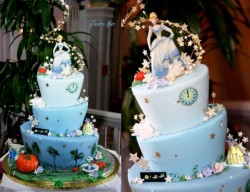 It's not secret. I love all things Disney. Sure this love has grown from countless trips to Disney World but it stems from one place.
Cinderella.
I remember the first time I saw the Disney version of Cinderella. It was the Christmas I was eight years old and it had just come out on VHS. I opened up the package and I was in love with the dark blue packaging and the princess in the sparkly dress on the cover. From that day on no other princess ever did it for me like Cinderella did.
When I went to prom..I wanted to look like Cinderella (only my dress was metallic purple..Oh the 90's!) and when I got married there was Read More
0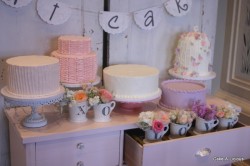 Spring, spring, SPRING!  Well, almost…according to the weather and the calendar.  We're looking forward to longer days, pretty flowers, and lots and lots of sweet treats!  Here's what we've found to share with you Read More
0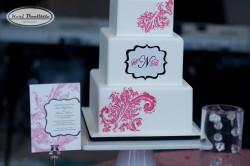 Can you feel it?  That crackle of excitement in the air.  Any minute, that first crocus is going to burst forth through the snow.  Any day now, that first jonquil will peep its sunny little head skyward.
Maybe it's the anticipation of a Royal Wedding.  Maybe it's a touch of premature spring fever.  Read More
0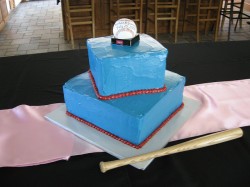 My husband really loves baseball. In a throw down featuring Christen vs. The Atlanta Braves, I am not sure who would win. With the Braves' first Spring Game with their new coach Alan Butts at the reigns coming up, my husband has been counting the minutes this week.
So in honor of baseball fans everywhere..I bring you..the Baseball Grooms Cake! I actually don't know if the bride and groom who own this cake are Braves fans, but I like to think so since the colors are blue and red. I like how this is a simple, two tiered square cake topped with a baseball. The ball is Read More
0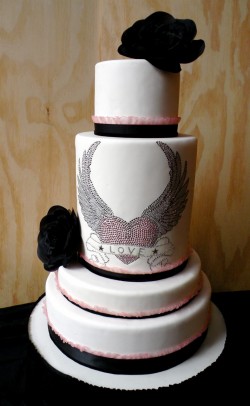 Do you remember the not-so-long ago season of The Bachelor featuring Jake Pavelka? You know..that awfully good old boy from Texas who swooned us all with his "yes ma'ams", dashing good looks and a killer smile? I remember this because I spent the entire season SCREAMING at the television because homeboy made all the wrong choices when it came to women and the ended up picking, like, the WORST woman in the house.
Then come to find out less than a year later it's actually Read More
0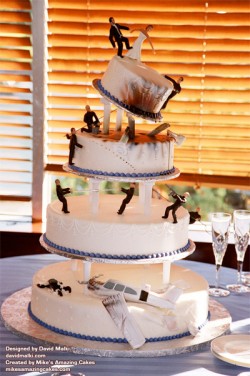 We all have them..jobs. Regardless if you are a lawyer, teacher, or blogger…the same thing is true..if you LOVE your job..you sort of become your job. So what is a fun loving movie advertising couple who also happens to love action flicks to do? Well..make an action packed cake that is!
This couple decided their wedding needed a little bit of extra Hollywood flare so they spiced it up by created a movie poster Read More
0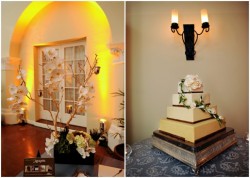 Greetings, Cake Lovers!  I trust that your Valentine's Day was all that you hoped it would be and more.  Around here, we're desperately looking forward to spring and all that beautiful warm weather.  It's even distracting us a little, we confess… Read More
0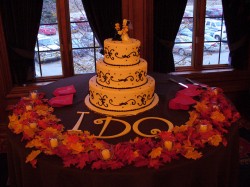 I do love autumn, contrasting colors, Mickey and Minnie, candlelight, and getting straight to the point!
Isn't this adorable? I fell in love with the fanciful message, writ large across the table. But then I noticed the details. Read More
0
The title of this photo is "Yes, they are stormtroopers." I wonder how many times the Bride and Groom had to say that at this wedding!
Anyway, we love it. There's nothing better than a nerdy cake in our eyes here at aWCB, and it rarely gets nerdier that the occasional Star Wars cake! But this one seems just a little bit better than the rest. This isn't just a Princess Lea + Read More
0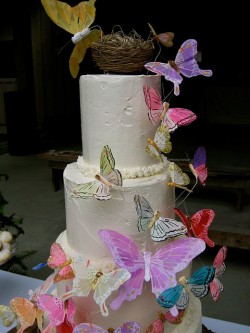 This cake is so simple, yet so beautiful. Smooth frosting accented with bright butterflies flying up to a birds' nest. The natural feel of the cake extends to the "cake stand," a wood round that was harvested by the groom and his father!
The cake was inspired by Martha Stewart's butterfly wedding cake, and is Read More