Wedding Cake Toppers
For many wedding cakes it is the topper that makes the cake. Since the topper generally represents the bride and groom themselves in some way they can be the most important part of the cake. These cakes have unusual, beautiful or simply novel toppers that are worth checking out.
0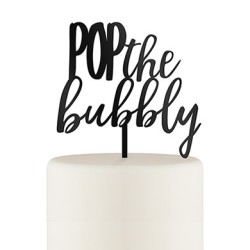 It's been a while since we featured a fun cake topper so today's the day!
Even though I really love the idea of a "traditional" (read: old fashioned) cake topper with little figures of the happy couple on top of the cake, I'm also open to a more modern and fun cake topper. Read More
0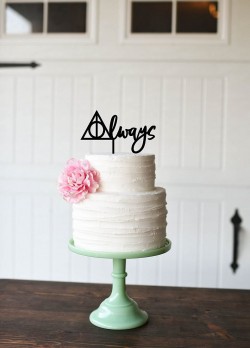 If you're a fan of all things Harry Potter then you know the significance of this Harry Potter-themed cake topper.
Not only does this super cool cake topper feature the "Deathly Hallows" (not creepy at all if you know their meaning) – the Invisibility Cloak, the Elder Wand, and the Resurrection Stone – but it also highlights one of the most surprising lines in the entire film!
So, if you and your love are true Potterheads this just might be the perfect cake topper for your Muggle wedding. 😉 Read More
0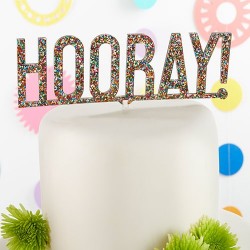 I'm a fan of glittery and sparkly things, including cake toppers!
Which makes today's fun cake topper a win-win.
It's glittery and sparkly and everything you need to top your non-traditional wedding cake on your big day. Read More
0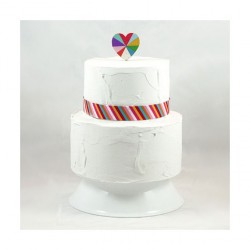 Since we're in the dog days of summer it seems like a good time to showcase another simple rainbow wedding cake.
Rainbows and summer go hand-in-hand, right?
I love the simplicity of this cake. It's not fussy or over-the-top. It's just a simple two-tier white wedding cake with a little bit of color added thanks to a cute little cake topper. Read More
0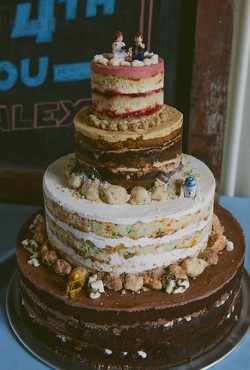 Today I'm showcasing another naked, unfrosted wedding cake simply because it's like nothing I've seen before.
Not only is it part of the whole "naked wedding cake" trend that just keeps hanging on (what do you have against frosting??) but look very closely at the cake.
Do you see what I see?
Yep! That's right! Star Wars Lego figurines.
That. Is. Awesome. Read More
0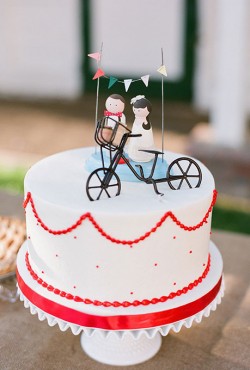 If there's one thing I really love to see when it comes to wedding cakes it's a cake that doesn't take itself too seriously.
After all, your wedding day should be filled with fun and smiles so why not add a touch of whimsy to the cake table?
Take today's cake as a perfect example – it has a fun carnival theme and a super cute cake topper to boot! Read More
0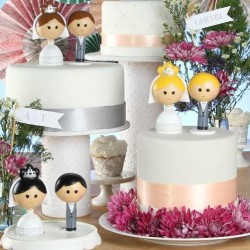 I'm a fan of fun and whimsical cake toppers.
So when I saw these Kokeshi Figurine toppers I just had to share them!
The figures are inspired by traditional Japanese Kokeshi hand-painted wooden dolls and they are so adorable!
The bride and groom figures are available in four styles and ethnicities so you'll be able to find the pair that best suits the happy couple.
The figures are about 4 inches tall so they'll fit on just about every cake and add a bit of fun flair to your big day.
A word of caution to the budget-conscious couple – these cake toppers aren't cheap. A set (2 figures) will cost close to $70. And the bases are an additional charge.
But they're so cute … how can you resist?
You'll find these cake toppers here.
0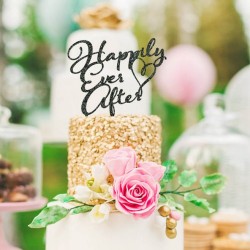 I am a big fan of cake toppers and I'm not just talking about those cute plastic figurines.
Nope. I'm also talking about something pretty and elegant, or classic, or even whimsical.
No one wants a naked wedding cake top, right? Even if you're just going to use fresh flowers – at least the cake has something on top.
Today I'm loving this 'Happily Ever After' cake topper! Read More
0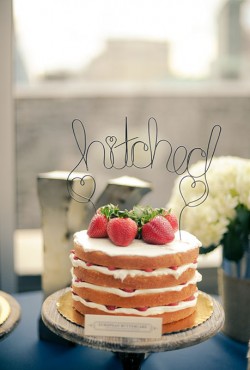 Happy Leap Day!
I wanted to find something unique for today – since we only get to celebrate Leap Day every four years.
I think this wire "Hitched" cake topper is the perfect unique thing. I love this cake topper.
It's more fun than the standard "Mr. & Mrs." cake toppers I've seen and it'll add a bit of whimsy to your wedding cake. Read More
0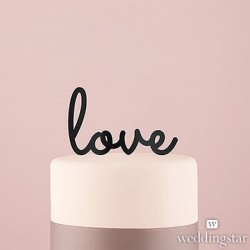 All you need is love.
And all your wedding cake needs is this script 'love' cake topper.
It's simple and elegant and says it all with just one word.
I love this cake topper because it is so simple and yet it would work on just about any cake design you choose. Read More