Wedding Cake Toppers
For many wedding cakes it is the topper that makes the cake. Since the topper generally represents the bride and groom themselves in some way they can be the most important part of the cake. These cakes have unusual, beautiful or simply novel toppers that are worth checking out.
0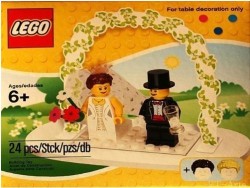 This could possibly be the most hilarious (and fun) wedding cake topper.
Ever.
Not only will it look adorable on top of the cake – and give guests a great laugh – but as an added bonus, you and the groom-t0-be get to put it together. All 24 pieces of it. And, just in case you aren't a brunette, the Lego bride also comes with blonde and black hair. The bride also comes with a veil and a Lego flower bouquet. Personally, I love that the little Lego groom is holding what appears to be a glass of champagne!
So what do you think? Would you put a Lego cake topper on top of your cake?
Other Posts You May Enjoy:
0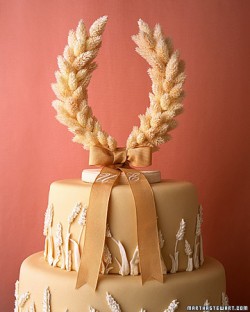 Here is another beautiful cake topper from Martha Stewart. I know. I can't get enough of them!
A couple of things to point out here. First, I adore this simple palette of wheat colors in various shades, inspired by the topper. It's so understated and elegant.  The topper itself is Read More
Other Posts You May Enjoy:
0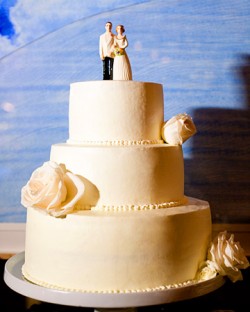 I'm feeling a little — okay, a whole lot — classic today. And so my cake choice reflects that.
I love the elegant simplicity of the white buttercream wedding cake that's trimmed with roses and topped with an uber traditional bride and groom.  It would seem that the wedding was an affair with lots of "glitzy ambiance" so this cake struck the balance between the indulgence and the simple.  And when you go with the classics, you don't really need birds flying around the top or fireworks shooting off the sides, do you?
At the end of the day, after Read More
Other Posts You May Enjoy:
0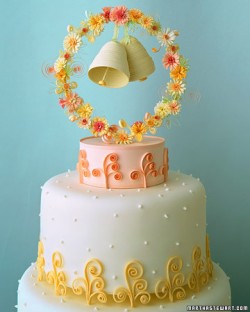 Doesn't this cake just say spring wedding to you?
If you're a bride looking forward to spring or summer nuptials, I super think you need this cake. I adore the nod to tradition with the wedding bells. And the whimsy of the daisies makes Read More
Other Posts You May Enjoy:
0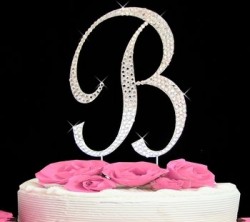 If you like bling as much as the next girl (and your future hubby doesn't care one way or the other), then this is the cake topper for YOU.
Mixing a little Read More
Other Posts You May Enjoy:
0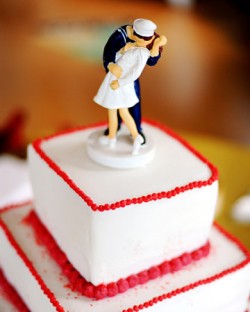 This cake topper caught my eye today while I was checking out a feature on cute toppers.  It spoke to my inner 40s glamour girl.
It's such a neat piece, and I think I mostly love it because this was the era of my grandparents.  That could be MaMa and PaPa right there, him in his Navy uniform.
The cake topper calls Read More
Other Posts You May Enjoy:
0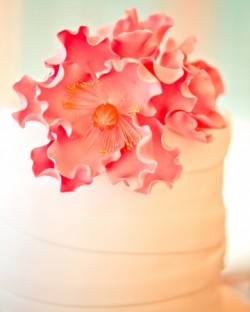 Sometimes in January, you just need a little color, yes? A reminder that spring will come again, and fun summer times will be on her heels.
I adore peonies. And from the looks of this Pink Peony Wedding Cake, this lovely White Wedding Cake with a big, flouncy pink peonies, and this Thai-inspired Wedding Cake with a gold-tinged peony, cake artists quite agree.
But today's Read More
Other Posts You May Enjoy:
0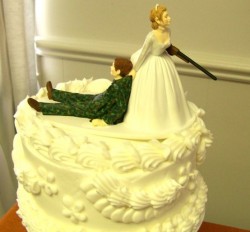 I come from a hunting people.  Or so they tell me.
No one in my immediate circle ever disappeared the week before Thanksgiving to go hunt up some deer. But when I transferred to a private high school in the next (somewhat more rural) county over, I soon found out what a big deal hunting in my neck o' the woods was.  I would normally get pretty Read More
Other Posts You May Enjoy:
0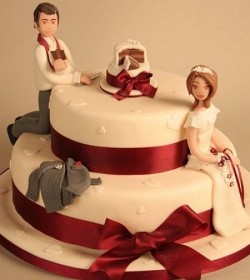 What's the best Wedding Cake Topper?  How about a Wedding Cake?
This is seriously cute, don't you think?  The groom and the bride, kicking back after an exhilarating and exhausting day of celebration, by cutting their cake, and having a slice.  But look at it!  I mean it's exactly like the big cake it sits on top of!
Isn't it great when Read More
Other Posts You May Enjoy:
0
Does your mom help you find awesome content for your blog?  Because my mom totally does.
Mom is a lover of all things beachy, so she fell in love instantly with these cute flamingo wedding cake toppers about three seconds after she saw them on Shorely Chic's blog…and I followed right in her path.
There are few Read More
Other Posts You May Enjoy: