Circle Wedding Cakes
Think of a traditional wedding cake, and chances are, you will immediately envision a tiered white cake with round layers. Round, or circle, wedding cakes are the standard for tradition. Whether the layers are separated by columns, or rest one upon another, it is safe to say that the majority of tiered cakes favor layers that are round in shape. In recent years, bakers have added interest to the otherwise traditional (and sometimes unexciting) profile of a round cake by stacking layers that are very similar in size, or by varying the height of various layers. But regardless of the size and height, circle wedding cakes are here to stay. And what could be more appropriate to signify and celebrate unending love, than the circle?
0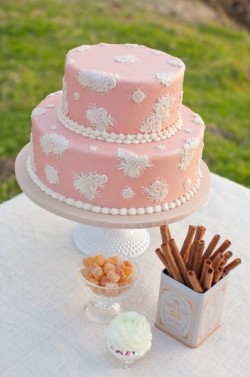 I love the idea of small-ish wedding cakes that pack a lot of punch – cakes just like today's featured cake.
This two-tier vintage-inspired wedding cake would be perfect for a smaller wedding or if you're planning a dessert table at your reception.
I'm loving the pink icing on this cake and the addition of floral lace-inspired designs gives the cake a gorgeous retro look. Read More
0
There's something so elegant about a black and white wedding cake.
Black wedding cakes are a modern trend and one that demands a formal setting.
Add in a white lace design on the cake and you've got a stunning wedding cake.
Today's featured cake would be perfect at a late summer, fall, or winter wedding. Read More
0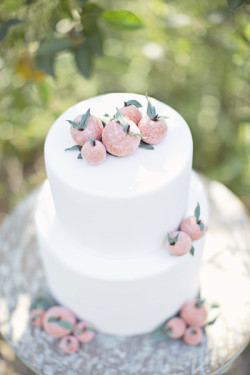 If there's one wedding cake trend I can really get behind it's the use of fresh fruit on your wedding cake.
I especially love this idea when we're in the middle of summer and all the fruit is so fresh and pretty and colorful.
A wedding cake adorned with deep red strawberries or raspberries or pretty blueberries is the ultimate summertime cake. Read More
0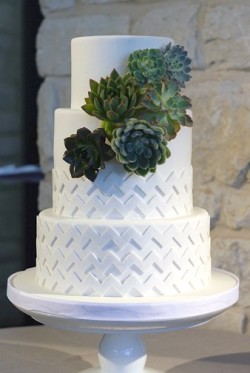 While brightly hued wedding cakes seem to be all the rage right now, there's something to be said for an elegant all-white cake.
Think of an all-white wedding cake as a blank canvas. You can add any kind of embellishment from fresh flowers to greenery, and even a peek of modern art in the icing.
Take today's featured cake fore example. Read More
0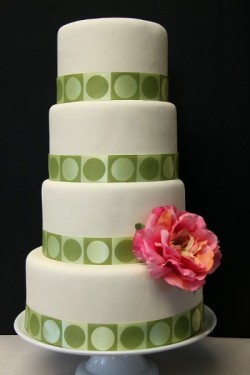 Green wedding cakes aren't something we normally feature around here, except maybe around the holidays.
But if you think about it – and look at today's featured cake – green cakes are quite amazing.
It's not a color you'd think about when considering a wedding cake, unless of course your favorite color is green.
However, it's a lovely shade when paired with a modern white cake. Read More
0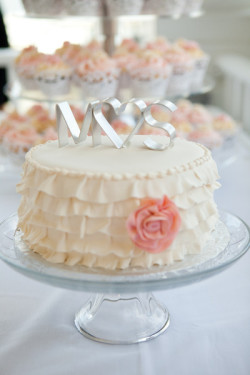 The other day we featured cupcakes as an alternative to a big wedding cake, and today we're talking about a smallish wedding cake as an alternative dessert.
Today's featured cake is the perfect size for a couple who wants to have a dessert buffet or cupcakes in lieu of a traditional wedding cake.
I love the vintage look of today's cake. Read More
0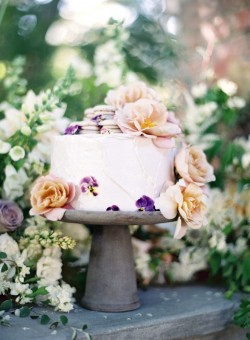 There is something to be said for an elegant one-tier wedding cake, especially if that one tier is elegant and whimsical and practically perfect in every way.
Take today's featured cake.
It might be small but it packs an elegant punch!
This one-tier cake features light lavender icing and is embellished with fresh flowers – including violets – and topped with macarons and more fresh blooms. Read More
0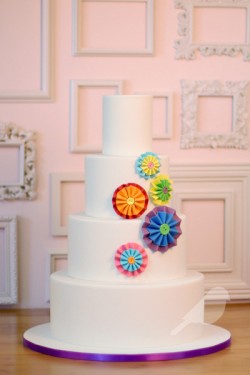 I love the idea of a bright and colorful wedding cake!
Whether we're talking about a rainbow hued cake layered under white icing or a cake that is frosted in a bright, cheery color I just love colorful cake!
Take today's featured cake as an example.
The gorgeous white icing is accented with several very colorful pinwheels and it's a perfect combination for a summer wedding. Read More
0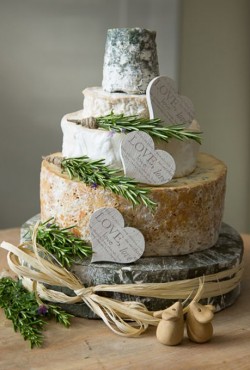 Confession time – I love cheese. If given the chance I'd probably eat cheese at every meal of the day and twice on Sunday.
Cheese is awesome.
And if you love cheese just as much I think you're gonna love today's featured wedding cake because it is four tiers of CHEESE. Read More
0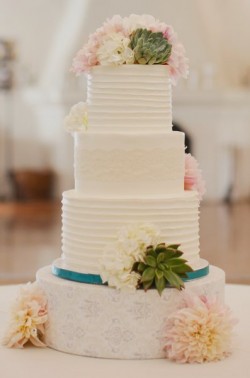 Some of the most beautiful wedding cakes are also the cakes with the simplest design.
There's no need to be over-the-top when it comes to your wedding cake, sometimes you just need a few strategically placed blooms and greenery to wow your guests. Read More