Circle Wedding Cakes
Think of a traditional wedding cake, and chances are, you will immediately envision a tiered white cake with round layers. Round, or circle, wedding cakes are the standard for tradition. Whether the layers are separated by columns, or rest one upon another, it is safe to say that the majority of tiered cakes favor layers that are round in shape. In recent years, bakers have added interest to the otherwise traditional (and sometimes unexciting) profile of a round cake by stacking layers that are very similar in size, or by varying the height of various layers. But regardless of the size and height, circle wedding cakes are here to stay. And what could be more appropriate to signify and celebrate unending love, than the circle?
0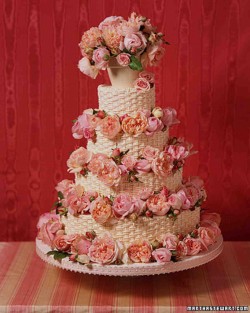 Ah, roses. These blooms are at the top of my favorite flowers list and I love finding wedding cakes that aren't shy about showcasing roses!
Today's cake is the perfect early summertime cake thanks to an abundance of roses and a gorgeous basket weave design in the icing. It really looks like a basket full of fresh flowers! Read More
0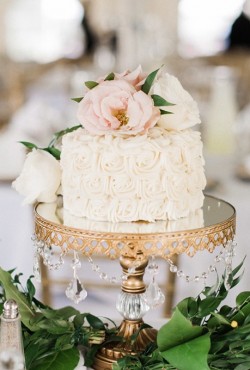 Roses are one of my favorite flowers and I love finding wedding cakes adorned with them!
Which means today's cake is one of my new favorites thanks to the addition of fresh roses AND icing that looks like roses!
This cake is small yet elegant and perfect if you're planning a dessert table for your reception (or if you're having a really small reception). Read More
0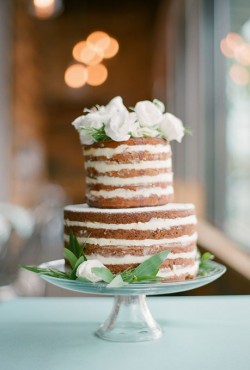 It's been a while since we talked about an unfrosted wedding cake.
The "naked" cake trend seems to still be going strong, and even though I prefer a cake with a lot more icing, today's naked cake is a perfect confection for your spring wedding. Read More
0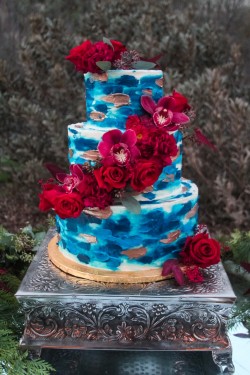 Today's featured cake is one of those "wow!" cakes. As in, I said "wow!" as soon as I saw it.
If that's not a showstopper, I don't know what is.
This cake is almost over-the-top. It's just teetering on the edge of "too much" but as a whole, it just works. Read More
0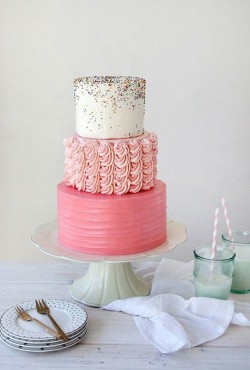 I love the idea of using sprinkles on a wedding cake, but not everyone is a fan of the tiny candies.
Which is why I love today's featured cake – it showcases one tier of sprinkles while keeping an elegant and fun vibe.
This three-tier cake might seem a bit "busy" at first glance, but it would be perfect for a spring or summer wedding. Read More
0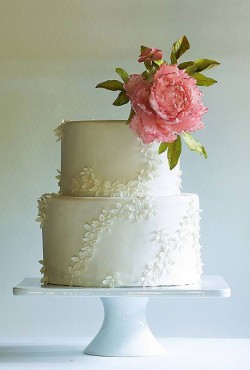 Spring is definitely in the air and that has me thinking about spring-inspired wedding cakes!
Take today's cake – it's delicate and elegant and even has a lovely fresh flower for some added beauty.
I love the delicate and romantic floral lace design on the cake. Read More
0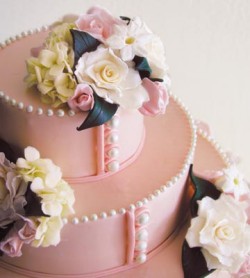 I love the idea of pink wedding cakes – especially in the springtime!
There are so many variations of the color pink – and so many ways to make the color pop on your cake. Read More
0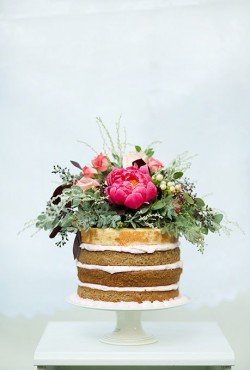 Can you feel it? We're getting SO close to the first day of spring! I want to celebrate with all kinds of fresh flowers!
Specifically, let's celebrate with today's gorgeous "naked" wedding cake topped with a huge bouquet of fresh flowers.
How lovely is this cake?
The single-tier vanilla cake with white icing is rather nondescript on its own. In fact without the flowers it would be kind of boring. Read More
0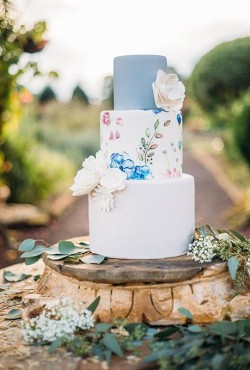 We're just a couple weeks away from the official start of spring so of course we're thinking about all the lovely spring flowers that will soon be blooming!
Today's cake reminds us of all things spring thanks to the lovely painted flowers on the middle tier and the use of sugar flowers.
This three-tier cake is stunning – the combination of blue and white on a wedding cake is a favorite here at A Wedding Cake Blog. Read More
0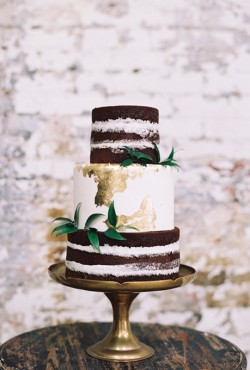 We're huge fans of chocolate cake here at A Wedding Cake Blog. We looove chocolate cake and we also love the idea of a chocolate wedding cake.
It's so fun and somewhat non-traditional to serve a chocolate wedding cake. (We're talking all chocolate, not just a tier or two).
And this nearly-naked chocolate cake with a rustic vibe is a perfect cake for your early spring wedding. Read More