Floral Wedding Cakes
What's not to love about a floral wedding cake? The trend to decorate cakes with flowers, whether real or gum paste, really became all the rage during the 1980s, when Martha Stewart showed us all how wrong we'd been doing weddings up to that point. Gone suddenly were the little bride and groom figurines made of porcelain or plastic that stood proudly atop cakes. Replacing them were mounds and cascades and accents of flowers of all shapes, sizes, and hues. The trend may have died down to some extent; today, we're as apt to see a bride and groom cake topper – or a pair of birds or bicycles, or anything else the couple might fancy – as flowers. But flowers have not lost favor completely. In fact, florists are still busy preparing floral toppers for cakes that match the bride's color palette and bouquet. Likewise, bakers are kept busy crafting handmade, sugar or gum paste flowers, or at the very least, custom coloring store bought gum paste creations to offset their beautiful cakes. There are a couple of points to remember when choosing to trim your cake with fresh flowers. First, make sure that the bloom you'd like to use is NOT poisonous. Wouldn't you hate to send people to the hospital because they ingested a piece of your cake that had ivy on it? And secondly, if at all possible, ask your florist for pesticide-free blooms. Bug killing chemicals = not tasty. And finally, if it's gum or sugar paste flowers that you're after, remind guests that, although they are technically edible, it's probably not very tasty or a good idea. If you want edible decorations, you should probably stick with real or marzipan fruit.
0
There are fancy wedding cakes and then there are cakes that are just out-of-this world.
This pink macaron wedding cake fits neatly in the second category.
There is so much going on with this cake that your eyes aren't sure where to look first – but that's a good thing!
The three tier square cake is covered in light pink fondant and then macarons – some pink and some playing into the abstract art of the peony cake topper. Read More
0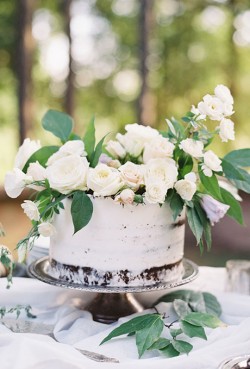 There's something to be said for an elegant, one-tier wedding cake.
With a smaller cake there's no muss, no fuss but the cake can still steal the show.
While I'm a fan of big, elegant and fancy wedding cakes I also like the smaller cakes.
Whether you're hosting a small, intimate reception and you don't need a big cake, or you're planning on serving other desserts (cupcakes, a dessert bar, or maybe a cheese wedding cake) – a one-tier cake can be perfect for so many reasons. Read More
0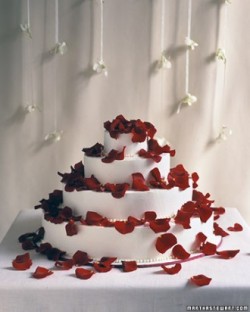 I've been writing a lot about the use of fresh flowers on wedding cakes and how much I love the trend.
Heck I even used fresh Black Magic Roses and greenery on my own wedding cake more than a decade ago.
Fresh flowers just never go out of style (in my humble opinion).
But, instead of using the whole flower, consider for a moment using just the petals from those fresh flowers – just like this cake. Read More
0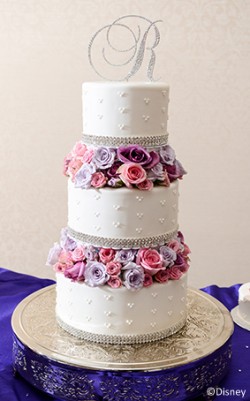 It's been a while since we featured a wedding cake from Disney's Fairytale Weddings and Honeymoons, so when I saw this cake I just had to share it!
My favorite aspect of this cake – the purple flowers. Sure there are also some pastel pink flowers in there but I am in love with the lilac roses!
I love wedding cakes with fresh flowers and when those flowers are roses I love it more. But when they're purple (and pink) roses? It's all over. I think this could be my new favorite wedding cake. Read More
0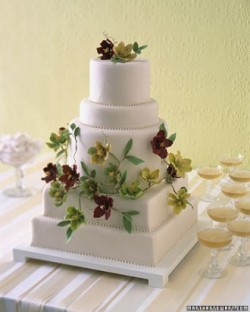 As much as I love seeing a wedding cake adorned with fresh flowers, there is something equally as gorgeous and elegant about sugar flowers.
Not only can sugar flower be beautiful but they're also edible – which is a win-win in my book.
This cake is both elegant and modern. I love that the bottom tiers are square while the top half of the cake features round tiers. It gives the cake just enough of an "edge" without being too over-the-top modern. Read More
0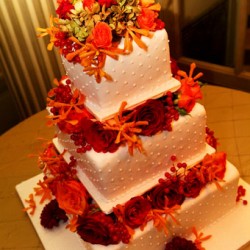 Just because there's a chill in the air doesn't mean you can't have a wedding cake that features beautiful fresh flowers.
As I think back to my own wedding cake (12 years ago!) the one element I loved most – other than the heart-shaped tiers – was the use of fresh black magic roses on the cake. Read More
0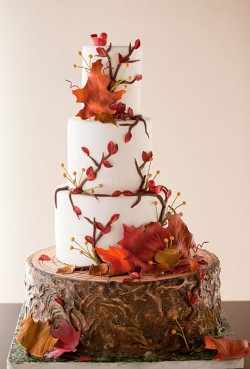 I think it's safe to say that fall is officially here.
There's a chill in the air, the leaves are changing color (at least around here), and I'm starting to see more fall decorations with a lot of orange and brown. So I figured it was a good time to feature a very fall wedding cake.
This is the perfect fall wedding cake – it has rustic colors, leaves, and even an edible tree stump as the cake's base.
The three-tier cake is iced with a beautiful white fondant that is embellished with gum paste leaves and branches in oranges, browns, reds, and greens. Read More
0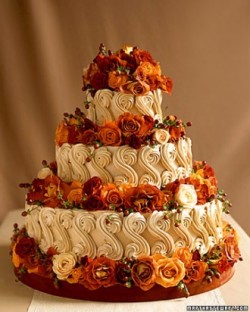 Roses are one of my favorite flowers to choose when you want to add fresh flowers on a wedding cake.
There are so many colors and varieties of roses which means you can use them year-round no matter the season.
If you're planning a fall wedding you can think about using deep hued roses like Black Magic roses or even some lighter reds and orange colored roses like the ones used on this cake. Read More
0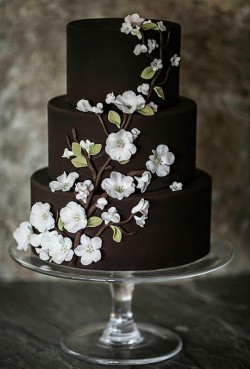 The first day of fall is about a week away so it's about time to start showcasing some gorgeous fall wedding cakes.
And while I'm not normally a fan of brown as a color, I do love brown wedding cakes. I think it's because they look so dramatic and they really lend themselves to the fall season.
This dark brown wedding cake with white flowers is stunning.
The three-tier cake features a dark espresso colored icing accented with delicate white flowers and it is beautiful. Read More
0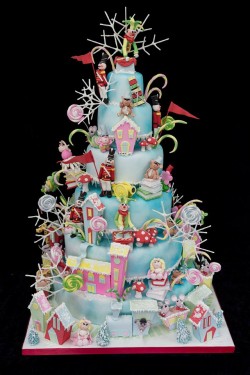 I recently saw someone post on Facebook that there are only 20 Fridays left until Christmas.
And while that seems a little bit crazy, I figured today was as good a day as any to feature this Winter Wonderland wedding cake.
Our good friends at Hockleys Cakes created this whimsical cake for a winter wedding. The cake reflects a "Toytown" theme.
The six tier cake features a blue sky background which enhances the colors of the toys, animals, and buildings that are on display. Read More