Floral Wedding Cakes
What's not to love about a floral wedding cake? The trend to decorate cakes with flowers, whether real or gum paste, really became all the rage during the 1980s, when Martha Stewart showed us all how wrong we'd been doing weddings up to that point. Gone suddenly were the little bride and groom figurines made of porcelain or plastic that stood proudly atop cakes. Replacing them were mounds and cascades and accents of flowers of all shapes, sizes, and hues. The trend may have died down to some extent; today, we're as apt to see a bride and groom cake topper – or a pair of birds or bicycles, or anything else the couple might fancy – as flowers. But flowers have not lost favor completely. In fact, florists are still busy preparing floral toppers for cakes that match the bride's color palette and bouquet. Likewise, bakers are kept busy crafting handmade, sugar or gum paste flowers, or at the very least, custom coloring store bought gum paste creations to offset their beautiful cakes. There are a couple of points to remember when choosing to trim your cake with fresh flowers. First, make sure that the bloom you'd like to use is NOT poisonous. Wouldn't you hate to send people to the hospital because they ingested a piece of your cake that had ivy on it? And secondly, if at all possible, ask your florist for pesticide-free blooms. Bug killing chemicals = not tasty. And finally, if it's gum or sugar paste flowers that you're after, remind guests that, although they are technically edible, it's probably not very tasty or a good idea. If you want edible decorations, you should probably stick with real or marzipan fruit.
0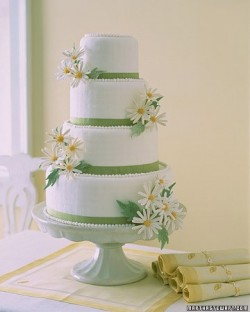 It isn't easy being green, especially when it comes to wedding cakes.
But since we're celebrating St. Patrick's Day today, I wanted to find a cake that had a little bit o' green in its design.
I think this cake with the green ribbons and cheery daisies is perfect. The green isn't too overpowering, and the daisies are such a fun flower that you just feel happier looking at them. Read More
0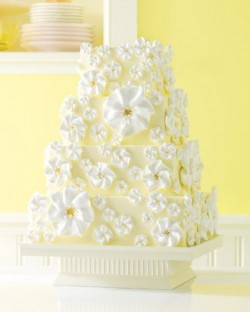 Spring is finally in the air! Can you feel it? I certainly can.
And that's why today I'm featuring a lovely yellow cake – because it reminds me of sunshine and spring and it has a warm and sunny feel to it.
Don't you just love this gorgeous confection?
I'm not a huge fan of yellow, but this cake is subtle enough that the yellow icing isn't garish or overly-bright.
It's pretty and delicate and warm. Read More
0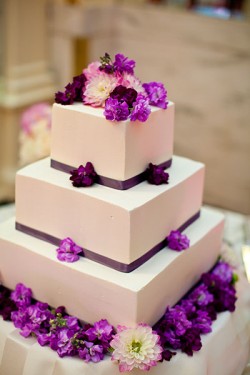 I am a huge fan of all things purple. I think the color is vibrant and cheerful and it's also the color of royalty according to some sources, so it has that going for it.
But as much as I love purple I had not found many cakes featuring the color until now.
And I have to tell you, I'm loving this cake and its understated elegance.
The cake itself is simple and pretty with the square tiers (such a fan of this shape!) and smooth white icing. But the ribbon around each tier takes the cake to another level of beauty, adding to the clean lines of the design. Read More
0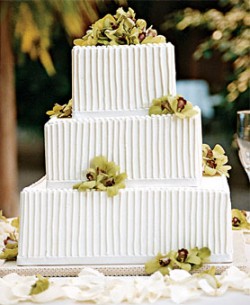 As much as I love the trend of colorful cakes that are anything but traditional, sometimes I like to go back to the basics and find a lovely white wedding cake with minimal embellishments.
Today, that is this white wedding cake adorned with fresh orchids.
What I love most about this cake is the simplicity of the design. Read More
0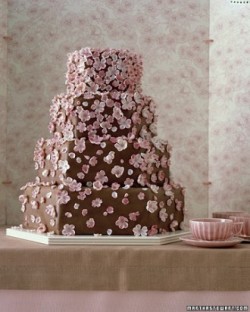 In just a few days we'll all be celebrating true love by gifting boxes of chocolate, so this seems like the perfect time to think about a chocolate wedding cake!
And since pink is one of those "traditional" Valentine's Day colors, I just had to look for a wedding cake that had something pink featured on it.
This chocolate wedding cake with tiny pink cherry blossoms fits the bill perfectly I think. Read More
0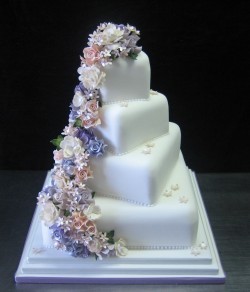 As we're heading into the week of celebrating all things love and Valentine's Day, I wanted to share a cake with you that was so romantic it would make you swoon on the spot.
I'm pretty sure this is the cake.
This gorgeous four-tier creation is from Hockleys Cakes in the United Kingdom and they call it the "Blenheim Cake."
This cake is all about romance and flowers and love, and I adore everything about it.
I love the square tiers on this cake – I'm a big fan of non-traditional shapes when it comes to wedding cakes. (This should come as no surprise, since my wedding cake featured eight heart-shaped tiers!) I think the square tiers give it a nice, modern contemporary feel.
The gorgeous and simple white icing  with the pearls around each tier give this cake a dramatic and modern look.
But what I love most is the cascade of flowers down the side of the cake. The bride wanted the flowers to replicate her bouquet – which is a genius idea in my book! Hockleys created these flowers with hand crafted white, pink, and violet sugar roses and other dainty buds.
It's incredibly romantic, don't you think?
A big thanks to Hockleys Cakes for sharing this creation with us!
Photo courtesy of Hockleys Cakes.
0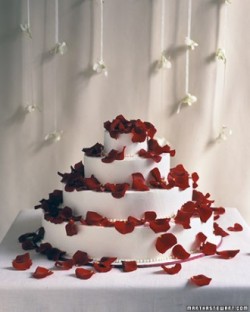 Nothing says "love" like a red, red rose.
We see proof of that each week on a certain very popular television show where seemingly reasonable adults go a little crazy at the prospect of getting THE rose.
Obviously the rose is a powerful flower.
So what better flower to use to accent your wedding cake than a dark red rose?
I absolutely love this cake and how the stark white icing is accented by the rose petals. Read More
0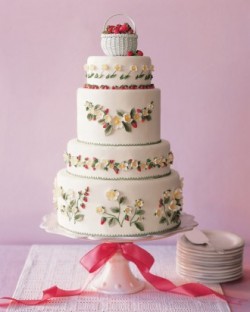 As I continue to dream about warmer weather, today I'm sharing a strawberry wedding cake with you.
Of course we all know that strawberries are a summer fruit – if you're from the northern half of the country, at least – but it's never too early to start thinking about your summer wedding.
I love the whimsy and simple charm of this cake. It makes me happy just looking at it. Read More
0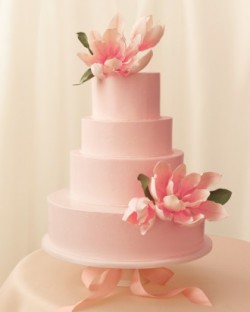 Since we're only about a month away from Valentine's Day, I'm starting to look for everything in shades of pink.
And what luck! I found this pretty little gem today.
I love, love, love this pretty pink confection. It's so pink and so romantic and it practically perfect in every way. Read More
0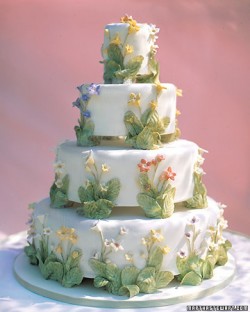 The weather outside might be frightful, but this cake is so delightful.
Yes, we might have just "celebrated" the first full day of winter, but that just means that we have a mere 86 days until the first day of spring, so I think right now is the perfect time to start daydreaming about lovely springy flowers.
And so, I give you the primrose wedding cake.
This gorgeous four-tier cake looks like it has a garden of flowers blooming around each tier. Read More