Floral Wedding Cakes
What's not to love about a floral wedding cake? The trend to decorate cakes with flowers, whether real or gum paste, really became all the rage during the 1980s, when Martha Stewart showed us all how wrong we'd been doing weddings up to that point. Gone suddenly were the little bride and groom figurines made of porcelain or plastic that stood proudly atop cakes. Replacing them were mounds and cascades and accents of flowers of all shapes, sizes, and hues. The trend may have died down to some extent; today, we're as apt to see a bride and groom cake topper – or a pair of birds or bicycles, or anything else the couple might fancy – as flowers. But flowers have not lost favor completely. In fact, florists are still busy preparing floral toppers for cakes that match the bride's color palette and bouquet. Likewise, bakers are kept busy crafting handmade, sugar or gum paste flowers, or at the very least, custom coloring store bought gum paste creations to offset their beautiful cakes. There are a couple of points to remember when choosing to trim your cake with fresh flowers. First, make sure that the bloom you'd like to use is NOT poisonous. Wouldn't you hate to send people to the hospital because they ingested a piece of your cake that had ivy on it? And secondly, if at all possible, ask your florist for pesticide-free blooms. Bug killing chemicals = not tasty. And finally, if it's gum or sugar paste flowers that you're after, remind guests that, although they are technically edible, it's probably not very tasty or a good idea. If you want edible decorations, you should probably stick with real or marzipan fruit.
0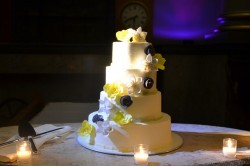 Sometimes it's the simple and elegant cakes that really grab your attention. Case in point – this beauty.
There is much to love about this cake, starting with the Read More
0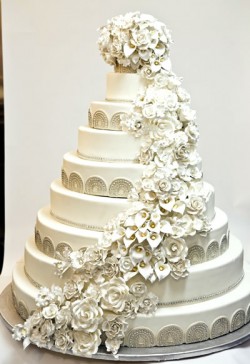 Since it's the start of summer – and the summer wedding season – I thought it would be fun to do some flashback posts featuring outrageous, over-the-top, or just incredibly amazing celebrity wedding cakes. You know, to get us all in the mood for all the wedding cakes we'll be eating this season.
The first cake on my list is Read More
0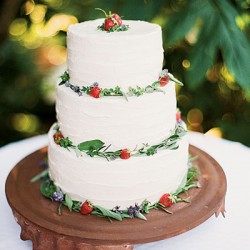 How absolutely gorgeous is this cake? I want to be a guest at that wedding, if only to get a taste of this summertime stunner.
The cake is a three-tiered vanilla cake, which sounds delicious enough. But wait, there's more! The cake layers are soaked in St. Germain elderflower liqueur, which is apparently all the rage these days. And then, the cake is filled with strawberries and lemon.
And the simple decorations featuring Read More
0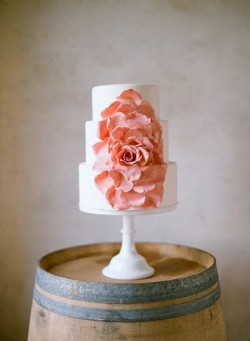 There's a new trend right now with wedding cake design – super flowers. No, these flowers can't leap over buildings in a single bound, they are just really big flowers on your wedding cake. It's certainly an eye-catcher, don't you think?
I have to say, I do love this Read More
0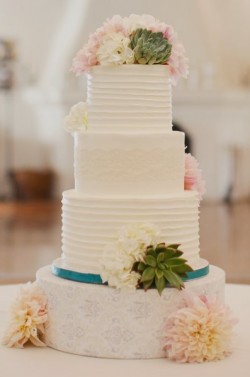 There is an easy beauty to this cake – it makes me think of an outdoor late spring or early summer wedding, maybe at a botanical garden, surrounded by bright colorful flowers. This cake would look amazing in a setting like that.
I am loving the simple frosting and the Read More
0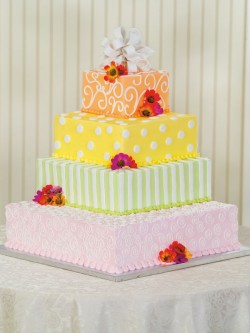 Since it seems like Mother Nature finally has her act together and has allowed spring to stay for a while, what better way to celebrate a wedding than this stunner of a cake?  I feel all springy just looking at it.
Why do I love this cake? Let me count the ways. First, Read More
0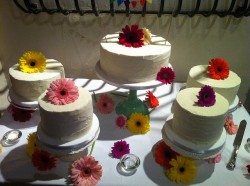 This cake reminded me so much of my friend Christen that I just had to share it with you.
Christen used to contribute regularly to A Wedding Cake Blog, and I know that she still loves to keep up with all the Sweet and Pretty that we feature here. And this cake actually reminds me of her for two reasons: Read More
0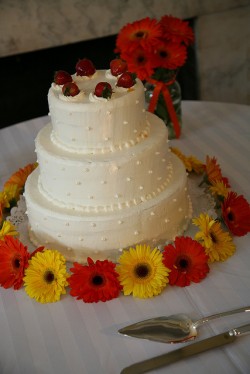 I'm all about rushing the seasons.  But you knew this.
Since today is March 1, clearly it's time for a post all about spring-into-summer, yes?
And what says spring-into-summer better than fresh strawberries and big, boldly colored gerbera daisies?  Right. Nothing.
What a sweet little Read More
0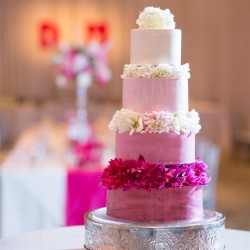 Valentine's Day 2013 may be behind us, but I thought we could still use a little blush o' love.  What do you think?
Ombre has been Read More
0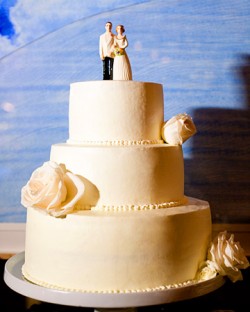 I'm feeling a little — okay, a whole lot — classic today. And so my cake choice reflects that.
I love the elegant simplicity of the white buttercream wedding cake that's trimmed with roses and topped with an uber traditional bride and groom.  It would seem that the wedding was an affair with lots of "glitzy ambiance" so this cake struck the balance between the indulgence and the simple.  And when you go with the classics, you don't really need birds flying around the top or fireworks shooting off the sides, do you?
At the end of the day, after Read More