Floral Wedding Cakes
What's not to love about a floral wedding cake? The trend to decorate cakes with flowers, whether real or gum paste, really became all the rage during the 1980s, when Martha Stewart showed us all how wrong we'd been doing weddings up to that point. Gone suddenly were the little bride and groom figurines made of porcelain or plastic that stood proudly atop cakes. Replacing them were mounds and cascades and accents of flowers of all shapes, sizes, and hues. The trend may have died down to some extent; today, we're as apt to see a bride and groom cake topper – or a pair of birds or bicycles, or anything else the couple might fancy – as flowers. But flowers have not lost favor completely. In fact, florists are still busy preparing floral toppers for cakes that match the bride's color palette and bouquet. Likewise, bakers are kept busy crafting handmade, sugar or gum paste flowers, or at the very least, custom coloring store bought gum paste creations to offset their beautiful cakes. There are a couple of points to remember when choosing to trim your cake with fresh flowers. First, make sure that the bloom you'd like to use is NOT poisonous. Wouldn't you hate to send people to the hospital because they ingested a piece of your cake that had ivy on it? And secondly, if at all possible, ask your florist for pesticide-free blooms. Bug killing chemicals = not tasty. And finally, if it's gum or sugar paste flowers that you're after, remind guests that, although they are technically edible, it's probably not very tasty or a good idea. If you want edible decorations, you should probably stick with real or marzipan fruit.
0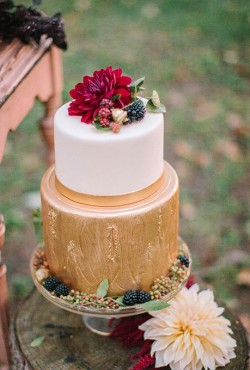 Despite the never-ending summer-like temperatures outside, we are getting closer and closer to the first official day of fall!
Which means it is time to start thinking about fall-inspired wedding cakes.
I love the idea of rustic cakes for a fall wedding, something with a unique twist. Read More
0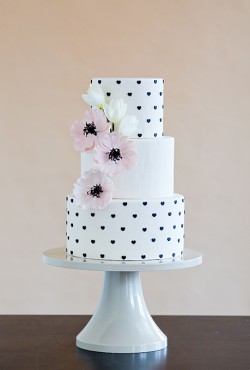 I adore polka dots. They're fun and whimsical while still being classic and somewhat elegant.
And if those polka dots look like tiny hearts? Well, that's even better.
Today's wedding cake is a study in fun – a stark white, three-tier cake adorned with black fondant hearts instead of black polka dots!
It is nearly wedding cake perfection. Read More
0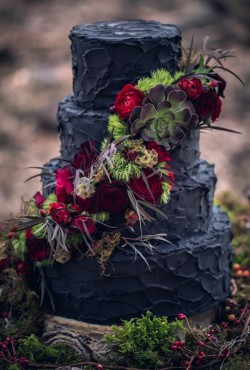 A black wedding cake might not seem like the most traditional wedding cake – but that's why I love the concept!
Imagine the surprise when your guests spot this dramatic and gorgeous black wedding cake at your reception!
I love the rustic look of the icing and the the addition of fall foliage including deep red roses, succulents, and even moss! Read More
0
A quick, cursory glance at today's wedding cake and you might think "OK, it's a pretty white cake with some fresh flowers."
But look closer. This cake has a feature that is unique and one I wouldn't have thought of on my own.
This cake is adorned with gold-dusted berries and they look like mini pine cones.
In fact, that's what I thought they were when I first saw this lovely fall-inspired wedding cake. But oh no, they're gold-dusted berries. Read More
0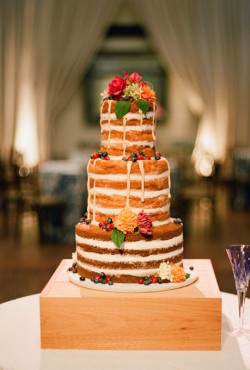 It's been a bit chilly around here in the evenings, which makes me think about fall.
Oh how I love fall. It's my favorite season – full of apples, sweaters, and all things pumpkin spice.
Of course I know we still have weeks of summer left. That's how it is in August and September in the Midwest. We get teases of fall for weeks. Read More
0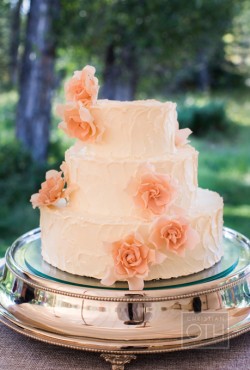 I'll be the first to admit that pink wasn't "my color" for the longest time. In fact, I avoided the color pink, even when planning my own wedding years ago.
But now I can actually tolerate the color pink and even love it sometimes.
Like today. When I find a gorgeous pink wedding cake that is subtle and elegant and practically perfect in its pink-ness. Read More
0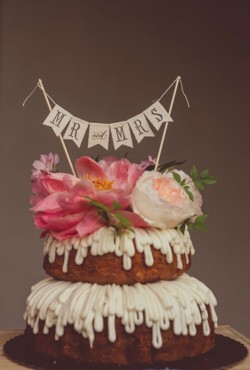 Ah, bundt cakes. The ubiquitous cake of the 1950s and 1960s.
They're so retro that they're cool again – just ask my mom. She loves to bake bundt cakes for family birthdays, complete with homemade chocolate drizzle.
Imagine having a bundt cake as your wedding cake – now that would be cool. Plus, they're basically the original "naked" cake, with only a drizzle of frosting. Read More
0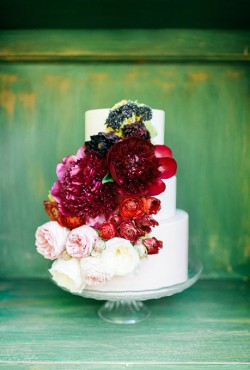 I'm a big fan of fresh flowers on wedding cakes.
My own wedding cake was adorned with bunches of Black Magic roses and those dark red blooms made the white cake really pop!
Today cake goes floral in a really big way!
The three tier cake is almost taken over by bright flowers, but oddly enough it works without being "too much." Read More
0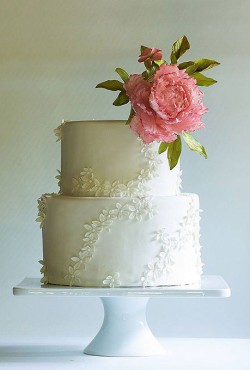 I'm back with another lace-inspired wedding cake because I honestly just can't get enough!
Today's cake is one that I could stare at for hours, it's so gorgeous.
The lace effect on this cake was painstakingly created by creating dozens of tiny sugar blossoms and then arranging them in a trail on the cake. Imagine the time it took – this cake is really too pretty to eat! Read More
0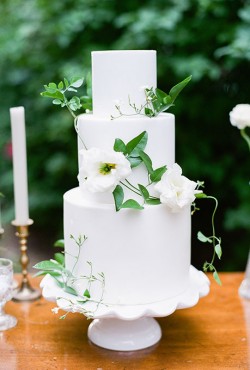 I love an over-the-top, non-traditional wedding cake just as much as the next non-traditionalist. But I also love simple wedding cakes that are both elegant and gorgeous.
Take today's wedding cake as an example.
There isn't a lot going on with the cake but that's what makes it special. The 'wow' factor is in the cake's simplicity.
A stark white tiered cake topped with fresh white blooms. It's simple and beautiful and makes a statement by not being over-the-top. Read More