Modern Wedding Cakes
The term "modern wedding cake" may mean different things to different people. Here at A Wedding Cake Blog, we take the term to mean anything with a contemporary feel; a cake that eschews the traditional white on white, piped and buttercreamed and trimmed with swags or roses. Modern may refer to a bold use of color, or a contemporary decor or shape. It may also refer to choosing something other than the grand, traditional tiered cake – a cake of macarons, for instance, or an assortment of individual cakes. Modern means that you are updating the tradition: perhaps you aren't entirely throwing it out. You're just giving it a breath of fresh air.
0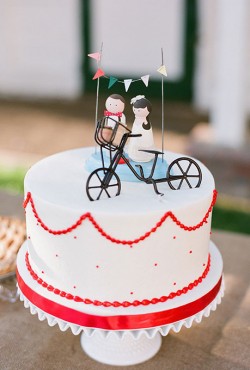 If there's one thing I really love to see when it comes to wedding cakes it's a cake that doesn't take itself too seriously.
After all, your wedding day should be filled with fun and smiles so why not add a touch of whimsy to the cake table?
Take today's cake as a perfect example – it has a fun carnival theme and a super cute cake topper to boot! Read More
0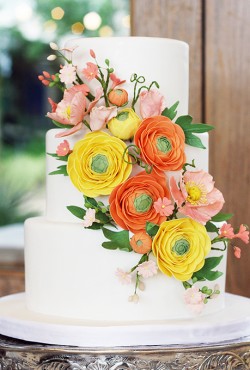 Summer has officially arrived! And that means all the flowers are in bloom around my yard and it's so pretty.
Of all the wedding cake trends I love (and there are many) I have a special spot for cakes with flowers. Whether we're talking fresh flowers or sugar flowers, show me a cake with blooms and I'm in love. Read More
0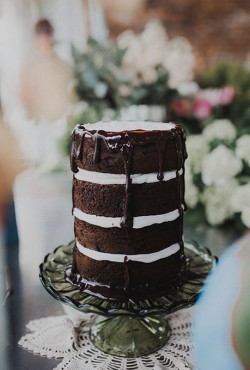 OK, I've been featuring a lot of naked wedding cakes lately – which is odd since I'm a frosting lover.
But today's cake is THE naked cake of the season so far.
First, it's chocolate! And second, there's a cascade of chocolate glaze on top of the cake that takes it to another level entirely.
Oh. My. Chocolate. Read More
1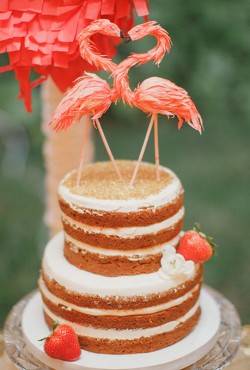 I made a trip to a local greenhouse over the weekend to purchase my summer flowers.
And while picking out my blooms, I spied the strawberry fields next door which got me thinking about that sweet summer fruit.
Around here, strawberries hit their peak in mid-June or so, which means I'll have a chance to enjoy some very, very soon!
But for now I'll have to be happy with today's wedding cake – which is adorned with bright red strawberries! Read More
0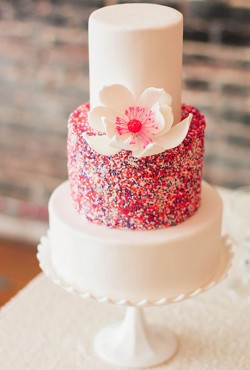 I really can't get enough of wedding cakes with sprinkles!
They're just so darn whimsical and fun.
Today's cake is particularly gorgeous with its light pink icing and just one tier decked out in colorful sprinkles. It really make the whole cake just pop!
The addition of a pretty pink bloom is the perfect enhancement – it adds some elegance to the cake but still keeps it fun. Read More
0
Naked wedding cakes are one of those wedding cake trends that I'm not sure I can fully support.
I mean, c'mon. These cakes are seriously lacking in one very important ingredient – FROSTING! But, as the saying goes, it's what in the inside that counts.
And if you're going to go with a naked wedding cake for your reception just make sure it has a lot of icing inside. Then I'll be OK with it. Read More
0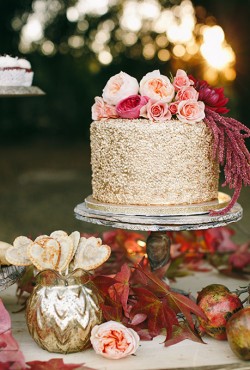 It's been established that I'm totally in love with the sprinkle wedding cake theme right now.
Which is really kind of weird because in reality I don't like sprinkles on cake or cookies (or ice cream). But I love how they look on a wedding cake.
I think it has to do with the "whimsical factor" that sprinkles add to a wedding cake. Because we all know how boring some wedding cake can be. Read More
0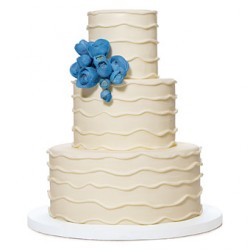 Lately I've been daydreaming about the beach. A lot.
This is likely due to the fact that very soon I'll be lounging on a beach in the Caribbean without a care in the world.
But it also got me thinking about beach-themed wedding cakes since it is the perfect time of year for a beach wedding.
And then I found this cake and fell in love. Read More
0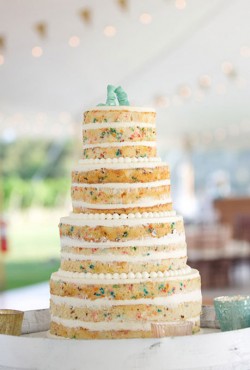 I will admit that I have a love-hate relationship with "naked" (non-frosted) wedding cakes.
On one hand I love the elegance and modern vibe of the cakes.
But on the other hand I'm a frosting kind of girl – the more the merrier. So a cake that purposely lacks frosting is suspect.
However, I do love this naked wedding cake if only because the cake batter has sprinkles baked in, giving it a very spring-y, colorful vibe! Read More
0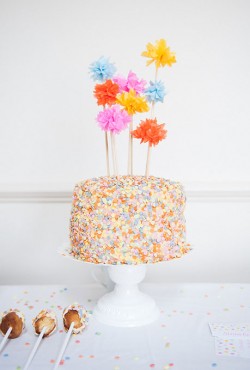 So my wedding cake obsession of late has been fun and whimsical cakes covered in sprinkles.
It's not that I like eating sprinkles (I don't – it's the texture) but I looove the way they look on cakes. And when they're used on wedding cakes it is so unique and non-traditional that the cakes always go in the "win" column.
Today's featured cake is no exception. Read More