Modern Wedding Cakes
The term "modern wedding cake" may mean different things to different people. Here at A Wedding Cake Blog, we take the term to mean anything with a contemporary feel; a cake that eschews the traditional white on white, piped and buttercreamed and trimmed with swags or roses. Modern may refer to a bold use of color, or a contemporary decor or shape. It may also refer to choosing something other than the grand, traditional tiered cake – a cake of macarons, for instance, or an assortment of individual cakes. Modern means that you are updating the tradition: perhaps you aren't entirely throwing it out. You're just giving it a breath of fresh air.
0
It's been a while since we featured a fun wedding cake topper here so today seems like a good day to do just that!
I'm a big fan of wedding cake toppers – even though it seems that the trend lately is to just put a fresh flower on the top or leave the whole cake naked. Read More
0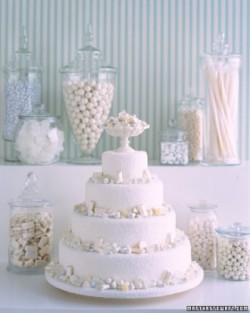 I have a serious sweet tooth and will admittedly eat just about any candy except for black licorice.
And so when I saw today's wedding cake all decked out in different types of white candy I just had to share it with you!
We've showcased cakes here before that were embellished with jelly beans and other candies, but this all-white wedding cake is perfection. Read More
0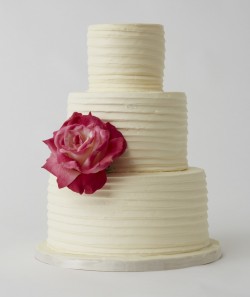 Sometimes the simplest wedding cakes are the ones that stop you in your tracks.
That just about sums up today's wedding cake. It's pretty. And simple. And elegant.
And it is adorned by one very lovely rose but it doesn't need anything else.
I love wedding cakes with fresh flowers – and usually that means a lot of fresh flowers. Read More
0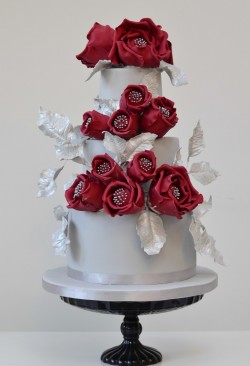 Everything is coming up roses!
OK, there aren't any real roses blooming around here yet, but I'm a total pushover when it comes to roses. They're easily my favorite flower – for weddings, for Valentine's Day, just because.
Hand me a rose and I'm a pile of mush.
Give me a wedding cake topped with roses – real or not – and I'm an instant fan.
And this cake is gorgeous. It's almost beyond gorgeous – if there was a word for that. Read More
0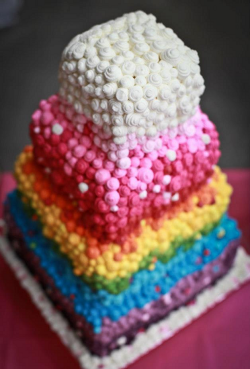 I saw a news report this week about a rare quadruple rainbow that was spotted over New York State. As a big fan of rainbows I thought that would be pretty cool to see.
And then I found this rainbow dot wedding cake and my week was made!
I love this wedding cake so very much. It's fun and whimsical and pretty much screams "spring!" in a refined way, of course. Read More
0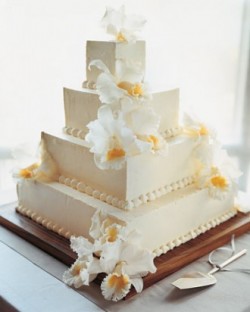 Things are still all a bloom around here thanks to a nice combination of April showers and warm, sunny days.
Which means I'm still looking for wedding cakes adorned with fresh flowers because they're absolutely perfect for spring weddings.
This four-tier square wedding cake is elegant and simple and has a fresh feel about it.
The square tiers give the cake a modern feel, while the pearl icing embellishments add just the right amount of elegance.
And you can't go wrong with fresh cattleyas for a floral addition.
Of course if you aren't a fan of that flower you can always adorn your cake with a flower that matches your bouquet – giving your wedding cake an extra personal touch.
You can find this spring floral wedding cake here.
0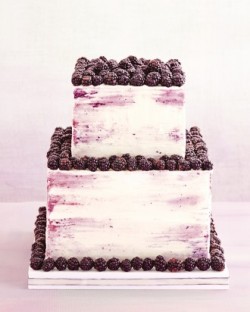 I've recently decided that I need to eat more fruit and fresh berries are currently on the top of my list of must-have snacks.
So, when I saw today's wedding cake I just knew I had to share it with you because it looks delicious and it would be perfect for a spring or summer wedding.
This two-tier blackberry wedding cake is absolutely stunning thanks to the blackberries surrounding each tier. Read More
0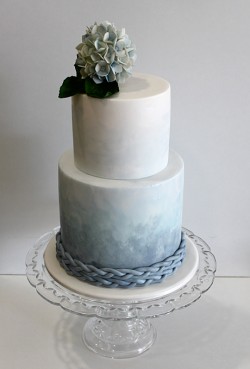 As we slowly inch closer and closer to summer it means we're getting that much closer to beach season too.
And that means beach weddings and wedding cakes the remind us of the beach.
Like today's wedding cake. It's a subtle reminder of the things we love most about the beach – the surf and the sand. Read More
0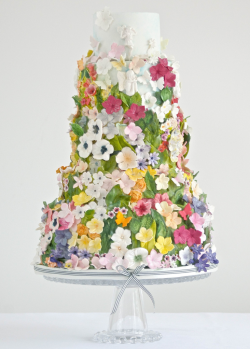 April showers bring May flowers and at the rate it's raining around these parts there is going to be an explosion of beautiful blooms in a few weeks.
In fact, it might look a lot like today's wedding cake – but that's OK because I am loving this blooming springtime cake!
If you're want a cake that screams SPRING!…this is that cake. Read More
0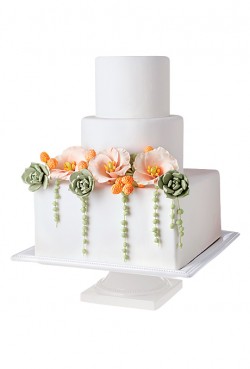 It's the first day of April and spring is in the air and that's no joke!
As I look outside I'm spying buds on the trees and tulips popping out of the ground and I'm convinced that the warmer weather is here to stay.
Which means I just had to find a gorgeous wedding cake today with springtime flowers!
This cake is that perfect springtime confection. Read More