Modern Wedding Cakes
The term "modern wedding cake" may mean different things to different people. Here at A Wedding Cake Blog, we take the term to mean anything with a contemporary feel; a cake that eschews the traditional white on white, piped and buttercreamed and trimmed with swags or roses. Modern may refer to a bold use of color, or a contemporary decor or shape. It may also refer to choosing something other than the grand, traditional tiered cake – a cake of macarons, for instance, or an assortment of individual cakes. Modern means that you are updating the tradition: perhaps you aren't entirely throwing it out. You're just giving it a breath of fresh air.
0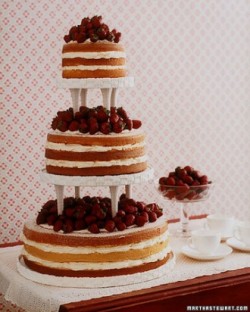 One of my favorite summertime fruits is the strawberry! They're sweet and perfect and can be used in so many ways, even on a wedding cake!
I love strawberry shortcake and today's naked wedding cake reminds of that sweet treat.
This wedding cake was created with pound cake (of course!) and layers of mascarpone cream and strawberries. I think it might be my new favorite spring or summer wedding cake. Read More
0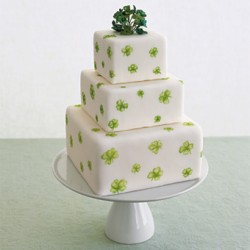 Tomorrow we'll all be celebrating St. Patrick's Day and the wearing o' the green, so today seemed like a good day to showcase a cake with little green shamrocks!
This lovely three-tier cake is iced with gorgeous rolled fondant which is decorated with sugar paste four leaf clovers. Read More
0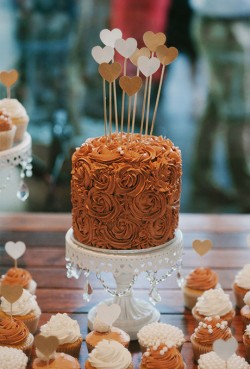 You ever have one of those days when you are craving chocolate?
Happens to me every day and today I decided to do something about it – I found the perfect one-tier chocolate wedding cake just for you!
I love the idea of serving a wedding cake iced with decadent chocolate icing. Why? Because your guests won't be expecting it. They'll be waiting for a cake with white icing and some pretty embellishments.
But chocolate cake? That'll keep your guests talking about your wedding for a very long time!
And this one-tier cake is so pretty! The chocolate icing looks like roses and the gold and silver hearts as cake toppers adds that perfect amount of whimsy to the cake.
Of course, it is just a one-tier cake so it might be enough for you and your new spouse. I think this cake would be ideal as the cake you cut and then you could serve a bigger wedding cake (or even cupcakes!) to your guests.
You can find this cake here. It was created by Tealicious House.
0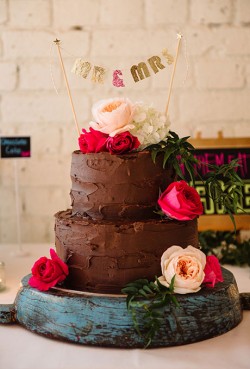 If there's one non-traditional wedding cake that I'll always be a fan of it's the chocolate wedding cake.
Everyone is expecting a cake with white icing, even if the cake inside is a variety of flavors. So why not wow your guests and surprise them with a chocolate frosted cake?
The cake flavors could vary – chocolate, marble, yellow – but to see a wedding cake frosted with gloriously delicious chocolate icing? That would be incredible! Read More
0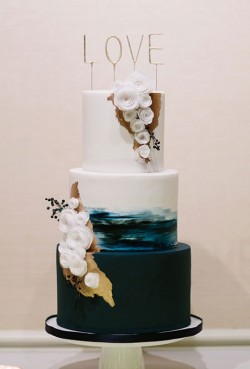 Since it seems as though winter is never going to end here in the Midwest, I find myself daydreaming about the beach nearly every day.
Which brings me to today's cake.
This three-tier creation reminds me of my favorite beach – with white sand and beautiful blue water.
It's quite lovely. Read More
0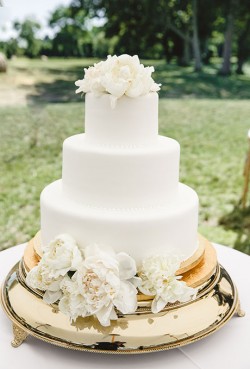 Since a good portion of the country is buried in white fluffy snow, it seemed appropriate to focus on an all-white wedding cake today.
Granted this cake is way prettier than any pile of snow – and it won't make your toes cold either!
You know I'm a sucker for traditional all-white wedding cakes – call my old fashioned but I like traditional cakes. Sure a pop of color or a whimsical cake is good every now and then, but I like white cakes. Read More
0
OK so maybe you haven't given much thought to a gray wedding cake – after all gray is usually synonymous with dreary things.
But it can actually be a stunning color on your cake when it's done the right way.
This three-tier cake isn't drab or depressing – the charcoal gray icing is dark and elegant and set off by colorful fruit, succulents, and gold leaves.
As much as I'm a fan of traditional wedding cakes when I see cakes that showcase 'thinking outside the cake box' design it's exciting. And this charcoal gray cake is a new favorite. Read More
0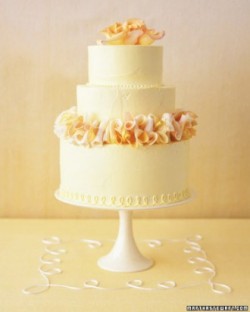 We're inching closer and closer to Valentine's Day and if there's one time of year when roses take center stage it's now.
Which is why we're featuring a lovely wedding cake with fresh rose petals today. This cake is pretty and elegant and is a fun and unique way to showcase fresh flowers on your cake.
At first glance it looks like the cake is decorated with icing ribbons between the tiers, but look closely. Those are rose petals arranged as a ribbon. It's pure floral genius! Read More
0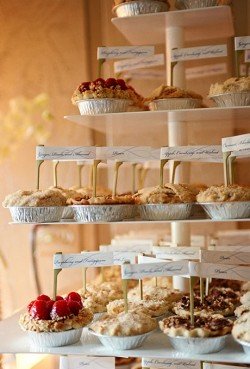 It's time to think outside of the cake box today!
As much as I love wedding cake (actually all cake), sometimes it's nice to color outside the lines and do something unexpected.
Like serving miniature pies instead of wedding cake.
Now that's a dessert trend I can get behind.
Everyone goes to wedding receptions prepared to eat a slice of cake but what if you wowed your guests instead with cute and delicious miniature pies? That would be an amazing reception! Read More
0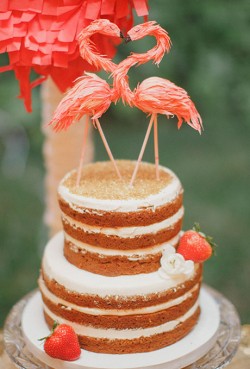 Thanks to the groundhog, it's official – we have six more weeks of winter.
But that doesn't mean we can't start thinking warm and tropical thoughts!
I've had enough snow and cold weather to last until next winter so today I decided to find something fun and warm and beach-y to share – and I found this adorable pink flamingo cake topper!
And while the cake topper looks amazing on the "naked" cake featured here, it would also work on a frosted cake. Read More