Modern Wedding Cakes
The term "modern wedding cake" may mean different things to different people. Here at A Wedding Cake Blog, we take the term to mean anything with a contemporary feel; a cake that eschews the traditional white on white, piped and buttercreamed and trimmed with swags or roses. Modern may refer to a bold use of color, or a contemporary decor or shape. It may also refer to choosing something other than the grand, traditional tiered cake – a cake of macarons, for instance, or an assortment of individual cakes. Modern means that you are updating the tradition: perhaps you aren't entirely throwing it out. You're just giving it a breath of fresh air.
0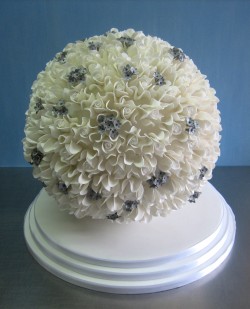 As non-traditional wedding cakes go, this one … well, it takes the cake.
How much love do you have for this posey wedding cake? It's rather amazing, don't you think?
And for those of you wondering, a "posey" is a small flower bouquet. (Of course, right now I'm singing "a pocket full of posies" over and over in my head).
Our incredibly talented friends at Hockleys Cakes created this posey wedding cake, Read More
0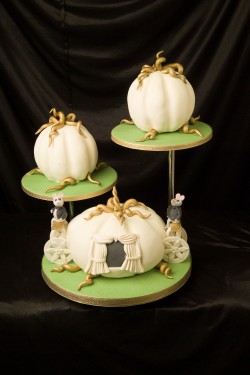 If there's ever a day when you truly feel like a princess, it's your wedding day.
So why not celebrate with a cake fit for a princess?
A cake exactly like this Pumpkin Carriage Cake from our friends at Hockley's Cakes over in the United Kingdom.
I don't know about you, but Cinderella is my favorite princess and this cake is perfect if you're thinking about a wedding with that sort of theme or if you're a fan of Disney princesses. Read More
0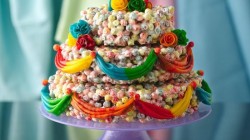 While we have featured unique and non-traditional wedding cakes here before, I don't think we've ever featured a wedding cake made out of cereal!
But when I saw this cake on Pinterest I knew it would eventually make its way to the blog. So today is your lucky day. Read More
0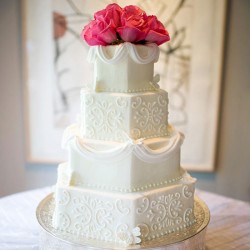 I never was very good with geometry and all those weird shapes that went with it.
But I can tell you this – I'm a big fan of wedding cakes that aren't the "traditional" round or square shapes. In fact, my own wedding cake was heart-shaped (which was trendy more than a dozen years ago, trust me!)
And that brings us to today's cake – the geometric wedding cake. Read More
0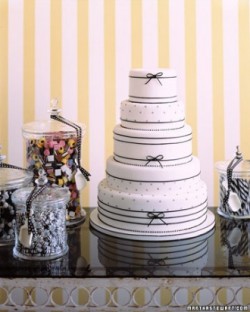 Truth be told, I'm not a fan of black licorice. If I had to eat licorice I would choose the red (strawberry or cherry flavored) kind.
But, I am a fan of black and white wedding cakes, so this cake embellished with black licorice is a new favorite. (Plus, I could totally not eat the licorice if I had this cake served to me!)
This cake is stunning in its simple elegance – it's just a stark white wedding cake adorned with black rope licorice and black polka dots created with royal icing. Read More
0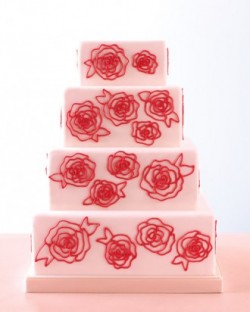 I am loving this pretty pink cake with hand-piped red roses. It's so pretty and elegant.
And, believe it or not, this gorgeous and somewhat abstract wedding cake can be a DIY project.
That's right! If you – or someone in your wedding party – is feeling particularly ambitious, this is a cake that you can create by following a few simple instructions.
I love this cake for a couple of reasons. Read More
0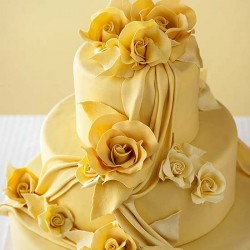 There's just something about the color yellow – it's so bright and cheerful and instantly puts me in a good mood.
The same can be said for this wedding cake.
It's bright and cheerful and very elegant.
Now, yellow might not be your first color choice when deciding on a wedding cake, but I have to ask "why not?" Read More
0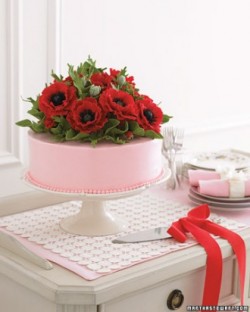 Since your wedding cake is the centerpiece at your reception, it makes sense to pick a cake that will make you and your guests smile.
This super cheerful – and very pink! – wedding cake fits the bill.
I am loving the simplicity of this cake. One tier, pink icing, and fresh poppies.
No muss. No fuss.
This cake would be perfect for a small, outdoor wedding in the spring or summer. It would even be lovely at your bridal shower. Read More
0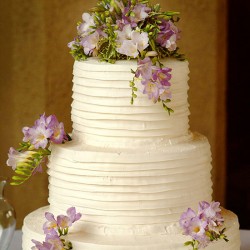 Sometimes all it takes to make a cake stunning is a simple design and some fresh flowers.
Take this cake for example – the icing is simple and the only embellishment is fresh flowers. That's it.
And it doesn't need anything else to make it look spectacular. Read More
0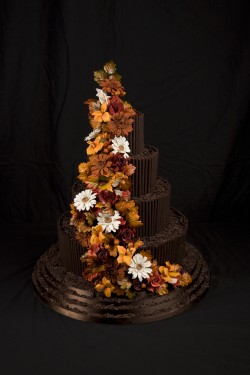 Until recently I never would have considered chocolate frosting on a wedding cake.
Don't get me wrong – I love chocolate – but I always thought wedding cakes "had to" be frosted with white icing of some kind whether it's fondant or buttercream.
Well, I'm happy to report that I've changed my mind and if I had to do my wedding cake over, it would be all chocolate.
As today's cake proves, a wedding cake with chocolate icing can be beautiful and elegant and downright stunning. Read More